Well I am 18 years old and this is my 6th vehicle.. I have always loved cars since I can remember so i guess its par for the course. When I was 14 I bought a 71 Maverick grabber, yadda yadda got that restored and sold it, from there I inherited a beautiful stock 99 ford explorer 4x4 from my dad with only 205k on her.
I proceeded to do a 3" BL, some shackles in back and a torsion twist on front and managed to get 33" MTs on it. After beating it to **** in the mud it died at 214,000.. From there I bought with money I had saved from working over summers and through years of buying and selling, a 2004 Nissan titan LE, 2wd
so I thought I would love it, put 22's on it and sunk a ton of money in stereo, 2 months later the nissan dealership screwed me and the tranny was slipping a bit at 78000, so I did a "trade" with my dad for his 2wd 06 xterra se also 2wd
, it had 85000 on it but I do alot of city and he does all highway so his drive is alot less strenuous then mine so i was fine with it, i kept the car but something was still missing, so me and my friend went 50/50 on an 88 ramcharger with a 318 on 33's for $1100.. fun little mud truck but it was a piece and had the infamous old dodge rear band go out after a while.. ended up with it on 35's that we got in a trade for our 33's for free and also beat it to hell.. only lost 200 on it and sold it for 900.. anyway after that I drove the xterra for a while more, it was approaching 140k and was starting to have minor issues so i decided to sell before some expensive repairs happened, i was torn between getting a nice tuner car (I love the b6 a4's) or a jeep.. after driving both i knew i wanted a jeep..Plus i think i really missed having a 4x4
after months of searching i finally found an 02 sport, 5spd, d44 rear, with all service records! Also a brand new clutch and custom black and yellow interior.. also came with ravines on it as well as the 4 stock canyons as spares with nice tires on both.. when i got it (on holloween of 10' actually) it had 117k on the clock.
Needless to say from the second i was looking i knew what I wanted to do with it and had been doing lots of research to make sure it was done right.. I had never driven a stock car that was my own and I wasnt about to with the jeep..
So first came little things like bezels painted, put in my stereo deck (pioneer p510ub) and a amp/sub combo ive come to like after tons of different setups and wasnt expensive so not extremely worried about theft (audiobahn 2002v amp and 2 8" REx subs in the back), removing milkjugs, and a few good stickers.. but a big purchase was in need first which was lift.. After reading a ton I was torn between Zone 3", OME, full traction, and the RC 2.5" progressive.. I had never heard good things about RC and never really considered them, but after tons of reading and debating in my head i figured it was worth it, i mean for the price of a bb from most companies and with all included I decided it was a buy especially with the warranty they offer and 10% off for JF members.
I ended up going with the 3.25" kit with the spacers and longer sway bar arms and trac bar bracket, adjustable trac bar, 2.2 shocks, 2.5" springs.. I also went ahead and got a 1.25" BL as well as a 1" MML.. I havent gotten a steering stabilizer yet cause I wanted to make sure I got no death wobble and make sure that the stabilizer wasnt hiding the problem beneath. I would have gone ahead and upgraded other things first if neeed but the jeep was so immaculate i didnt feel i had too so lift was done first..
I was regretting having to do the rear shock bolts but thankfully all 4 came out, i guess that was due to the PO getting the undercarraige cleaned and resprayed every year
. The lift was all as expected but i ended up pulling the LCA's to put in the springs, those soft progressive springs along with 3/4 spacer would not go in even with strut compressors for me, i was kind of surprised as i knew it wasnt that extreme of a lift but NBD.. after all said and done went and got alignment.. it rides great BTW, i would say better than before but keep in mind i had 119k on my springs and shocks..
Other than lift all that has been done is going on a few rides and cutting my front bumper as well as adding a winch plate..
soon to come in the next week or so is procomp rockcrawler 52 series wheels 15x10, as well as kumho kl7 33x12.5x15 tires.. I have read good things about tires and a buddy of mine has 25k on his and still has good life left and are pretty quiet and they are dirt cheap for an MT so I couldnt resist..
Also in the near future hopefully are some KC daylighters on bumper and windshield brackets, CB by january just piecing it together now, a winch on front (still not sure which im going with ), waiting for back bumper and swingout arm, might save for a welder instead and try making my own.
Also got onboard air im gonna put in next week as well as my shocker train horns.. also gonna hook up my viper 5701 system, im not gonna take the risk with remote start yet until i get the neutral safety switch, i also cant utilize the doorlocks but it will be nice for at least the proximity sensor as well as tilt sensor for if someone tries to hop on it or steal something..
anyway I will let the pictures do the rest of the talking..
night i got it.
next day..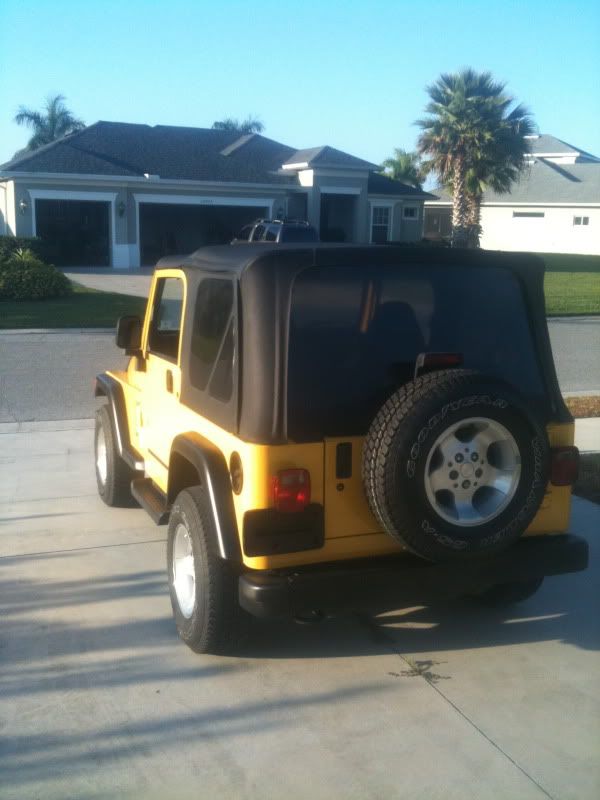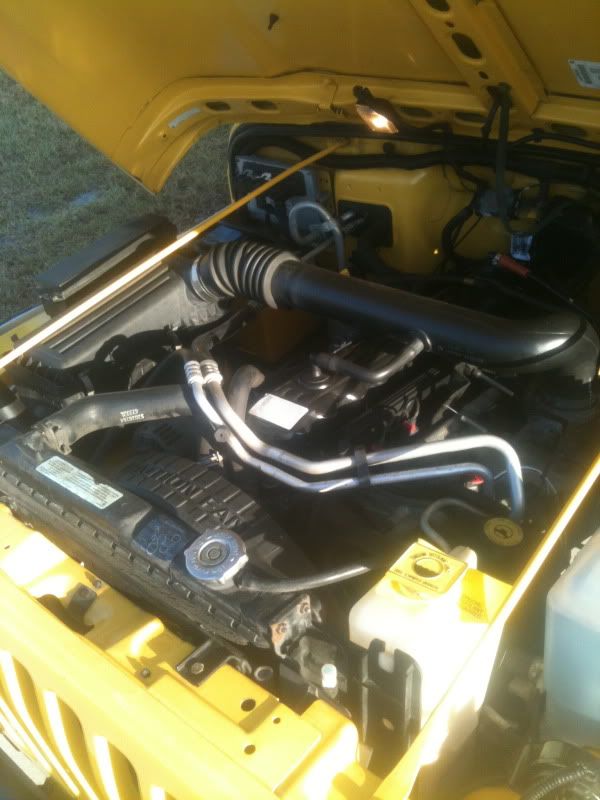 bezels, milkjugs, center dash painted...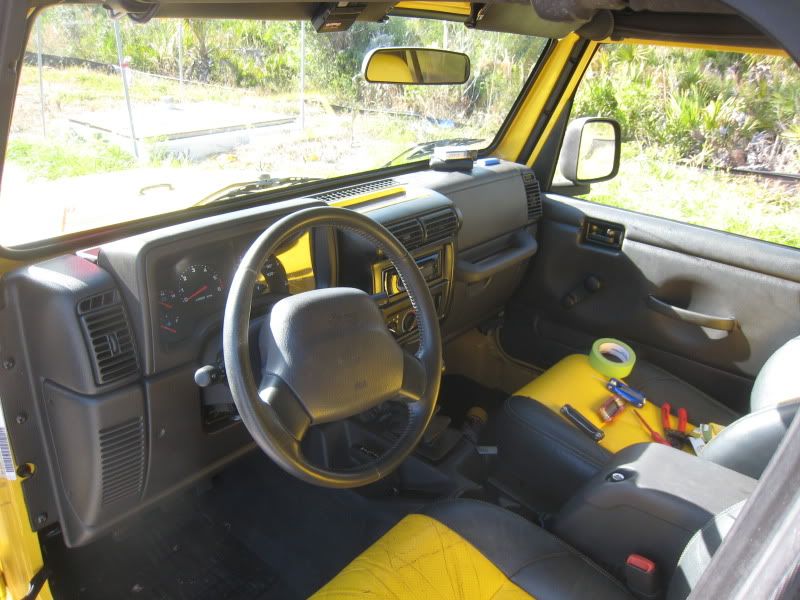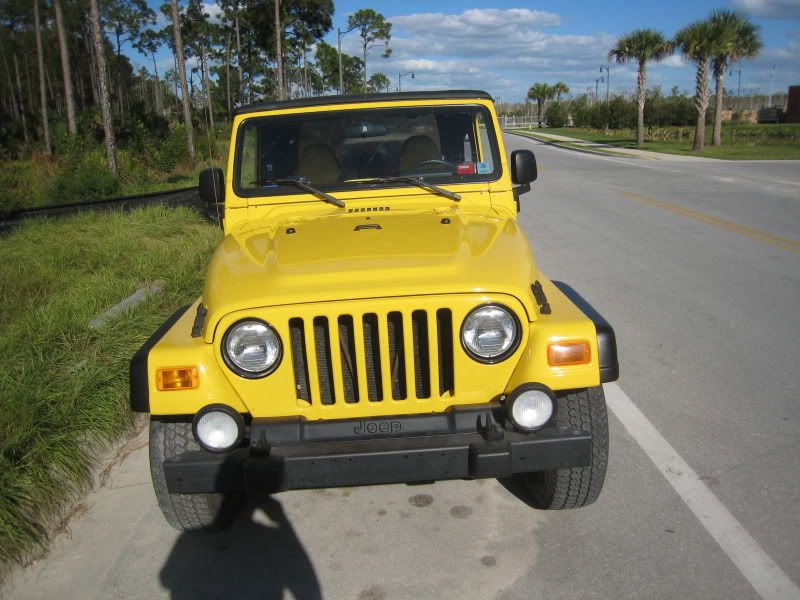 more to come...