ok so small amounts of progress have been made...went ahead and cut out for radio, removed all steering components, still have to make a run to town to swap out brake shoes... all these little time consuming minor details bug me to no end...just proves 90/10 rule....you know the rule about where the first 90% of the work takes 10% of the time and the last 10% of the work takes 90% of the time....got all the holes drilled for the gun mount now I just have to bed line it and find some tool dip for the cradles...as the time for me to be in the woods hunting approaches it becomes more difficult for me to concentrate on the task at hand...I have roughly 21 days until I can legally sit under my favorite tree waiting for food to walk by...the first 11 days are primitive weapon and I still don't have the new scope on my .50cal sighted in..im on paper at 60yrds so it shouldn't be that hard...I plan on ordering a Caldwell fieldpod to finish the sighting in and to allow my 9yr old daughter to go hunting with me this year...if I can ever get her to shut up that is...daddy daddy daddy just aint gonna work while hunting!!!...lol....
anyways since im so far off subject as it is, I guess I post a few pics from back in the day...nothing fancy like you guys do but hey....
we had lots of fun on these cars they were nice and pretty(non functional but pretty) when we started...I got to break first glass
...I will try and find the actual pics of being on the cars...these are also the cars that helped my 38x11 cut boggers turn my ungusseted dana 35 into a pretzel...I still drove it home but only in front wheel drive...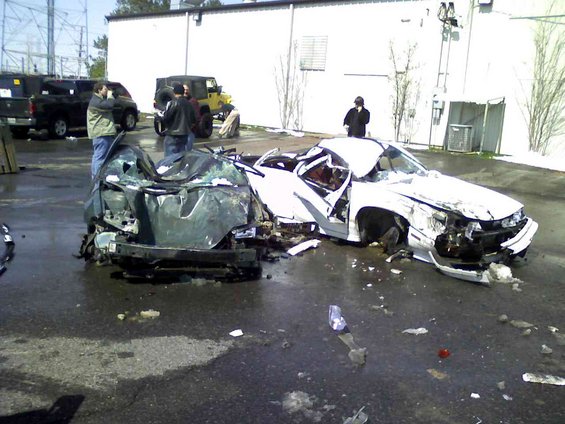 only in a " " oh come on you know what im talking about...
kids!!!!...what can ya do...lol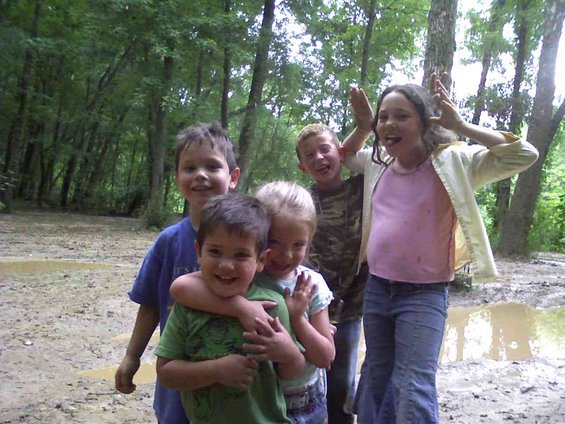 sorry bout the blurriness of this pic...this area was originally called second ditch or the picnic area...its name got changed to "1 Bee Hill"..if you look closely you will notice im not in the jeep...I had been trying to get out of this ditch for about 15 minutes its hard to tell just how steep the walls are from the pic...at the top of this line there was what we called "Death Root"..it had taken out several front axles over the past few months...I was giving it a good go and decided rather than break I was just gonna jump out and winch up and over the root....well the yellow jackets that lived in the ground around the "Death Root"hd a completely different idea of what was going to happen...ill look for the video of me running away very fast while being attacked by the little yellow b****rds...the jeep sat there running for another 30min before I could make it back to it safely...thank god for the epipen im allergic and they got me like 10 times...I have also had my but kicked by a 1" long yellow fuzzy caterpillar in the same woods(please don't ask)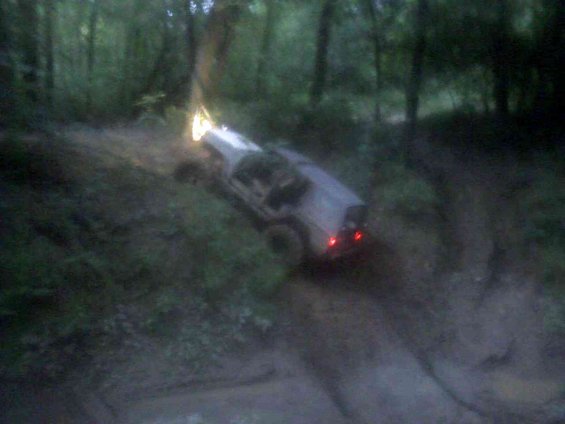 well speaking of that little fuzzy buddy that caused me so so so much pain(seriously very "F"ing painful) this fall ive noticed several hundred if not thousands all over my property for the first time...all floating down from the trees on little silk strings, and crawling on everything..im glad its fixing to turn cold and kill all those little fuzzy suckers...
anywho ill take some pics of stereo install and whatever else it is that I have actually done tomorrow after I take my father-in-law to the Dr. ....for now im gonna sip on one of these really weird tasting "Shiners" and watch some tube... or can we even call it that anymore??