Ok, so I have decided to start a build thread. Here is a little history of my jeep and how we came to be. I have loved jeeps ever since I was a small child our first family jeep was a 1984 Cj7. It was what I learned to drive a standard transmission in. My father and I had a blast exploring the mountains around our family ranch. Fast forward a few years and my parents sold it. Later on after high school my dad had moved away to Green Bay and always regretted selling the jeep so we set out to find another one. $200 later and we had a rusted out 1972 cj5 I spent almost every free hour I had working on that jeep we pulled the blown motor and swapped in a running one we bought off a news paper ad for $75 even though almost nothing worked right on it my dad and I had a blast working on it together.
here are some pics
Well as life would happen I grew up and moved away, three years later my dad sold that cj5 to fund a yj project he purchased which led up to me desperately wanting a jeep again. I begged my wife to allow me to sell my truck so I could purchase a jeep. She gladly accepted
(although she now sorely regrets saying that). In the summer of 2008 I purchased my 1990 jeep wrangler sight unseen from a KSL ad in Ogden UT. My awesome brother-in-law test drove it for me and checked it out. Later that week he drove it up to me over the 4th of July week. I was instantly in Love with my new purchase. I though it was so bada** and that it could do anything. I had already thought my knowledge of jeeps was sufficient and that I had made a sound purchase. Then the want to customize with off-road capabilities and with the hours and hours of research on here and Pirate4x4. I learned so many things I wanted to start trying all these awesome mods. Then my wife smacked me in the face with reality!
With a mortgage and 3 boys to feed my jeep budget was slim, but I was determined to have to a jeep capable of traversing Montana mountains and Moab slick rock. So a new jeep was born. Most of the stuff I will be explaining in the next few posts will have already been done I will try to get my thread caught up to where I am as of today, hopefully in chronological order.
Specs of jeep when purchased:
1990 jeep wrangler Laredo.
Engine: nuttered 4.2L
Transmission: stock Ax15
Transfer case: stock Np231
Suspension: 1.5 rough country lift 1" shackles
2" body lift
Transfer case drop
Front Axle: Dana 30, 3.07 gears
Rear Axle: Dana 35, 3.07 gears
Tires: Bald 33x12.50x15 wild country MT
Wheels AR steel 15x8
OK enough introductions!! On with the jeep build and pics
Picture from the day I bought it. july 2008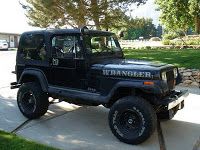 June 2012
Most recent May 2013