Hey all, just picked up a new to me TJ, to replace the hole in my chest front when I sold my long armed WJ! I will be starting my build thread here, as well as keeping a list of all my plans etc! Now on to the stuff you guys like, pictures!
CURRENT PIC OF JEEP
(11/29/14)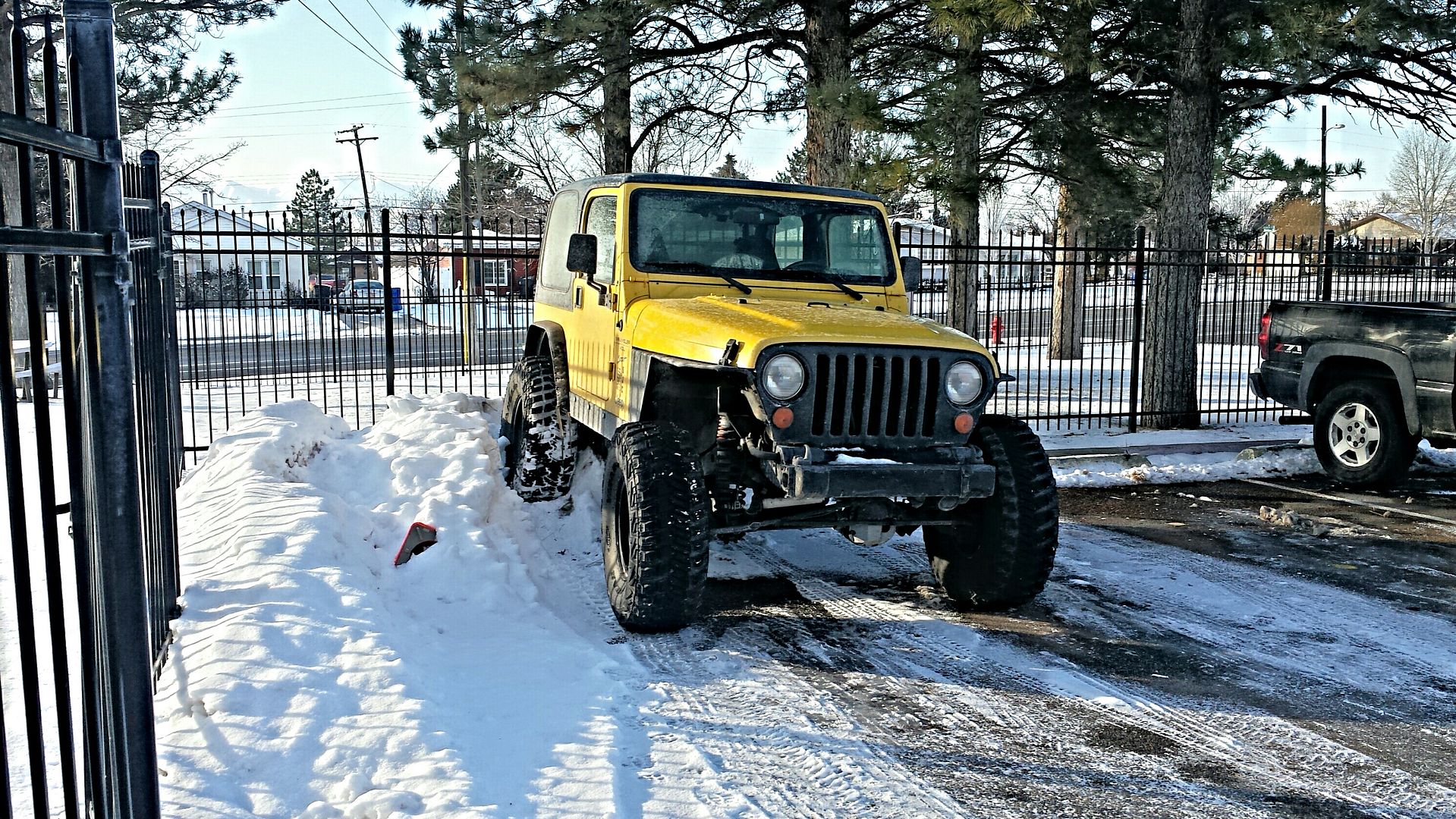 Here's a list of my plans, it's gonna be built on a budget.. I'm a full time college student working part time, and I also am the kind of person who would rather build something myself for a minimal amount, than pay thousands, even if I can afford it
I want this jeep to be able to drive down the freeway at 75 mph, ride comfortably, and hit decently difficult trails.. Still working on all 3 at this point but it's only getting better!
gonna keep it mildly low, around 3.5-4 total of lift between suspension and body. not low enough or built enough to call it lcog. Here are the main points of the build that are done so far:
Stuff I've Done So Far:
>>01 TJ sport, 4.0, 32rh, hard top, AC
>>Skyjacker 2.5 lift
>>1 body lift and MML
>>Banks CAI
>>Pioneer touchscreen, and 6.5 speakers w/ kicker sub
>>8.8 swap with 4.10's
>>HP D30 with 4.10's and Detroit true trac
>>35 kevlars
>>Rampage rear tire carrier
>>Teraflex rear uppers
>>Ironmanfab front lowers (still needa install)
Little Sh*t That Needs Fixing:
[ ]Hardtop or windsheild wind noise, seriously needs to be fixed
[ ]Door rattle's, and dash rattles
[ ]Rear hatch hardtop leak
[ ]tailpipe needs hangers, or I'll cut it off and throw on a turn down
[ ]paint chips touched up
[ ]valve cover gasket
Spring Plans:
[ ] New shocks. Stuck between cheap Hydros, Billy's, Rancho 9000's, OME, etc.. Cheap hydro's are looking like what I'm going with though
[ ]Set bumpstops all around
[ ]ZJ Tie Rod upgrade
[ ]CostCo 12v compressor
[ ]Re-work intake for highlines
[ ]Poison Spyder Defender XC's
[ ]Tint windows
[ ]CB setup
[ ]LED taillights (have a broken tail right now)
[ ]Spartan Locker for 8.8
Other Stuff I Want:
(these are things I don't NEED before Moab, and might not happen til summer)
[ ]Headliner, and paint hard top inside
[ ] paint door handles, and fuel filler
[ ] mirror relocation brackets
[ ]Bedline exposed yellow in interior
[ ]New front speakers
[ ]Soft top? Really want a NX, or Rampage frameless sailcloth. I have considered selling my hard top, and it would give me $ towards other stuff too, just not sure I want a soft top year round
[ ]Shock shifters? (decided against an outboard, might use next years tax returns to stretch the wheelbase, so it might not be worth it if I'm going that route)
[ ]tummy tuck (also might not be worth getting a driveshaft, if I'm going to stretch)
The day I picked her up, 2.5 skyjacker lift kit, Rough Country disco's, no rear sway bar, 33 duratracs, 3 spd auto, AC, and a half assed sound sytem install
Promptly took the shortbus for a shake-down wheeling run, and suddenly lost 4wd and got a weird knocking under the driver floor pan. Turns out Part of the shifting assembly that goes through the body mounted bracket came out and so I couldn't shift into 4wd, and it was making a racket under there. Shoved it back in, and it has worked since, need new bushings in it I believe.
Next thing I did was take a heat gun to my badly faded flares. This is the result!
Also plastidipped the grill, and removed the lame windsheild sticker. Also removed the mini flares in the front, and I will remove the steps soon to add rocker armor I am making. Plastidipped the rockers in the mean time to cover the holes left from the mini flares
Next up is chopping the fenders, JK style turn signals, some new 33 kevlars (I should probably just rock the tires I have on it now, but I figure sell em while they're worth something, and I really want Kevlars, I've wanted them my last 2 build and have never had them, so I am buying them lol) , rocker armor, sound system upgrade, and a rear bumper build! Eventually an 8.8 swap, and build for 35's will happen, but not til next spring. stay tuned