Ok so when I decided to get a wrangler (I have always wanted one) I told myself I was going to get a TJ Rubicon. That is until I started looking at prices. The only Rubicons in my price range had tons of miles and beaten to a pulp. I have also been repairing my credit for a long time.
ANYWAY one day I saw my jeep sitting on a lot here locally so I went and checked it out. 2001 se 2.5 low output, automatic trans. Not really what I wanted But it had under 24,000 miles on it and was like new in every way. AND the price was right. $10,300 Plus he was willing to give me $2500 trade in on my girlfriends crap box 96 ford ranger. He also let me keep the new tires I had just put on the ranger. I went to the bank and they approved my loan, a huge surprise to me.
It has a hard top small lift Ramsey 8k winch and nice alum wheels with matching spare.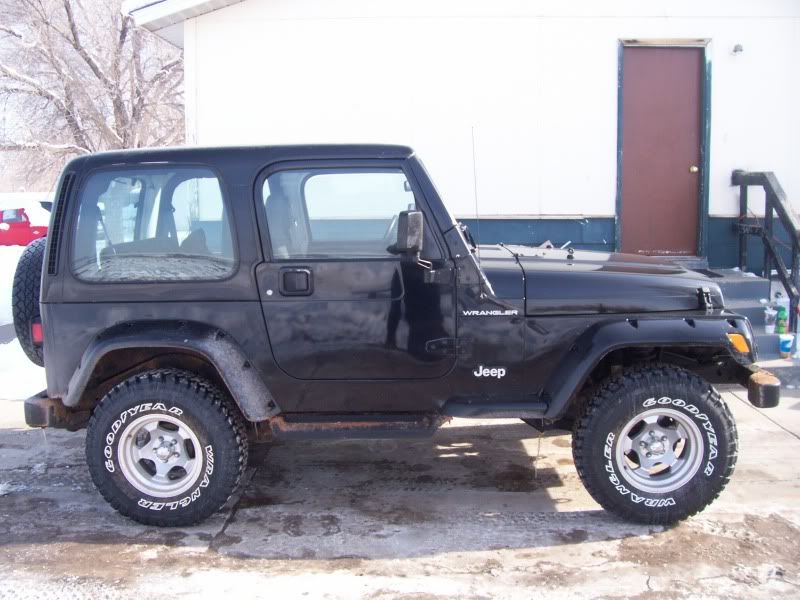 Cute aint it?
So far I haven't done anything to it but drive it and wheel it a few times.
I did order some stuff for it the other day.
Rampage recovery front and rear bumpers with the driving lights. (quadratec combo deal) price was right and I like the look of them.
KC windshield light mounts.
best top safari header style top and header
guards for all the lights (cheesy I know but I like them)
Should be here on the 15th, will update.
Plans: (no particular order)
currie anti-rock sway bar
slip yoke eliminator
undercover fab's alum engine and "no body lift" transfer case skids
alum rocker guards
alum trail corners
turbo and inter cooler by 505
super axle kits front and rear with 4.56 gears and selectable lockers.
synthetic winch line and hawse flairhead.
Possibly upgrade from the unknown lift to an OME. or at least OME shocks
lockable boxes for the interior
tuffy console
CB
upgrade stereo and speakers
beefy diff covers
ARB snorkel
A jeep is never done so Im sure I will have an endless list of little mods and stuff. I have been known to change my mind as well so we will see how that goes.
My goal is to keep it light and somewhat mild I don't want huge tires and all the fan fare. Just the best little jeep I can build.
I realize I could sell it and buy a better equipped jeep such as a Rubicon but for my budget I wouldn't be able to get one as nice and "new" as this one. Yea its 9 years old but its practically new as far as use goes.
Thanks for lookin Ill update as I go.
P.S. You younguns may not know "Shoeshine Boy" was Underdogs alter ego like Clark Kent is Supermans LOL
Has NOTHING to do with the color.