A sexy green 99 TJ / Build in progress
---
So after reading plenty of other build threads, which I have thoroughly enjoyed, I have decided to start mine.
I'm still new to the JF so moderator's please don't ban / block / sent me to Siberia if I post something in the incorrect place.
A little about my TJ:
99 sport 4.0 I6
180 k miles
Front Dana 30
Rear Dana 35 (I know b/c the rubber fill plug)
32x11.50x15 on a leveled stock suspension. 3.5" Lift from DPG and 33x12.50's coming soon.
This is right after I installed my Quadratec Stealth Led headlights (http://www.quadratec.com/products/97109_0002.htm) and my Barricade Trail Force HD front bumper (http://www.extremeterrain.com/barric...m=&XTID=J20851) which are getting pretty popular. These were some of my X-Mas presents my lovely lady got me.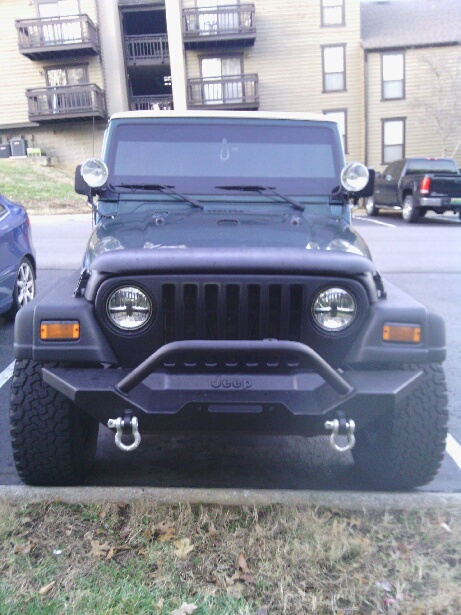 Parking lot action shot
Added a 21" curves series light bar I bought from SuperbrightLEDS. Also got amber lens covers for it cause as we all know white LED light sucks in rainy / foggy weather.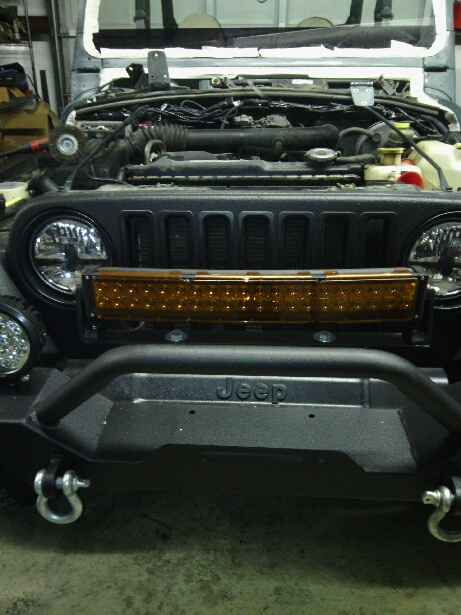 Still have to make some minor adjustments
As you can tell I'm kind of a lighting nerd. Gotsta have bright lights.
I decided that I wanted a powerful set of driving / fog lights to replace the incandescent Hella fog lights I had. I reluctantly went with some Westin 09-12010A 7" LED driving lamps. 7200 lumens from each lamp. (
http://westinautomotive.com/westin/v...231&vehicleId=
)
These are some expensive high grade lamps so I searched around online before I pulled the trigger and was able to save a good amount.
As you can see I was already getting everything prepped and sanded for my
MONSTALINER
exterior project.
---
I'm not your buddy, friend !
I'm not your friend, Pal !
I'm not your pal, buddy !
---
Last edited by OMNIMAN; 03-15-2015 at

12:18 AM

. Reason: wanted to add more