So I've had my '99 wrangler for about 7 months now and he's come pretty far. Its my second TJ and second car. I guess you can say I caught the Jeep bug.
I haven't yet made a build thread because I never really thought my Jeep was worthy of one and I've been keeping track of it with Instagram. After looking through some of the other threads I said who cares... so here it is!
This is Sarge the day I bought him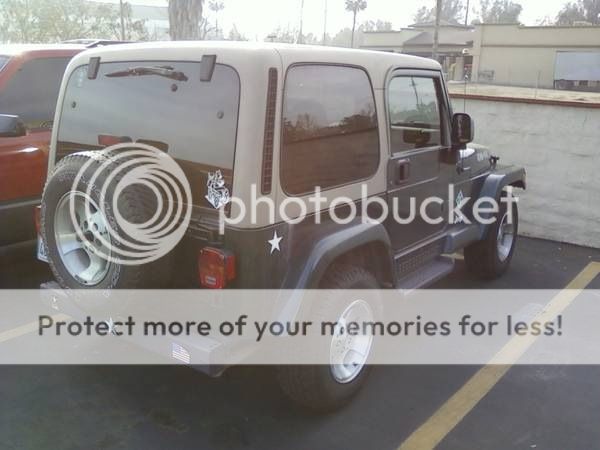 Then the build started pretty much right after that.
Right away I threw on my OR Fab front stinger, fog lights, and plastidipped the grill black
Next was the stereo upgrade! (also have a 10" sub and amp behind the back seat)
At this point were about a month into the build.
For graduation my neighbor gave me a CAI from K&N. Don't hate! it comes out later
Swag Offroad Big Hit Bumper
Banks Cat Back
Led Tail lights and Dash
Sometime around here I decided to toss my man card and try to make my own Cargo net sides... I have since finished tem but havent got to try em out since the hard tops now on again
Rock sliders came on
Set up a Keyless Start system... I have a seperate thread on this
Hood vent from PSC and then windshield KCs
Next up rear Fenders and a BL/MML.
2" Budget boost and some 35's I picked up cheap
Rancho 5000s
NOW HERES THE SUCKY PART:
Rolled Sarge at 2am after a lot of DGAFing and a breakup. You can probably guess that was quite the setback... This was about 4 months into the build and a week before school started back up. I ended up having to leave Sarge at home for the first couple weeks since my new windshield frame order got messed up and didn't come in on time.
Heres the CCFabs 3" Hoodlines I installed during the rebuild. (I already had them. Was just waiting on the powdercoater)
Heres when the new windshield frame came in and and got glassed
At this point we fitted the hard top back on which was a PITA because of my bent roll cage. I drove Sarge up to Cal Poly and introduced him to my four wheeling club.
I then Threw on some home-brewed sway bar links
Crawled up my first Jeep on the next visit home to check clearances and rear bumpstops. I ended up replacing my front brake lines because of this
Gosh this is taking forever
Okay lets see went wheeling with the club at Hollister Hills and Bent my Tie-rod. Got replaced with the ZJ setup
Okay now were getting into the recent stuff. I ended up doing a cowl intae with the windstar airbox...
At the same time I installed my China-made Rock lights