Registered User
Join Date: Feb 2012
Location: Blue Ridge
Posts: 20
It's a Jeep Buildy Thing... (Warning- Lots of pointless photos)
---
Well, I figured it is about time to start a build thread on the Jeep. I have had build threads in the past and it was always nice to go back and see the progression and how much I had learned (usually the hard and expensive way).
I mainly dealt with building Honda's at first...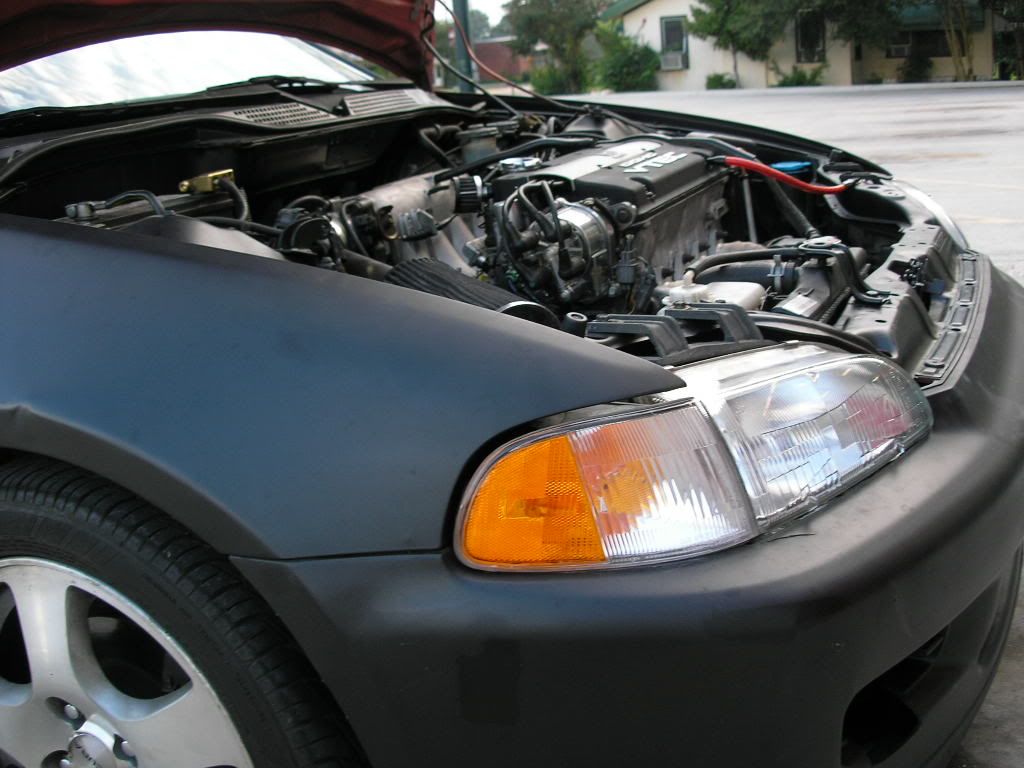 1994 Honda Civic Si hatchback
H22a head
H22a1 block sleeved with 90mm 12:1 Weisco pistons, Eagle rods, ARP rod bolts... etc
I thought I had a lot of money invested into it. Then I started my LS1 Miata build...
Build Thread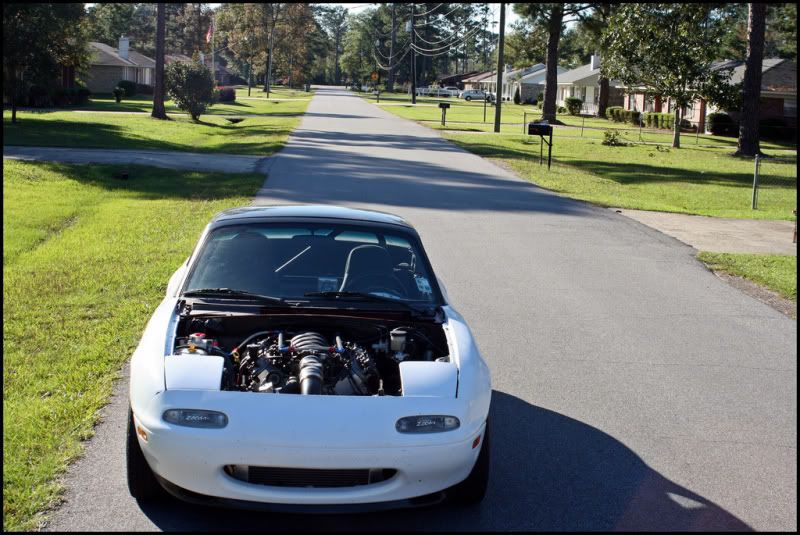 After I finished that build I ended up parting it out and fortunately made most of my money back.
That leads us to my current daily driver 2003 Jeep Wrangler Sport project. I bought it in the summer of 2011 while living with my wife in Salt Lake City (hence the screen name). I could tell it had been wheeled a little bit and it had a salvaged title due to a theft, but the price was right.
I kept it stock while I got the title situation taken care of just in case I needed to sell it. (I despise title problems) Still, I enjoyed taking it out and seeing just what all it could do. Being my first 4x4, I was in love.
This was a steep little hill in a local play area. Needless to say it impressed the heck out of me. I was hooked!
Once the title was clean and in my name I started addressing my problem areas one at a time. I didn't want to regear yet so I ended up with some 32x11.5 KM2's on 15x8 3.75bs el cheapo wheels.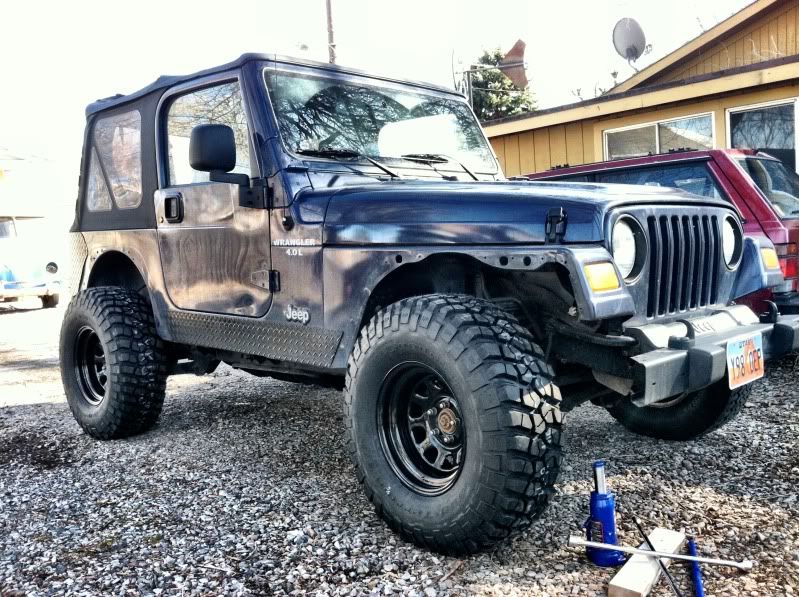 Those things loved to grip everything out there, but they did have some clearance issues up front. I couldn't put the flares on without the risk of tearing them off every time I went off a smooth road, even with the sway bar connected.
(No, this isn't a stock flex shot. It is just a personal reminder of how freakin cold it is out there!)
I ended up putting a 1.75" spacer up front with some cheap 9.5" travel shocks that rode like crap. Then some Xenon flat 4" flares were added to help keep the strict mormon popo off me.
Being so close to Moab, my wife and I regularly would make weekend trips down there.
I don't have any wheeling shots while out there, but I mainly conquered the bunny slope of the trails. I think the hardest trail I took was the Metal Masher spur off of Gemini Bridges. With only having a factory limited slip in the rear that often forgot to limit any slip at all, I ended up back tracking to the main Gemini Bridges trail to avoid the inevitable destruction that would have occurred had I continued.
Fast forward a couple months my wife and I found out she was pregnant and decided to move to North Georgia where her family is. We gave stuff away, threw out a ton, packed the Jeep full including the kayak on top, and trekked across the country to our new home in the Blue Ridge mountains.
Anyone that has kids knows the quick and sudden halt they will put on any project. The jeep remained the same for what seemed like forever. I wouldn't have it any other way though. I may be biased, but I have the cutest little girl in the world now. (which is why the back seat is staying put)
Still, I ended up shelling out a little bit for some BDS springs (3" front, 2" rear) and their shocks. They will definitely be upgraded when I outboard the shocks. This is where I am at right now. Just a simple lift and small tire Jeep that does plenty... But is that ever enough?
Those photos were about a week after I put the springs on. I think the front shocks were about to their limit of droop and the rear springs have settled and softened up a little since then. Still, they are a pretty stiff rear spring so I might end up swapping out for something a little softer in the long run.
This isn't going to be anything fast paced or hardcore. It is a daily driver and needs to remain that at least for the time being. As such I am trying to keep my goals pretty simple and realistic. Here is what I am hoping to accomplish over the next century-
Not in any particular order...
-35" KM2's- Hey, they are basically a large 33" tire and should be fine on the lp30 until the front axle starts causing problems and gets replaced.
-Regear to 4.88- Duh
-Lockers- probably an Aussie or similar up front while hopefully an ARB in the rear
-sye/driveshaft- Been thinking about going with a d300 and ditching the 231... Who knows.
-flat skid- Home made from 1/4". We will see if I can get away with only having to massage the tub to clear the 231 with a low pro mount, or if I will absolutely need a small body lift.
-beef up steering (Currie?)
-Currie Antirock- I'm not even wasting money on disconnects.
-Adjustable control arms- Probably Metalcloak in the front and then lower rears. Building some adjustable uppers for the rear to triangulate and do away with the trackbar. Keeping stockish wheelbase for the time being due to gas tank and needing to run a back seat for my daughter.
-BTF truss for rear d44
-Poly rear frame control arm mounts
-Cromo axles for the rear d44 and possibly the d30... if it deserves it.
And then who knows. The front axle is one thing I really do want to upgrade. I have not had any problems with it yet, but I feel like it is only a matter of time.
---
Last edited by MattD_SLC; 08-24-2013 at

06:45 PM

.
Not much of a build update, but an update nonetheless. About a week ago my wife and I moved into a new apartment which I came to find out used to be an old 4x4 shop complete with rock pile in the front and a couple trails in the back. Today I plowed down some of the foliage that had grown up on the rocks and at the last minute decided to try and drive over the darn things with the front sway bar still hooked up... Just to see what it could do in "street form."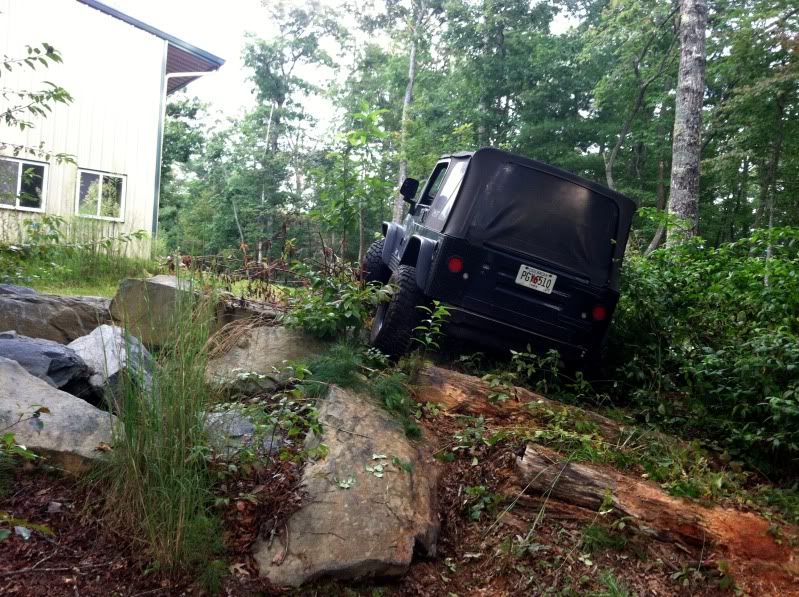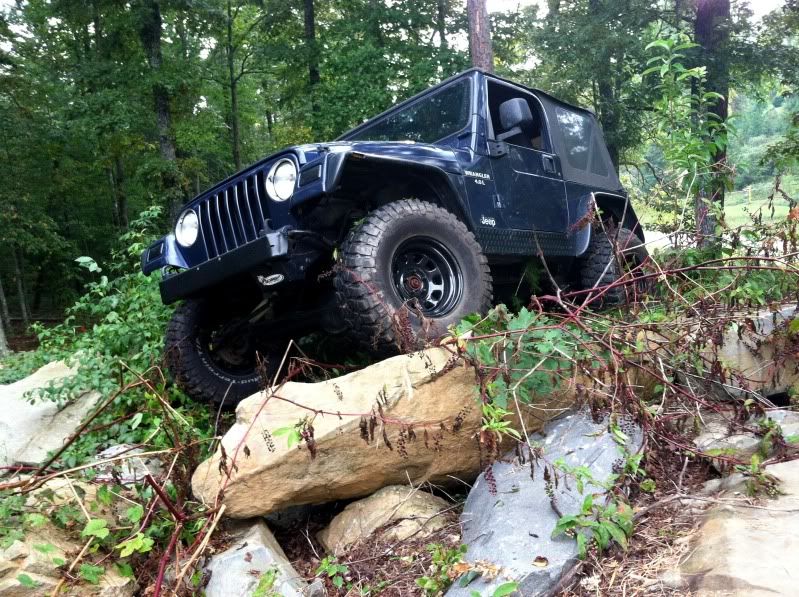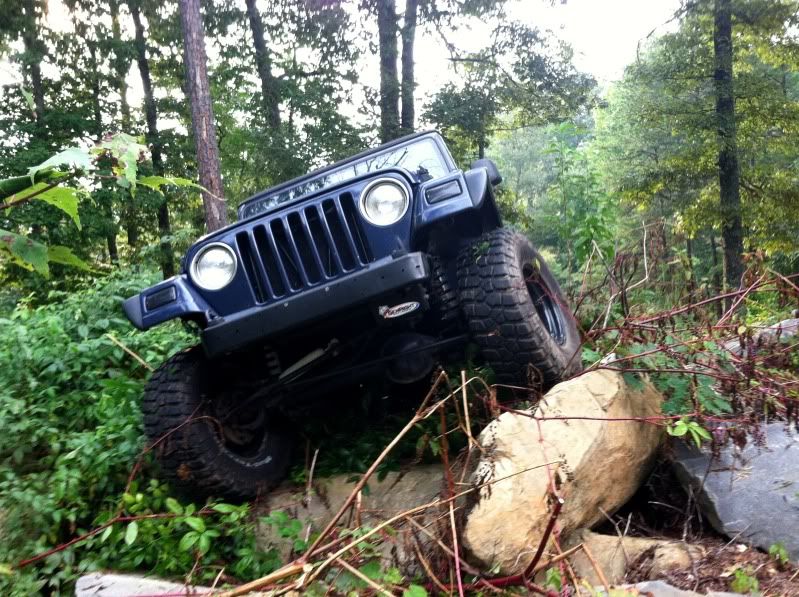 This was the easiest line I could see and it still took me a couple attempts in some spots. I think this will help me with picking my lines and find any weaknesses my jeep (or I) have. Needless to say my stock gas tank skid and rear shock mounts took a beating already.
Registered User
Join Date: Nov 2001
Location: Eden
Posts: 5,717
Thats karma , move from Utah to an old 4wd playground . Keep up the good work and kids are a lot of fun on the trail once they are potty trained.
---
Free stickers and picture hosting at Jeep-Owner.com
Quote:
Thats karma , move from Utah to an old 4wd playground . Keep up the good work and kids are a lot of fun on the trail once they are potty trained.
I have enjoyed the new living situation for sure. And I know the older my daughter gets the more I will feel comfortable with taking her out on the trails. She seems to already have a good time. Can't say the same thing for my wife though.
So, not much of an update. I have mainly been trying to get better at finding lines and finding the limits of my vehicle. I figure that will make the most of any upgrades that are done as well as let me know what is a priority and what things can be put on the back burner.
Needless to say a tummy tuck is in the priority list. haha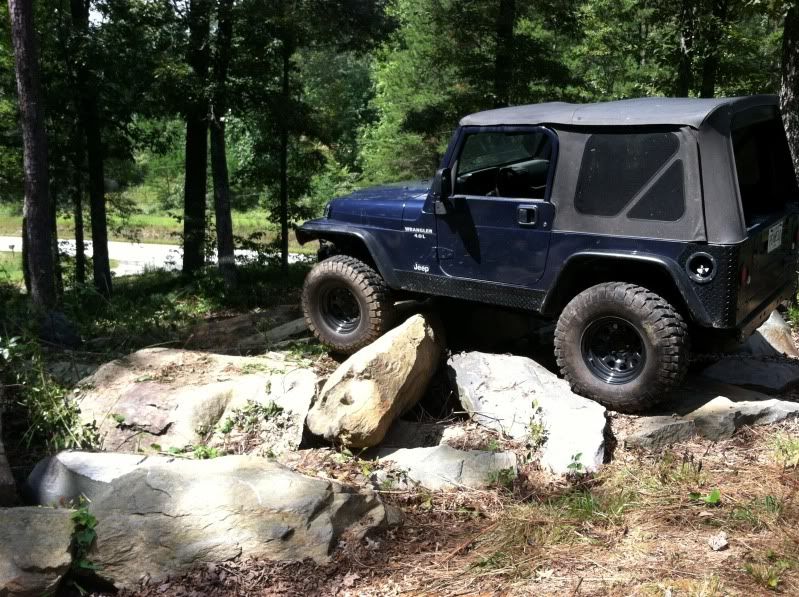 Managed to scrape my way over but that was the only thing that even touched when driving this line. Other lines lead to scraped up steering linkage (which will be addressed shortly), rear shock mount, and the factory gas tank skid that is beginning to look more like battered bare metal than the factory black paint.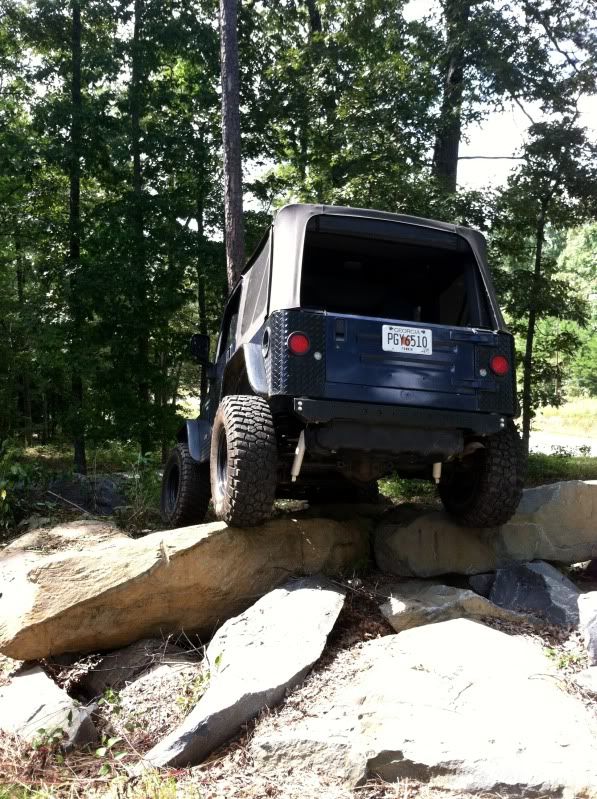 Oh wait.... What is that?
Managed to find an 84ish Wagoneer D44 set of axles from a friend back in Mississippi. I was told they were a late 80's set that included the D44 rear which is a couple inches more narrow than the TJ rear. I was debating just building it anyways and putting some spacers on if clearance was an issue. When the axles got delivered I realized that the front was great but the rear was an AMC20 which should make it a set from the early 80's. That just made up my mind to simply build the TJ rear D44 though. I'm not worried about converting the front to 5x5.5. Since I will have to buy new wheels at that time anyways I am just going to get some rear axles drilled to 6x5.5 to match the Wagoneer front. Hopefully will be able to build this front axle over the winter and have it ready to swap in this spring. Fingers crossed!
Registered User
Join Date: Aug 2012
Location: Morrilton
Posts: 265
Man, I been looking for that same axle for months without any luck. Good Pick! How old is the little one? You have to start them young!
---

To view links or images in signatures your post count must be 10 or greater. You currently have 0 posts.

I'm un-decided...
I saw a wagoneer D44 front in the classified section just yesterday. The junk yard these axles came from in south Mississippi has at least a couple more at only $75 a piece or so. You could make a weekend trip out of it and hit up New Orleans for a great time!

My little one is about to turn 1 on the 13th of next month. It's crazy how fast she is growing up!
---
2003 TJ slooow build thread-
http://www.jeepforum.com/forum/f22/its-jeep-buildy-thing-warning-lots-pointless-photos-1566140/
Now that I have the Wagoneer D44 front to build up I am really debating what tires to go with when I make the move to 35's. I keep hearing people say how tough the sidewalls are on the MTR-K's and I like that they are true to size unlike the KM2.
Personally I have never had a problem with the sidewalls of the KM2's despite hearing other peoples horror stories. Just yesterday I got myself into a pretty good little bind and halfway expected to slice one of the rear tires. No real damage to speak of...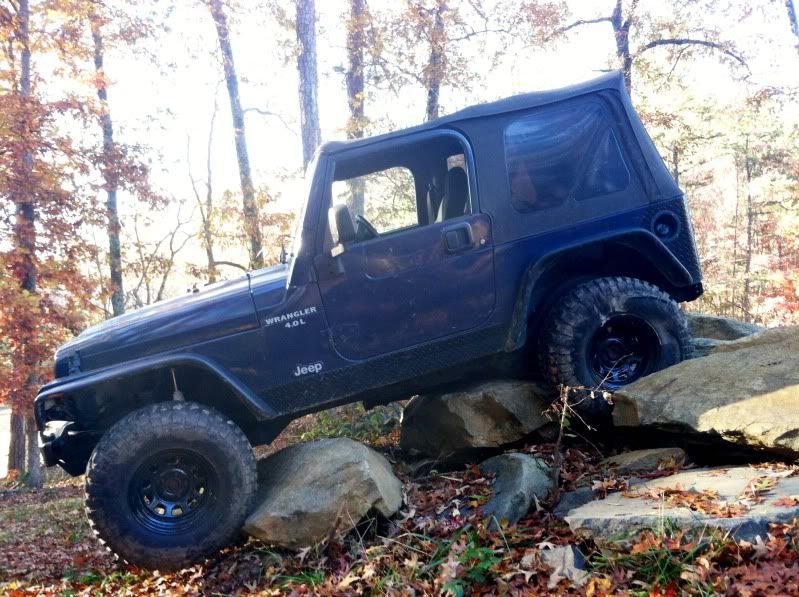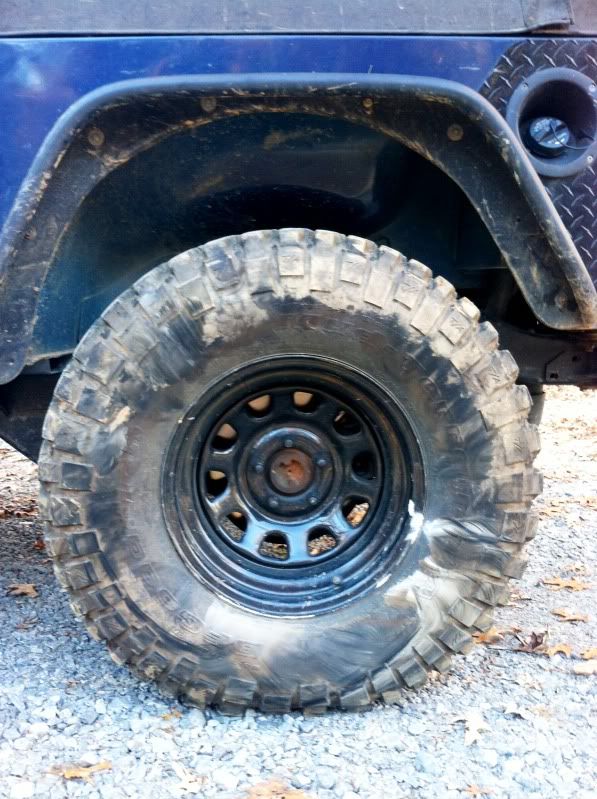 I'm sure I will push things a bit more with the upgrade in axles and tires though, which is my only reason for doubting the KM2's in the longrun.
In other news I do have a couple things on order. Just hoping UPS can find me at my new address in the middle of nowhere!
---
2003 TJ slooow build thread-
http://www.jeepforum.com/forum/f22/its-jeep-buildy-thing-warning-lots-pointless-photos-1566140/
Currently Active Users Viewing This Thread: 1

(0 members and 1 guests)