ive been on the forum for quite some time. im on my second jeep, never did a build for my old one figured why not do one for this jeep. ill start off with my old one, it was a 98 sport with 4.5in of lift on 33s it was fun, and i miss it, but when i went off to school i sold it like an idiot.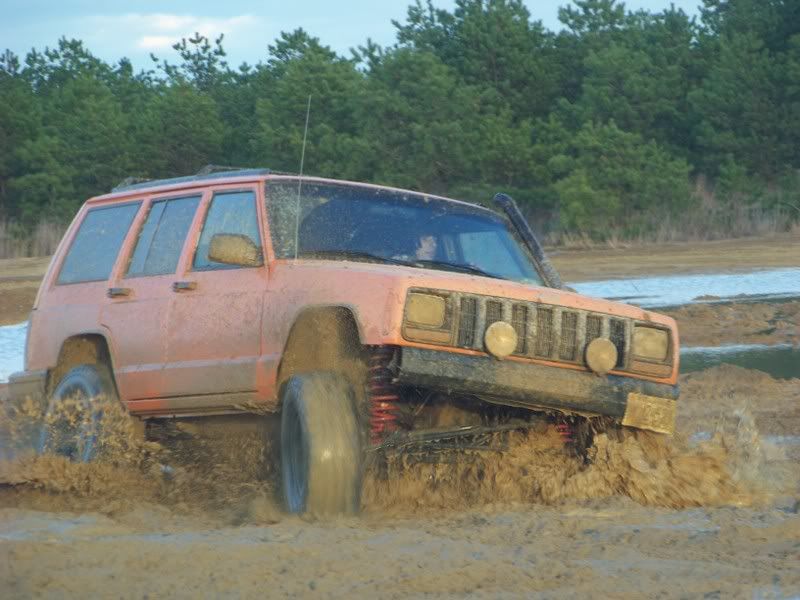 thats how it looked when i sold it. so i went a few years without a jeep. drove a few different cars just never found what i liked or kept my attention. then once i finished school i had deadset that i will get another jeep. it had to be another 97+ xj so i started looking. found a few for cheap but passed them up. then last nov i found an add for a 99 with a hydrolocked motor. i really wanted a 99 so i called the guy. said he has a guy coming to buy it in a few hours. i thought i was to late. but then the guy said, the person buying it is only buying it for the front clip. then he was gonna scrap it. i told him to give that guy my number and that i want the jeep. i figured he wont call but its worth a shot. what do you know i got a call 3 hours later from the second guy. i went to check it out. it was in rather good shape. int was clean, body was clean, no rust. i wanted it. this is how she looked when i went to look at her.
i talked to the guy for a while he was using the front end for his jeep that his son had wrecked. then was gonna scrap this one. i cringed when i heard that such a clean xj i couldnt let it get crushed. we talked price he said 550. i laughed. i told him ill give him scrap price for it. he thought about it then said yes. he then offered for 25 bucks hell deliver it. i figured why not i bought it.
he delivered it the next day.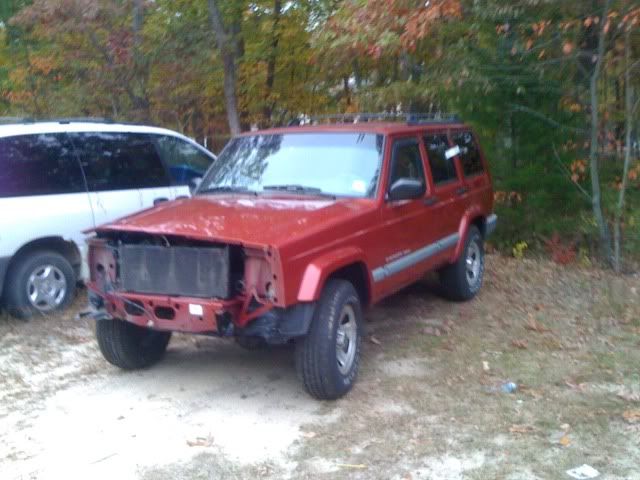 it sat for a week or so before i touched it. first thing i did was make sure the motor is really locked up. yea it was. had a 4ft pole and stilll couldnt spin the crank. hah i then started junkyard shopping for a few things it needed. first yard i went to i saw a zj that was sitting a little higher then normal without wheels. i figured it was on a car or something. i looked for a few xjs couldnt find any. so i figured why not look at the zj for ****s and giggles. i walked over to it and saw it had a lift on it. i figured the yard would want a lottttt of money for the kit. i asked him and again was shocked. he said 200. i always like to haggle so i said 150. he said sure. i ripped the kit off and went on my way. got home and started to look at it to determine if i wanted to keep it or sell it. i found one tag on the spring, looked up the part number and found out it was old man emu stuff. i kept it. the next day i put the front of the kit on to see how itll sit to see what size ill need for the rear.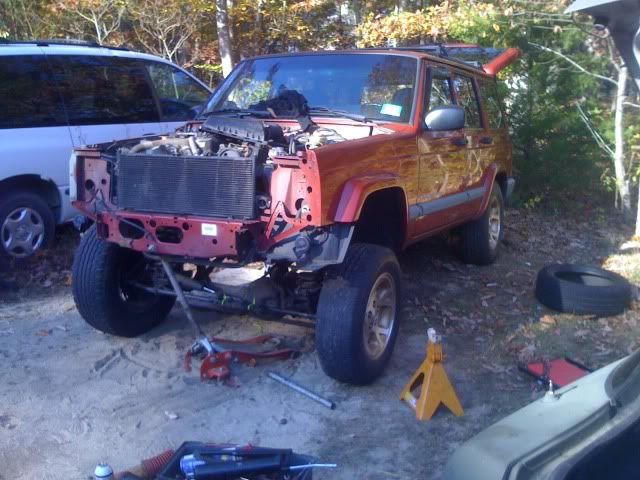 sat around 7.5in i knew it was a little high since the rear was on the ground so i based around 6.5 was prolly about how itll sit. it sat like that for a few weeks i picked up a motor off a friend. 70k on it. i pulled the blown motor and trans out. then it snowed so i put off for a while. or so i thought. one day after work i was heading to my girlfriends, leave my house in my at the time daily,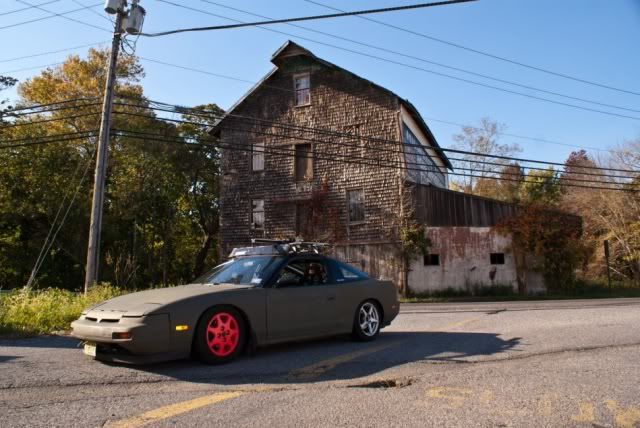 until it decided to do this,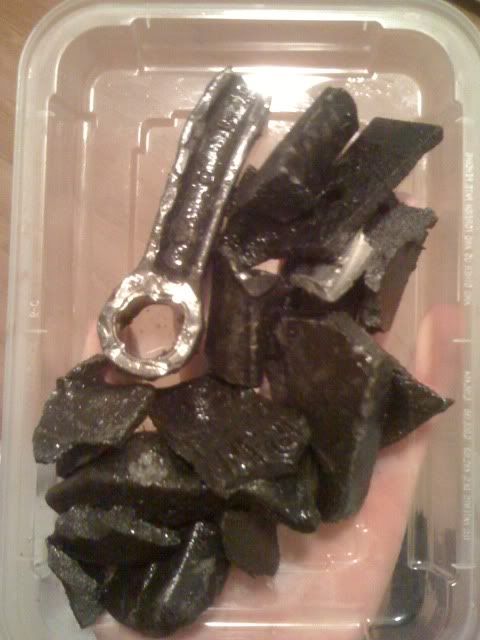 so after that happened i was sick and tired of fixing it and decided its time to build it. i parked it and got moving on the jeep. placed a big order from rustys, got some parts in,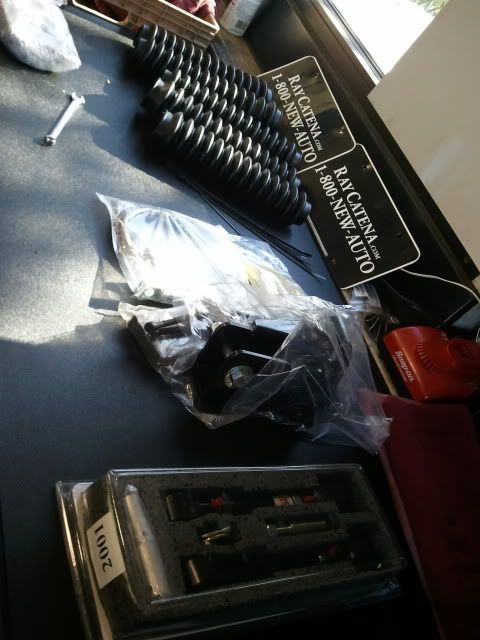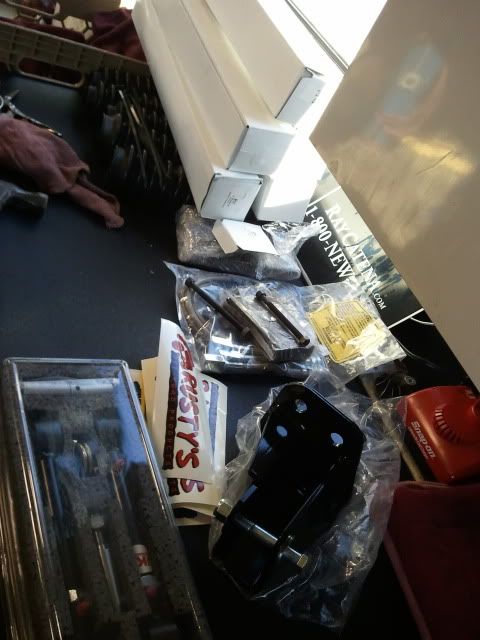 then the fun began, put in my sye,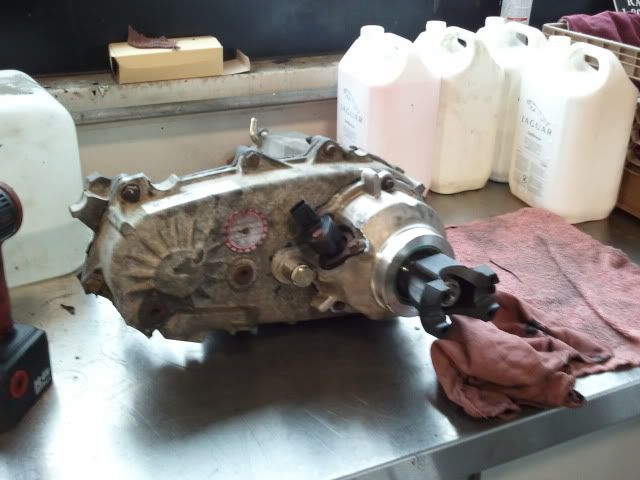 then picked up a set of 36in mickys just to drive on for now. 200 bucks i couldnt pass it up. got those then once the snow took a break i was ready to get working on the jeep. mounted my tires up and was ready for the weekend.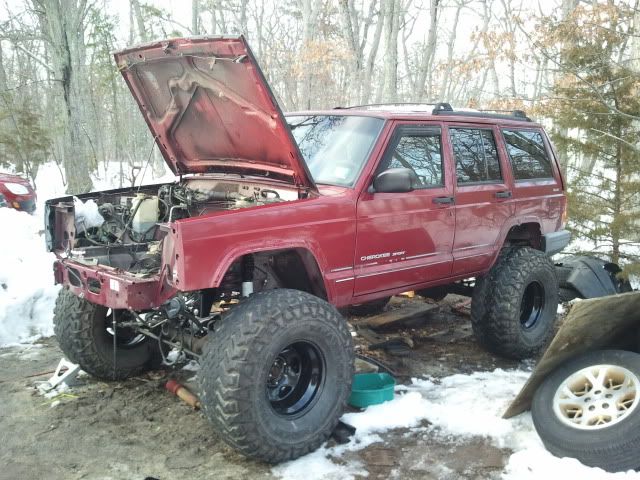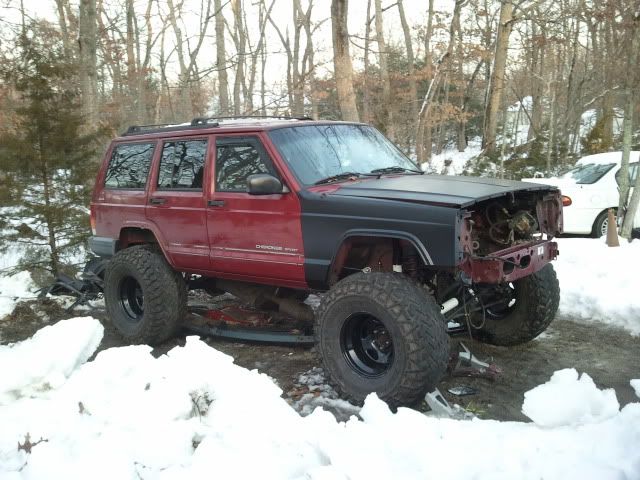 froze my *** off putting the rest of the susp in. got it pretty much done. then my friend offers to let me use his rv tent he has to finish it. its heated so i jump on it. get a friend to tow it there and was ready to finish it.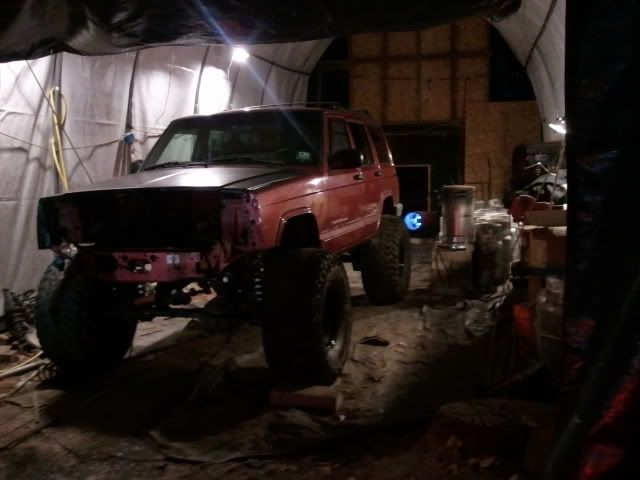 got it there, then i started to gather the rest of the parts i needed. collected everything then got to work.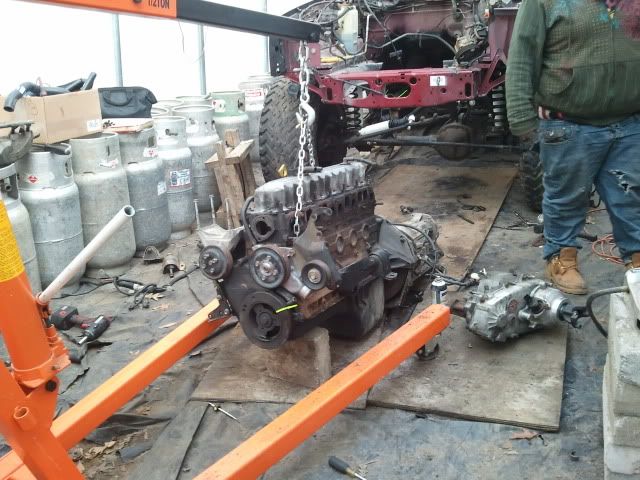 i put the motor trans and transfer case in as one piece made life easier.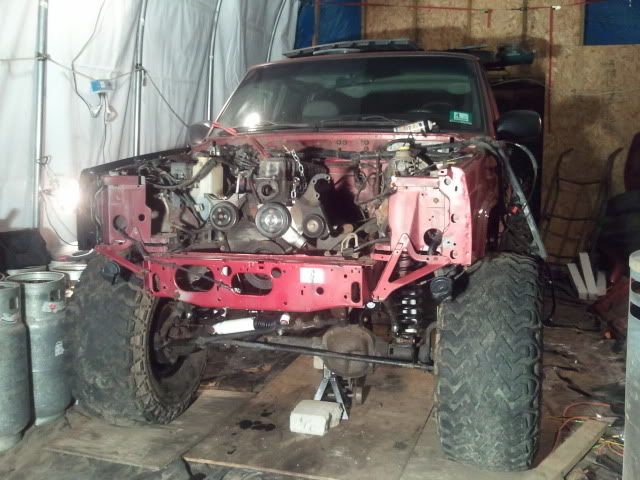 got a front header panel assembly i must say it was rather hard to find it.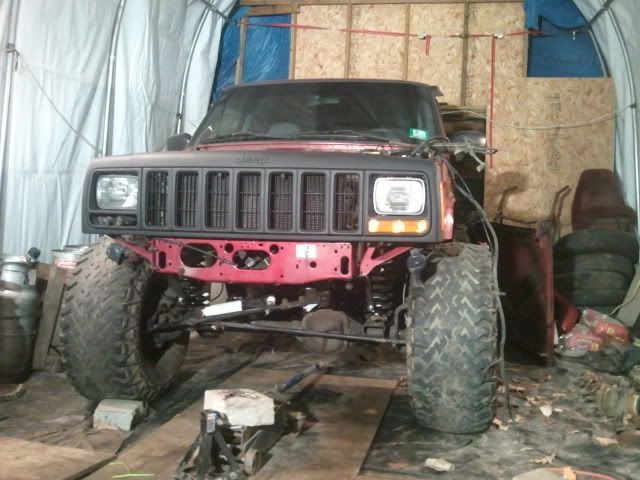 got it all done and drove it around the block all seemed well. switched my plates and ins over and then was ready to drive it. or so i thought.
the trans i got was no good would slip as soon as it got up to temp. so i went back and got another one. gotta love warranties. swapped it and was on my way.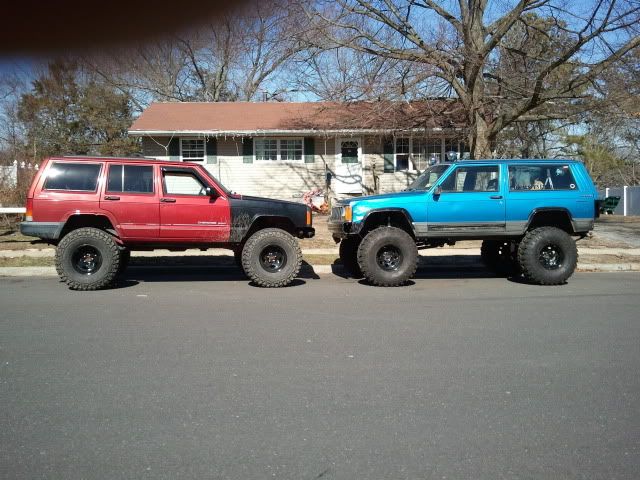 thats my friends 89 with 8in on 36s.
and this is how it sits currently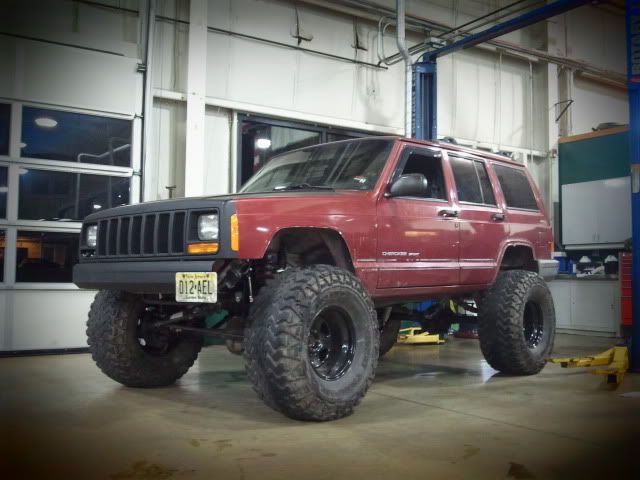 i still have a lot to do on it. im still running stock brakes, gears, and steering. im taking care of the steering this week. then will be gears and brakes. then starts the armor and recovery. thats all for now ill update as i update the jeep. it may go a little slow but work will be done.