Here is my first one:
http://www.jeepforum.com/forum/f22/p...ery-xj-993706/
I recently broke my 89 XJ (windsheild, AC, Oil Leak, etc) I thought it was time to get a newer XJ, one that will lower my insurance and also be safer on the road. I found a 99 XJ Sport on craigslist. I checked it out, negoiated the price and then pick it up the day after. It had 103k on the clock and the new engine had 88k on a 4.0. Recently, my wife just traded her WJ for a TJ and i figured I need a recovery more then ever cause I dont trust her very much
This will be a SLOW build, but it will eventually be a worth wild recovery vechile so I can recovery my best friend and my wife with ease lol
When I first got it: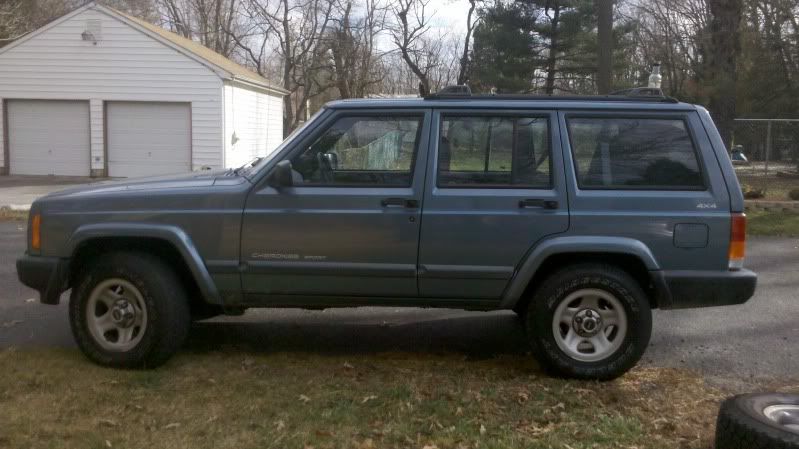 First time flexing with sagging leafs:
Current Status: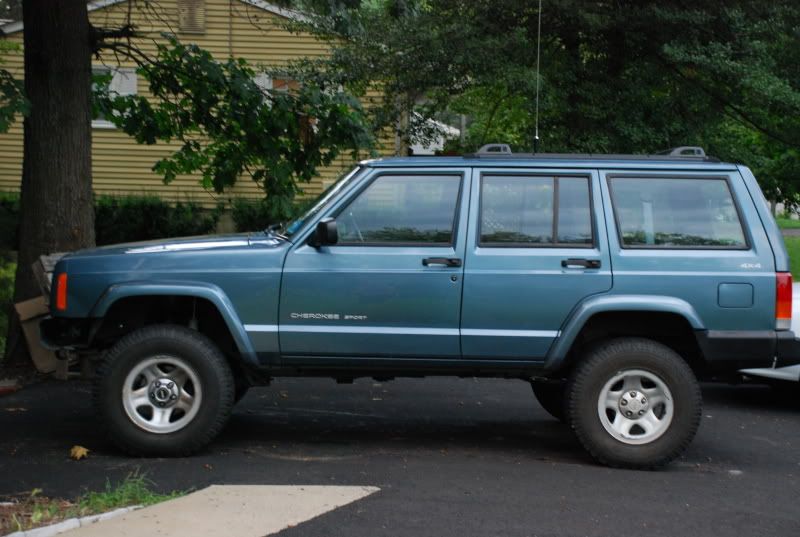 Current work done to:
- Tow Ropes
- Shovel and 5lb mallet
- 8500 lbs come along/hand winch
- C4x4 Tow Hooks and brackets
- Fog lights from 89 XJ (waiting to install)
- RadioShack CB Radio with 4' antenna (waiting to install)
- 48" Hi Lift Jack, cast iron
- Roundeyes Headlights (with replacable lightbulbs)
- JCR Stage 2 Rear Bumper bedlined
- Kenwood Speakers and Headunit
- Black G.E.A.R. Smiltbuilt Car Seat Cover
- Removed Exterior Trim
- Radioshack CB and Antenna
- Pin Striping Removed
- JCR Lower 1/4 Panel Amor
- Daystar Extended Front Bumpstops
- 3.5" Rusty Offroad Suspension lift with full leafs
- Teraflex Steering Stabilizer
- 4 BFG KO 31x10.515 tires mounted on stock XJ Sport rims with 2 spare 30x9.5x15 Dakota MTs
- YJ Softlines
- 4.1" Rear Bumpstops
- IRO double sheer track bar
- IRO fixed Lower Control Arms
Waiting to be Installed:
- IRO adjustable UCAs
- stock fuel rail and stock injectors
Near Future:
- YJ Rear Brake Line
- Cowl Intake
- New rear hatch shocks (1994 windstar hatch struts)
- New Fuel Injectors (EV6 Bosch 0280155703)
- IRO HD tie rod
- IRO HD coil spring retainers
- welding a skid plate under my LCA mount
- relocating my hi-lift under my rear seat
Far Future:
- Bedline the lower portion of the doors and fenders
- Surco Roof Rack
- Skid plates (maybe JCR)
- JCR DIY hitch bumper (uniframe brackets, steering spacer, hitch, and d-ring tabs added)
- Spartan Dana 30 and Detroit 8.25 lockers
- regearing to 4.10 or 4.56 (haven't quite decided yet)
- JCR Stage 1 Rock Sliders
- 32" or 33" tires on Soft 8s or stock ZJ/TJ rims
- RE 4.5" coils, shackle relocator and/or adjustable shackles
- 8k-9k Winch on a hitch
- ZJ seat swap
- Riddler D30 and c8.25 Diff cover
Thanks for looking and I'm always open for advice.