Registered User
Join Date: Jan 2010
Location: south nj
Posts: 513
Project Recovery V2
---
Here is my first one:
http://www.jeepforum.com/forum/f22/p...ery-xj-993706/
I recently broke my 89 XJ (windsheild, AC, Oil Leak, etc) I thought it was time to get a newer XJ, one that will lower my insurance and also be safer on the road. I found a 99 XJ Sport on craigslist. I checked it out, negoiated the price and then pick it up the day after. It had 103k on the clock and the new engine had 88k on a 4.0. Recently, my wife just traded her WJ for a TJ and i figured I need a recovery more then ever cause I dont trust her very much
This will be a SLOW build, but it will eventually be a worth wild recovery vechile so I can recovery my best friend and my wife with ease lol
When I first got it: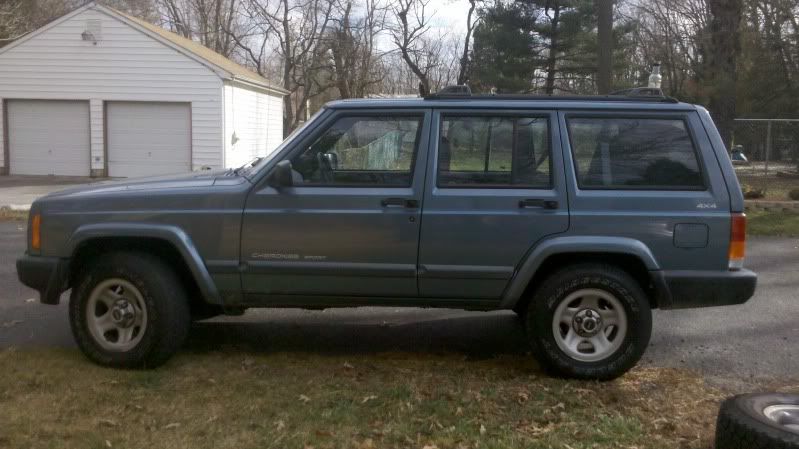 First time flexing with sagging leafs:
Current Status: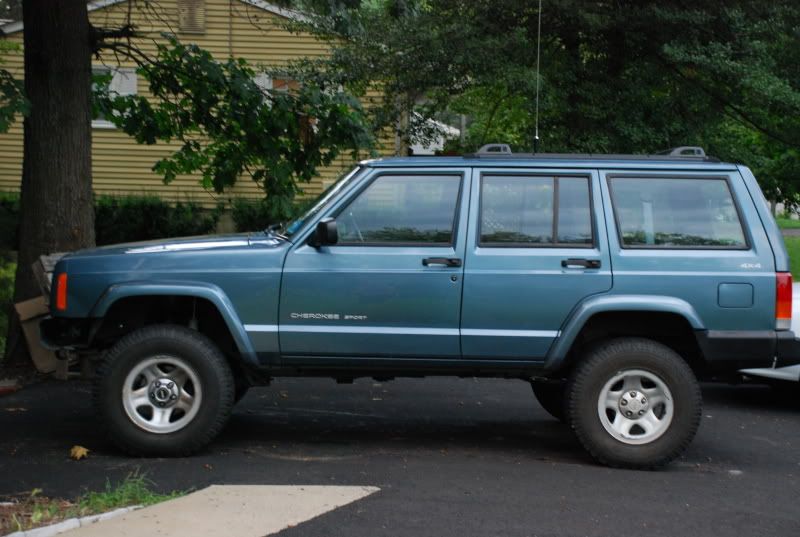 Current work done to:
- Tow Ropes
- Shovel and 5lb mallet
- 8500 lbs come along/hand winch
- RadioShack CB Radio with 4' antenna
- 48" Hi Lift Jack, cast iron
- Roundeyes Headlights (with replacable lightbulbs)
- JCR DIY front hitch bumper
- JCR Stage 2 Rear Bumper bedlined
- Kenwood Speakers and Headunit
- Black G.E.A.R. Smiltbuilt Car Seat Cover
- Removed Exterior Trim
- Pin Striping Removed
- JCR Lower 1/4 Panel Amor
- Daystar Extended Front Bumpstops
- 3.5" Rusty Offroad Suspension lift with full leafs
- Teraflex Steering Stabilizer
- (4) 31x10.5x15 Pro Comp Radials on Crager V5 rims with a 3.75" BS, spare is a stock Rubi MT tire on a 16" stock XJ rim
- YJ Softlines
- 4.1" Rear Bumpstops
- IRO double sheer track bar
- IRO fixed Lower Control Arms
- JCR Steering Box Spacer
Waiting to be Installed:
- IRO adjustable UCAs
- Ruff Stuff 3/4" Heim Steering Kit
Near Future:
- YJ Rear Brake Line
- Cowl Intake
- New rear hatch shocks (1994 windstar hatch struts)
- New Fuel Injectors (EV6 Bosch 0280155703)
- IRO HD coil spring retainers
- welding a skid plate under my LCA mount
Far Future:
- Bedline the lower portion of the doors and fenders
- Surco Roof Rack
- Skid plates (maybe JCR)
- Spartan Dana 30 and Detroit 8.25 lockers
- regearing to 4.10 or 4.56 (haven't quite decided yet)
- JCR Stage 1 Rock Sliders
- 35" MTs (LCoG build, keeping my 3.5" lift)
- 8k-9k Winch on a hitch
- Riddler D30 and c8.25 Diff cover
Thanks for looking and I'm always open for advice.
---
08 WK Laredo 3.7L
99 XJ Sport with a 3.5" Rusty's Suspension lift on 31x10.5 Pro Comp MTs (sold)
haven't upgraded since I made the post, but since then I have upgraded my speakers to Kenwood 6.5" and Kenwood head unit, but one of my speakers has dead wires and I need a sub to get some bass lol about a month or 2 ago while doing my first oil change on it, I discovered that I was missing my inspection plate (guy i bought it from forgot to put it on, forgot to connect my front passenger window, and also forgot to connect my radiator hose). So I finally picked one up about 3 weeks ago and installed it the other week. I also bought Roundeyes Rectangle headlights installed (stock wiring harness) because my stocks weren't cutting it.
So over the pass 3 months I bought a Rusty Offroad 3.5" AAL kit, but had to buy the full leafs about 2 weeks later when I realized my leafs are sagging badly (stupid mistake on my part). Also bought front extended bumpstops, rear extended bumpstops, transfer case drop, JKS front bumpstop pucks, Teraflex Steering Stabilizer, C4x4 Tow Hooks, YJ softlines, and JCR Stage 2 Rear bumper. Also thanks to Paraleyes, I bought his JCR 1/4 Rear Panel Armor. With only needing tires to be the last piece of the puzzle, I purchased 4 30x9.5x15 BFG KOs with 50%-60% tread left for $125 and barely any dry rot...couldnt pass up that deal. So right now, time and a place are my only things stopping me from installing everything.
As it stands I have roundeyes headlights, rear bumper and front tow hooks installed. I am hopefully going to install the Teraflex Steering Stablizer tomorrow or Friday and do some parts here and there until the lift can be done. Went wheeling this pass Sunday with my buddy (who I started my previous XJ build to recover with lol) and did real well on my not so good street tires. Also waiting to install my CB but not sure where to mount my anntenna.
Pictures: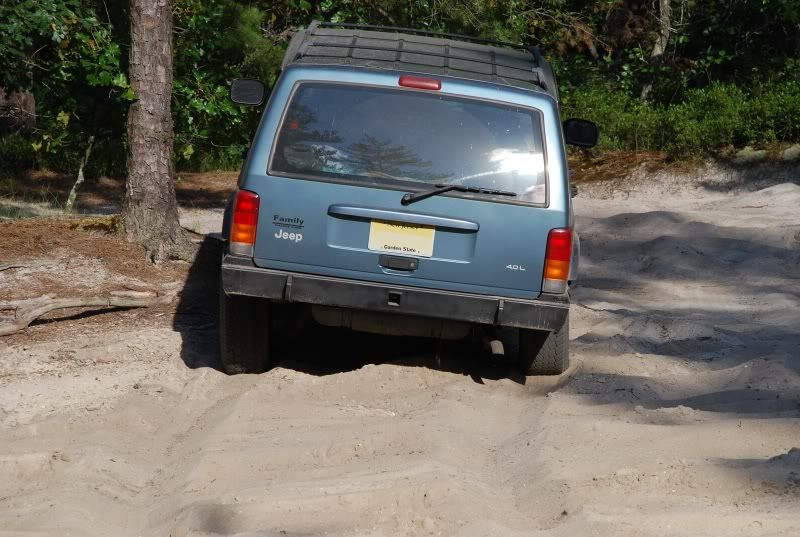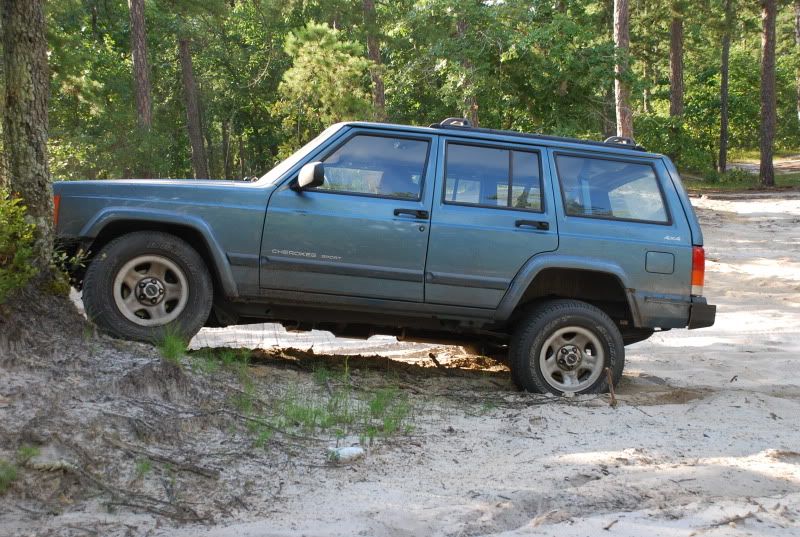 ---
08 WK Laredo 3.7L
99 XJ Sport with a 3.5" Rusty's Suspension lift on 31x10.5 Pro Comp MTs (sold)
This week I removed the trim and pin striping, then today my dad helped me with installing my JCR Lower 1/4 Panel Armor. I bedlined them this week as well as fixed a few rust spots on my rear bumper and my lower 1/4 panels.
Outcome:
Bought a magnetic roof mounted CB antenna and ran the wire for it so my CB is now working. I just need to tune the CB to make sure it works right. Tried installing my Teraflex Steering Stabilizer and didn't work out so well, so I'll have to wait til I do my lift to install it.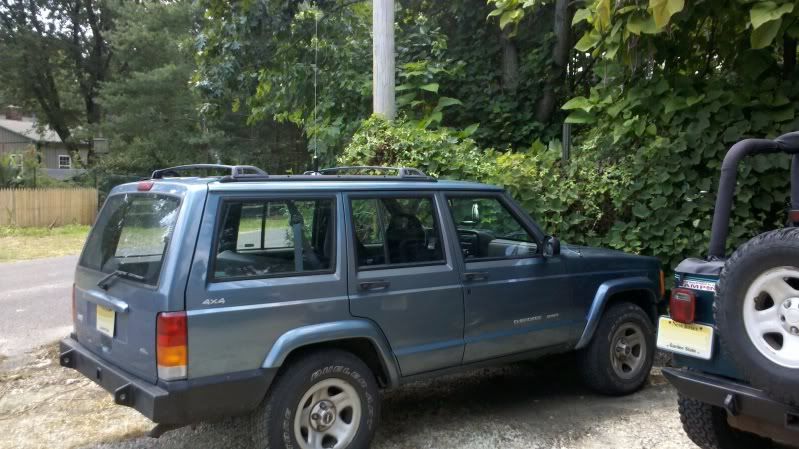 ---
08 WK Laredo 3.7L
99 XJ Sport with a 3.5" Rusty's Suspension lift on 31x10.5 Pro Comp MTs (sold)
So after almost a week of working on my XJ, my dad and I finally finished installing my Rusty 3.5" lift, teraflex steering stabilizer, and tires.
My XJ going from stock tires to 30" BFGs getting ready to go over my folks:
When the front end finally got finished: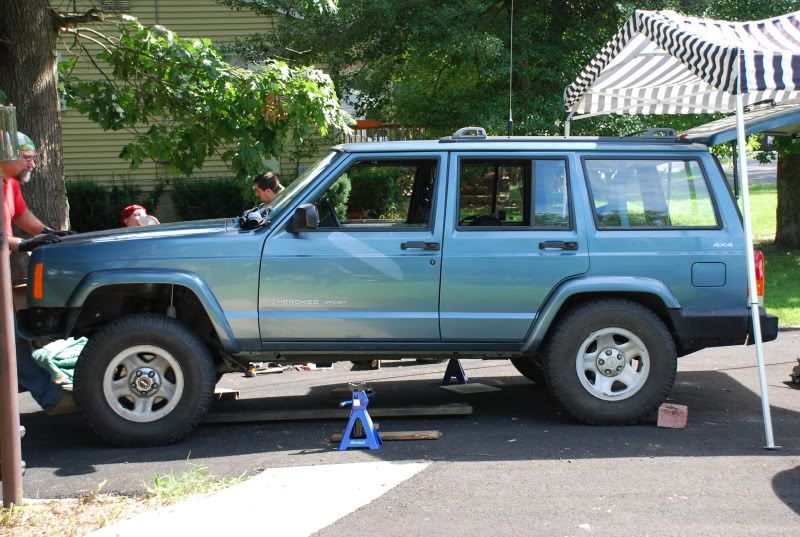 When my lift was finally installed: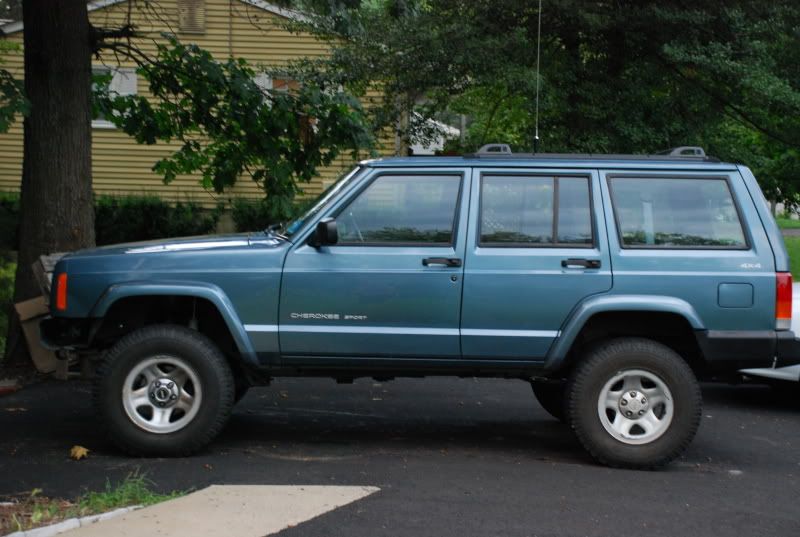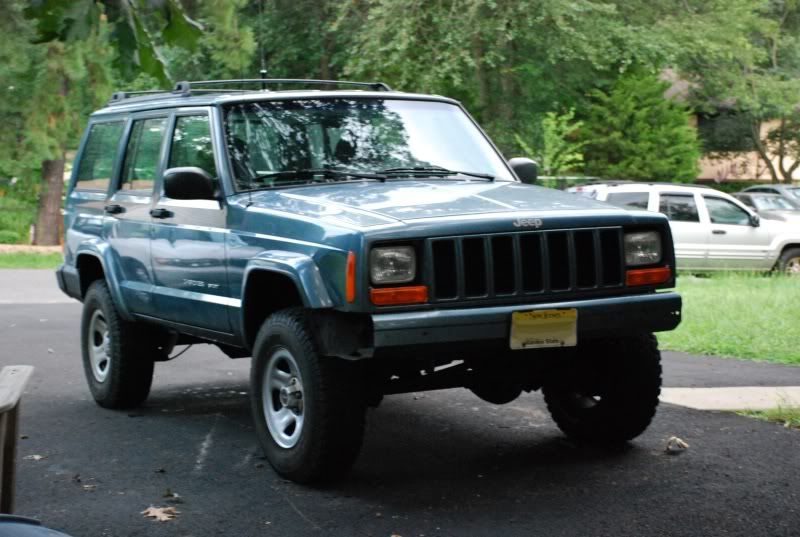 Now I just need to extend the brake lines, put pads & rotors on, and get my alignment done (appointment with STS tomorrow) and i'll be ready to wheel. Thanks to my 2 friends shadyvito and onabudg3t for their help as well as my dads, if not for them my XJ would still be in pieces. hopefully I can get my brakes done by Saturday so I can wheel with some friends come Sunday and test out my flex
---
08 WK Laredo 3.7L
99 XJ Sport with a 3.5" Rusty's Suspension lift on 31x10.5 Pro Comp MTs (sold)
Registered User
Join Date: Jun 2011
Location: Connersville
Posts: 276
Lookin' good man!
---
'o5 Rubicon 4" RC X-lift and 33's <---- mine
'o5 Willys Edition w/4" lift and 33's <----hers
Connersville, Indiana
thanks man, after this i'm going to focus on getting some maintenance done then look into adjustable LCA and Quick Discos then probably regearing to 4.10 and lockers...thinking spartan front in the D30 and detroit rear in the 8.25
---
08 WK Laredo 3.7L
99 XJ Sport with a 3.5" Rusty's Suspension lift on 31x10.5 Pro Comp MTs (sold)
Currently Active Users Viewing This Thread: 1

(0 members and 1 guests)