Quote:
Originally Posted by
USMCBuckWild
Pic of how the headers interfere with the motor mounts please.
I will, but probably not till Monday or so. Going fishing with the twins and the old man
My Dad helped me with the Jeep a little this morning. By help I mean he stood there telling me everything I was doing wrong and drinking beer.
I got the power steering all plumbed up and the steering shaft in. No interference issues. I ended up using the GM hose and it worked perfectly. Also I was able to get the Jeep temp sender in the block, worked out great and got the heater hoses run. Ended up using the stock Jeep for the top hose and the GM for the lower. Brake lines put back in place and figured out what Im doing with the fuel line and I ran the return line. got the serpentine belt on and the mechanical fan. Also figured out what Im doing for the brake booster line.
For the fuel lines I picked up some Fuel Injection hose, 5/16 and 3/8". Expensive! Also. doorman quick disconnect for GM in 5/16" and 3/8". Part numbers 800-120 & 800-121. Some fuel injection hose clamps to keep everything together. The Jeep return line is 5/16" so I just tied into that. I will need to run a 3/8" supply line. Anyone know why I couldn't use the Jeep fuel filter?
Fuel line minus clamp.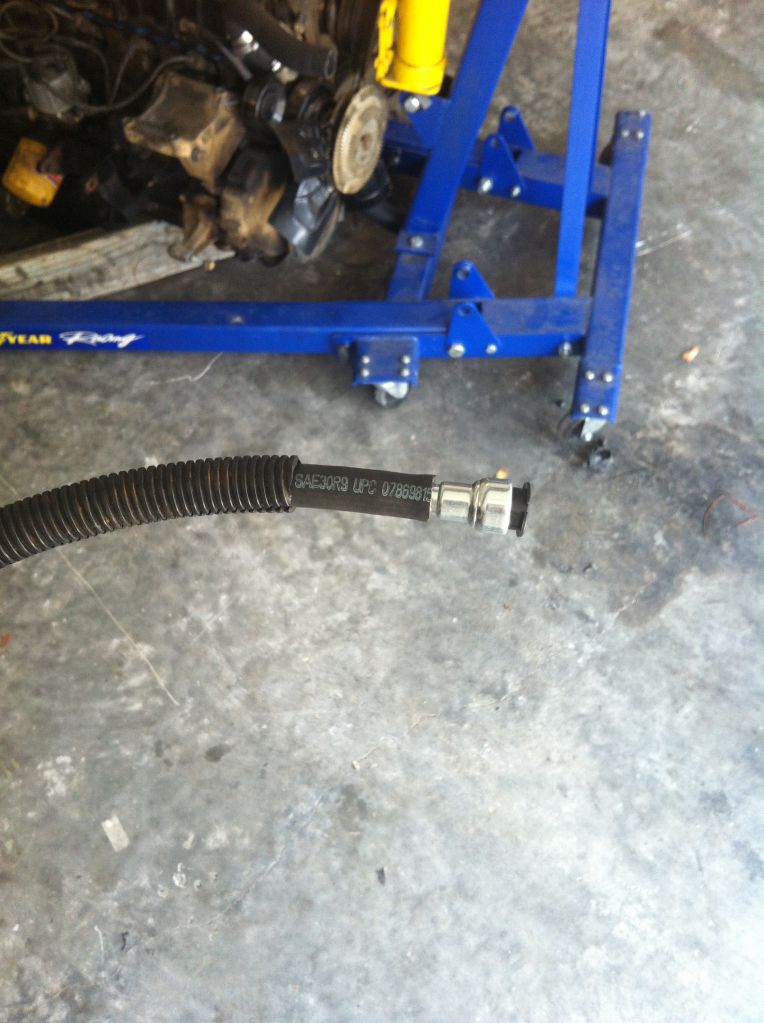 steering all done. It looks like it is hitting but it is not.
Jeep temp sender in passenger side of block. Get BWD part number WT430. Its a little longer than other brands and gets down into the water jacket.
The GM and Jeep use similuar brake booster fittings. The Jeep however uses a smaller hose to connect to the intake, so Im using the GM, it fits perfectly. Ill just need to pick up a longer hose.
GM on top, Jeep on bottom.