Quote:
Originally Posted by USMCBuckWild
See that, might be a a reason you got a bad motor.... Get a better one! Best of luck on this one.
I keep hearing "luck" and "hope". I want defendant! This is crap every way I look at it but I digress. It is what it is. And at least I have a yard that is working with me and being cool about the whole thing. Technically by their warranty they require you to bring the motor to them in the vehicle to verify the issue and go from there. Which would suck.
Tonight I got the motor home and in the garage. It's starting to look like I am storing motors and trans in here. Right now I have 2 5.3's, a 4L60E, a Ax15 and the 4.0.
So as soon as the baby went to sleep I got to it. I have everything swapped over. Only difference between the 03 (new) and the 01 (old leaking POS) was the throttle bodies. The 03 is drive by wire and the 01 is drive by cable. All the sensors check out as being the same part numbers from the injectors to the MAP, which is good. And the 03 doesn't have an EGR so I wasted a few bucks buying the block off.
After an hour or so this is where I stand.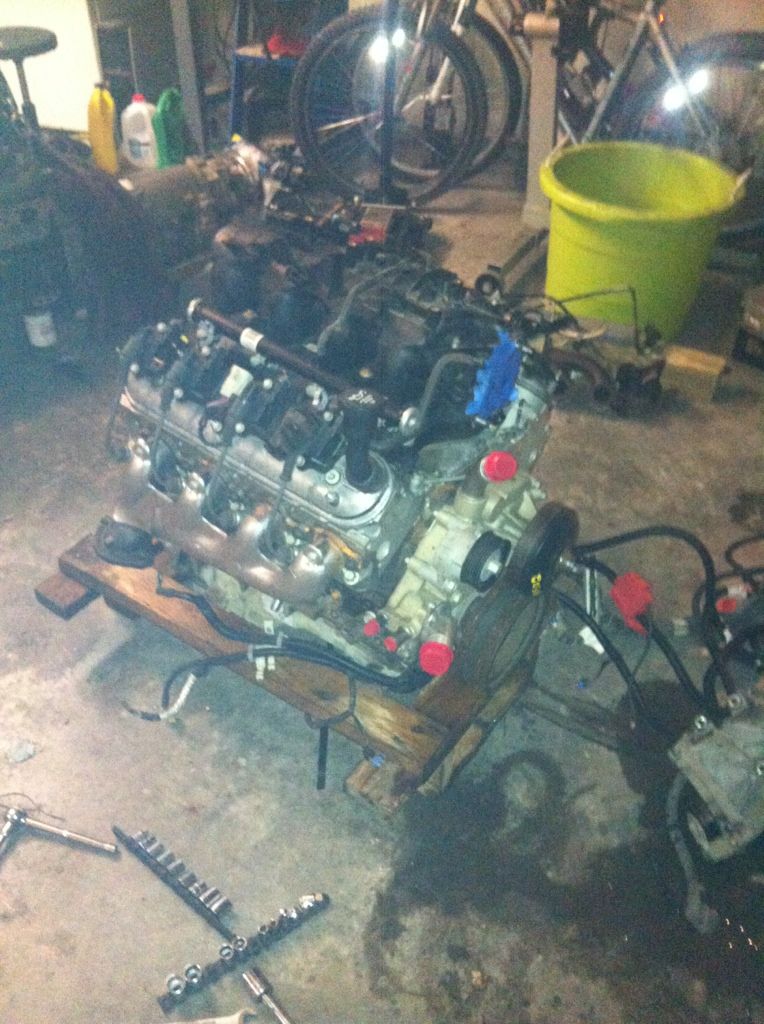 Obviously I still need to move the tranny over. But after that Ill be sticking her in. I decided to put the headers on before putting it in which will probably come back to bit me in the *** but we will see.
My twins bday is on the 6th so not much will get done between now and then. My dad is coming down to give me crap about this whole thing hopefully he will help me get the trans home.