Registered User
Join Date: Feb 2008
Location: Haymarket, VA
Posts: 66
Project Great White 97 XJ on 36" Iroks
---
I bought a 1997 XJ with 190xxx miles on it this past summer with the intentions of building a serious trail rig. I wanted something I could pay cash for and then build as I go. I used to have a 2001 TJ that we owed a lot on and I dumped 8k into it with the lift, suspension, winch, bumpers, sliders, yada yada yada only to sell it a year later for what I owed on it. Didn't want to make that mistake again...
So here it goes.
Parts List to Date:
- (1) Rusty's 8" Hi-Clearance Long Arm Lift Kit
- Rusty's Builder Fab Coil Buckets
- Rusty's Builder Fab Lower Control Arm Mounts
- Rusty's Builder Fab Universal Shock Mounts
- BlueTorch Fab Works Gussets
- (2) Dana 44 LP axles out of 89 Waggy (front and rear)
- TSM Disc Brake Conversion Kit for Dana 44 for rear axle
- TNT Offroad Waggy D44 Axle Truss
- New front rotors, pads and calipers
- Extended braided steel brake lines in all four corners
- (5) 36x13.50 R15 Irok tires on 15x10 6 lug Crager Soft 8 steel wheels
- (1) NP231J 21 spline transfer case (swaped a 23 spline out)
- Tom Woods drive shafts
- TeraLow 4:1 Kit
- TeraLow 2LO kit
- 21 Spline AW4 Auto transmission
- Aluminum Novak Shifter (matches Ox Locker shifters)
- (2) Ox Lockers for Dana 44 for front and rear with aluminum shifters
- (2) 100 inch Ox Locker Cables
- (2) Yukon 4.88 ring and pinion sets
- (2) Yukon master install kits for gears
- (4) Bilstein 5150 12" travel remote resevoir shocks
- New Water pump from Advanced Auto Parts
- Rockhard 4x4 rear bumper with tire carrier
- AJ's Offroad Armor super rock rails
- Custom built stinger winch front bumper
- Homemade gas tank skid by me
- Custom 1.25 DOM .360 wall, Steering by 505 Performance with 5/8th rod-ends and heim joints
- Husky Liner Molded Floor Mats, Front, Rear and Cargo Area
- Tom Woods Super Flex 1310 u-joint for front drive shaft (adds 10* of flex)
Tools that I've picked up so far since last summer to assist in the build:
- Miller 180 MIG welder
- JD2 Model 3 Tube Bender
- Harbor Frieght Tube Notcher
- Harbor Freight electric band saw
- 2 Ryobi Grinders (one with a cutoff wheel, one with a sanding pad)
- Borrowed Cornwell Tools Plasma cutter from a friend
This is the rig as I bought it stock a over the summer of 2008.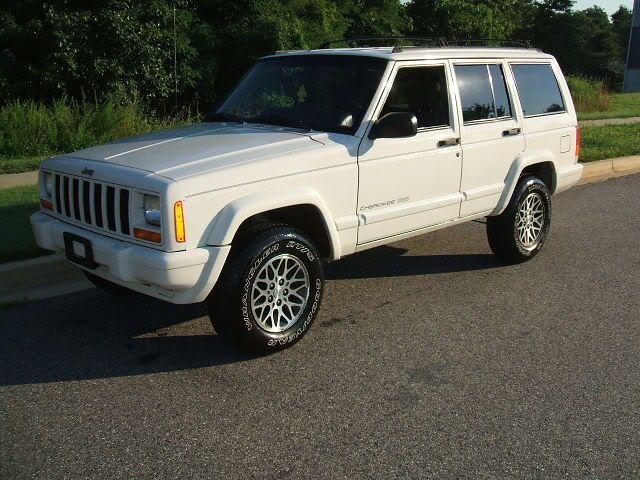 After driving it stock for about 3 months, it was killing me. My friends decided to plan a wheelin trip in November and I really wanted to go. So instead of waiting until I had all of the parts listed above, I went ahead and bought my Rusty's LA high clearance lift, Rusty's shocks, Cragar Soft 8's and 36x13.50 R15 Iroks just to get me out on the trail. Here is the first phase of the build....
Parts that came via UPS.
Installing the rear Rusty's leaf springs...
Super long U-bolts that needed to be cut down. The Chryco 8.25 that is shown in this pic is no longer under the Jeep... keep reading and you'll see.
Here's how she sat after we put it together for the first time. It needed some fender trimming due to the massive meats and rubbing that was occuring.
I trimmed as much as I could with an air saw then taped it off and painted it black to give the illiusion that edge was straighter than it really was. That was a good idea as it looks nice.
I ran the Jeep on one trail run and ended up breaking the OEM tie rod about 1/2 way through the trip. What was I thinking running those big *** tires with a rinky dink tie rod.... Should have known better.
Registered User
Join Date: Nov 2008
Location: Essex
Posts: 4,372
nice looking jeep, love the stance to it. Anything new?
---
1997 TJ with some stuff done to it.
Registered User
Join Date: Sep 2008
Location: Tuscaloosa, AL to Charlotte, NC
Posts: 729
Awesome rig man. Looks like you have worked hard.
---
1992 Red YJ 4.0 with 5 on the floor and 33's
Registered User
Join Date: Jun 2006
Location: Austin
Posts: 5,089
wow nice XJ
---
Photographer
2000 XJ, 3.5" lift, 31s, Locked
Registered User
Join Date: Jan 2009
Location: Alabama
Posts: 8
Nice XJ you got there.
---
Just Emptied Every Pocket
Registered User
Join Date: Jan 2009
Location: Texas
Posts: 1,147
very nice xj! one day i will get around to lifting my jeep...till than i will get on JF and dream
Currently Active Users Viewing This Thread: 1

(0 members and 1 guests)