Registered User
Join Date: Jan 2008
Location: Chesterfield Twp, MI
Posts: 119
Project Daily Driver ZJ build ('94 Limited)
---
My '94 ZJ Limited build thread.
Hello and thank you for reading along. I'm a little behind on putting this together – I've owed this ZJ for just about 4 years now. I'll start with some background.
I purchased it in 2008 from a used car dealer in South Carolina. It had been taken in on trade from an older couple – it had been towed behind an RV for some time. I had gone about 3 years without owning a car because I had been using my motorcycle as the primary means of transportation. We own a minivan, which is our primary family vehicle. I got orders to Michigan, which meant I would need a vehicle for the winter time. It had been parked at the back of the lot, against the fence, waiting to go to auction. I saw it when I stopped to look through the lot. Initially, the dealer pushed me towards other options on the lot, but I persisted for a test drive. It drove fine, except for needing a muffler. And of course, they wanted too much for it. So I kept looking. The dealer called me about a week later, asking if I was still interested. I said I'd think about it and stop back in. A couple of days & $1800 later, I rolled out of there the proud new owner of a '94 Jeep Grand Cherokee Limited with a 5.2L V-8, 249TC and 4 half bald miss-matched tires.
---
Semper Fi,

Extrememarine
Part 2
---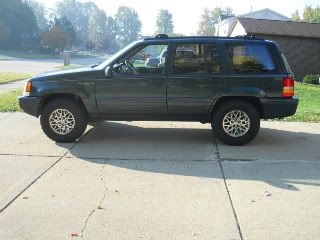 The first real upgrade I did, shortly after moving to Michigan, was tires. I when with a set of BFGoodrich All Terrains KO's in 30x9.50R15. Slightly bigger than the OEM P225/70R15's that were on it. I have found that in the snow, these tires are great. They will pull the ZJ through axle deep snow without a problem, and then some. It was the third winter up here before I got it stuck. And it was my fault, out screwing around in a snow storm on a back road checking on our property. I had punched through about a ½ mile of 18-24" drifted snow. I hit a clear patch, which was due to the road being shielded by a tree line. At far edge of this wind block, the snow drifted over the road again. Due to the wind and blowing conditions, I misjudged the depth of the drifting. I hit the leading edge and snow came over the hood; but it gave way. I squeezed a little more throttle and hit the wall. I was move about 20 mph. I felt the hit and the jeep lift up on top of the snow. All movement stopped. I tried to back out, but the jeep was high centered. I pushed the door open, and climbed out into a drift that was over 3 ½ feet deep. I went to work digging. After 45 minutes, I had cleared underneath the rear end out up to the rear control arms. I thought that if I dug out the axle, it would drop down and let the tires gain traction on the gravel road surface. Fully extended, the tires were still 3" off the ground. I made a few calls and tracked down a friend of the family, who came to the rescue with a John Deere similar to this.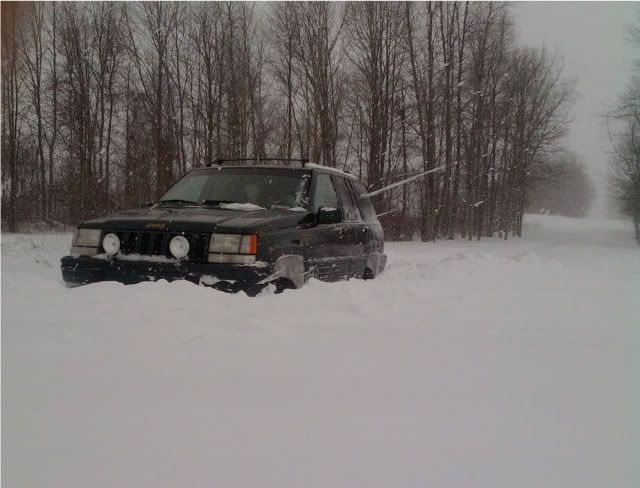 ---
Semper Fi,

Extrememarine
Part 3
---
The first winter in Michigan ate the cheapo muffler I put on when I bought it. I did some reading and listened to a ton of sound clips. I knew a better flowing exhaust would let the motor breathe better, but I still wanted to be able to hear the radio. I found a great deal on a Flowmaster 50 series muffler with tailpipe for less than $200 shipped. Once installed, it definitely gave the 318 some bark but was mellow enough to be tolerated inside the Jeep.

I need to mention at this point that this ZJ is not a recreational "toy". It is a daily driver – it's fills the roll of commuter, tow vehicle, errand runner, foul weather explorer, bounce across plowed field to pick-up-a-freshly dropped deer, do everything vehicle. As much as I'd like to turn it into a 7" lifted gutted & locked rock crawler that is just not practical for me. My intent with this vehicle that any improvements I make will improve its ability to perform in the manner which I use it every day.

Here are a few other things I've done –

Replace busted OEM fog lights with Hella 500FF driving lights. These lights are great for night driving where there's no other traffic. The beams push well down the road, but are too bright to leave on when there's oncoming traffic. I plan to replace them with a set of Hella 500's fog lights at some point.

I stripped the gold trim off the lower cladding. I just didn't like the look of it. Now, I wish I had taken the time to tape it off and paint it flat black.

I had a full size spare tire given to me, so I got rid of the "donut" spare. Down side is that the full size spare takes up more room in the back, but worth it to me.

Installed a Reese class III receiver hitch. Bolt on installation was easy enough. Figuring out the wire harness was another story. I had to buy a special powered harness adapter online. The only thing I don't like about the Reese hitch is that because it's a universal type hitch, the receiver part is welded below the crossbar, which causes it to hang lower than I'd like. I haven't gotten stuck or hung up because of it; I just think it could be better. I'm keeping my eye out for an OEM hitch.
---
Semper Fi,

Extrememarine
Part 4 - Rust Repair
---
Rust Repair.
The next big project I took on was to repair the rusted / rotted out rocker panels. This was courtesy of 3 year's worth of Michigan winter road salt I think some sort of mud flap / splash guards would have helped prevent this – even though I've read nothing butt negative comments about having them on a ZJ here.
Driver's side: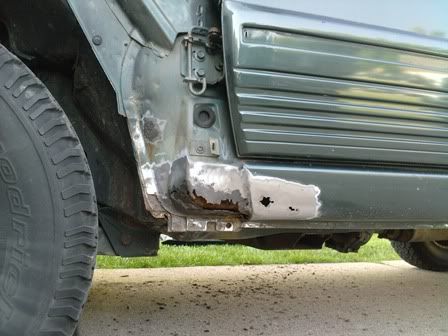 Passenger side:
And I drove it like this for a week – afterwards I realize how lucky I was in that I didn't get stopped by local authorities.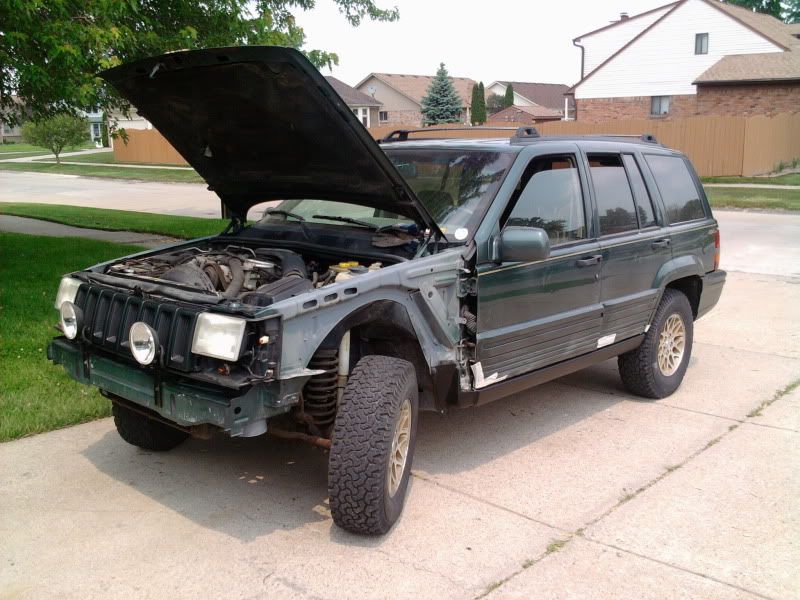 I stripped the front end down, removing the front bumper cover, grill, fenders to get a good look at the damage underneath. The lower portion of the driver's side fender was completely gone at the mounding points. I scored a complete replacement fender at a local parts recycler yard for $35 – and they pulled it for me. The only problem was it was black and my ZJ is green. I was going for lowest possible overall cost – so I decided to patch the lower half of the black fender to the upper portion of my original fender. The weld would be covered by the cladding. I planned to cover the rocker panels with truck bed liner, so I'd just blend the new portion of the fender by painting it black over the primer.
To fix the rotted areas of the rockers, I first stripped as much of the rust/rot away getting down to good metal. I dug out the inside of the rockers with a pick and air compressor. I made sure it was dry, and then I filled it with expanding foam. The foam would provide a backing for the Bondo fiberglass filler. I thought about using the fiberglass panels to bridge the gaps, but since I'd never worked with bondo or fiberglass before, the foam seemed like an easier route.
Here's the foam filler:
Once the foam had set, I trimmed it even with the rocker surface, then mixed up and applied a couple of coats of the bondo long fiber filler. I sanded down each layer between coats using a 3m type pad on my right angle die grinder. I scuffed the entire rocker panel front to rear, and then taped off an upper boarder just inside the door sill. I picked up a quart of Herculiner and application kit at Autozone. I went with the Herculiner brand because of cost and they sell it in an aerosol can as well – which I thought would be good for touch up in the areas I couldn't get with the roller.
After first coat of bed liner – I did 3 coats total:
I worked on the fender in between coats of filler on the rockers. I clamped the patch panel to the original fender, marked it off with some overlap to use as a flange, and cut it. I clamped it together, and then stitched it together with my mig welder. I did 3-4 tacks at a time to keep the panel from heating up too much to avoid it warping.
Fender with new lower section tacked on:
Primered: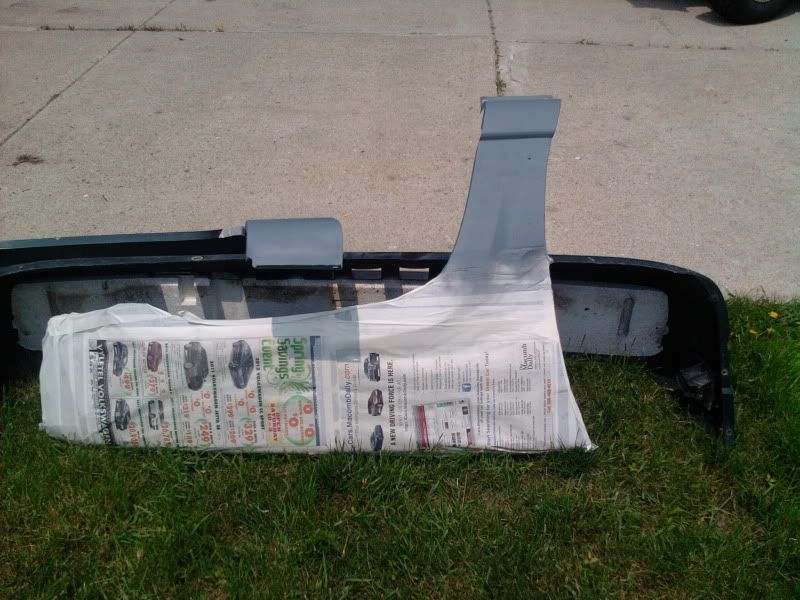 Completed:
More to follow…
---
Semper Fi,

Extrememarine
Update 4 Jan 12.
Scored a set of OEM Jeep tow hooks off Craigslist, picked them up today, and installed them tonight.
During install: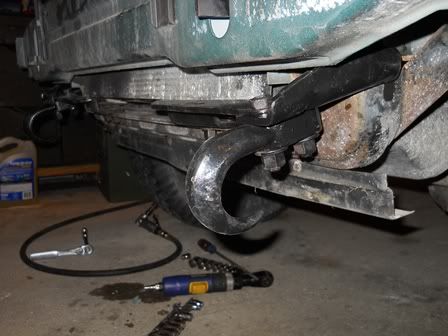 OEM backing plates:
All buttoned up:
---
Semper Fi,

Extrememarine
Currently Active Users Viewing This Thread: 1

(0 members and 1 guests)