Good idea Jim. I'll inform the Mexican exhaust guys of your idea.
I got the wiring harness and computer back today. Imagine looking at the Jeep from the front bumper. I'm going to try to get the computer inside the Jeep. Right now the heater stuff is in the way inside. I'm thinking of somehow sandwiching the computer behind the dash with all of that stuff. I'll have to drill a hole about 3" to get the plugs through the firewall.
The top right bundle is the reverse lockout and the Vehicle Speed Sensor. I'm not using either but I told them to leave it in just incase I decide to use it later.
The top left bundle is the battery hookups. The wires without a loom next to that are what they added. That's the fuel pump, OBDII plug, a few random starter / alternator wires, and other stuff I still have to figure out.
The orange loom is the passenger side O2 sensor and starter wires.
The bundle coming down in the center from the main loom is the passenger side fuel rail hookups, and a few connectors on the back of the block. One is the MAP sensor, and another is the oil pressure gauge (
). Gotta figure out where to put those.
The right side is the driver side fuel rail, and most of the engine accessories. Alternator, MAF, air temp, coolant temp, and the driver side O2 sensor at the bottom.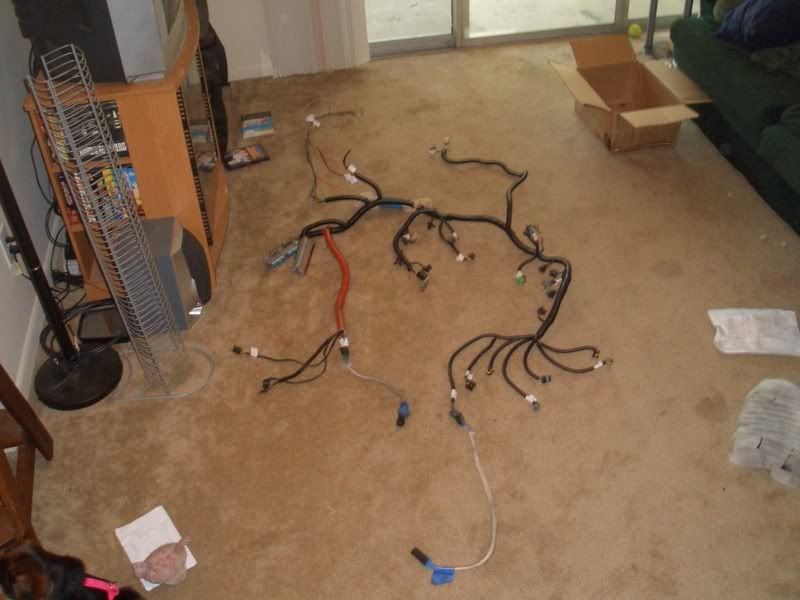 If I can find some time this weekend I'll hopefully get this thing hooked up as well as I can. I don't expect to be able to get over there this weekend, though.
I also got my new bell housing in the mail. I'm going to install it, and try to fix the top cover for the tranny. Hopefully I just installed the cover wrong and the forks are not aligned.
Also going to install the intake I made. Hope it fits.
I called a local radiator shop earlier in the week to ask about getting the radiator outlets fixed. They both need to be a size smaller. They said they'd call me today, so I might give them a call to see whats up if I don't hear from them soon.
Other than that. Not much left.