Somehow forgot my memory card at home today, so I was only able to snap 3 pictures using the camera's built in memory
Ok, so headers came in. Got off work early so decided to give them a test fit. Got the driver side on. Cool. Good. Went to the passenger side. No go. I originally had a picture showing why they didn't fit, but I had to delete it.
Sooo. Here's why they didn't fit. The tube coming from the most forward port hit the top of the motor mount. Not the same spot it hit last time, this time it hit the part that bolts to the block. Not the part that's welded to the frame. So, what was I to do? Fiddle with the motor mounts to raise the motor a bit. After about 2 hours of un-bolting and re-bolting all 37,000 bolts on the motor mounts, I made it work. AND raised the motor a tad in the process
Anyway, these are the only pics I could get.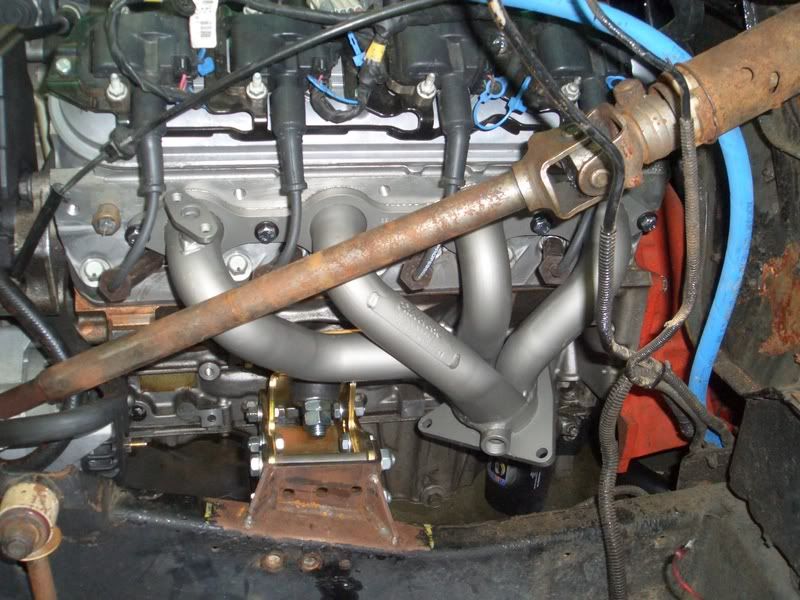 I did my best to get the actual motor half of the motor mount in this one... The part that is sandwiched by the rubber. That is what was hitting it. The bolt with the rubber was in the lower of the two holes that are on the angled portion of the mount. I moved the bolts to the upper holes.
If these don't work, I'll probably go with these
http://www.speedwaymotors.com/Tru-Ra...hed,53710.html
And now for suggestion time
I bought some radiator hoses for a 2002 Yukon. They fit length wise, and they fit on the water pump fine, but here's the problem:
They don't fit on the damn radiator!!
So, I'm going to call Advanced Adapters tomorrow and see what they say to do. I know that they make adapters for hose sizes. I'll see if Advanced Auto has any. If not, what do you guys suggest? Just buy bigger hoses and squeeze down on the water pump end of them?