Registered User
Join Date: Dec 2012
Location: Salisbury
Posts: 13
PirateLegs TJ Build
---
Just bought my first Jeep a few weeks ago; a '98 Wrangler Sahara.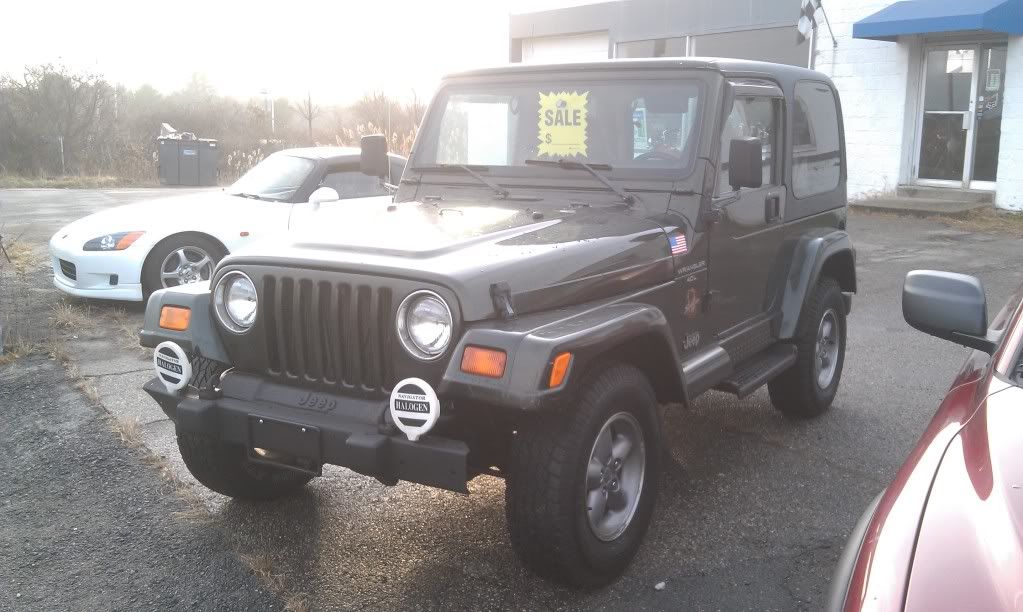 (my s2000 in the background)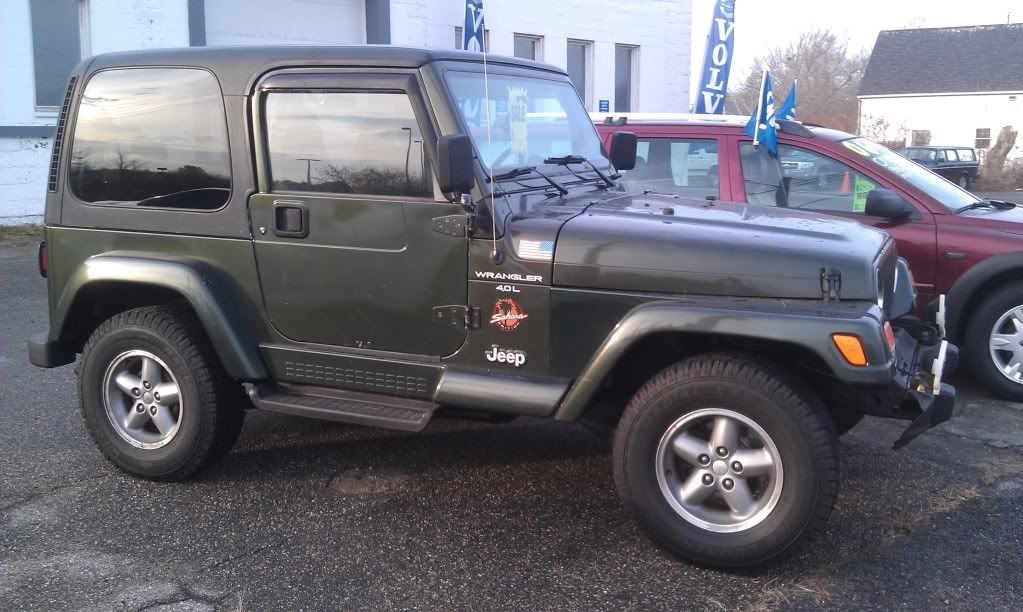 It has a lot of miles on it but looked to be in pretty good condition and was a good deal so I picked it up. On the drive home I noticed the dash getting dim and radio turning on and off. It ended up dieing right as I pulled into my driveway. I knew it must be the alternator, I contacted the seller and he apologized for the oversight and bought me an alternator (opted for the 120amp). Swapped that out asap
But so far I'm LOVING the Jeep. So much fun to drive, and way different than driving my car.
---
Last edited by Piratelegs; 12-13-2012 at

07:36 AM

.
A few days after buying the Jeep I had time to work on it. I noticed a rip in the serpentine belt so I swapped that out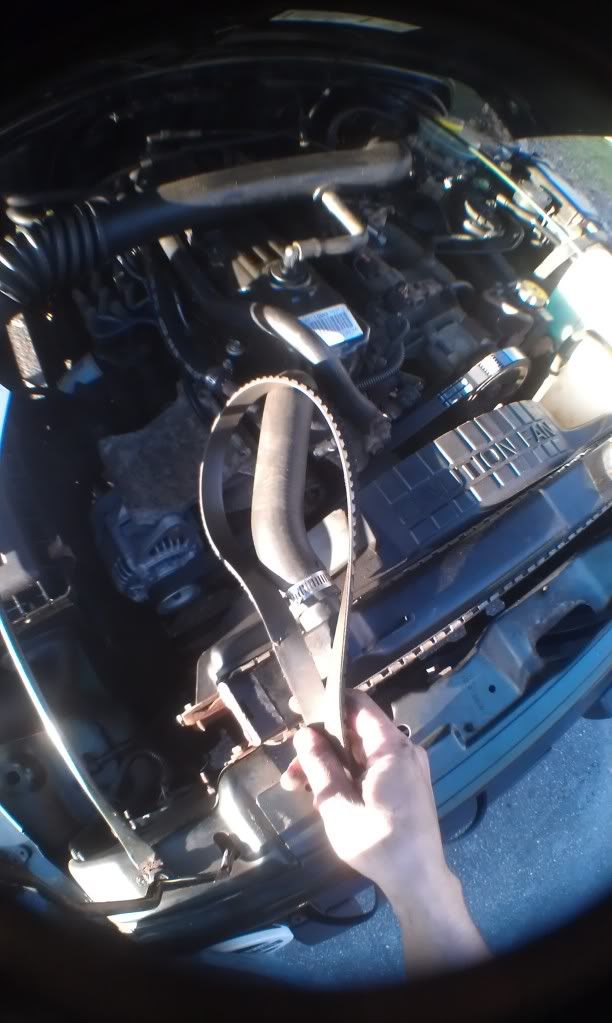 Also replaced the air filter, changed the M/T fluid, and did a quick detail. While trying to take the skid plate off to change the tranny fluid, I ran into the damned Skidplate Nutserts issue. All three of the bolts on the passenger side stripped off the nutsert so I gave up and left the driver side alone, I managed to just change the fluid without removing the skid plate.
So since then I've been ordering a bunch of parts, Which I'll be installing soon
-New oem side mirrors
-New oem black fender flares
-Skidplate Nutsert kit from BlackmagicBrakes
-1LB black wrinkle powdercoat to recoat all the rusting door & trunk hinges
-Paracord for making some grab handles
-Nutserts for the side-step mounts (most are stripped in the frame)
and more I'm sure I'm forgetting.
Free mods I'll be doing soon:
-Plasti-dip black the headlight bezels (possible whole grille too)
-Remove milk jugs from rear bumper
-Cut front bumper narrower (right side is all bent from being hit)
-relocate lights on bumper
-removing side steps & rocker panel covers
-sandblasting & powdercoating hood, door, trunk and windshield hinges
Registered User
Join Date: Oct 2009
Location: Mobile, Alabama
Posts: 1,918
Welcome! It looks like a good start.
Wooo and packages arrived!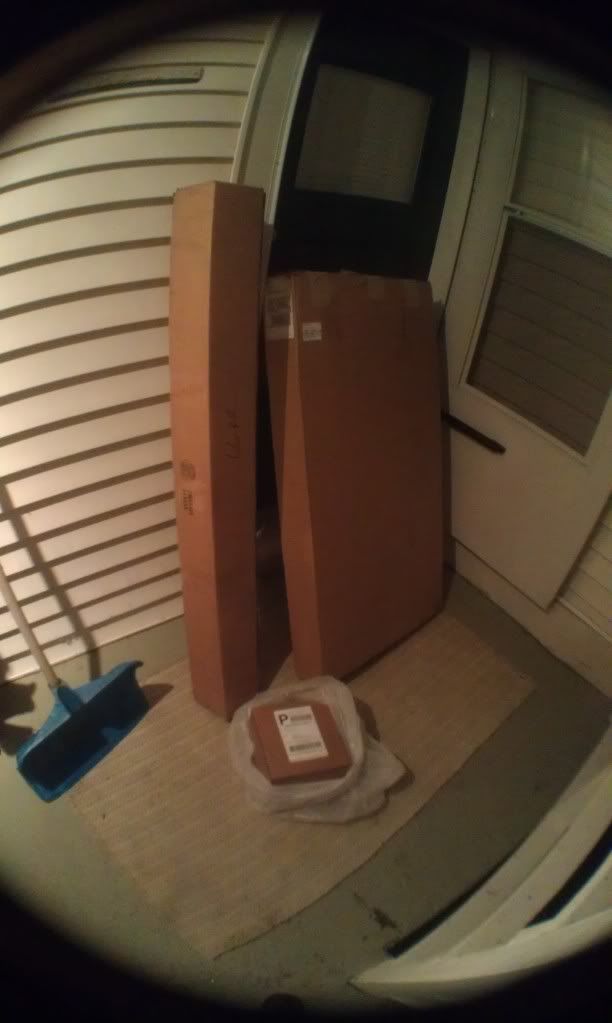 Hopefully I'll have some time to do some work on it this weekend.
I've also been researching for a few weeks about lift kits, tires & wheel setups. Im on a semi-budget and not looking to do any crazy offroading just yet. Between working fulltime and college fulltime I dont have much free time to do wheel. But come summer I'm sure that will change. After lots of research I decided on the Zone 3" suspension lift kit, which I bought last night at rockridge4wd for a great price (nitro shock upgrade, solid links) Which will be enough for me for now, If it's not high enough then down the road I'll do a 1.25" body lift and 1" motor mount lift and go from there.
I'm also about to pull the trigger on a set of BFG KM2's in 33x10.5x15 on black pro-comp D-window 15x8's (cant decide on gloss or flat black, any suggestions?) just trying to find the best vendor out there. Tire rack has the tires cheapest but not the wheels and they charge a lot for shipping. 4wd.com is looking good because I can get everything shipped to my door all from one vendor and already mounted and balanced
Registered User
Join Date: Oct 2009
Location: Mobile, Alabama
Posts: 1,918
Check out Northridge 4x4. They ship for free over $100. There is a Northridge vendor on here somewhere. Try pm'ing him for the best deal. Package deals help.
Registered User
Join Date: Dec 2011
Location: Western
Posts: 882
treaddepot.com is where we get all our tires look there too.
cant see the pictures due to the DAM proxy server at school!
:
Quote:
Check out Northridge 4x4. They ship for free over $100. There is a Northridge vendor on here somewhere. Try pm'ing him for the best deal. Package deals help.
Thanks! they have great prices, Free shipping AND free mounting and balancing. But they don't carry any steel wheels
News: Finally pulled the trigger and ordered the Zone 3" lift w/ nitro shock upgrade (got a great deal @ rockridge4wd) and a set of 33x10.5R15 BFG KM2's mounted on 15x8 Pro-comp 52 series black d-window steelies, also got a great deal on these thanks to Jim @ 4wd.com. Thanks Jim! CANT WAIT for these packages.
Worked on the jeep a bit this weekend. Taking the fender flares off was a ROYAL PITA. Word to the wise, do not even attempt to install new flares if you don't have a dremel w/ a cutoff wheel and one of these (8mm). Also removed the steps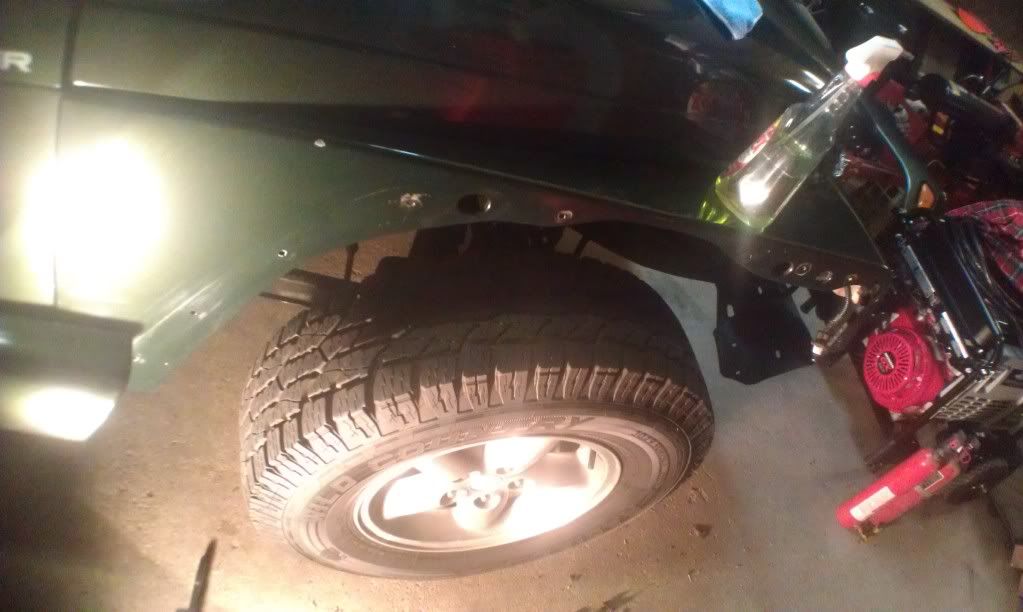 And the girlfriend helping out
So finally got all the fenders on (after about 8 hours), still debating about whether or not to install the fender extensions. Took it for a wash the next day
Very happy with the look
Next day I installed rocker covers (for now, eventually upgrade to some armor)
Went ahead to trim the front bumper. The right side was crushed in from the previous owner so I tried a bit to straighten it out first. Did a pretty good job by sticking a bolt through and hooking a crowbar onto the bolt for leverage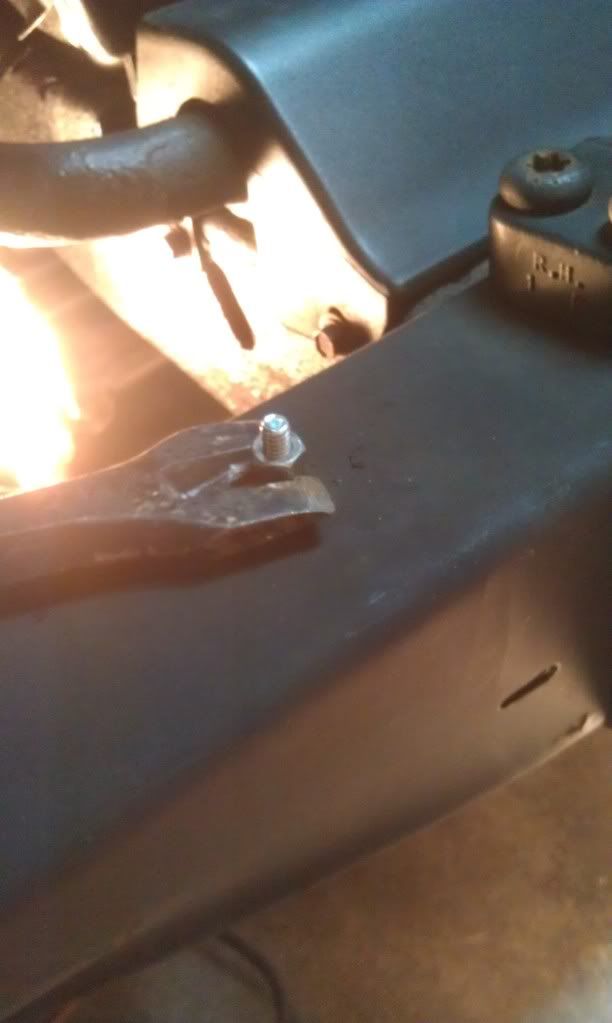 Then taped off the bumper and made a few cuts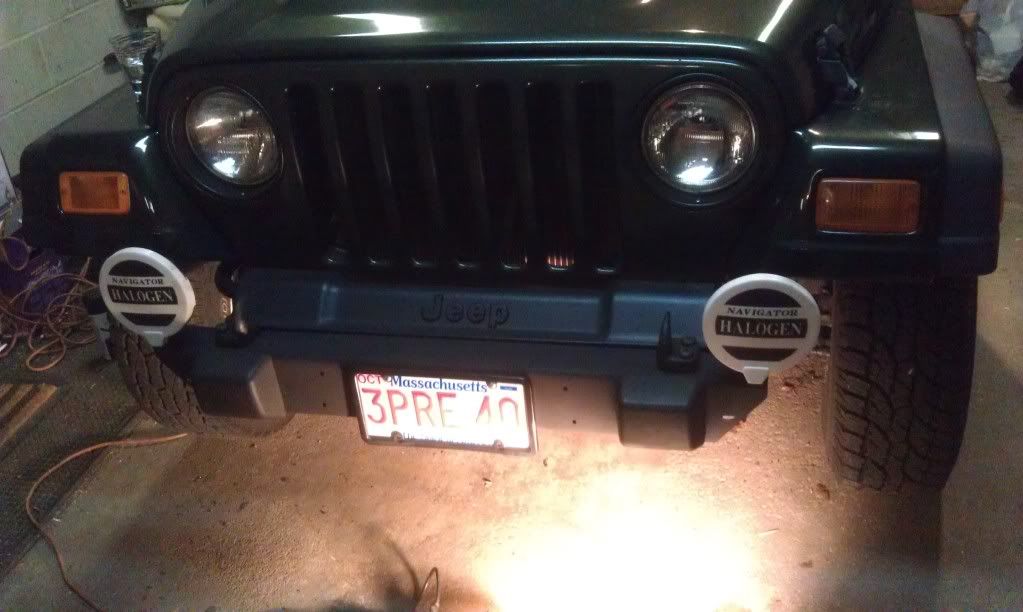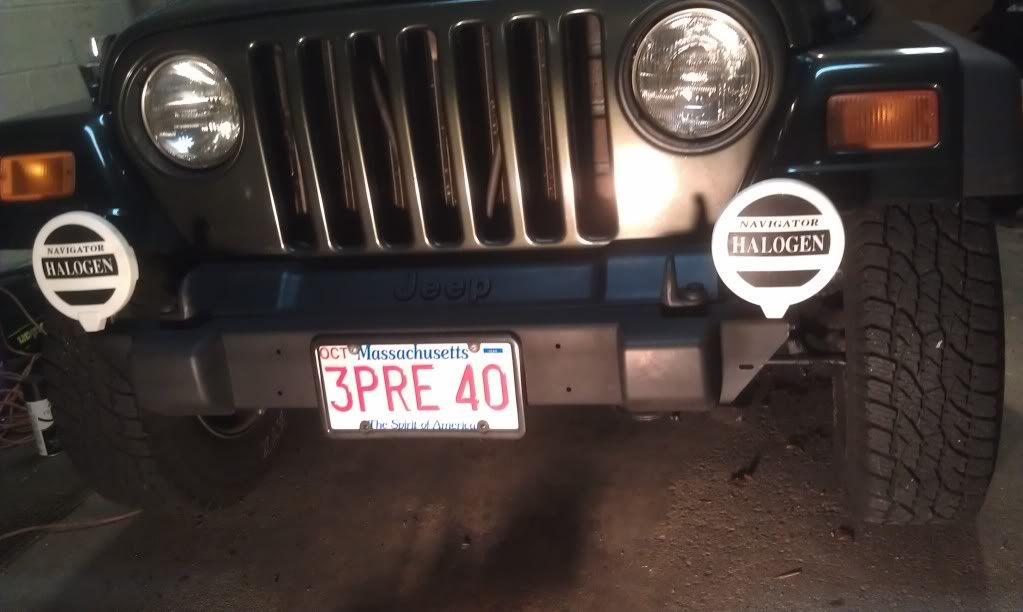 the lights WILL be moved to the center of the bumper, I just didn't have time yet to extend the wires on the light harness, that will be done this weekend. Touched it up with some flat black spraypaint, looks good!
Got some snow today!
Will update this week when the wheels, tires & lift come in!!!
Registered User
Join Date: Jul 2012
Location: Winsted
Posts: 1,554
Awesome start. I really like the way you fixed the front bumper, it looks sharp. Little jealous you got snow up in mass today - still coming to terms with the fact that I probably wont see as much snow since I moved down to CT.
Currently Active Users Viewing This Thread: 1

(0 members and 1 guests)