From Overhaul to Overkill. The Ballad of a TJ
---
The Jeep Today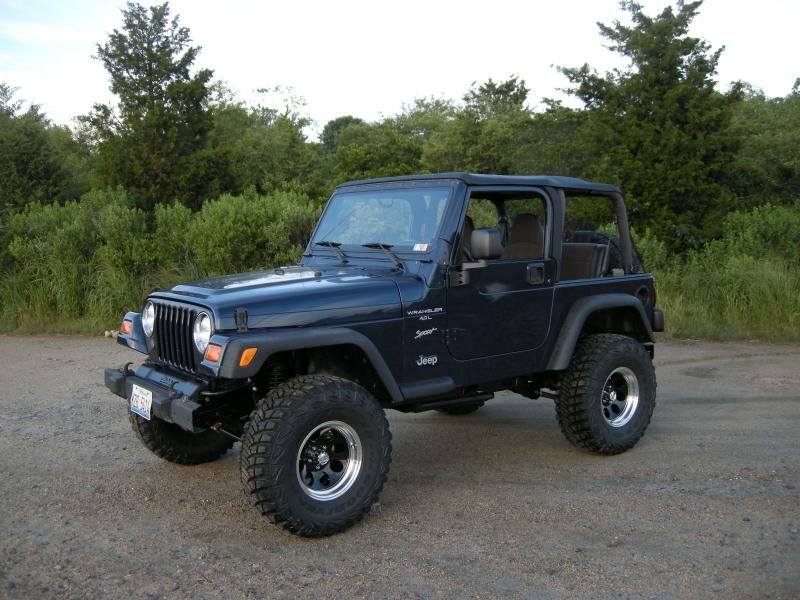 Current Mods:
-RC 2.5" lift with 2.2 performance shocks
-31x10.5" BFG A/Ts

The Beginning:

Foreword:
This thread is being started as a way to better organize my ideas and plans, and to also get input and opinions as needed. It will also be a good way for me to see where I started, where I'm at, and what the future might hold. Thanks in advanced for reading.
The Jeep: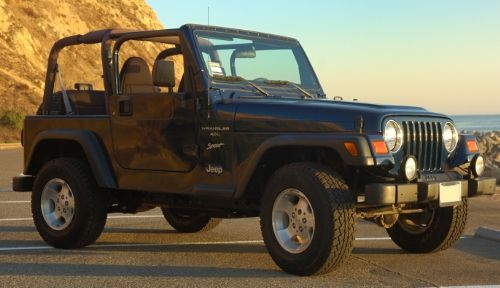 The Jeep is a 2000 Wrangler Sport. Born in September of 1999, She's clad in Patriot Blue with a 4.0L making the power and a 32rh making the go. Out back she packing a Dana 44 with 3.73s and a Trac-Loc. She started and lived her life in the comfort and sunny leisure of southern California until her original owners decided to trade her in at a Toyota dealership in 2008. That's where I found her, alone and trapped in a sea of hybrids. Too put it mildly, it was love at first sight. She had everything I wanted, was unmolested, and had lower miles(70K) to boot. So, I did what any 19 year old with a new job looking for their first vehicle would do. Got my Dad to cosign a loan and bought it! That is were the madness and addiction begins.
The Madn...er, build:
Initially there was no plan other than to drive and enjoy, any modifications would be made as required. That's how it was for a few months. But as I started to wheel and explore the deserts of SoCal, I started to see the need and benefits of a lift and larger tires after constantly dragging and scraping my lower control arm brackets, transfer case skid, and gas tank skid on rocks.
Now for some shameless self promotion. A short video of me and a buddy wheeling stock back in 09.(sorry for the poor quality, not sure why my Dad uploaded at such a low res
)
Some exploration of Big Bear while stock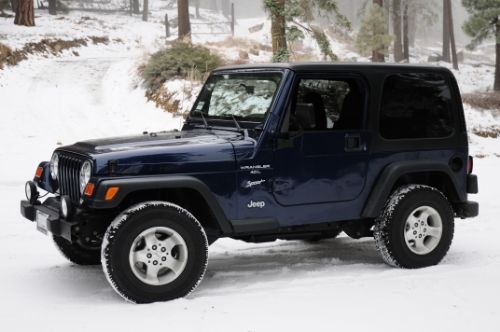 Joshua Tree exploration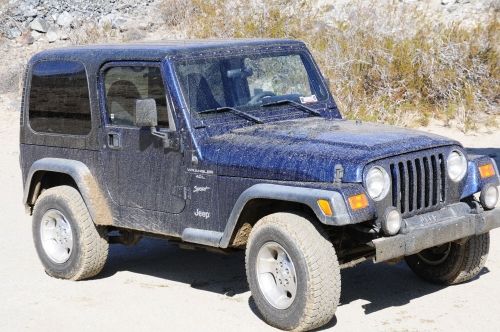 Joshua Tree. My preferred stompin' ground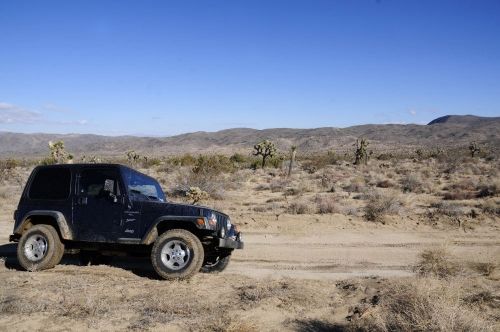 Caught in the act!
Some fellow Jeepers on the trail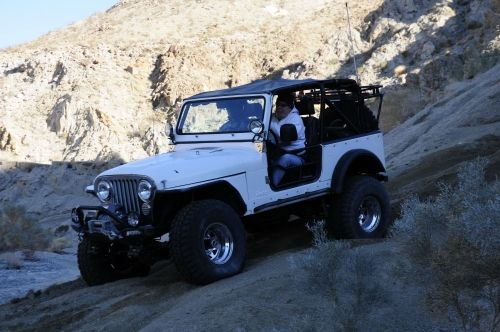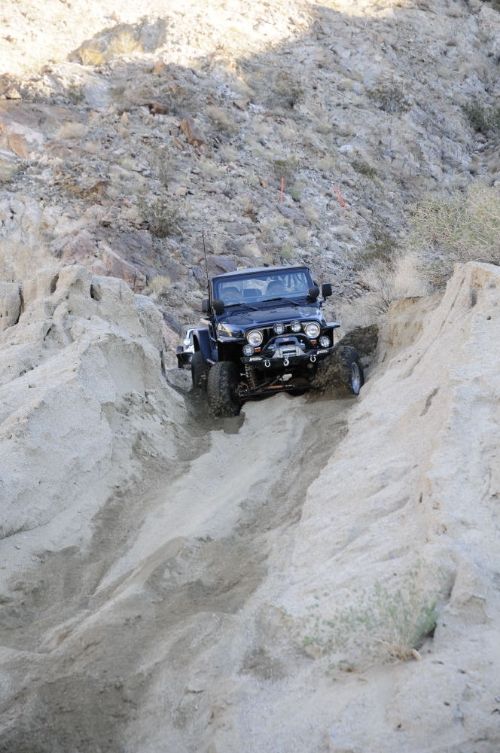 So, after some research here and abroad, I decided my first big modification would be a Rough Country 2.5" lift with their 2.2 performance shocks. Now I know there are many people out there that dislike RC and their lifts, But I have so far enjoyed my lift and RC's excellent customer service. So much so I recently purchased another of their small lifts for my new to me 04 Sliverado.
Another short video. This one of the lift install.
Shortly after installing the the lift I scored 5 31x10.5 BFG A/Ts mounted on canyons off my friends Jeep for nothing more than my 5 30x9.5 tires mounted on canyons plus 200 dollars. Not to shabby.
Some Red Rock Canyon State Park exploration after lift and tires. "Magnificent Desolation"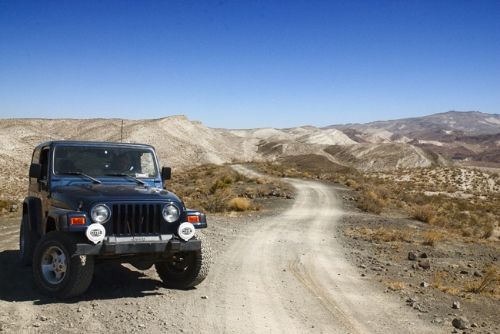 From there I continued to wheel and explore the many national and state parks that SoCal has to offer. But by now the addiction had truly set in and I was looking to the future, trying to figure out what to do next to make my Jeep an even more capable desert explorer. Sadly this pursuit was cut short in the summer of 2010. New orders had come in and I was on my way to a two year tour on Okinawa, Japan. Sadly the Jeep would be unable to accompany me and instead would be driven to Connecticut and left in the trusted care of my parents.
The Jeep at a buddy's house just before I left.
Now, two years later, I'm back state side and ready to pick up were I left off. Sadly it was immediately obvious that two Connecticut winters had not been kind to this California girl. Surface rust had taken hold on portions of the frame, transfer case skid, gas tank skid, door handles, and several brackets. The fenders, hard top, and various other plastic trim pieces had also faded. The biggest blow however came from the bubbling and peeling clear coat on the hood an cowl. Seeing that was a hard pill to swallow. Rust can be busted and plastic restored, but paint and body work is a whole different level and quite expensive to get done right. Needless to say the jury is still out on how this will be corrected.
The Jeep when I returned.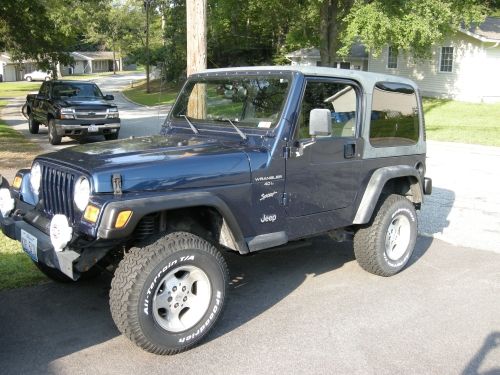 So my first order of business was to start restoring her good looks to there former glory. I started this process with new fender flares and side view mirrors, and by scrubbing the hard top with Magic Erasers and water. I also got new door handles, but was unable to install them before winter set in.
Some action/adventure shoots in the local state forest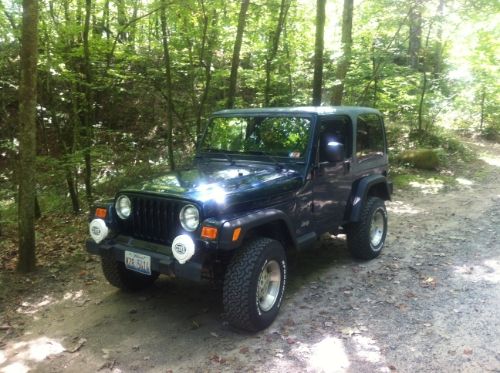 If I only had a snorkel...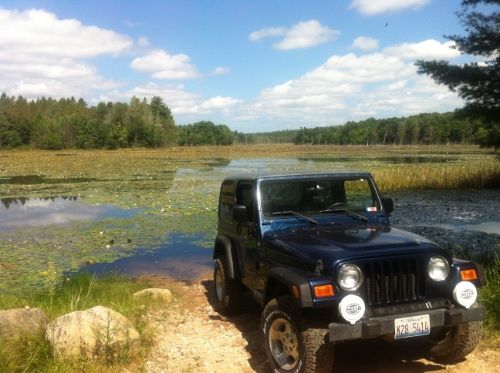 Next on the list was a basic tune up/ mini-overhaul. This was accomplished with new spark plugs, O2 sensors, oil change, air filter, and a full dis-assembly and cleaning of the throttle body. Needless to say she now purrs like a new born kitten.
Everything required to keep an aging 4.0 happy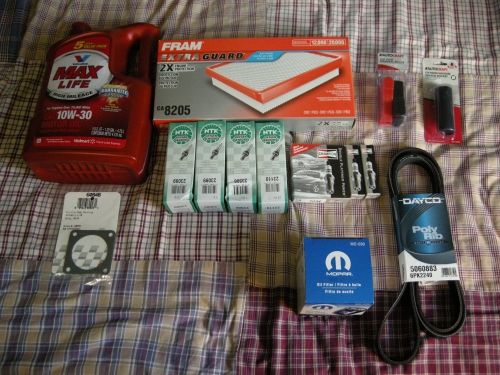 Which brings us to the present. Since I now live in CT my plans for a dedicated desert explorer are invalid, but I would like to still build it as an expedition/overland style Jeep for possible use here in New England. But mainly for a hopeful return to the deserts of the west sometime in the near future.
Build Break Down
Mods Installed:
-RC 2.5" lift with 2.2 shocks
-31x10.5 BFG A/T
Stage 1
will keep the RC springs and basically replace everything else in the suspension, bust all the rust on the frame and axles, and rebuild/upgrade the brakes front and rear.
The list so far for stage 1:
-Drag link and tie rod - Awaiting Installation
-Ball joints - Awaiting Installation
-Sye and cv shaft - Awaiting Installation
-Control arms - Awaiting Installation
-Front and rear track bars - Front Awaiting Installation,
Rear on Back Order
-CV track bar bracket - Awaiting Installation
-Front and rear extended sway bar links - Awaiting Installation
-New shocks - On Order
-Front and rear brakes - Awaiting Installation
-Body lift - Awaiting Installation
-MML - Awaiting Installation
-33" tires - Awaiting Installation
-Wheels - Awaiting Installation
-High clearance trans and engine skid combo - Awaiting Installation
-High clearance GTS - Awaiting Installation
-Cable Shifter - Awaiting Installation
-Assorted bushings - Awaiting Installation
-Destroy all rust - In Progress

Stage 2's
focus will most likely be based around larger tires and axle upgrades, along with some additional armor.
Preliminary stage 2:
-4.10 gears
-Front locker and rear LSD
-Front and rear bumpers
-Rocker guards
-Winch
Now none of this is set in stone. Chances are priorities will change and things will be shifted around/added as required as my knowledge increases and I learn more about wheeling and exploring opportunities in the New England area.