I've always wanted an LJ but they were too much money new so I held off until this January when I came across one that I really liked. I always wanted an Impact Orange Jeep, especially an LJ and I absolutely had to have a 6 speed.
Anyways a friend emailed me an add for an Impact Orange 2006 Jeep Unlimited w/ a 6 speed for $14,300 with 29000 miles in San Marcos, TX (30 miles north of me) so I went to take a look and bought it that same day.
Here's a few pics of when I brought it home.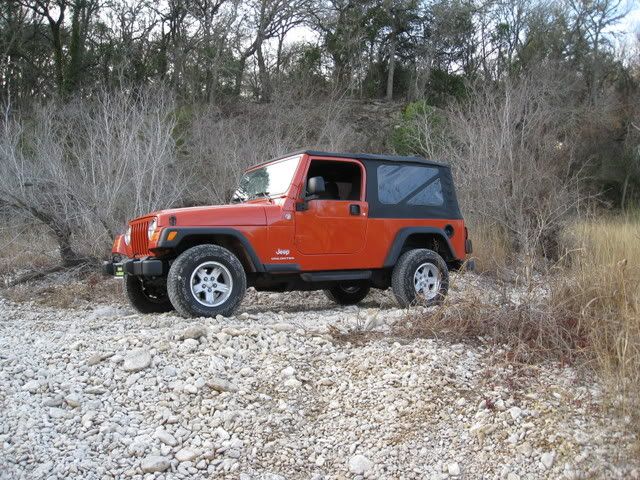 Messing around at my friends house.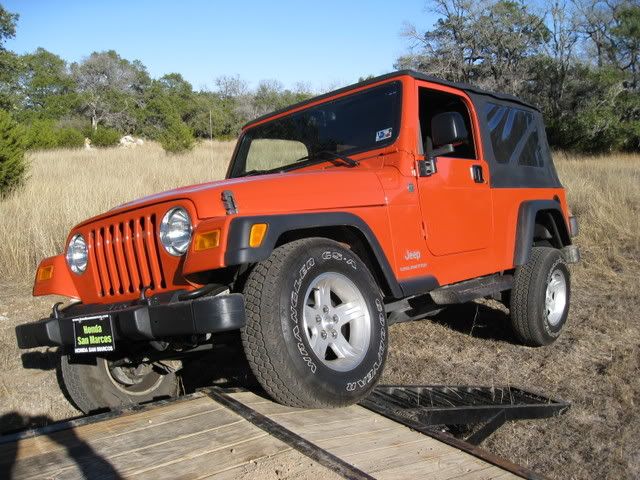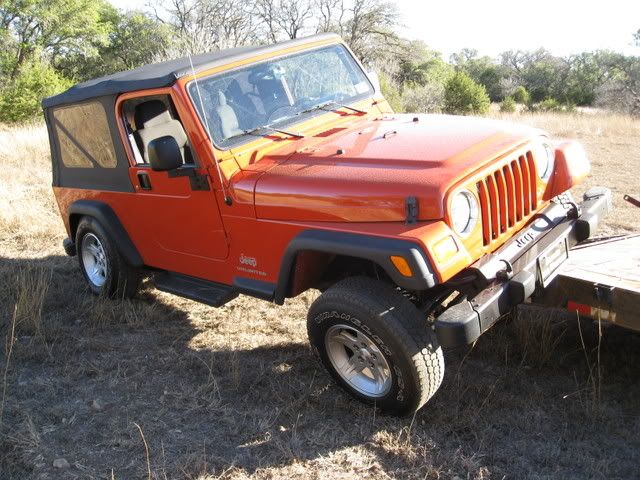 Anyways I was working for the railroad at the time making good money so I had plans for lifts and tires and gears and lockers, etc, etc, but like many other people I got laid off about two weeks after getting the Jeep
so plans changed.
I've decided to go ahead and spend a little money on it at a time and do little upgrades to it that are cheap. The first thing I did was build a rear bumper for it. The only reason I did this was because I needed to be able to pull a trailer around and didn't want a stupid hitch on it and didn't have the money for a big badass aftermarket bumper so I did what I could.
A friend of mine had some 2X2 tubing at his house that I could have for free cuz it had a lot of surface rust on it but the only problem was that it was thing wall stuff, about 1/8 inch so I thought about it and decided to use it anyways. The trailer I pull is light and I don't pull it on the street unless it's just right down the road no more than 25 mph but mostly I just pull it around on my dad's property. So I build the bumper itself out of the tubing by stacking two pieces of the 2X2 tubing and making a couple small welds down the center. I thought about fully welding it in and grinding it down but that's way too much work and it didn't turn out bad anyways. The hitch I mad ties into the frame as well as the bumper so it's plenty strong for what I need. I also have a basket I hang from the hitch when I go camping and it holds up fine. I didn't paint over one of the welds on the bumper so it sticks out like a sore thumb and the hitch is also removeable but I didn't remove it for the pics. Also it cost me a total of $43.00.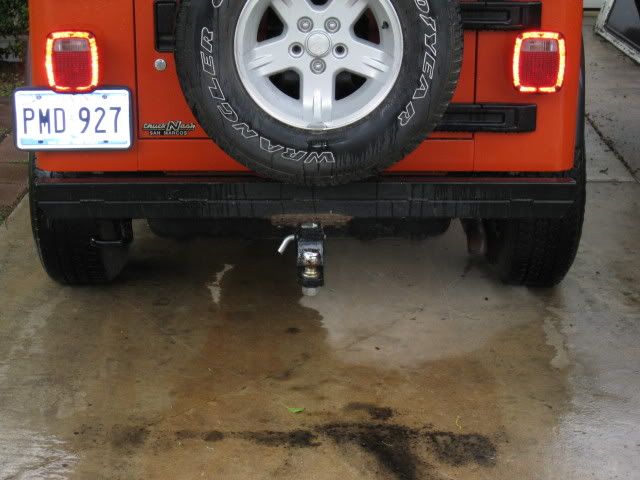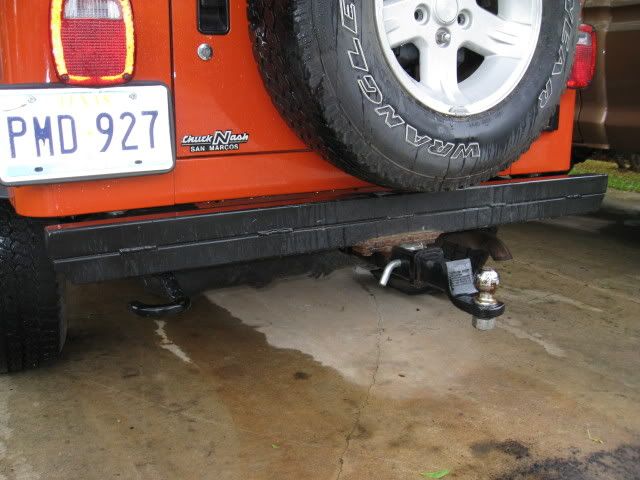 The thing I hated about my LJ was the stupid rake it had. It just looked horrible. I really didn't want to spend the money of a lift quite yet and after looking at some lifted LJ's I noticed that they still weren't level so I decided to take care of that right off the bat. Eventually when money is available i'll lift it up 4 or so inches and make it level with coils but for now some 1 3/4 inch Rubicon Coil spacers will do.
Before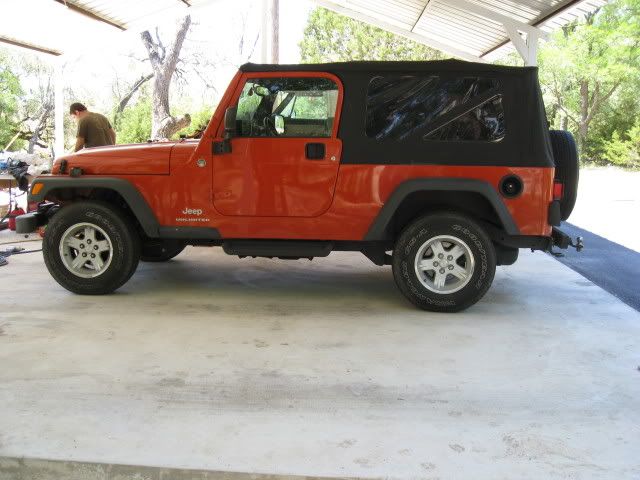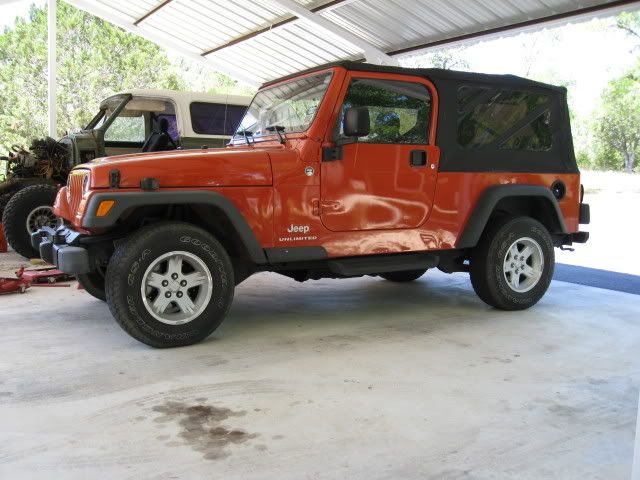 After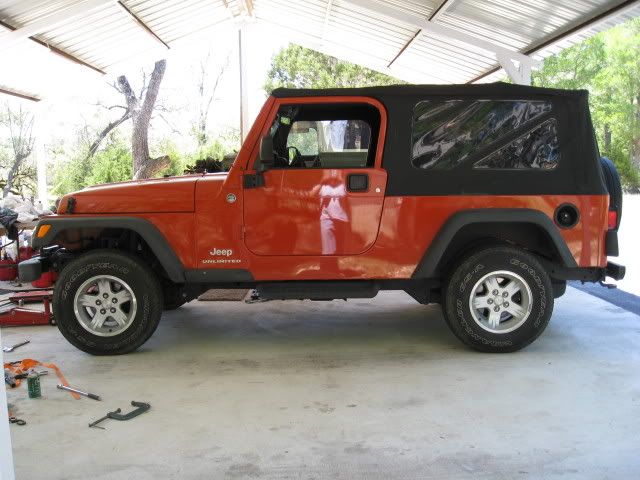 I had only one issue with it and that was death wobble. I'm not sure if everyone experiences death wobble with such a small lift but I did and it sucked so today or tomorrow I need to take it in for an alignment.
For now i'm gonna have to leave it like it is. I plan on finding some used 32's, and trimming the fender flares to give the appearance of more lift. Also, my bday is coming up so I asked everyone for ONE Crager Soft 8. More free (free to me) upgrades anyways.