SAVVY half doors
Got my medium sized brown box today containing a little Savvyness. I'm not quite sure why I just couldn't live without these, and even now..... that they are actually on my Jeep I still don't know! haha. They are neat though, and will serve there purpose just fine.
Install is pretty basic although it took me a bit to figure out just what was what and where it was going to go. The hardware bag was also much more than expected (it always is, it seems like). The instructions got me through it, but are lacking in my opinion. No photos and you have to keep referencing the hardware list to correspond to whatever step your on.... Kind of weird I thought. It's nothing you really can't figure out on your own though, I just like to follow instructions perfectly for the best install possible.
Here is all the hardware sorted out: Nice quality stainless, lots of it~!
Cross braces, These are also nice pieces, I would have liked to have seen a vertical brace as well, you can easily twist the door, A little surprised at the lack of structural rigidity. I don't see it as an issue, but when the first thing people do is grab the door and pull on it to see how "stout" it is..... it twists quite a bit giving the impression it's pretty flimsy...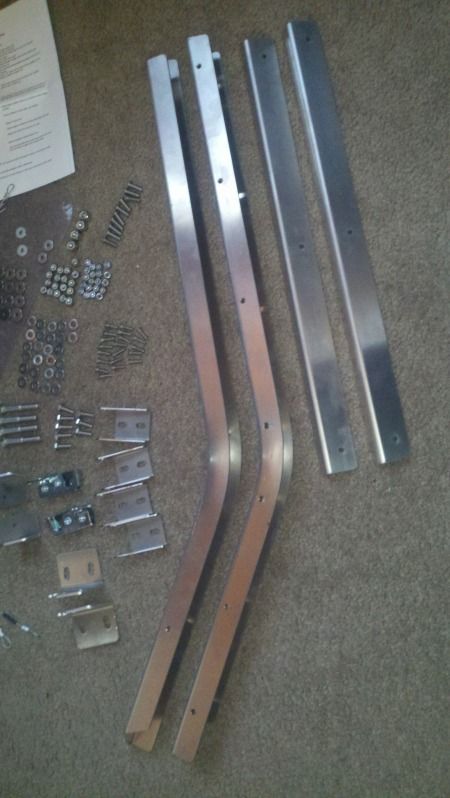 First you mount the hinges
Then you can loosely mount the skin onto the hinges.
Then you go to ACE because you're missing the 4 bolts to mount the latches! BOOOO.... annoying!
Then you can mount the latches, pretty easy to adjust really, just get everything on loosely, jiggle it around till it's operating smoothly and snug things up. They are so light it's pretty easy.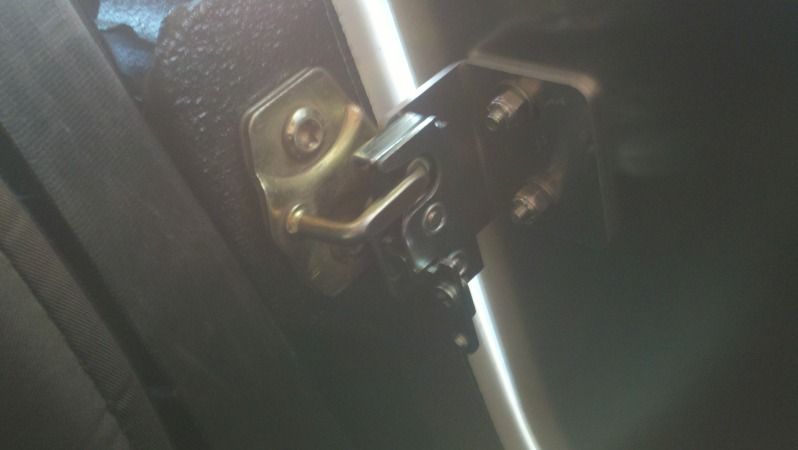 Then the support bars go on. Nicely countensunk screws, all holes lined up perfect.
The cable and release lever are pretty ingenious and seem to work well. The positioning is good and operation is smooth and simplicity is high.
Ohhh so pretty almost.... now you gotta get some type of cleaner and get all the lettering off the aluminum. Some stainless cleaner took it right off...
Some final tweaking on the latches and I was ready for a test drive.
All cleaned up and looking, clean.
Test drive revealed that they rattle at the very bottom, not really surprised since they kind of wobble pretty easy. The solution is simple though, I can move the latch striker out about 1/16 and it shouldn't hit the tub at all, or I was thinking just a very thin strip of adhesive weather stripping along just the bottom would do the trick also..... Not a huge deal but I must reiterate I wish they were more rigid!
Overall I'm happy with my purchase, Leaving them raw will definitely make your Jeep stand out. Some will hate it, some will love it. I personally love unfinished metal, I wish my entire jeep was just raw metal.
I think with the PSC louvered hood panel in raw aluminum and the Raceline Beadlocks I'm planning on getting this thing's gonna look pretty crazy, haha.
I made a short video kind of showing the latch function that's uploading to Youtube right now... I'll post that in a bit. I'm also going to cross post this in it's own thread since my little thread doesn't get much traffic, just in case some people are on the fence about these and wanted some more info.