Well my shake down run is complete! Everything went well. I will have to get used to it again as it just feels different. The stretch made a lot of obstacles I've been climbing for years just seem much less steep, which I guess is what you'd expect. The anti rock was nice, mostly because I didn't have to fiddle with the discos. It did seem to control the front axle and keep it from feeling "floppy" under the rig. It seemed quieter up front with less sounds coming from the coils as they quickly go from extended to compressed on the rocks. Over all it felt good. It was very nice not slamming down on the tank! I barely scratched the skid at all. Well.... overall I'm happy. Everything worked well, no issues, no leaks, no weird sounds.
I decided to try a climb called $10 rock that gives the area it's name (I have no idea why). I've pulled up to it but never actually tried it and no one in my group has done it un-assisted either. Well.... I did it! Haha. I pulled up to it not really thinking it was doable, It's about a 10' waterfall, steep and fairly intimidating, something that with stock wheelbase makes you instantly feel like you're going to go over. I pulled up a couple times and it didn't feel to bad. It was just me and son so I didn't want to do anything unsafe, but after a couple feelers I went for it and climbed right up. Felt pretty good to do something I haven't done before after all that work!
Here's some photos and maybe a video or two.
My wheel well cut out came out pretty perfect.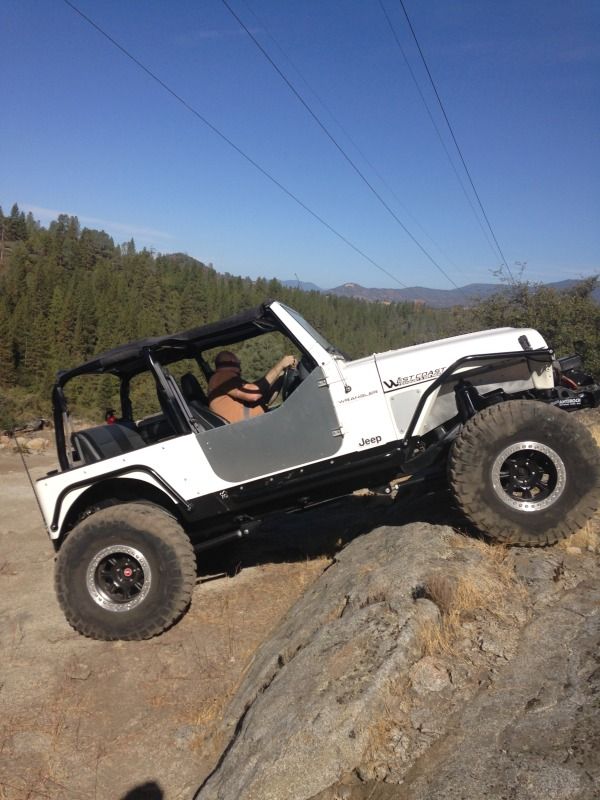 $10 Rock
Tate shot in vertical.... dammit, haha. Of course video does no justice once again.