Myj build, from 2 years ago to today...
---
After much persuasion I have finally gathered enough pictures and info to post up my own build thread, starting from the first mod after buying the Jeep about 2 years ago, to the most recent mod.
I started with a 1990 YJ with a 2.5 ltr. backed by an AX-5 manual transmission. The Jeep had an existing 2.5" Skyjacker spring lift with 31" Cooper STT mud terrains. Stock Dana 30/35 axle combo with 4.10 gearing.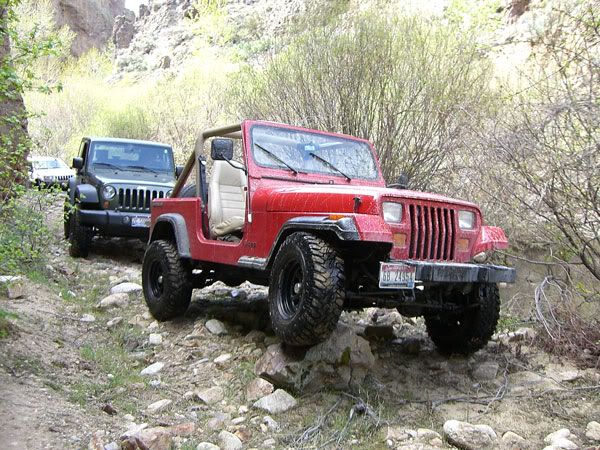 Here is pretty much how it looked when I bought it. The hard top (not shown) was tan. The very first change I had to make was to paint that sucker black. A couple cans of satin black and a can of adhesion promoter and some scotch-brite pads was all that change required.
The next step was to get rid of that wimpy, pesky, leak prone 4 banger. I happened to have an LA 318 hanging around that didnt have a home at the time. I didn't, however, want to run a carb mostly because I wanted to be emission legal, but fuel injection is just the way to go. After much searching I found that I could simply bolt on a set of Magnum small block heads and MPFI intake manifold by just purchasing a custom set of push rods and standard hydraulic lifters. A junkyard set of parts/wiring harness/computer and some time clearing out excess wires got the system grafted into the YJ's existing wiring and humming like a clock. A simple set of homemade mounts bolted the engine into the frame.
Out with the old:
Mocking up new: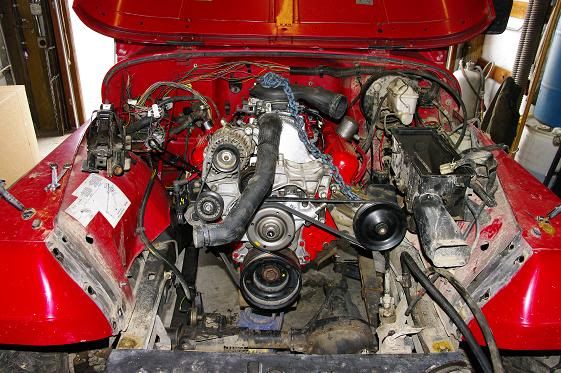 ---
90 YJ 5.2 Magnum, AX-15, 231 SYE'd
D44 front, welded/trussed AMC20HD rear. 4.56 gears soonish.
Western 6 lug aluminum wheels, with 35x12.50x15 Wrangler MTRs
MYj Build