This was a HUGE turning point for my build!!!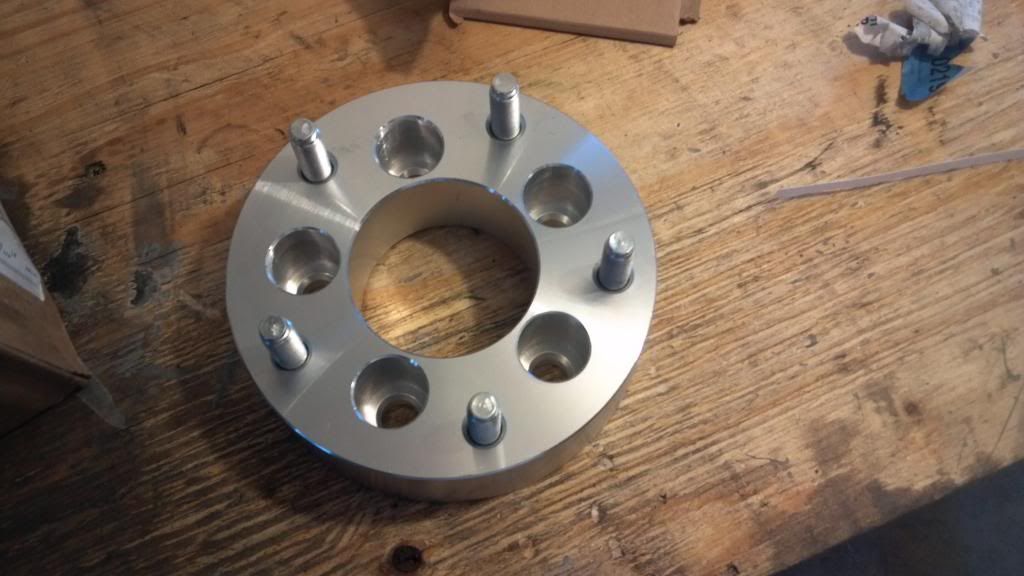 It's a wheel adapter. Only one mind you. You see the original plan for my build was to do it in stages. The first stage (this one) was going to be new waggy springs all around to stretch the wheelbase by 6" total. Get my 9" under the rear. SYE conversion to the tcase with a new rear driveshaft. A flat belly skid and a MML. Add some new 35" MTR/Ks trim the fenders and wheel it. It would only be 2WD because the dana 30 with 3.07s was going to stay until stage 2. The wheel adapters were to allow room for the 35's to move around, and to match the width to the full width 9" in the rear. Also new wheels were needed because the 9" molt patter was 5 on 5.5 not 5 on 4.5 like the stock YJs are. I didn't want to run around with two bolt patterns so I chose the adapters.
BUT I only got ONE wheel adapter. For $80. Non refundable...
So the choice was made very quickly to do stage 2 a little early. As in with stage 1. Looks like I'll be getting TWO new axles. WOOHOO!!!
This is getting EXPENSIVE
So out comes the dana 35.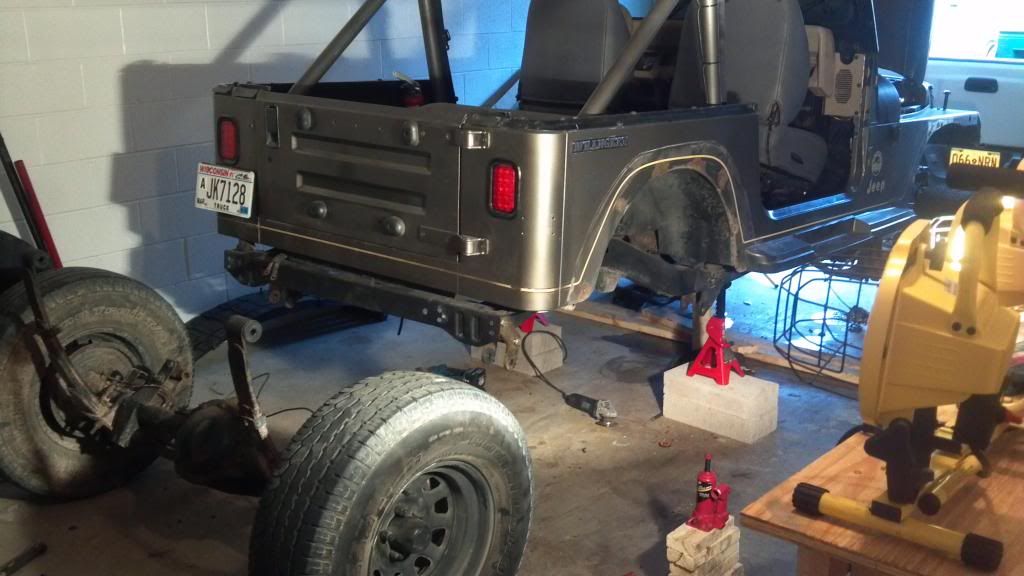 (This was done in a fit of rage over the single wheel adapter)
A shot of the underside, and the BOOO! Ba/10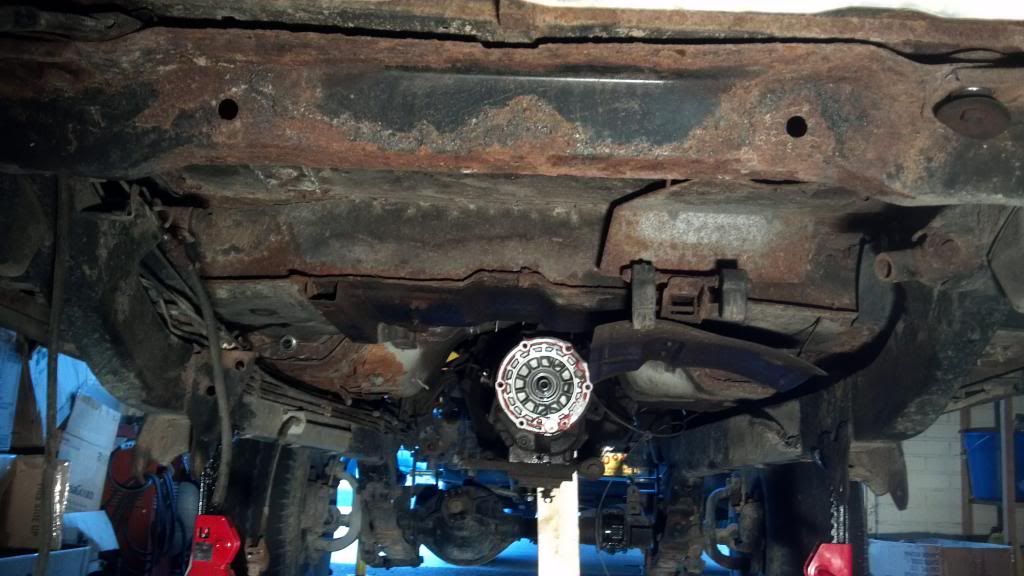 Here is a quick side by side comparison of seemingly 4" lift springs and the Waggy springs.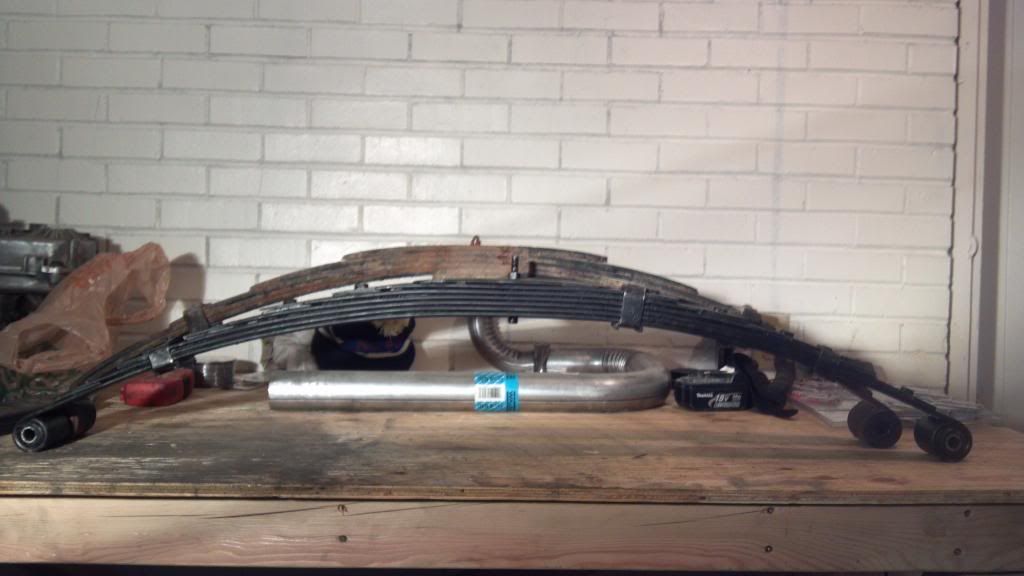 Just about 2" longer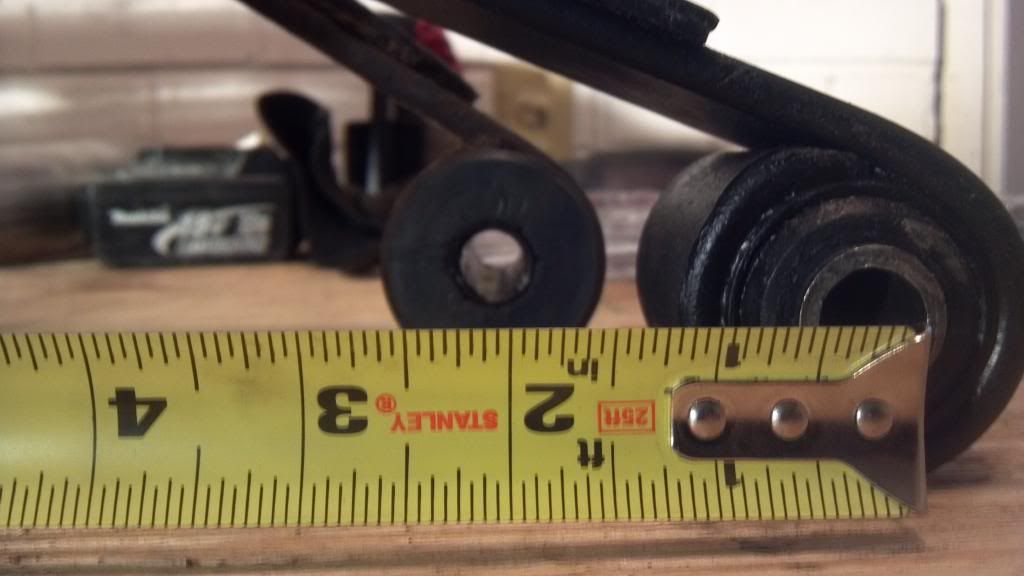 1.5" lower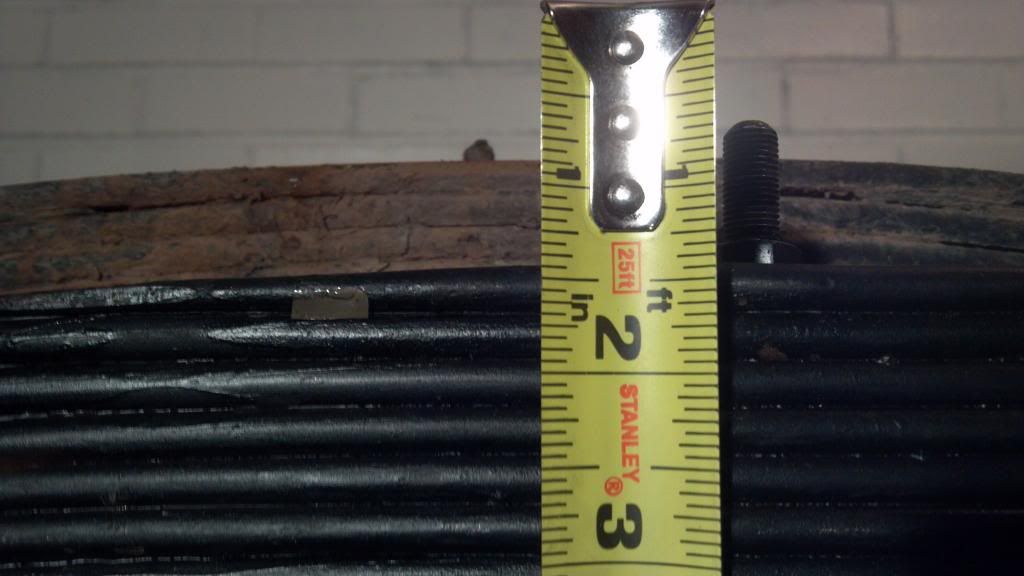 And a 2" offset pin. Hence the stretch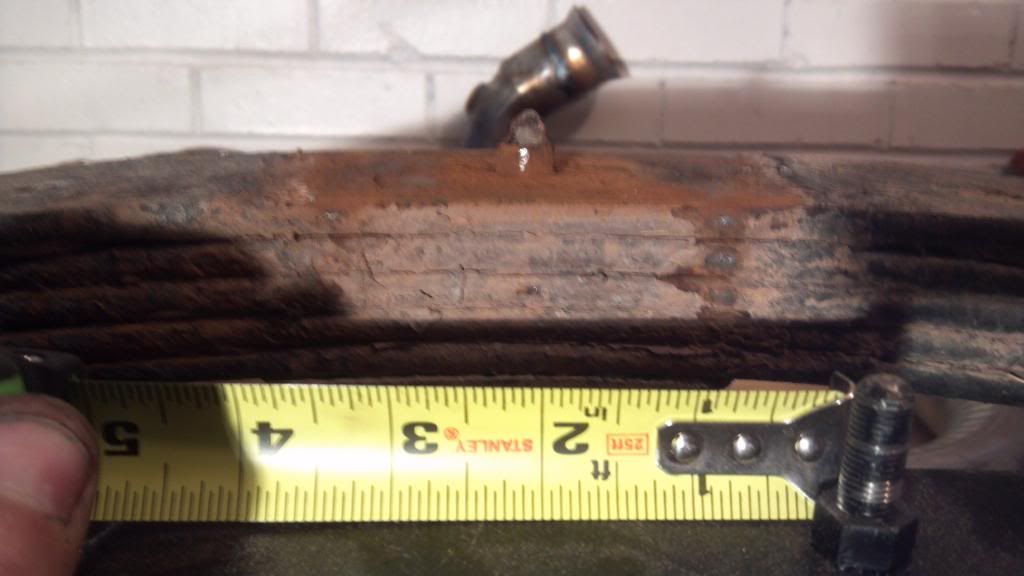 Here it is the first mock up of the Ford 9". I like how it almost glows.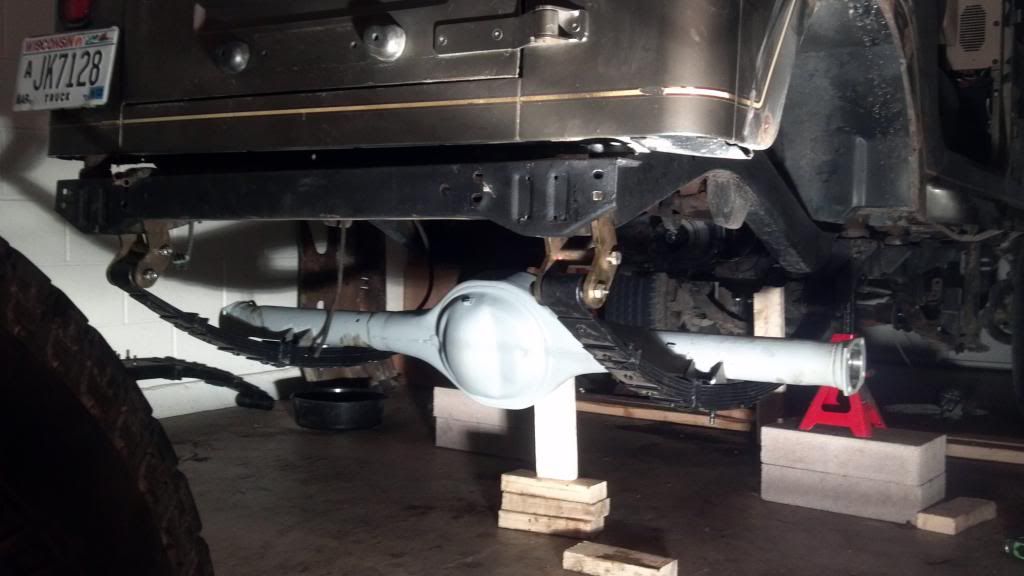 DAMN thats WIDE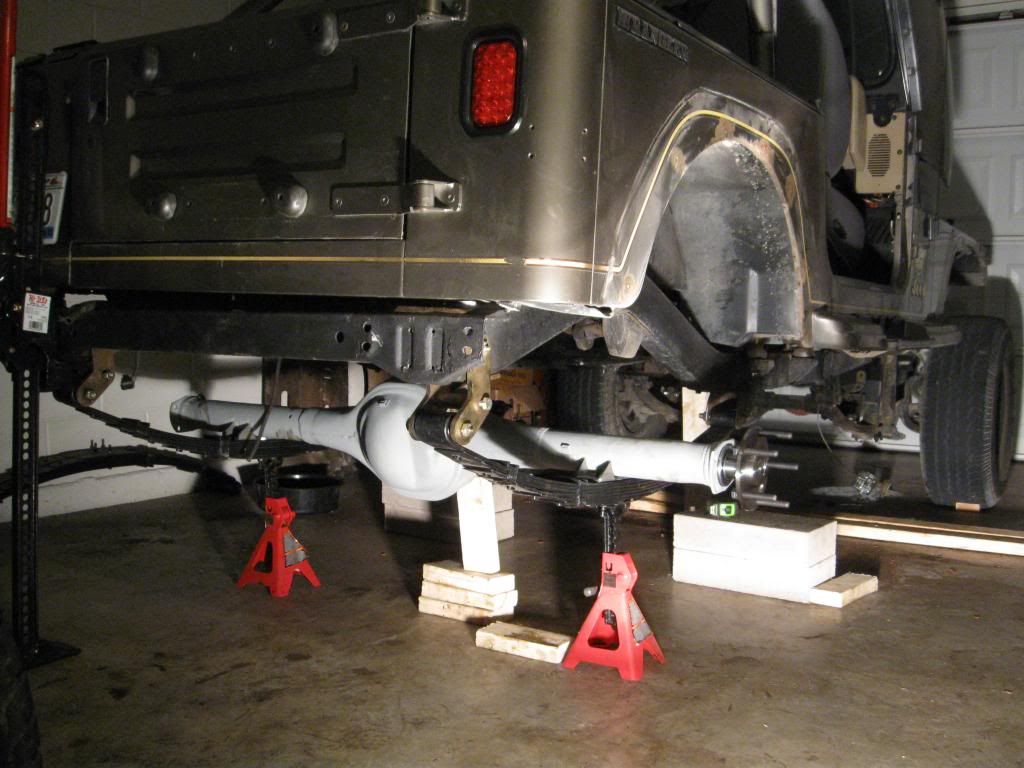 Heres a little side note: When purchasing Waggy springs or grabbing them from the scrap yard they use different bushings than the YJ does. SEE:
You have to remove these and put the YJ bushings in for things to work right.
Now this was a royal PITA. A map gas torch, a sawzall, a hammer, and a chisel were required to remove the old bushings.
YUP still Shiny. Not quite sure why I put this back in for this picture.
OHH. The dreaded rusted body mount removal procedure. Only had four real bad ones. 4 out of 11 isn't too bad. Right?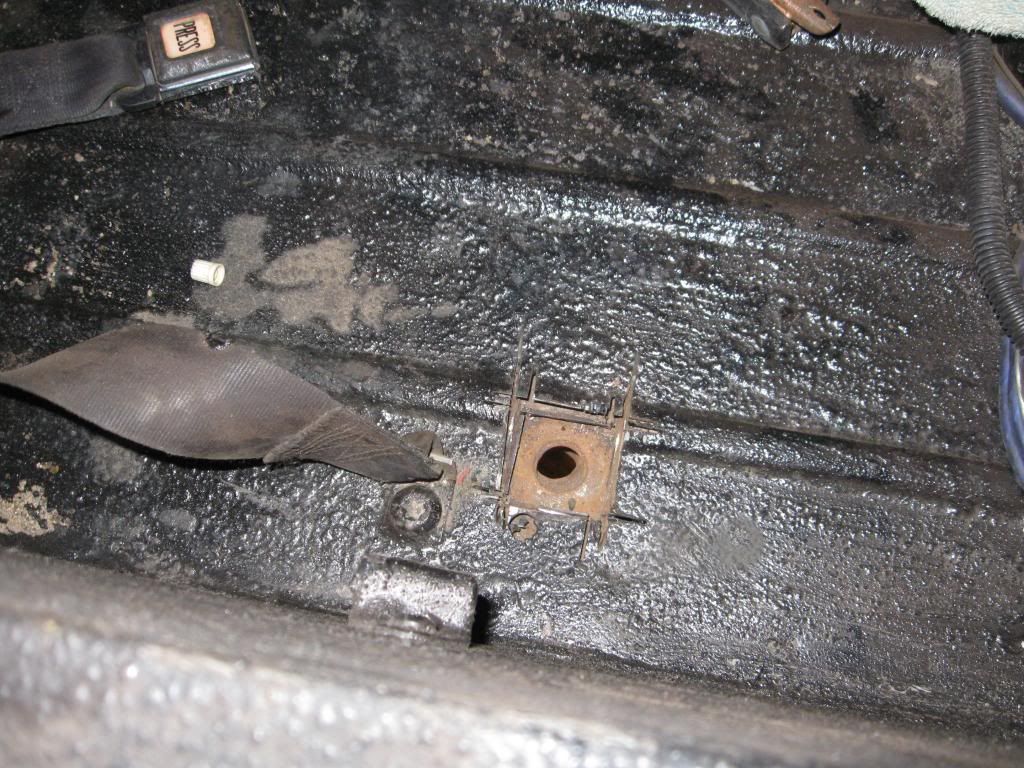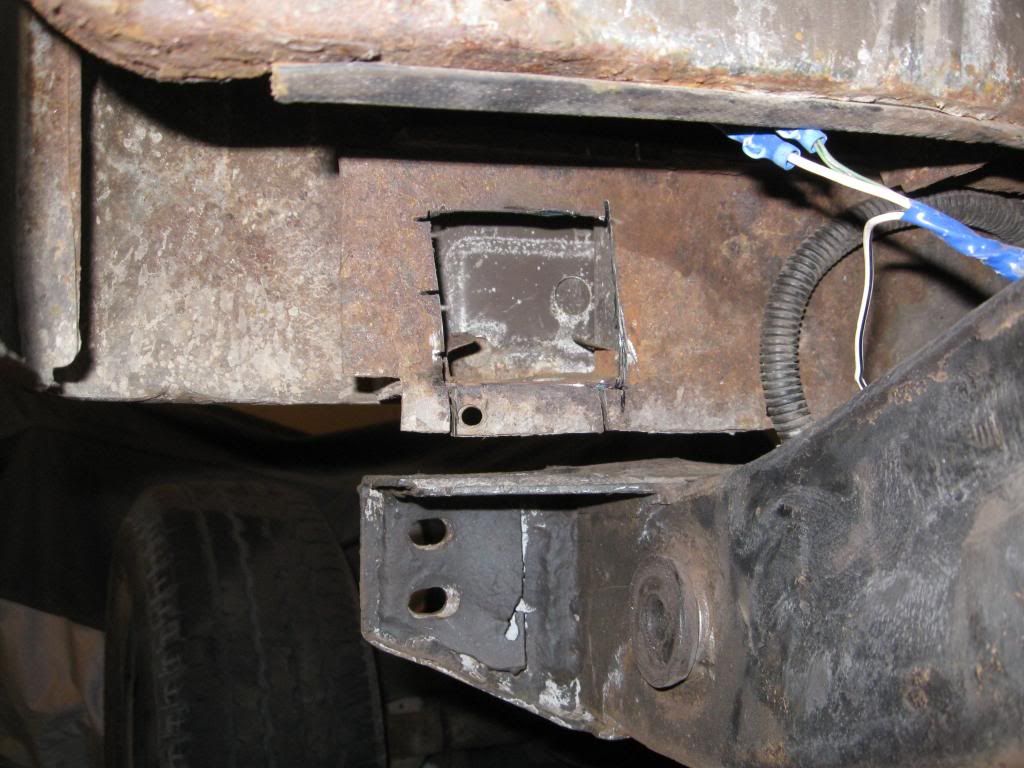 Somewhere along this point I realized I wanted to clean the entire underside of the Jeep tub AND frame. Then prime and under body coat the whole thing. Just to fresher er up a bit.
Removed the rusted rotted floor section under the drivers feet.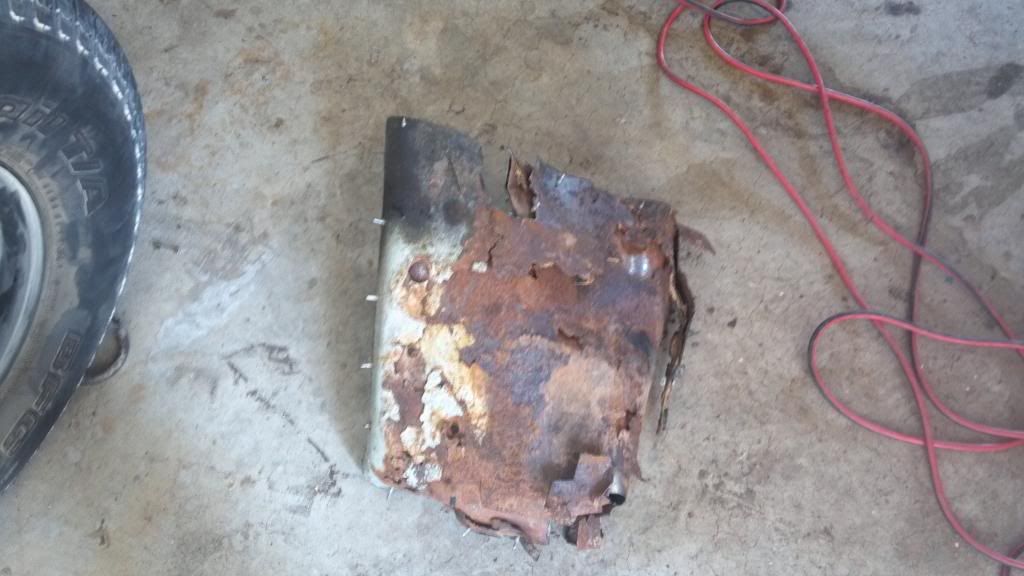 Fred Flinstone would be jealous of this ride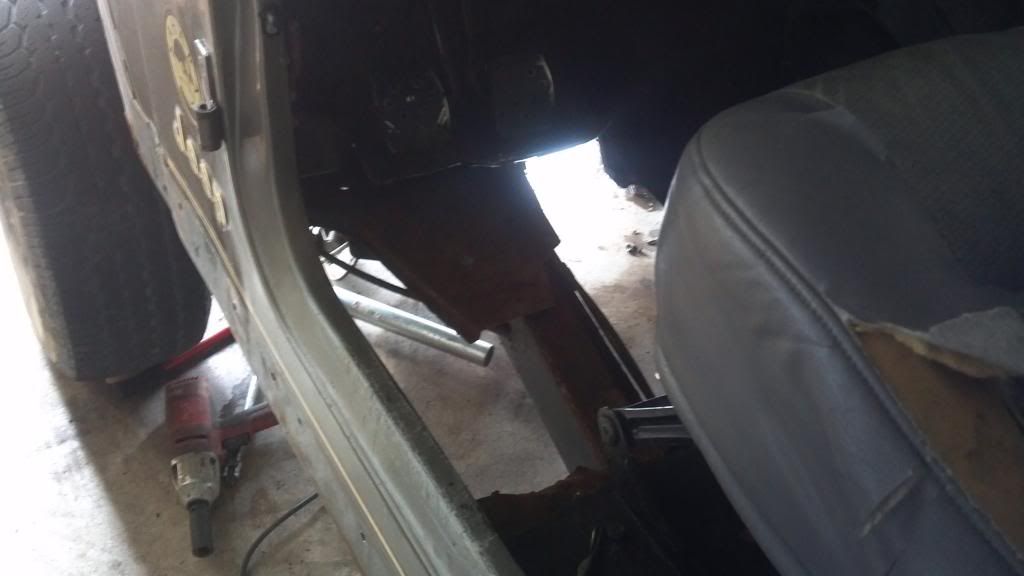 Wanted to check the plugs quick to make sure my engine wasnt going. Things look good. A little crud on #3. But I believe thats form all the carb cleaner I have been feeding her lately.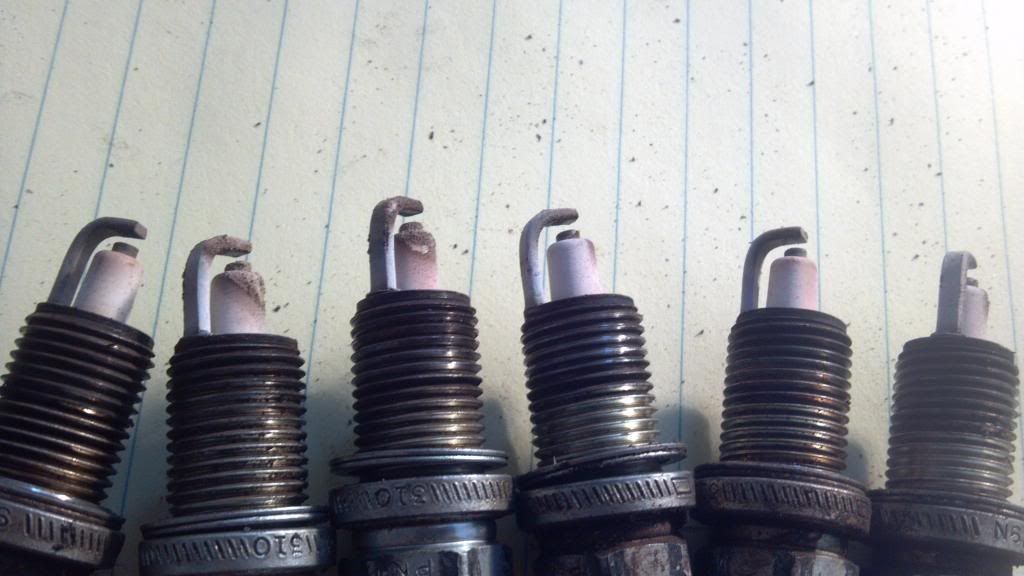 TADA!!!! Everyone meet my new front axle. Its a High Pinion Dada 44 out of a 78 F150.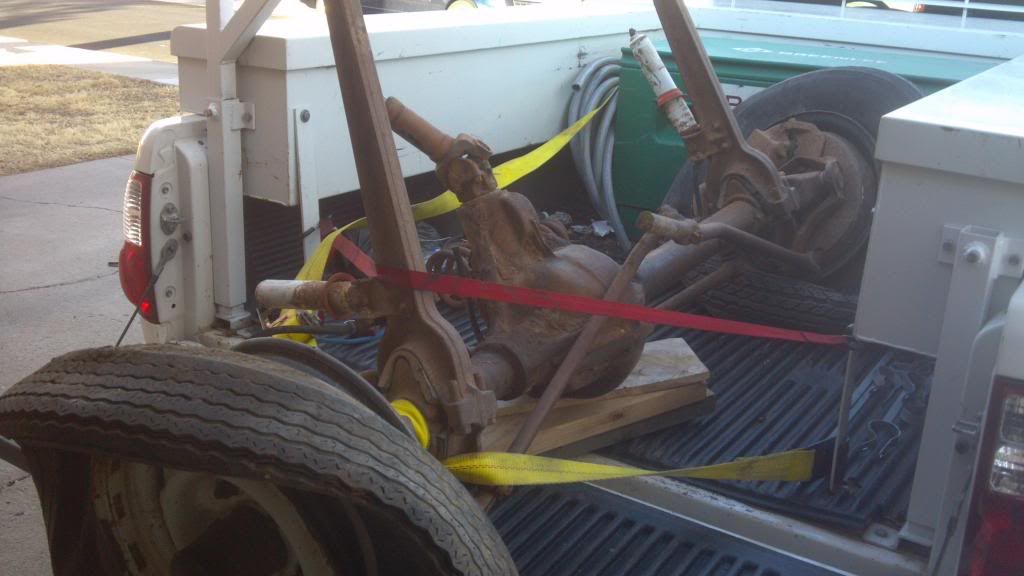 I really lucked out with this one. Went on craigslist. Found it. The guy was asking $500 for it. Drove there gave him $360 and drove it back.Good buy in my book. And now I can stop worrying about finding my HP D44.
There it is getting cleaned up and taken apart.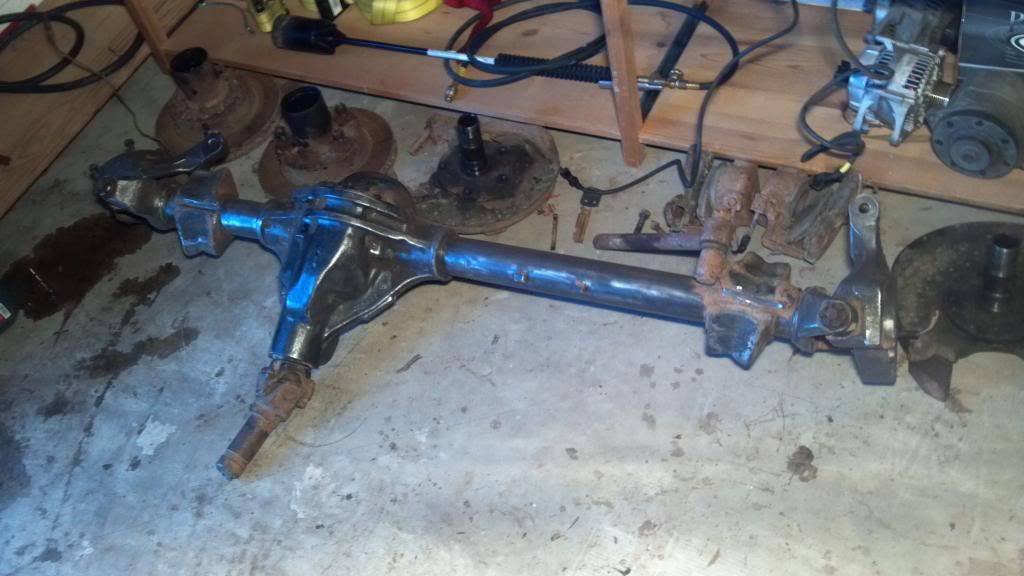 Remember I said I was cleaning the entire underside of the YJ. Well this is what you look like while doing just that.
This is pretty miserable work. But I have to do it!
After wire wheeling for almost a week straight I wanted a new project. My shroudless stock clutch fan was not getting the job done. I read that a Ford Taurus fan pulls some serious air so why not put one in my YJ?
Well heres why.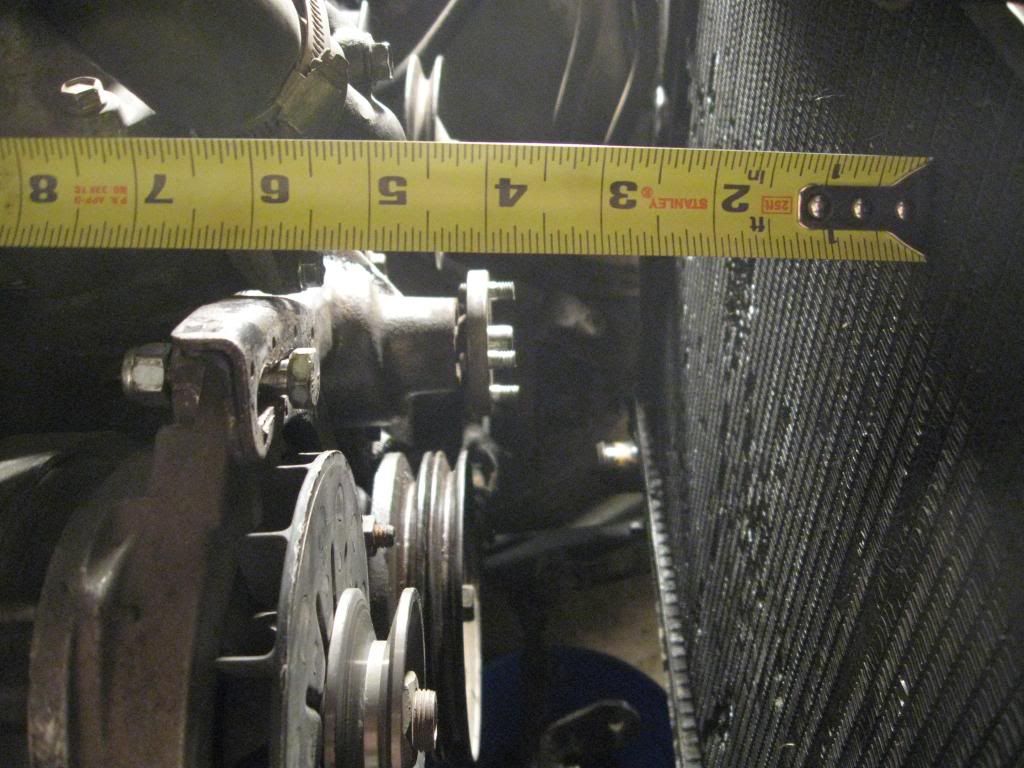 It don't fit. My big old radiator with a Taurus fan wont fit between the grill and the motor. So it was time to fab!!!
The first thing I did was cut off a paint stir sticks width around the entire shroud.
The test fitting device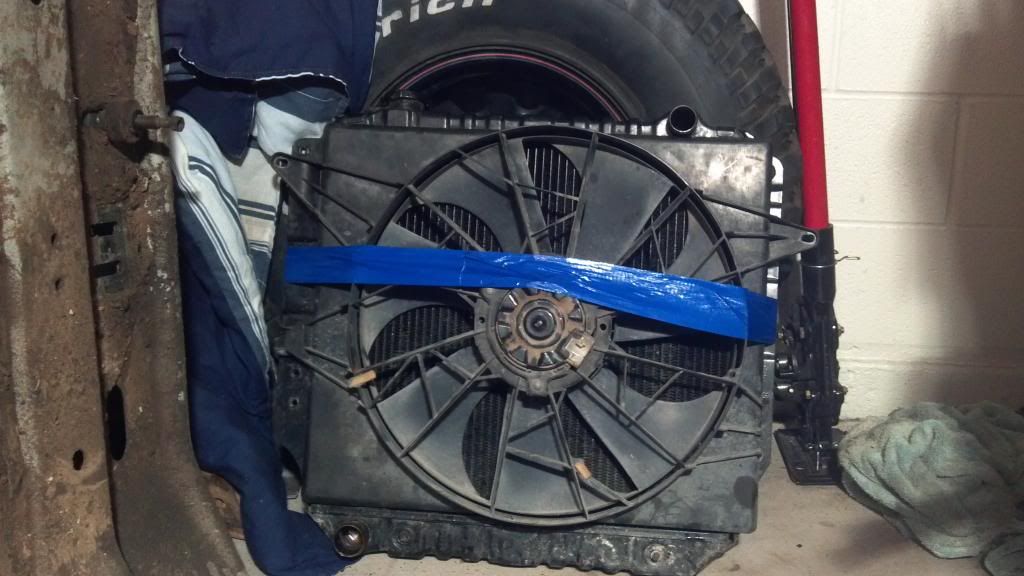 I knew it was time to work my amateur fabrication skills. Heres the result.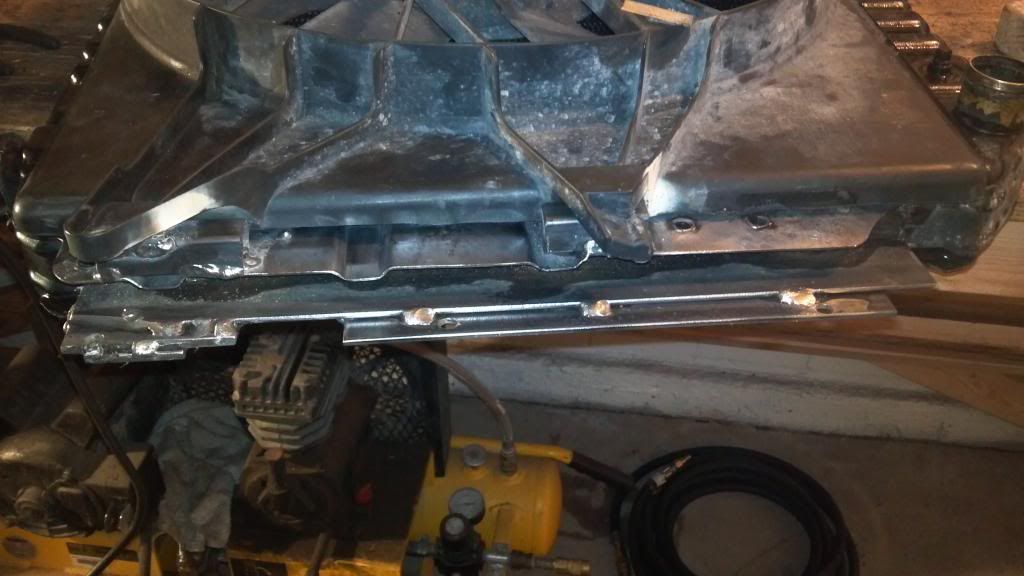 IT FITS!!! with 1/2" to spare. Its not pretty but it will work.