Registered User
Join Date: May 2009
Location: The sticks
Posts: 36
My TJ "Big Jack"
---
Well to start off i've been a member here for sometime and have never done a build thread so here goes. When I was 14 my dad decided it was time to have some "bonding time" as lame as that sounds it turned into a jeep obsession! (before anyone says it I have been working at the local ace hardware he owned since I was 12 and payed 1/2 of the jeep myself and all upgrades) well this is what he looked like from the man who towed him behind an rv to nascar races
As you see no suspension lift, 3" body, Michelin's, and chrome tube bumpers
but the positive: it does have a 4.0l and an auto, dana 44 rear
, and it's the sahara edition
no obviously me being that young and all me and my dad knew about jeeps were they had an engine and you turned the key and it went because I grew up restoring homes and building swings haha so knowing that the first thing I wanted to throw money on was the cheapest lift I could find 4" rough country $499.99 and seeing as that was all I had we took a weekend and installed it
after alot of BS because we didn't know what we were doing we got it on and spent some quality time together
not to bad but this is after the month of riding around with 4" suspension and 3" body on 31's haha ( wish I could find the pics
) so at this point im 15 getting close to 16 so it's time for some stereo upgrades cause at 16 you have to be "bumping down the rode" so flip up dvd player and 2 12's is where my next $500 went
after 4 loud music tickets that was finally gotten rid of!
well im finally 16 and i've always washed him every week and taken great care of my jeep its time for the first mud ride but dont worry I took off the chrome bumpers to not mess them up haha
well it was a great time I even got lucky that night after a couple beers with my girlfriend at the time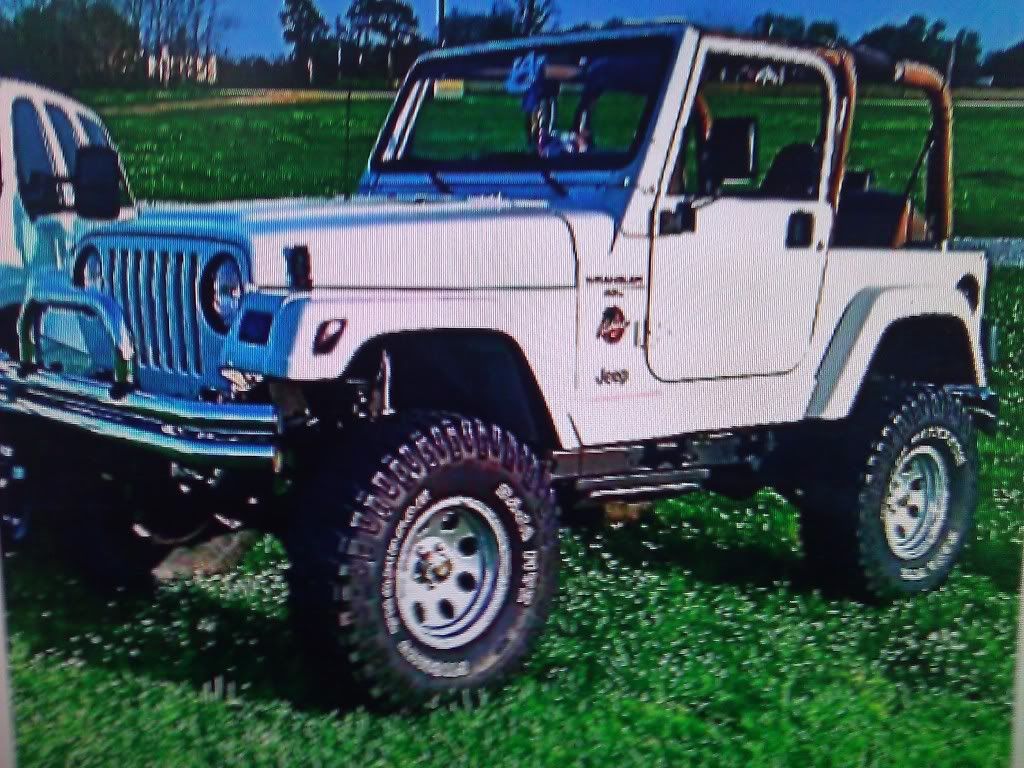 the jeep pretty much stays the same until college and I decide that is time to get rid off those ugly polished wheels and chrome bumpers so I got stock bumpers and some black steelies for $100(no job college budget) and I don't have pics of this considering I was using a nokia and had no money for a camera! But the good news is I am now 19 about to be 20 I got a job and got some money and started back adding stuff to the jeep! So I came across a 1" leveling kit and put it on and I had wobbling out the yohoo so I bought a drop pitman arm and solved my problem
next I ran in to a mailbox and here is what I had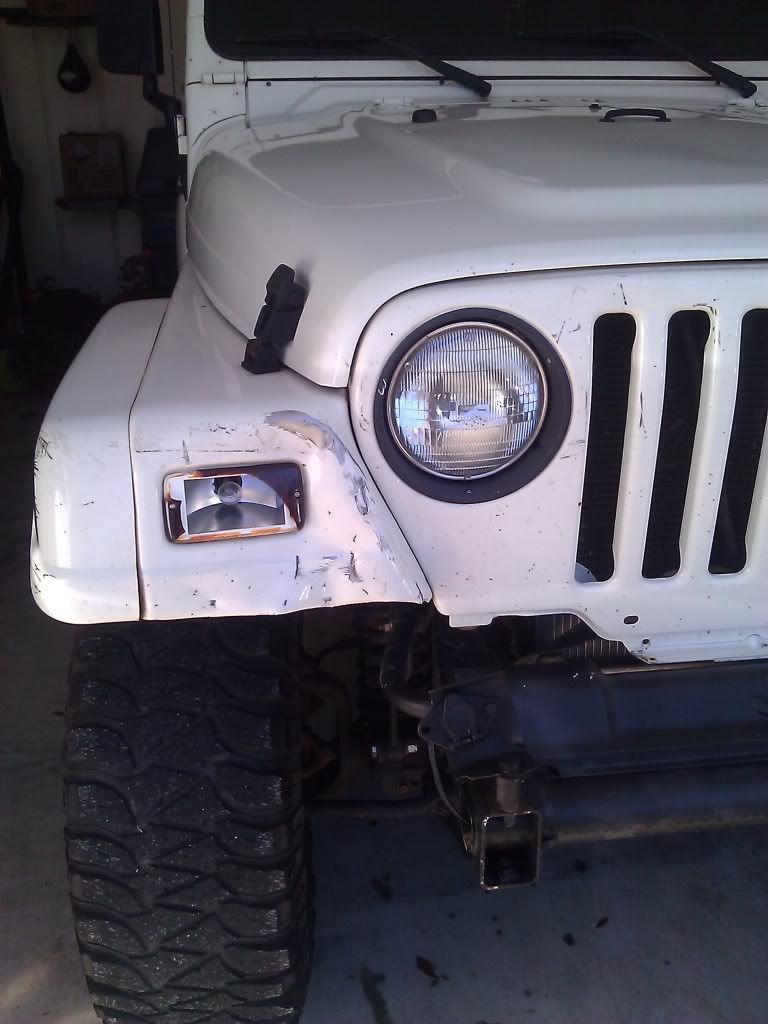 So I was browsing on craigslist and came across some tube fenders for a yj for $200 dollars brand new I couldn't pass the deal so I called the guy and got them for $150 not knowing to make them work on my tj it would take 14 hours of grinding and wrenching
but in the end looks good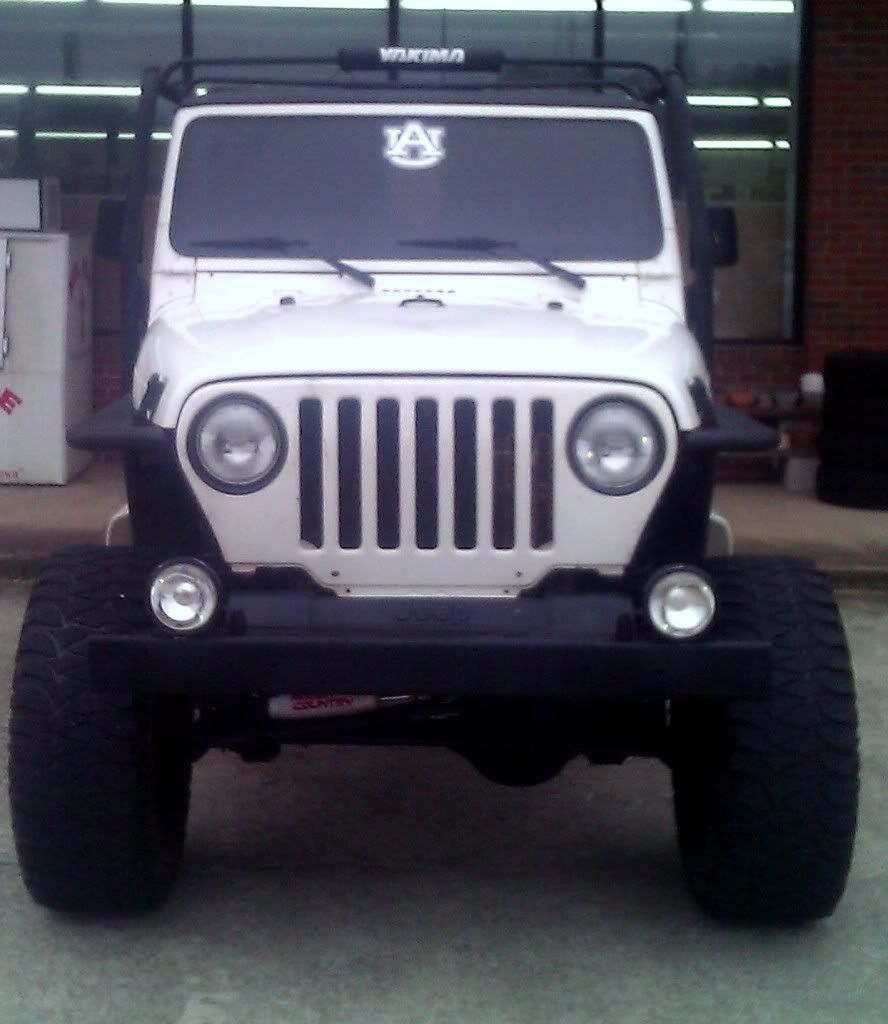 so now my jeep looks normal again but I had some extra cash eating away at my pocket and another ad on craigslist came along Smittybilt rack $300 which was a little high for a used rack but he was close so called him up and worked out a deal $150 and my old 15" polished panthers and he helped me install it: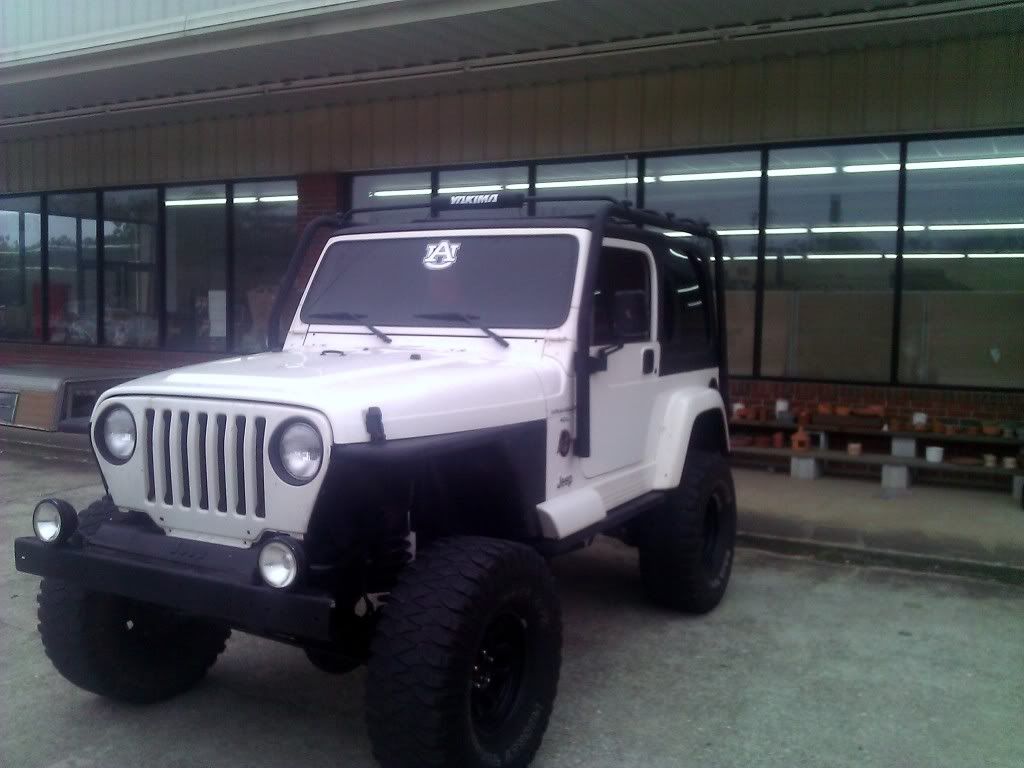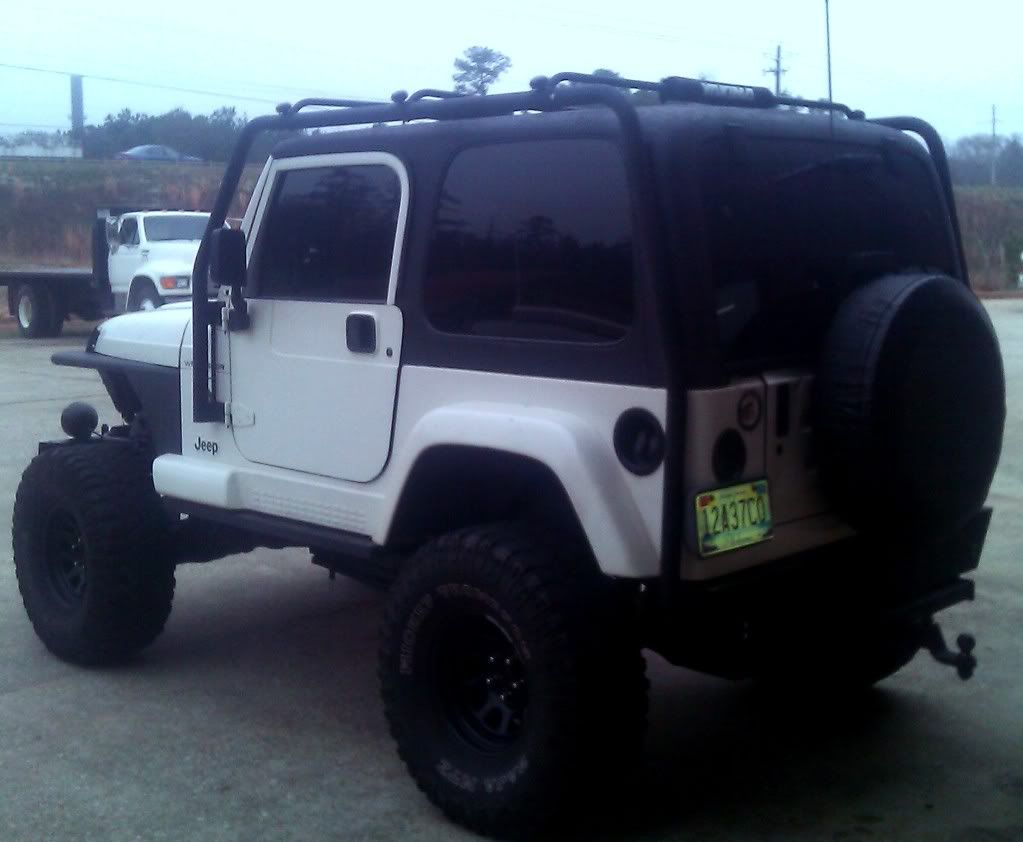 I am very satisfied with my look at this point except one small detail the raised letter tires haha so I got the tires turned around and here is what he looks like today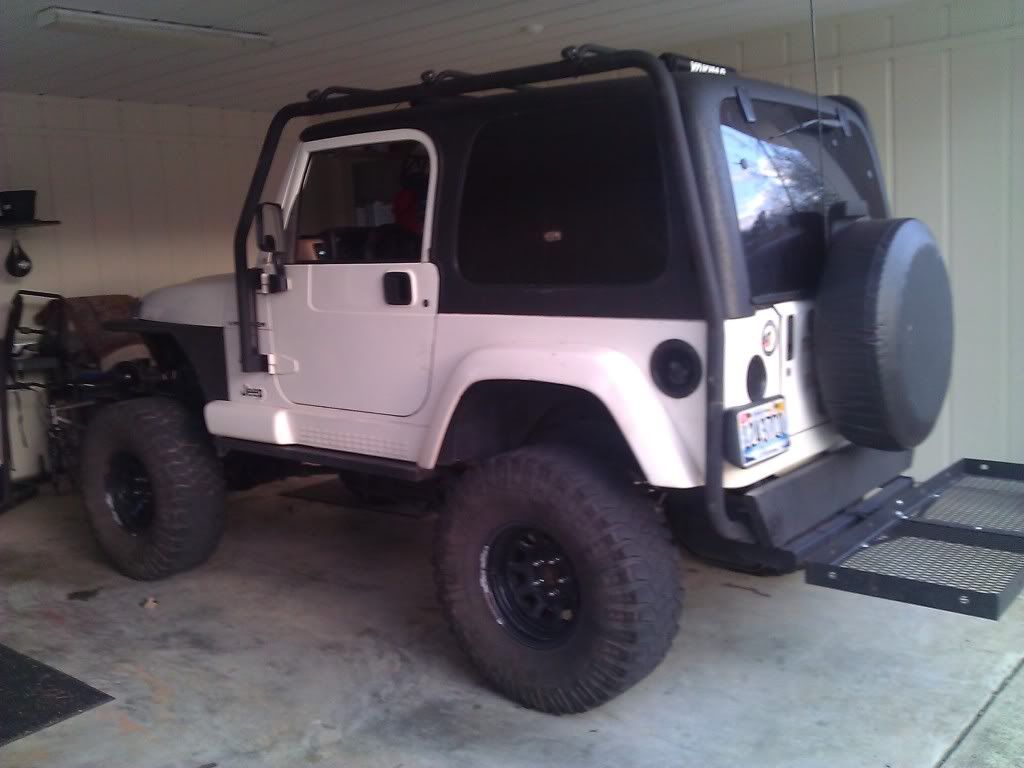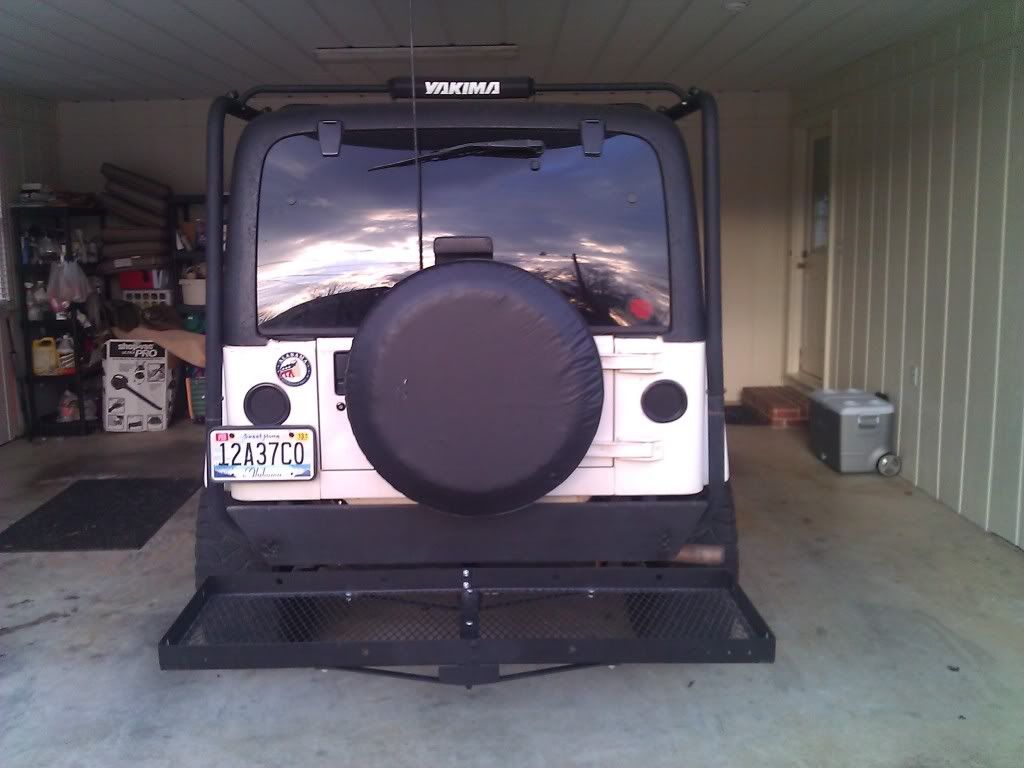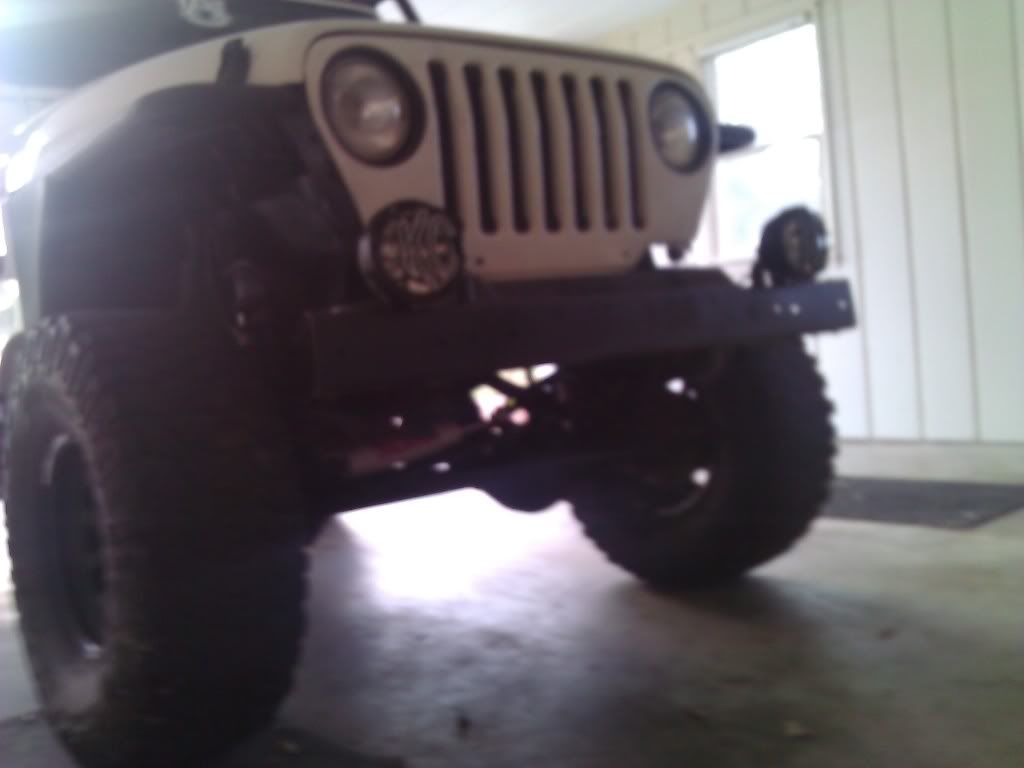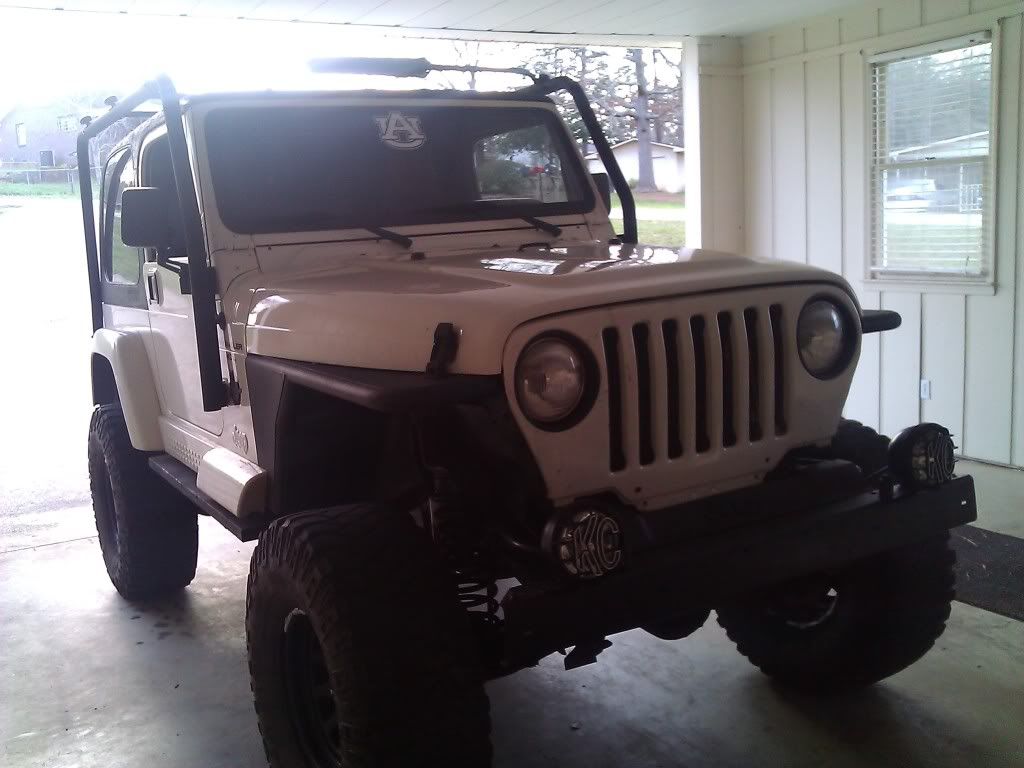 so now that I have him looking the way I like time for some axle swaps, take off body lift, 6" long arm, and finally 38's
my pitbull standing tall haha: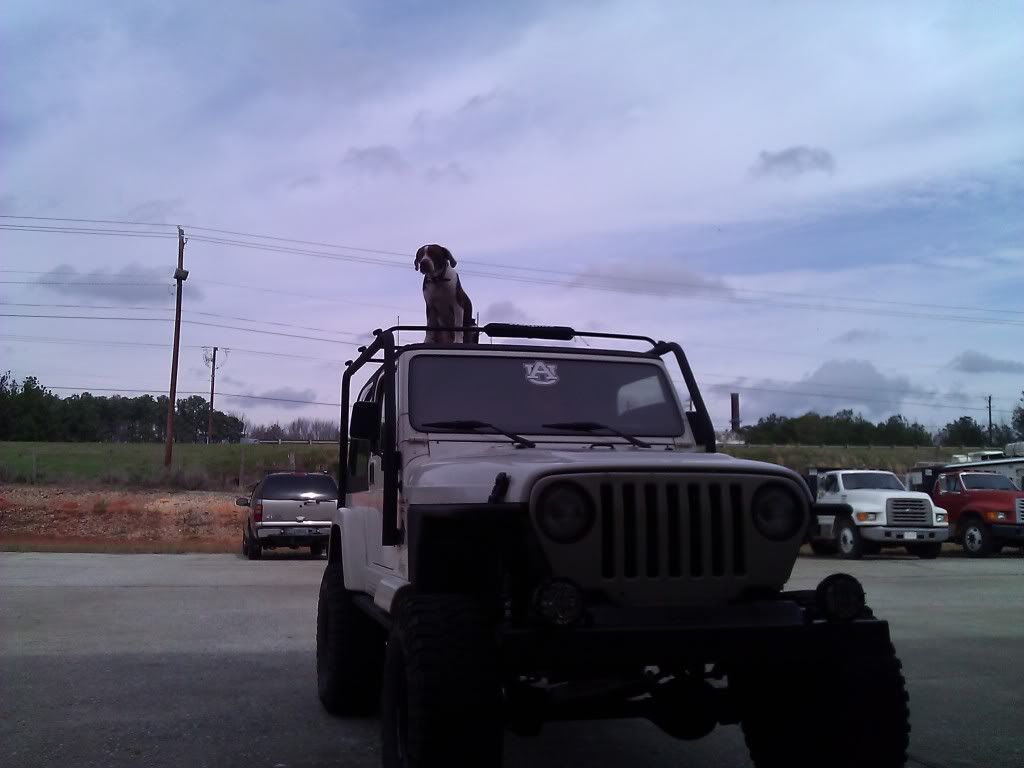 ---
01 White jeep sahara, black rhino lined hardtop, 4" suspension, 3" body, 35" MTZ, Front tube fenders, roof rack, 3% tint around 28% on windshield, two 10's probox
To view links or images in signatures your post count must be 10 or greater. You currently have 0 posts.
Currently Active Users Viewing This Thread: 1

(0 members and 1 guests)