Registered User
Join Date: Apr 2009
Location: Long Island
Posts: 5
My FREE '89 Wagoneer
---
I haven't owned a Jeep for about 3 years no but recently my pops gave me his old 89 Wagoneer to help me keep the miles off my SRT and now I remember why I've always loved these Jeeps! The truck is highly worn so I I decided to play of the rat look with a retro decal on the side for my shop, a small 2" lift and some free rims and 31" pro comps. I love this thing cuz I rarely see Wagoneers as it is let alone with any sort of lift. It's an excellent beater! I love the stacked headlights cuz you never see that. Unfortunately I forgot to take a pic of the nose. I'll post one. What do you dudes think?
Before:
After:
Registered User
Join Date: Sep 2008
Location: Tuscaloosa, AL to Charlotte, NC
Posts: 729
Sweet looking Jeep man. It looks a ton better with the lift and tires.
---
1992 Red YJ 4.0 with 5 on the floor and 33's
Registered User
Join Date: Jan 2009
Location: SC
Posts: 32
Nice looking Jeep! I wouldn't mind getting one of those "woodies" someday.
Registered User
Join Date: Jul 2008
Location: NJ
Posts: 1,184
nice, although it has the infamous saggy spring rear, huh?
---
looking for 33x12.5x18 tires.

Bruiser -- 93 XJ Sport. 9.5" lift on 35"" Claws, Locked front & Rear, and some other crap. Rolled it
Cruiser -- 1998 XJ Classic. 3" RC lift. 32" Kuhmo Ventures. Sold it
1999 WJ Limited V8. 4" Mix-n-Match Lift. Nothing special.
Registered User
Join Date: Apr 2009
Location: Long Island
Posts: 5
Yeah, the thing's almost old enough to drink! I really don't plan on spending money on the thing unless it's a mechanical issue but I know me, I'll end up fixing the saggy rear, prolly lifting her to 4.5" and throwing on larger meats. I'm really starting to love this thing, I tell ya!
Registered User
Join Date: Jun 2007
Location: Saskatchewan, Canada
Posts: 2,645
used to have one just like it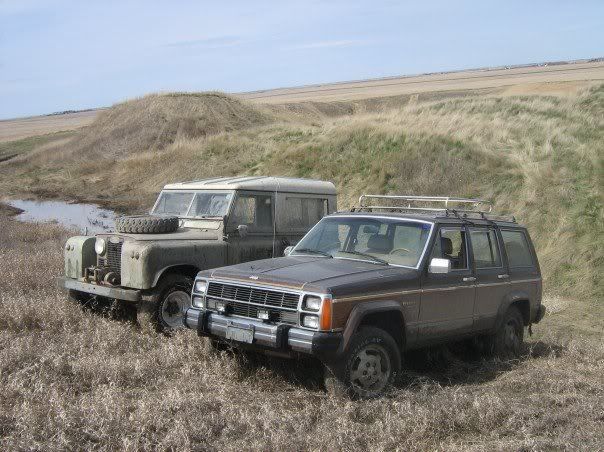 it was a POS, but it never let me down and I miss it.
I did love the interior though.
---
1991 Land Cruiser HDJ81
To view links or images in signatures your post count must be 10 or greater. You currently have 0 posts.
Registered User
Join Date: Jul 2008
Location: California Coast
Posts: 751
Awesome
---
94 YJ
06 Cummins
Currently Active Users Viewing This Thread: 1

(0 members and 1 guests)