ok its been a while since i've updated my build thread so i thought i would take some time to kind of talk about everything i've done and what i'm doing soon
i got tired of my bumper so i took it off.
first thing is i bent my control arm brackets on my dana 30. i don't have much welding experience. but i gave it a shot anyway.
i bought some 1/4 inch rusty's lca brackets. grinded the old ones off. cleaned it real nice and welded them suckers on.
didn't get a good picture but the bead is really nice for someone whose welded as little as i have.
got some rusty's adjustable lower control arms used from a buddy.
then i got my hands on a deeal on a set of tires. now i'm probably gonna get flamed for doing this but this is only temporary til i get my front and rear end up in. but i didn't wanna lose this deal and then let the tires sit and rot away.
got 4 irok radial 36's 13.50 15's with about 80% tread for 800 dollars.
i got really bored in shop class and decided to go ahead and cut my fendors off at the front and give it a flatty look. i also added some truck lights for turn signals. at first they didnt work. they made the blinker blink fast. so i used my trusty jeep forum acount
and found that cutting your blinker relay in a certain location will alow the blinker to work normaly with an odd resistance going through the relay.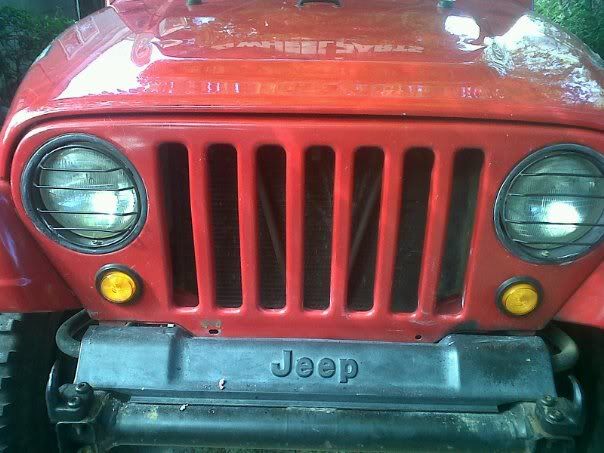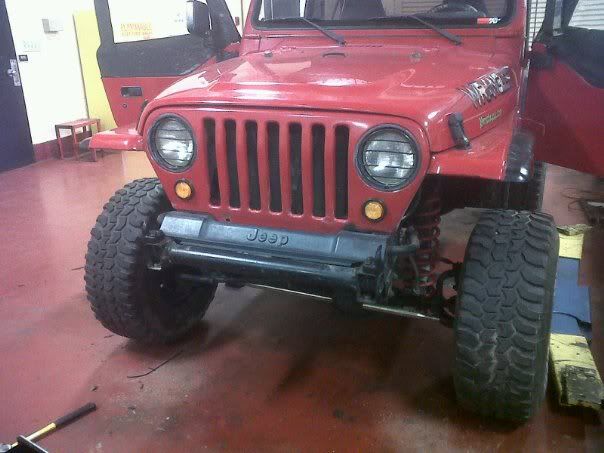 and i went ahead and put them on. now remember i only have 3.07 factory gears in factory axles, this is only for daily driver use until i get my stuff together.