Oops I guess I forgot to update this thread. Yes, the Jeep is all repaired now and back on the road. I thought I had updated this one, it is on my local forum anyway.
So here is the Jeep the night I got it all back together
And the "garage" I did all the repairs in, this truly is backyard mechanics
A couple shots of it after I pulled it out of the backyard the next day
I still wasn't able to drive it at this point, after the accident the police stuck me with an inspection order meaning it wasn't allowed to be insured or driven on the street whatsoever until it passed a safety inspection. So I had to have it towed again, this time to the same shop that passed it's inspection when I bought it. It was from a different province when I got it so to import it an inspection is required.
It failed initially, I had to put the rear track bar back in, oddly they did not notice that there was supposed to be one on the front and it wasn't there and the sway bar too. Then I had to weld a small rust hole in the rear of the frame by the shackle, didn't catch a picture of that as we were too busy doing that in their parking lot trying to get it done before the shop closed. Once again my local Jeep club came to the rescue here as I don't know how to weld, so one of our other members drove the 2 hours or so from his place to where my Jeep was parked in order to help out, I owe him for that one. We did get it done and they passed it, and I left it outside their shop to come back for it in the morning. This wasn't the end of the road for this Jeep though sadly. While I was driving around looking for a gas station as I didn't know the area and my gas gauge doesn't work, I pulled up to a traffic light and the jeep made a strange noise and it felt as though I had ran over something. I backed up to look and see what I hit and nothing was there so I pulled through the intersection, when I heard a Ping! Ping! noise and I looked out the window to see a lugnut going flying away. this wasn't just a case of loose wheelnuts though as I know what that feels like. Several of the studs broke off causing much carnage to the rotor and we suspected the hub also. I called for help as I had no jack to lift the Jeep up with and had somebody come out to assist. Lucky there was a parts store not too far away, so I borrowed his vehicle and went to get new studs and lugnuts while my helper started lifting it up and taking it apart. We got it together with new studs but I didn't have enough cash on me to replace the rotor so I drove it home as is. Here is the rotor after I got it apart at home. As you might guess it didn't drive well, the wheel wobbled quite visibly and shook the Jeep.
I had it towed to a friends place as he has a parts XJ and we weren't sure what else we would need to replace other than the rotor. Luckily that was all we had to do. Here it is all done and ready to go home. I also got a tonneau cover as it was October now and I only had a bikini top and this was going to be my daily driver. It helped out a lot, it's somewhat visible in this photo.
I got a chrome tow hook for it as some of my buddies give me a hard time about the shiny bits on my Jeep, like the grill, tailgate hinges hood latches etc. This is so I can say that this chrome will get me home, or you.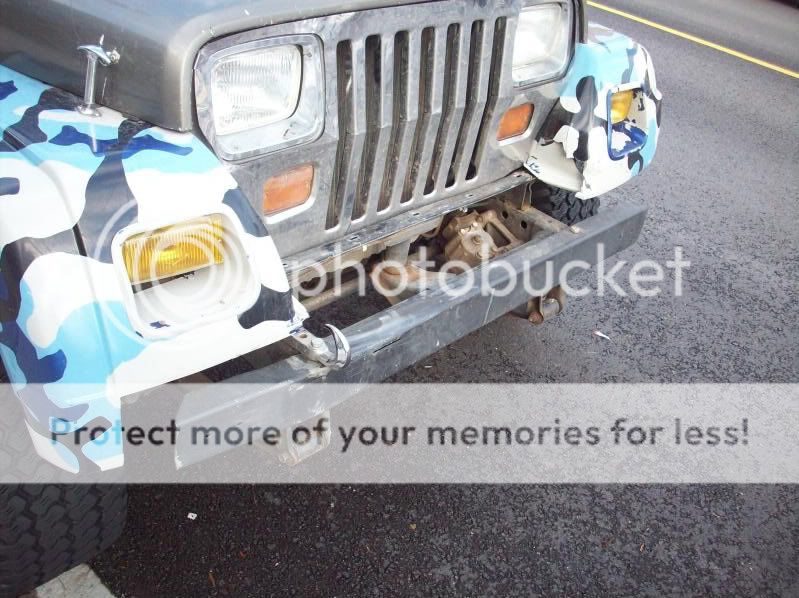 I then acquired a soft top from another local jeep club member. Even with the tonneau cover and the windjammer I was using on loan from the same club member who came to my house to do some welding on the Jeep it was getting a little cold. Here is that, it's something of a novelty to me now to drive it in the rain and stay dry.
I had also acquired some carpet off of Craigslist a few weeks prior but I was waiting to put that in until I had a proper top. It was from a CJ so some trimming was required but it got the job done.
I also got some saddle bags from the same guy I got the carpet from, these are great as now there isn't as much junk floating around inside the Jeep. These hold my tow strap, tow shackle, jumper cables, first aid kit, some tools, and a portable air compressor.
I took it wheeling a couple of times in there also, on one of those trips this happened. I have never seen a rock do this and neither had anybody who saw these pictures. We don't know how it got in there but it was a pain to get out.
Here is a video from that same trip