My 87 Grand Wagoneer
---
Well here's some pics of my 87 Grand Wagoneer.
I actually got very lucky on that grill and head light assembly. Found it at the junk yard in one of the J-10 trucks and only paid $36 for it. It's funny because that very morning I was about to pay $300 for one without the headlight assembly. Something stopped me and I am glad I didn't buy it.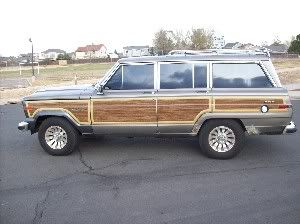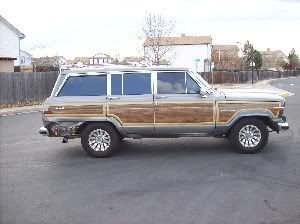 I just got everything mechanically fixed on it. Was about to buy a lift kit, tires and new bumpers for it. But then my aunts friend offered me a 92 cherokee for only $200 and all it needed was shocks and minor body work. So I bought it and it is now my new project and I needed to sell the Grand Wagoneer for the money to get the lift kit and tires for the cherokee.
__________________
1992 Jeep Cherokee Laredo 5 speed, 4x4, 149k miles, all skids, tire carrier, cargo cover, factory radio/speakers, 10k miles on following items; rebuilt motor, new tranny, rebuilt rear diff, complete exhaust system, complete brake system, radiator, 30" tires, suspension. No dents or scratches in the paint. ONE OWNER UNTIL NOW.
---
Last edited by Chris_XJ; 12-01-2008 at

08:34 PM

..