It's a bit early in the process... but Im bored so I'm starting my build thread.
I bought my Jeep NEW back in Mid 2006. I LOVE Jeep Green and it came with a D44, I6, etc...so I was happy. Here is a pick when he was brand new: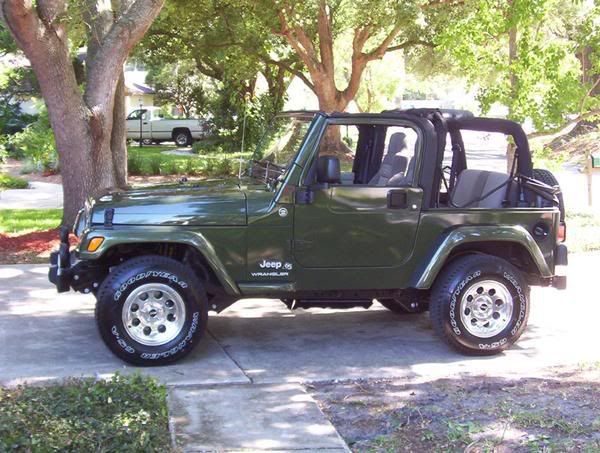 It is still stock, due to many factors...money of course. But I have finally made my decisions and began ordering everything I need for my lift. As a NEWB, I spent countless hours on this forum asking questions and researching. I want to thank EVERYONE here for contributing to the best forum on the interent. This Jeep family here has been so gracious in offering info...even on the stupidest of questions.
Initially, I was planning on a 2.25" BB and a 1.25" BL/MML combo. I bought everything I needed, but for SOME reason...I never installed them. I dont know why but I am grateful anyway. Now, I am selling the 2.25" BB and putting that money towards other things.
My final decision was to purchase the Rough Country 3.25" Lift kit and still go forth with my 1.25" BL/MML combo. This should give me 4.5" of total lift and give me the look I want to run 33's. I'm also going to be selling the 15x8 stock Alcoa's and running Black Steelies (DRing Style) instead.
Anyway, enough babble for now... this weekend I will begin with the BL install and will take pics and post results. Here are a few more current, stock picks:
__________________
____
(OlllllO)
65th Anniversary Edition TJ
Jeep Green
Rough Country 3.25" Suspension Lift
JKS 1.25" Body Lift & 1" Budget Motor Mount Lift
33x12.50/15 BFG All-Terrain's on 15x8 ProComp Series 51 w/ 3.75" BS