Registered User
Join Date: Jan 2011
Posts: 16
My 2002 Jeep Wrangler Patriot edtion
---
This is my very first jeep and bought it in Sept 30, 2010. The dealership and I didn't know at the time that it was a Patriot edition wrangler and I got it 5k less than it should have been.
Has anyone ever seen another Patriot Edition Wrangler?
Jeepy's first winter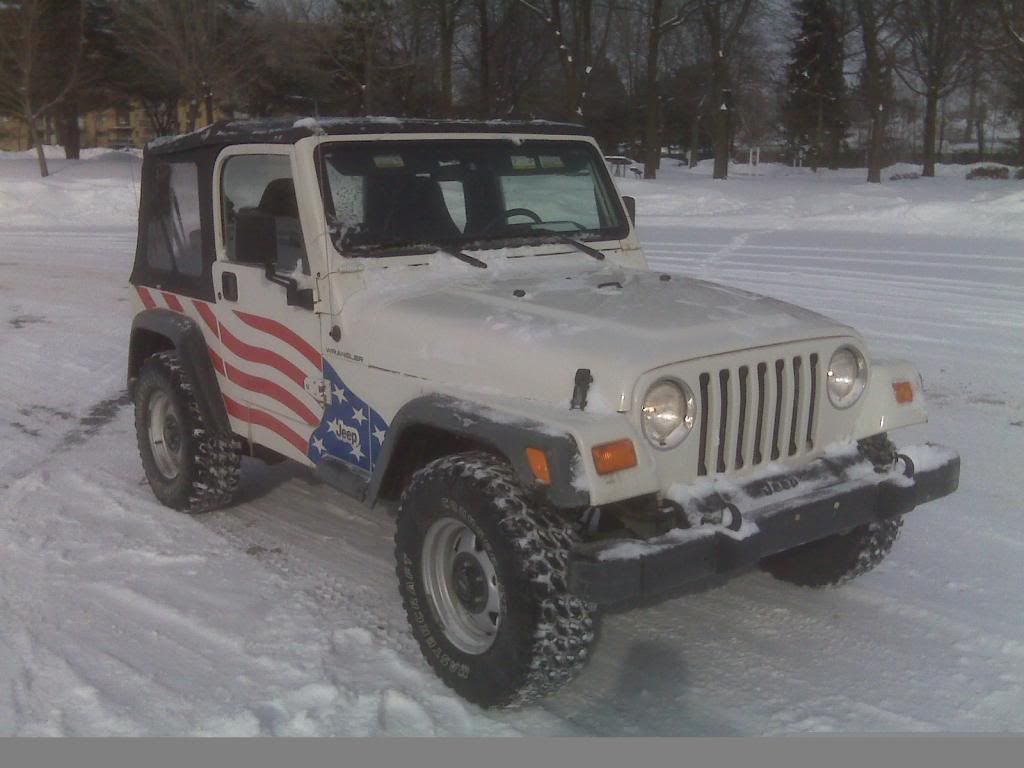 ---
Last edited by lord_cabot; 07-05-2013 at

12:10 PM

.
Over the last 3 years I have come across only 3 other patriot edition wranglers on the web.
First one I found. Looks to be at a car show: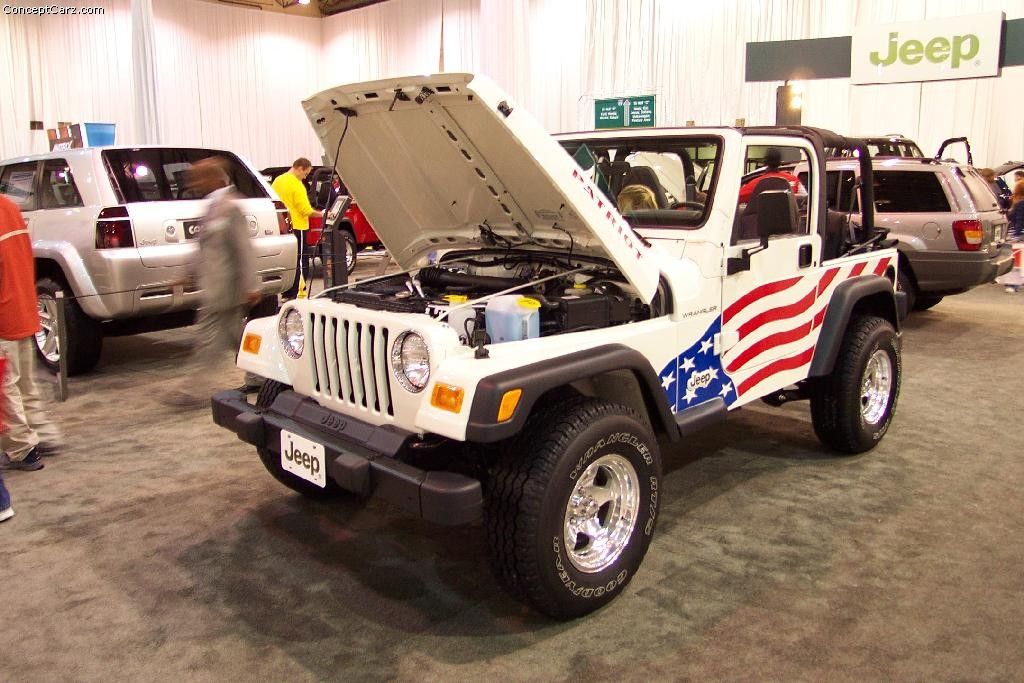 Second one I found was owned by someone in EL Paso: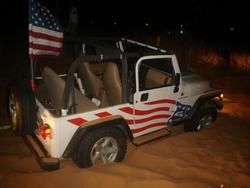 Third one I found was for sale on a car lot in TX: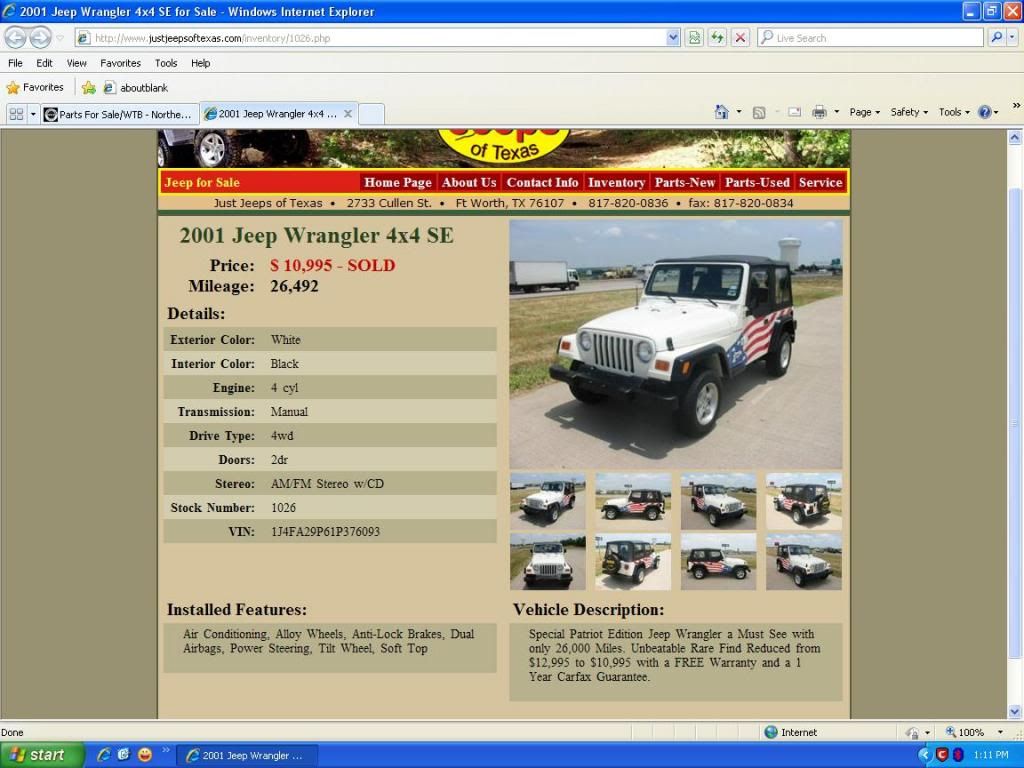 I am assuming that these jeeps are extremely rare. Almost as rare as the Patriot edition grand cherokee and liberty
When I bought my jeep it was missing the hood graphics as well as the driver side fender graphic(I had to have the fender replaced)
How she sits now: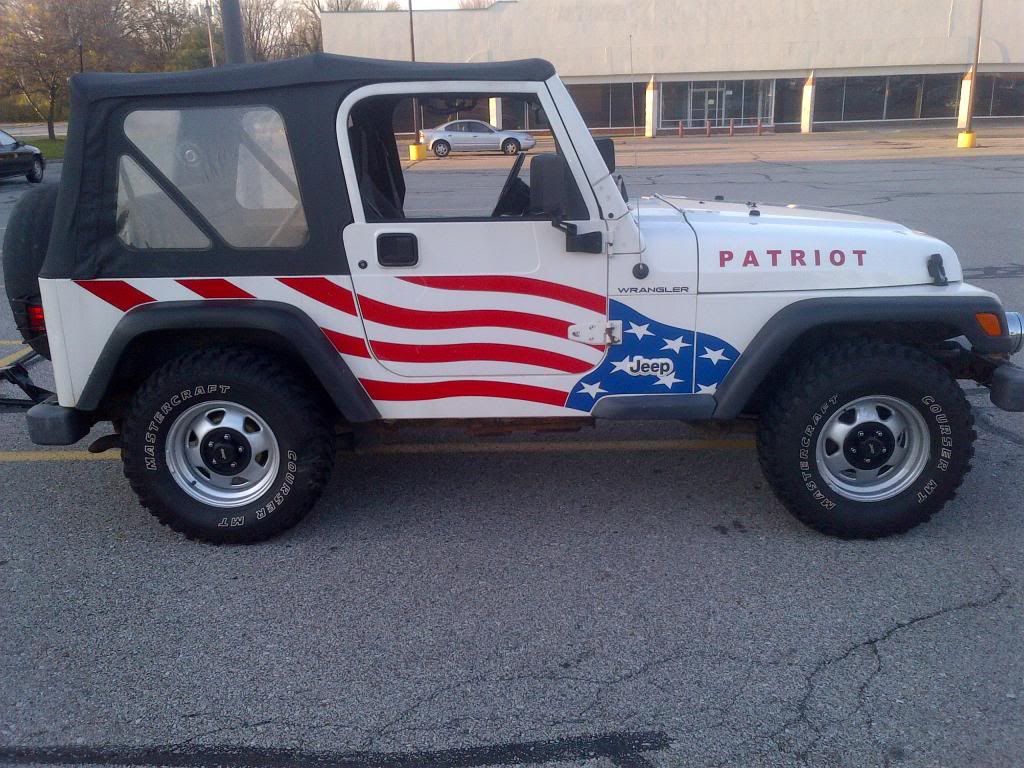 Plans for the future are factory fog lights, running boards, front tow hooks, and center console. I also have some rust work to do. As for after market I'm leaving my cb, grab handles on the roll bar and eventually installing a tuffy jeep trunk.
Registered User
Join Date: Sep 2013
Location: amarillo
Posts: 4
This is my 2003 Jeep Wrangler TJ Patriot Edition. Yes, they are rare. I have only seen one other in person, in Red River, NM. The only other picture I have seen is from a 2002 auto show. I have seen them referenced as a decal option for 2001-2003 Wranglers. Mine also has "Patriot Edition" enbroiderd on both the front and back seats. I checked with Jeep's official site and they did not know of it... which dose not mean much. If you have any questions or more info you can e-mail me direct at:
r0b0bk@netscape.net
Rob
So far that means that there are 5-6 in total existence. Talk about being rare.
i have one of these, its an 02 as well. i cannot find any information on it except this forum... I'm trying to use the rarity as a selling point, however, people probably think I'm making it up cause there is nothing out there on this.
I'm glad more folks have come across these jeep. Peoplw don't think the patriot edition is a real thing
Registered User
Join Date: Oct 2010
Posts: 864
Quote:
Originally Posted by
carcharodonbdh
View Post
The black is sick
Ya I'd like to see it lifted
---
97 Tj 2.5 4" skyjacker 1.25 JKS BL. 35x12.5x15 8.8 w/ 4.88s
Registered User
Join Date: Sep 2013
Location: amarillo
Posts: 4
Did you sell your Patriot? Beautiful Jeep!! Don't imagine you'll have any problems selling it, they are very rare. Any info or pics you have on Patriots would be appreciated.
Currently Active Users Viewing This Thread: 1

(0 members and 1 guests)