Never Updated this and all the old pics are gone now soooo here we go...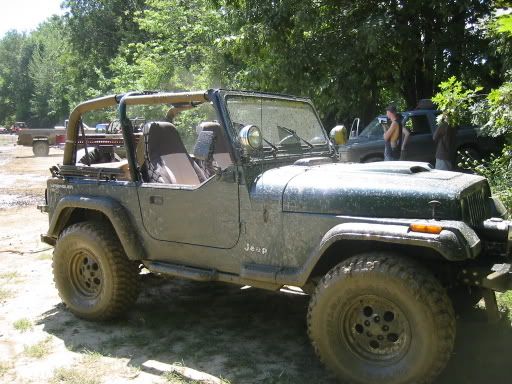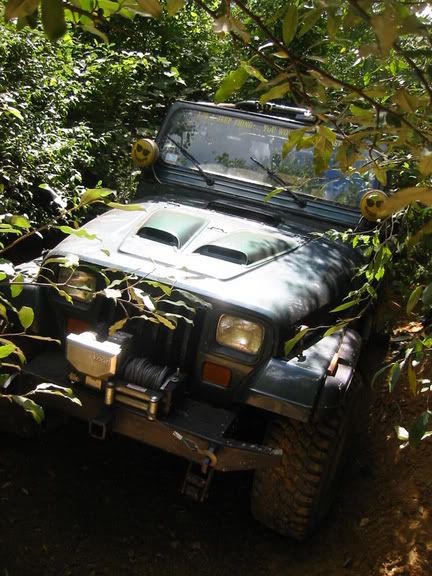 Yes I know about the leak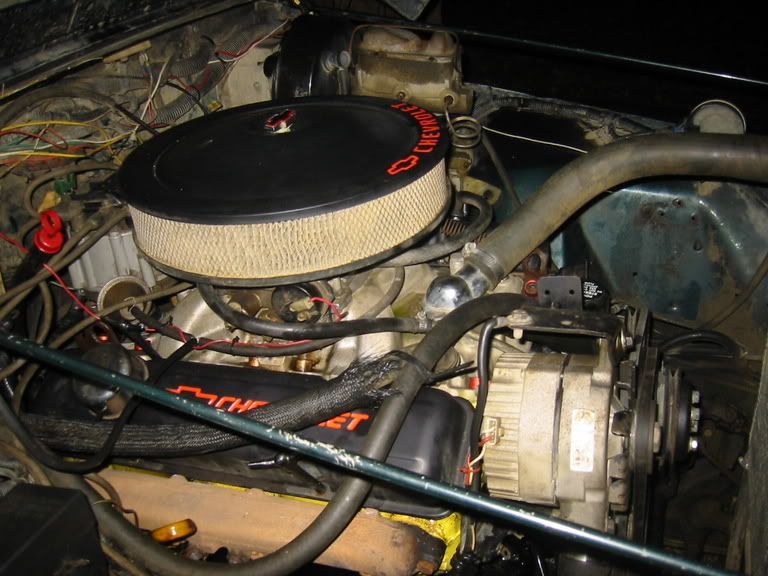 Stats and info: (cut and pasted from another site i have the info posted on)
SEE NEWEST POSTS FOR PICTURES THAT REPRESENT THESE STATS.
Owner: ME
CB handle: Jeepfreak
Location: Owosso, Mi
Vehicle year: 1994 (base vehicle),1991,1998,1985, 1984, 1978, etc...
Year purchased: 1999
Engine and engine mods: 355 Chevrolet, Mild cam Edelbrock intake and carb, De-emissioned, dual Exaust,
Drivetrain and drivetrain mods: 700r4 with manual overrides, upgraded bearings and clutches, Np231C, SS SYE
Axles, gearing, and mods: HP D44 front, D60 rear, Limited slip, 4.88 gears.
Tires & wheels: H1 12 bolt double beadlocks with hutchinson rubber runflats, 7" offset and 37" goodyear military tires.
Lift and other suspension mods: BDS 2" suspension SOA, extended Shackles,
Interior mods: Pioneer head unit, Pioneer Dash speakers, Kenwood 6x9 in jeep speaker pods (fried from water holes at the dunes) Radio Shack CB and firestick, Steel Horse console, "custom" dash cupholders and Yosemite Sam floor mats, 55 watt halogen dome lamp, Autometer Guages, mud splatter dash. GMC 3500 Topkick seats (semi style seats)
Exterior mods: KC Daylighter window mounted lights, Custom Rear bumper built by Nick_sg and I, Front bumper built by me with winch mount and TX2 12,000lb 2 speed winch, Foglamps, scratches and dents, aftermarket Hard top for winter, Bikini/tonneu for summer (soft top was standard) rock rails with side step, and next year possible tire carrier. Functional Ram air scoops
Recovery and safety equipment: 12,000lb winch, Hi-lift jack, Strap, Tree saver, and a fire extinguisher, assortment of tools, parts and a rag
Skid plating: Gas skid, Tranny skid modified stock.
Other mods: Various little things such as seat covers, in addition to the normal back seat An extra separate trail seat for the rear passengers, also used around the campfire
Best modification: 355 Chevy, tranny by Killer "b",
Worst modification: Rear Tube bumper, bent too easy, the hitch flexes under load, feels like it would come off-- oh wait it did
Primary trails or events: Mounds, Big Rapids, and Silver lake, have done some Whitehall and would like to hit Grayling and Mio (nothing around my house other then my field), did west branch and St. Helen as well
Club/Organization affiliations: GLFWDA
www.glfwda.org
-- Regional association dedicated to saving our trails,
www.treadlightly.org
, United Four Wheel Drive Association
www.UFWDA.org
and various web-boards and friends
Very near future mods: Looking toward a tire carrier in spring, finishing up my SOA and axle swap
Owners' theory when building vehicle: Upgrade what I break and do it right the first time, one mod at a time. I always want a "streetable" jeep which means it has to at least be highway friendly at ANY point in its build, even when the day comes I have it sitting on 37" tires, but I do not want to lose ALL my comforts… It has to be reliable and get me from point A to point B whether it is on the trail or a cruise down the highway. In the end I want a jeep that may look like a Mall queen (save for the "custom pinstripes") but be able to show its grunt off-road. I also want my JEEP to look like a JEEP.
Other comments: I do what I can on my very small budget, which in the 8.5 years I have had my rig has been a lot… people tell me things are impossible on my budget, but I have always believed that ANYTHING is possible if you put your mind to it.