Registered User
Join Date: May 2007
Location: Annapolis
Posts: 138
My 1989 YJ Craigslist find & Build
---
Hello,
I have been lurking and asking questions on this forum for a long time now and have thoroughly enjoyed reading everyone else's build threads so it's time to start mine and catch everyone up. Let's start from the beginning:
2005: I am a freshman in college and talking to my father about cars. We are both car guys and love to drive, but are far from mechanics. So I propose to my dad that I want to buy a cheap old car and fix it up. The goal will be to learn everything I/We can, spend some time together, and end up with a fun weekend driver. Dad is 100% supportive and there to help but it's up to me to do the research, find the car and put up the money. So the hunt begins... I ask some of the other car guys I know for their opinions and advice as to what would be a good car to start out and learn on. We start talking about old VW Beetles, maybe an old mustang, and if I come across a good deal maybe a Jeep. So the hunt begins primarily on Craigslist. A few weeks go buy and a few inquiries later, I come across a guy in North Jersey selling his 1989 Jeep YJ for $1,000. Comes with Hard Top, a set of full hard doors, a soft top (missing a few pieces) and a set of half steel doors. I know something has to be wrong with it but maybe its not thaaat bad. I call up the guy, he explains that it's not shifting right and he thinks it's a slave cylinder but doesn't really know and he doesn't have the time or energy to drop the tranny and do the work. (BTW... at this point I have zero clue what a slave cylinder is but how hard can that be to change out?..haha!) That next weekend, my dad and I rent a U-haul trailer, drive an hour and a half up to North Jersey and see this guy. He turns the key, and the Jeep starts right up. He then says we can take it for a drive, so we do. And as he explained it does NOT shift well. O well, it runs and doesn't look too rusty (I knew to check because of JF!). So I make a deal with this guy for $900 cash because I spent $100 on the trailer, he signs and hands the title over and the addiction begins.
Here are the photos from the Craigstlist Ad: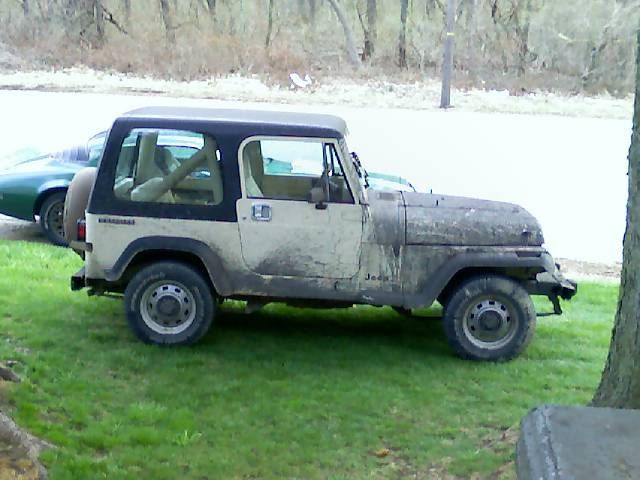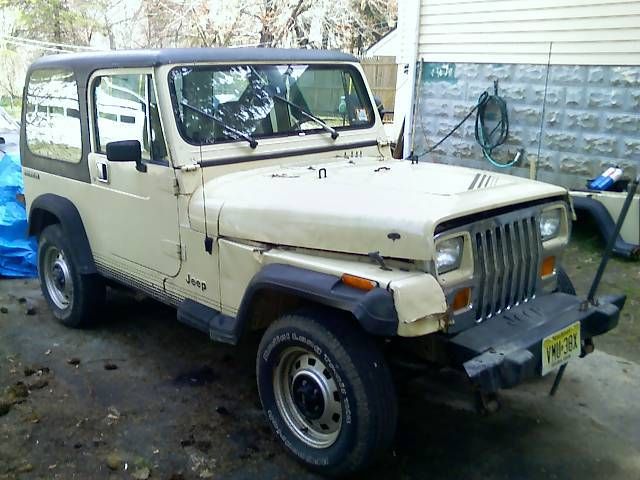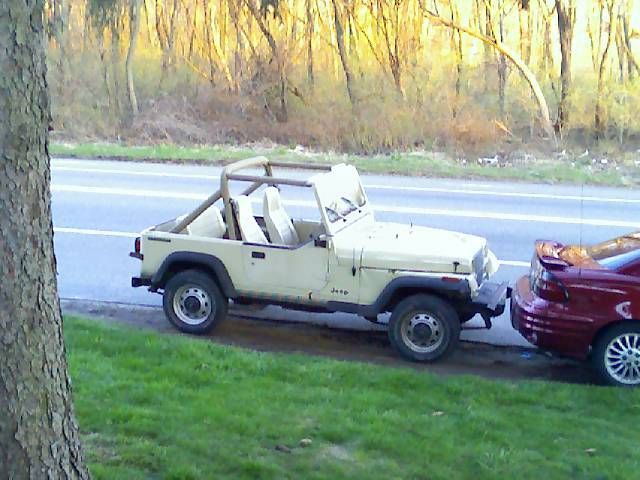 Summer 2005: The Jeep comes home and immediately goes into the garage. Thanks Dad for making room and moving the lawn mowers :-). We put the Jeep up on blocks, poke around and immediately buy a Haynes manual and make friends at Quadratec (15 minutes from my house). First things first I guess is to replace the slave cylinder because that's what mystery craigslist guy said, and we don't know any better. We buy the hydraulic unit and a new clutch kit at the recommendation of the Quadratec guys since we are going to be in the transmission anyways. At this point, I have a summer job and only have time to work on the Jeep late at night after I get home. I typically wait until Dad gets home from work as well and we go spend countless hours working. We run into the usual problems of broken or spinning bolts on the frame crossmember but somehow overcome that. We find a completely broken down and useless transmission mount so that gets replaced. Page by page and step by step we follow the directions, drop the transmission and transfer case and replace the slave cylinder and clutch. Everything goes back together. Drop the jeep on the ground, and it starts on the first try. We are ecstatic. Take it for a spin around our farm and it drives great. I now know that I got a steal of a Jeep and am hooked.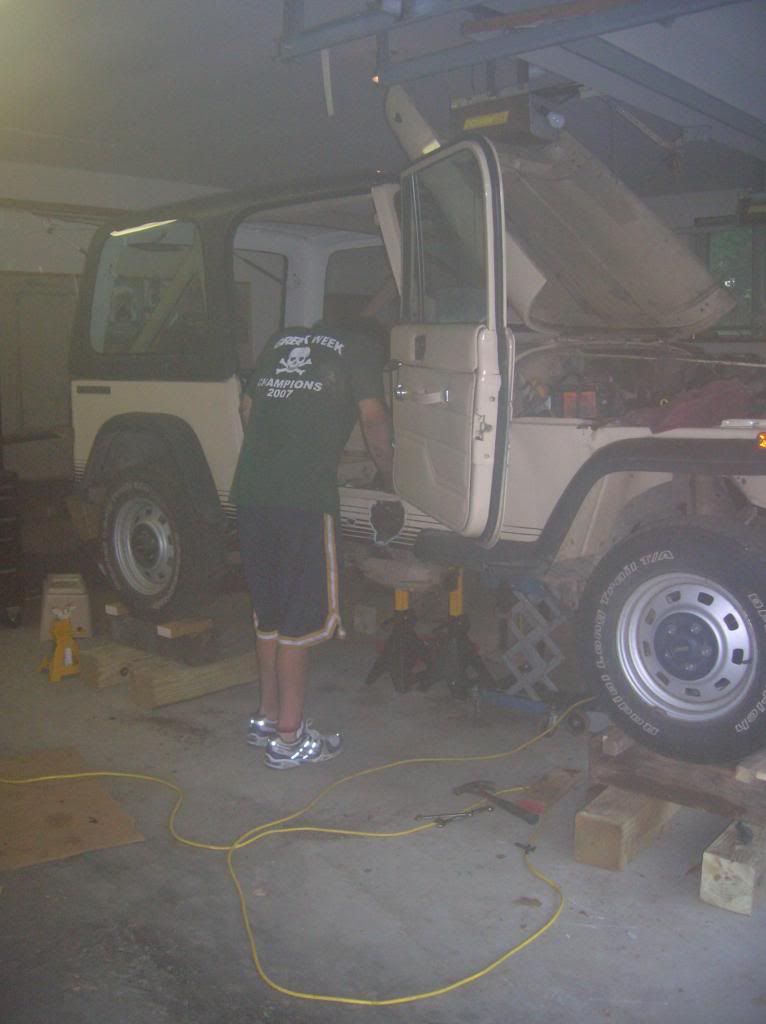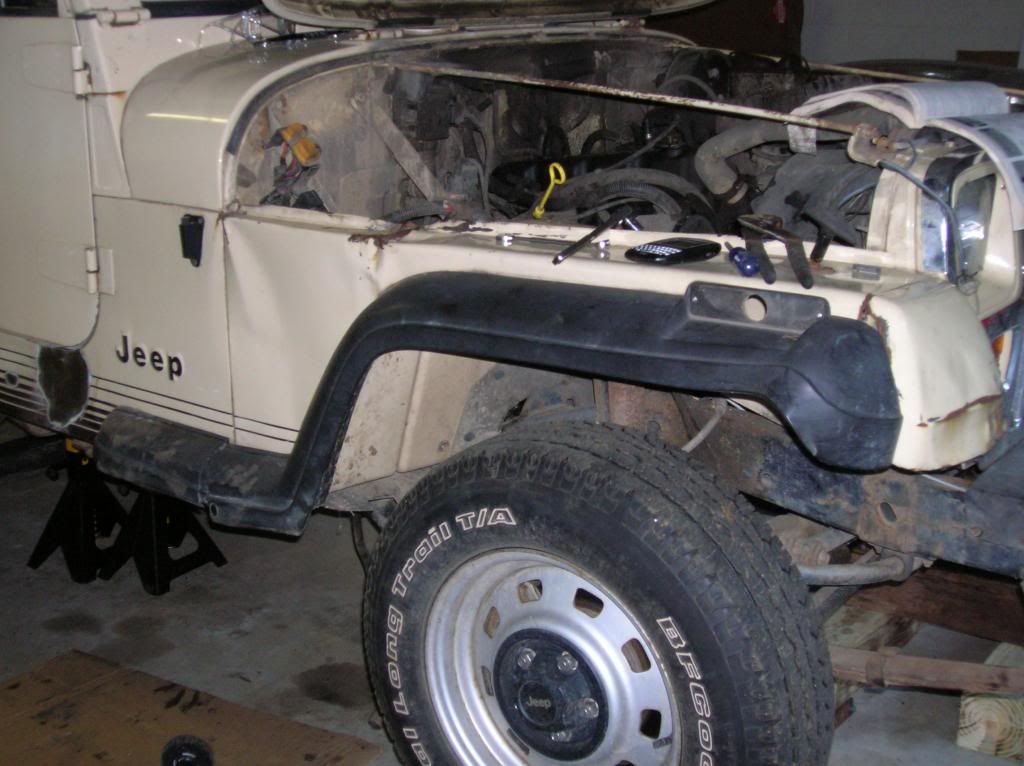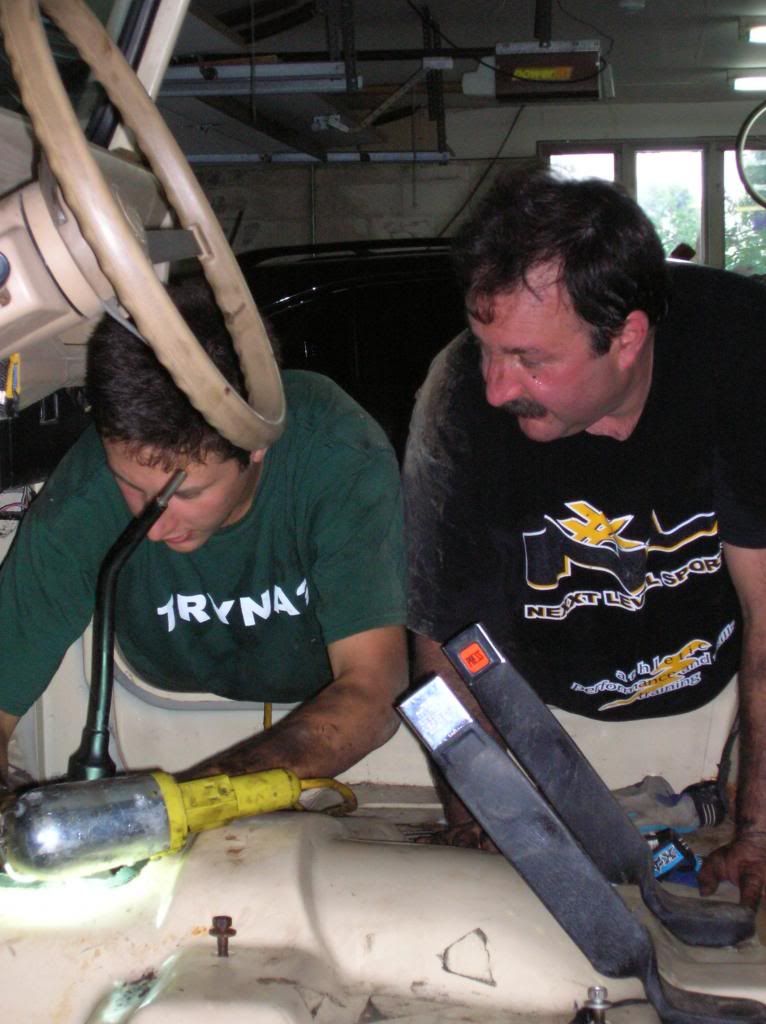 Some good Father/Son time.
Late2005: The Jeep is still yellow/tan and I hate it. I did some body work to get panels and small dents straight and quickly realize I HATE body work. But, the process goes on and I do the best I can. Dry sand, then wet sand, then some pre-paint cleaner, flat black primer and then a couple coats of flat black paint. Roll bars, steering column, shifters are painted gloss red. Tan vinyl gets sprayed with black vinyl paint. I like the scheme that is developing. Got half the jeep painted, and it sat this way for a little. Finally got the back half painted and I love the flat black look. Again, the Jeep will sit for a while during school.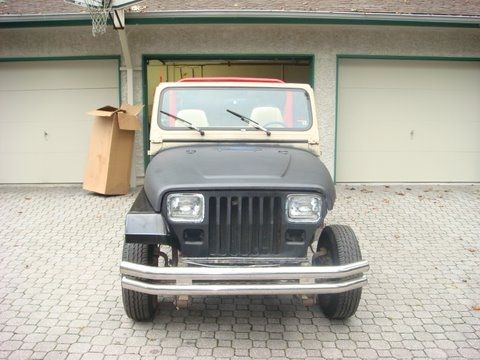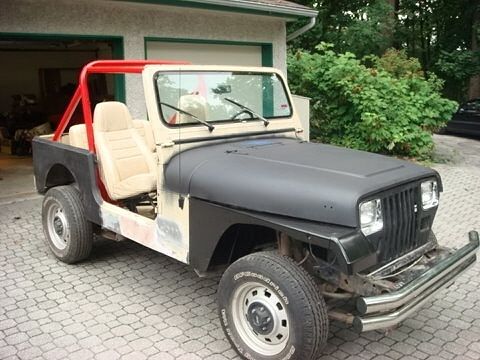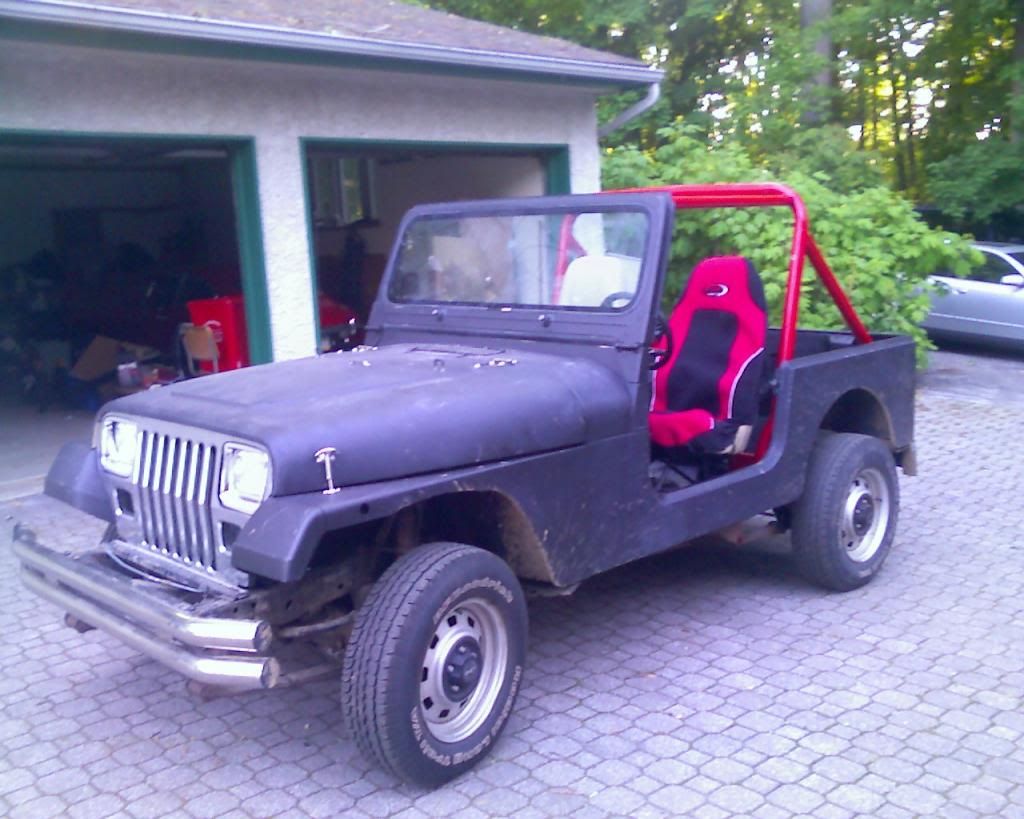 Summer 2006: I find time to work on the Jeep when I am home from school on breaks and on weekends. Jeep rides too low and on stock tires. I need a lift and some real tires, again because that's what you do according to JF. Stock springs are almost flat. I list the hard top and full steel doors on Craigslist. Immediately get a bite, and they are sold cash in hand that week. Spent that money immediately on a Rough Country 4" lift. The lift kit comes in lots of pieces, the Jeep goes back into the garage and we begin. Install goes fairly smoothly until it comes time to remove the pitman arm for the drop arm supplied in the kit. The stock arm will not come off. No matter what. We tried everything. Need to cut it off. We have no experience in this so we turn to our neighbor who happens to be very mechanically inclined, has all the tools and used to work on old Porsches and Jaguars. It takes a torch and lots of patience but bit by bit the stock pitman arm finally comes off. At the same time since he has the tools out, we address the gaping rust hole in the drive side floor boards. Bought a replacement unit from Quadratec, trim to fit, and no more Fred Flinstone. The rest of the lift kit goes on and this Jeep is starting to become something. Some more searching on Craigslist and I have a set of (4) 31" super swampers mounted on wheels for $200 to make this rig much more capable offroad. These tires look big in the back of a suburban… but now I think they are small on the Jeep.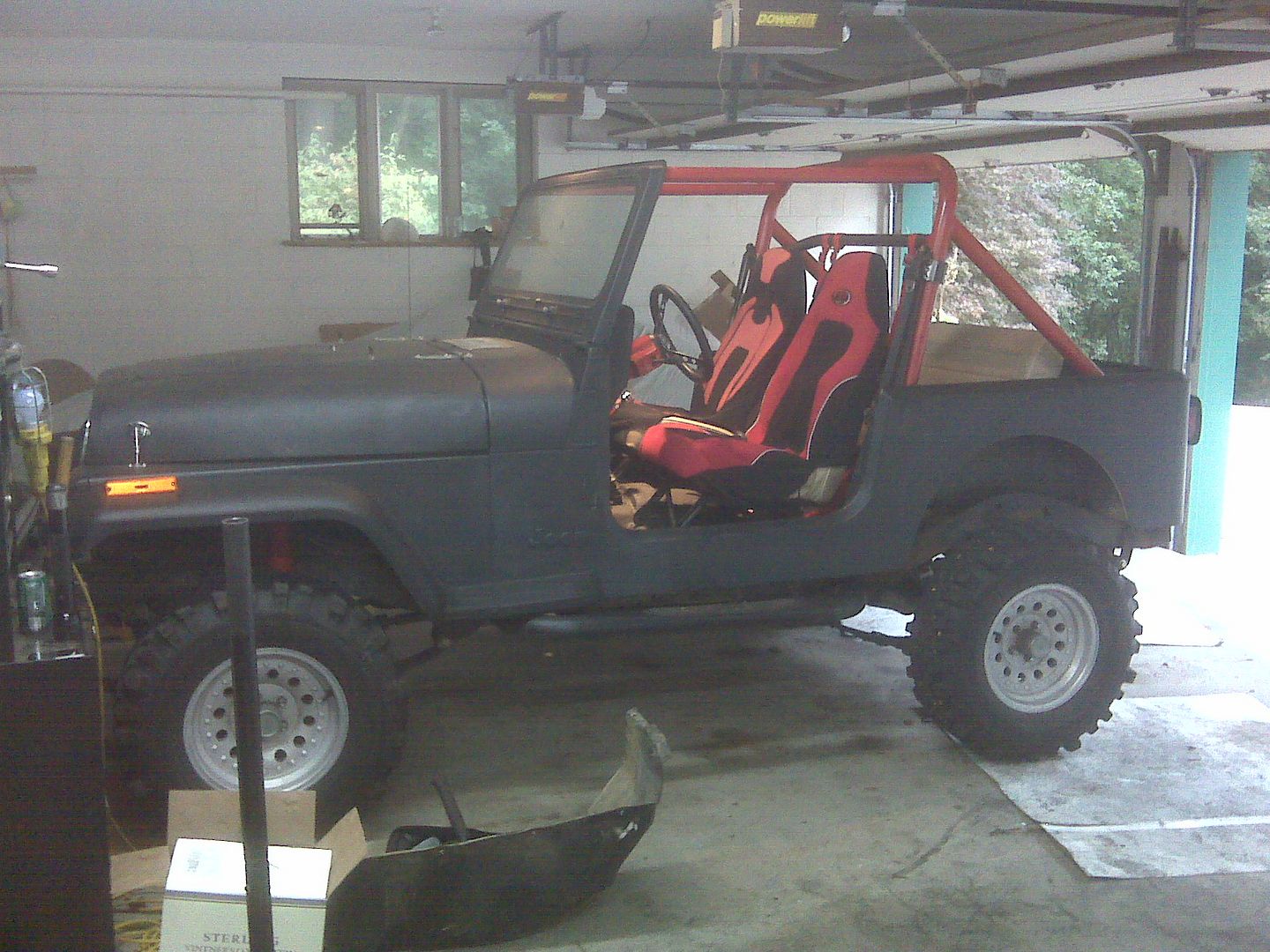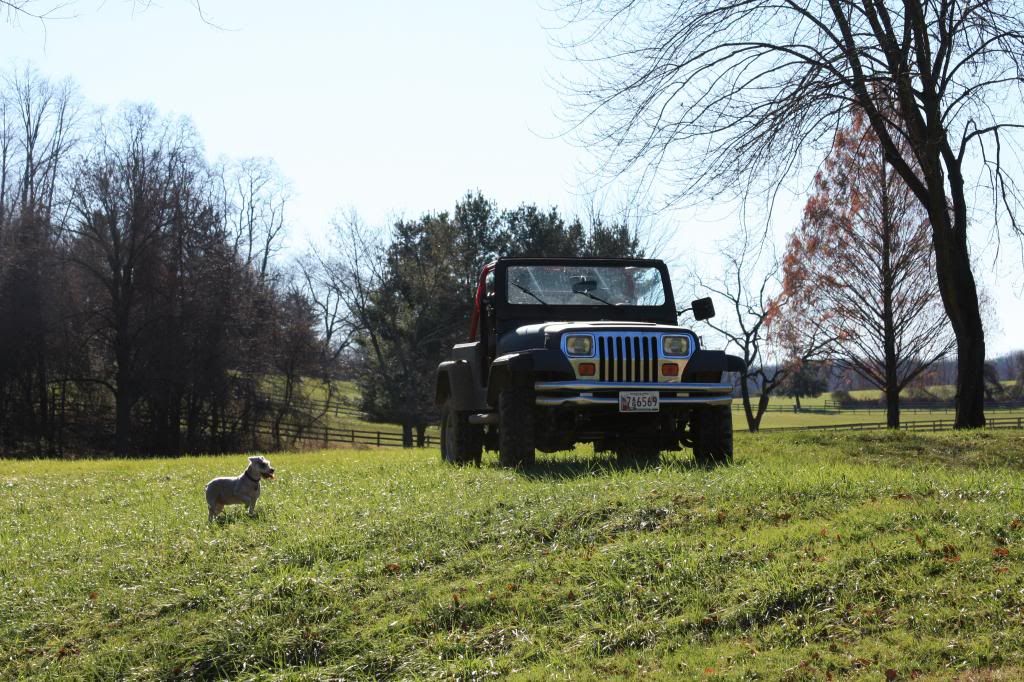 I don't know if the Jeep makes the dog look small or the dog makes the Jeep look big.
2007: Need to do something with the interior aside from the Pepboys seat covers. I pick up some Herculiner and begin to remove as many of the interior pieces as I can. Seats come out, accessories off, and try to remove the roll bar. No-go on the roll bar. STUPID TORX! Some stripped bolt heads later and some that just won't budge and I decide to tape off and Herculine around the roll bars. Entire inside of the tub as much as I can gets herc'd and I like the look.
2008-2009: The Jeeps sits for long periods of time as I am in school and after graduation immediately start to work. I drive it when I can. Runs well. Some shots when I took the Jeep out below. Then unfortunately the Jeep sits a little too long and the Costco shed doesn't hold up to the weather. Before and after shots.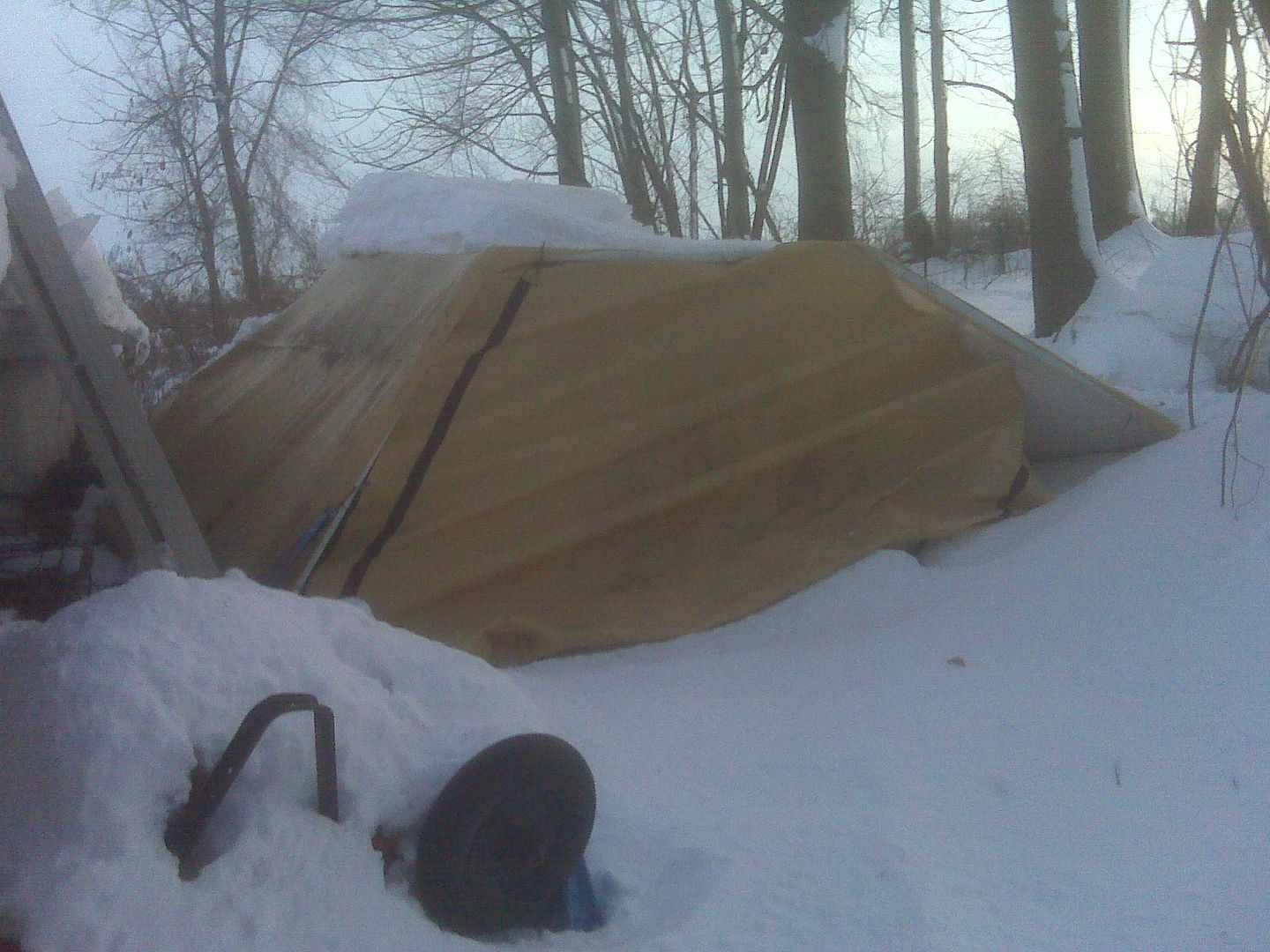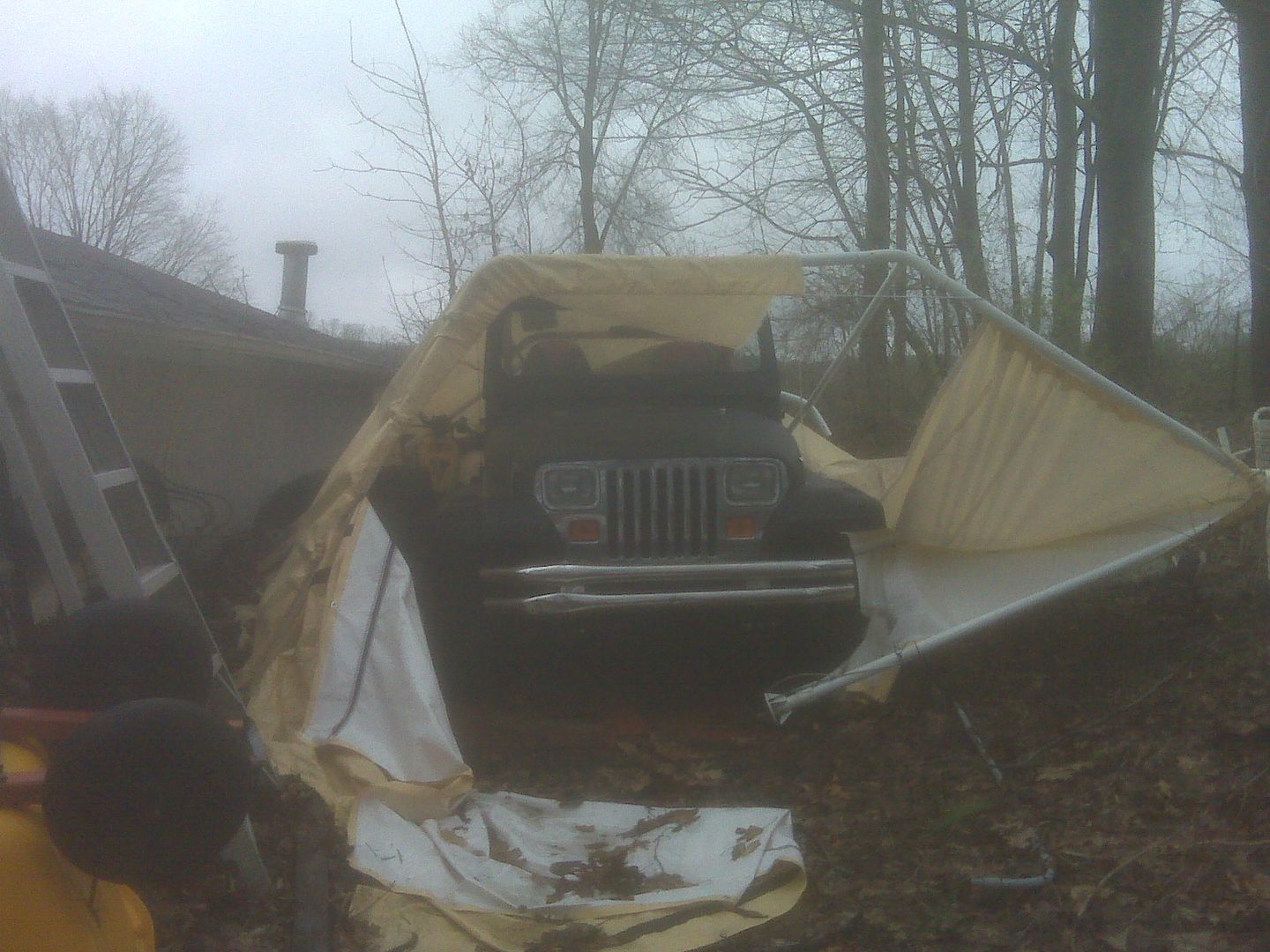 2010: I am working and living in an apartment just outside DC so no space to keep the Jeep but get home as much as I can to work on it. I decide it is time to get this thing reliable to drive on the road with the ultimate goal to bring it down to Maryland to drive around as a weekend warrior. The essentials finally get fixed and tuned up including some mess of wiring to get all lights, markers, horns, etc working. Along with that list are new brake shoes, rotors, pads, drum rebuild kit, battery tie down (because bungee cords aren't legal apparently), etc… O and the mouse nest inside the air box has to go. Sorry mouse.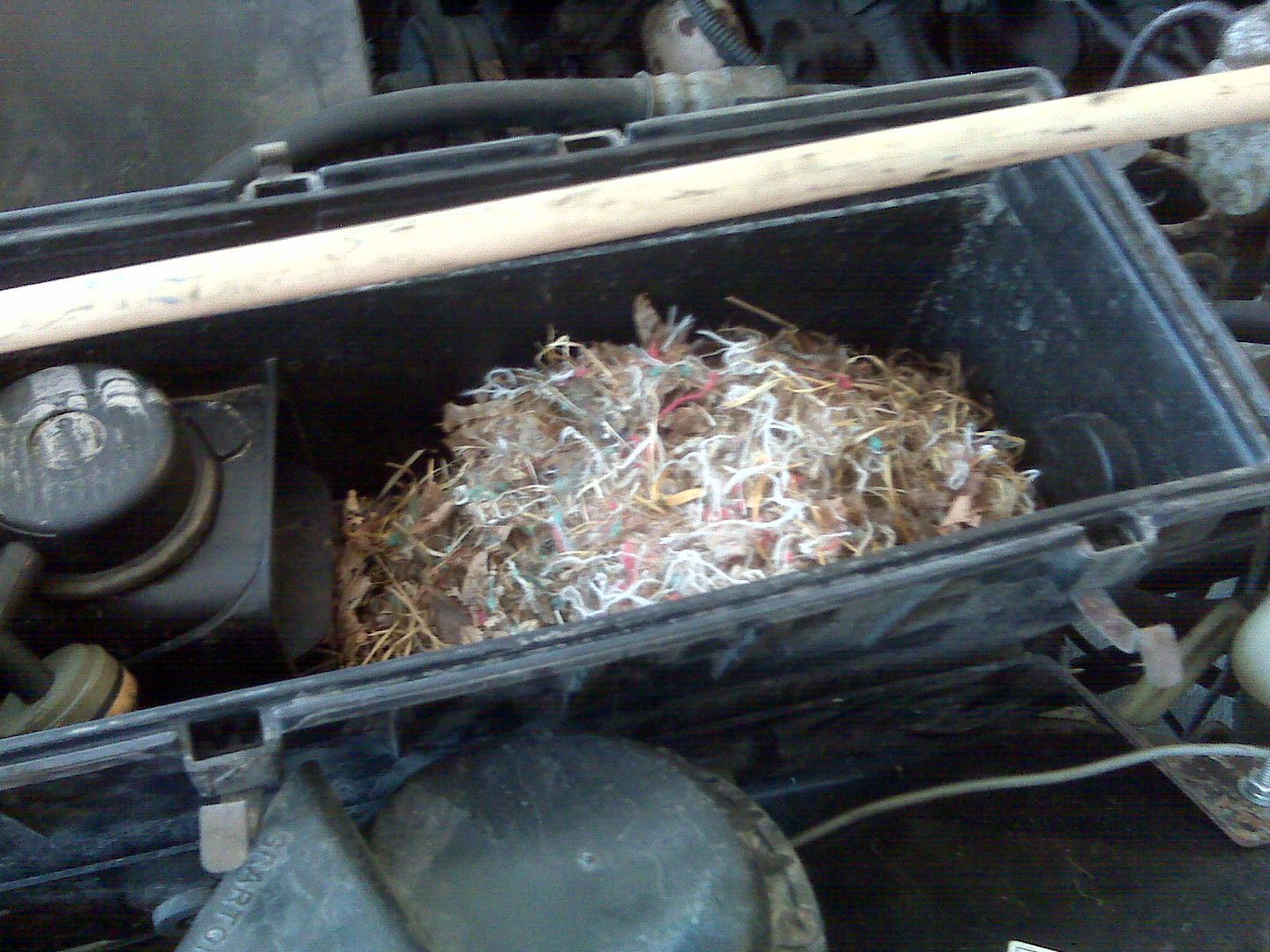 2011: I finally feel like I have everything fixed but what do I know as I have had this thing for a few years now, upgraded quite a few parts, but have no real training or knowledge. Well Jeff Daniels Jeep shop happens to be about 20 minutes from my house so with a temporary registration I take the Jeep to the shop for their 299 checkover. $299 and they check every major component for proper installation, wear, damage, etc… The report comes back with mostly great news and just a few minor items but one major piece. The passenger rear frame rail is rusted and 50/50 whether it will pass inspection. At this point since I am so close and have no real experience with welding I cough up the coin and have them repair rust issue. A week or so later the jeep is ready to be picked up. Pick up the jeep and feel very accomplished and happy to have this all done. Unfortunately, just no good place to keep the Jeep in Maryland so at this point it goes back to the farm and awaits my visits.
2012: I can't shake the addiction and need to have the Jeep with me in Maryland. I see a sign at the apartment complex across the street from mine advertising cheap parking. Well cheap turns out to be about $75 a month, but I decide to go for it during the summer to enjoy the jeep as much as I can. I buy the Bestop Trail Cover to through over it while I am not using it and it works great.
http://www.quadratec.com/products/11086_109_07.htm
I highly recommend this product at least for the application I was using it. However, make sure that you tie it down or leave it somewhere when you're our driving. I had to buy a second cover when I left the parking lot with it in the back of the Jeep one day and got back to the garage and realized it was gone. Now that I have my baby and driving it around I occasionally check Craigslist for a good deal but not searching for anything in particular. Well, I find a seat of harness seats that this guy had in his jeep but they are too hard for him so he wants them gone. I got to visit him about 30 minutes away, he unbolts his seats, I unbolt mine, his fit like a glove (bought brackets from him too) and I drive away with some great seats in the Jeep and stock seats in the back so I can sell them eventually. Well, since I had harness seats I needed a 4-pt harness obviously. Purchased the harness from I forget where and purchase this
http://www.4wd.com/Jeep-Body-Parts-R..._pn=RFPRH1002H
to properly install said harness.
Some shots out and about: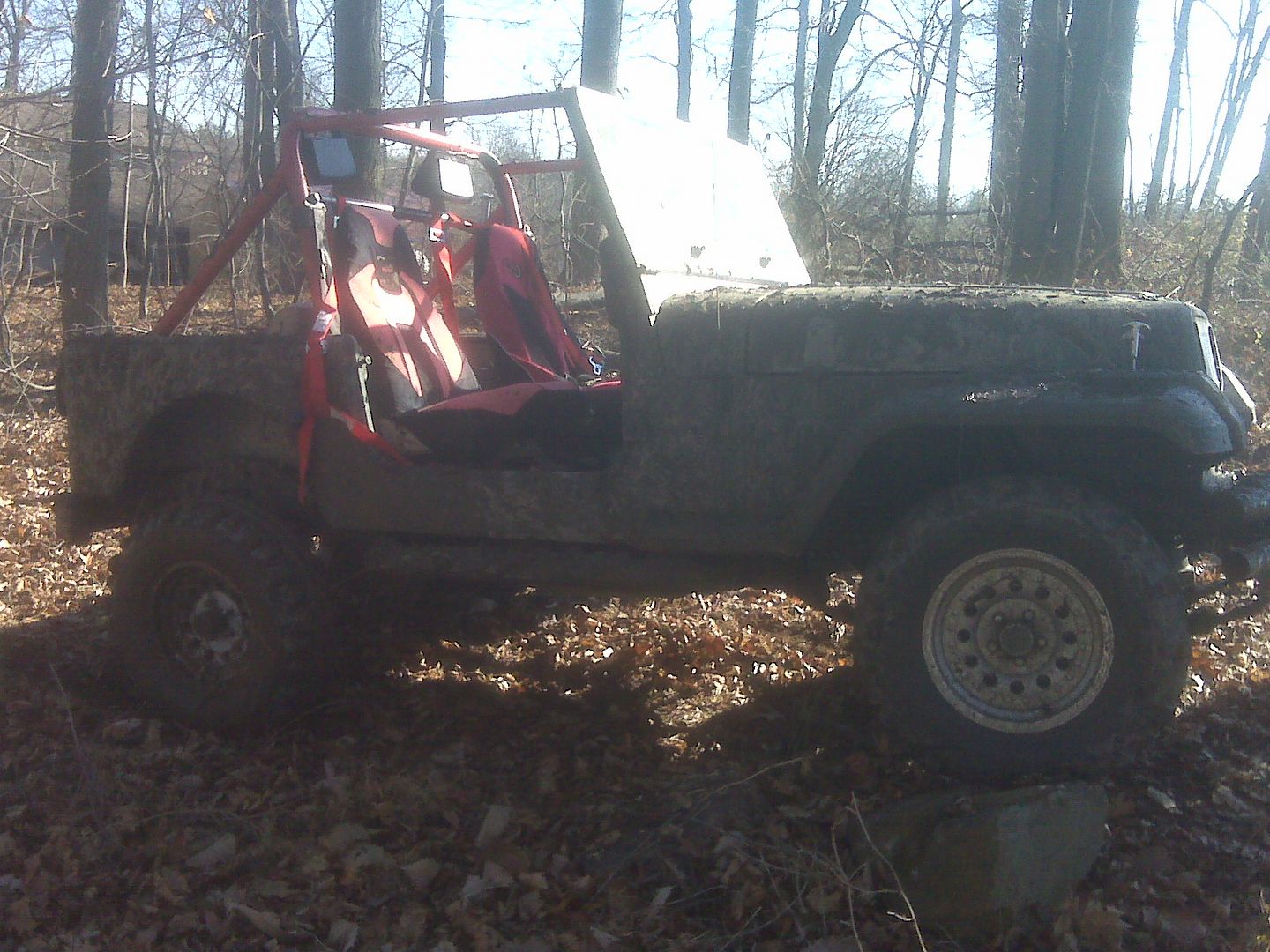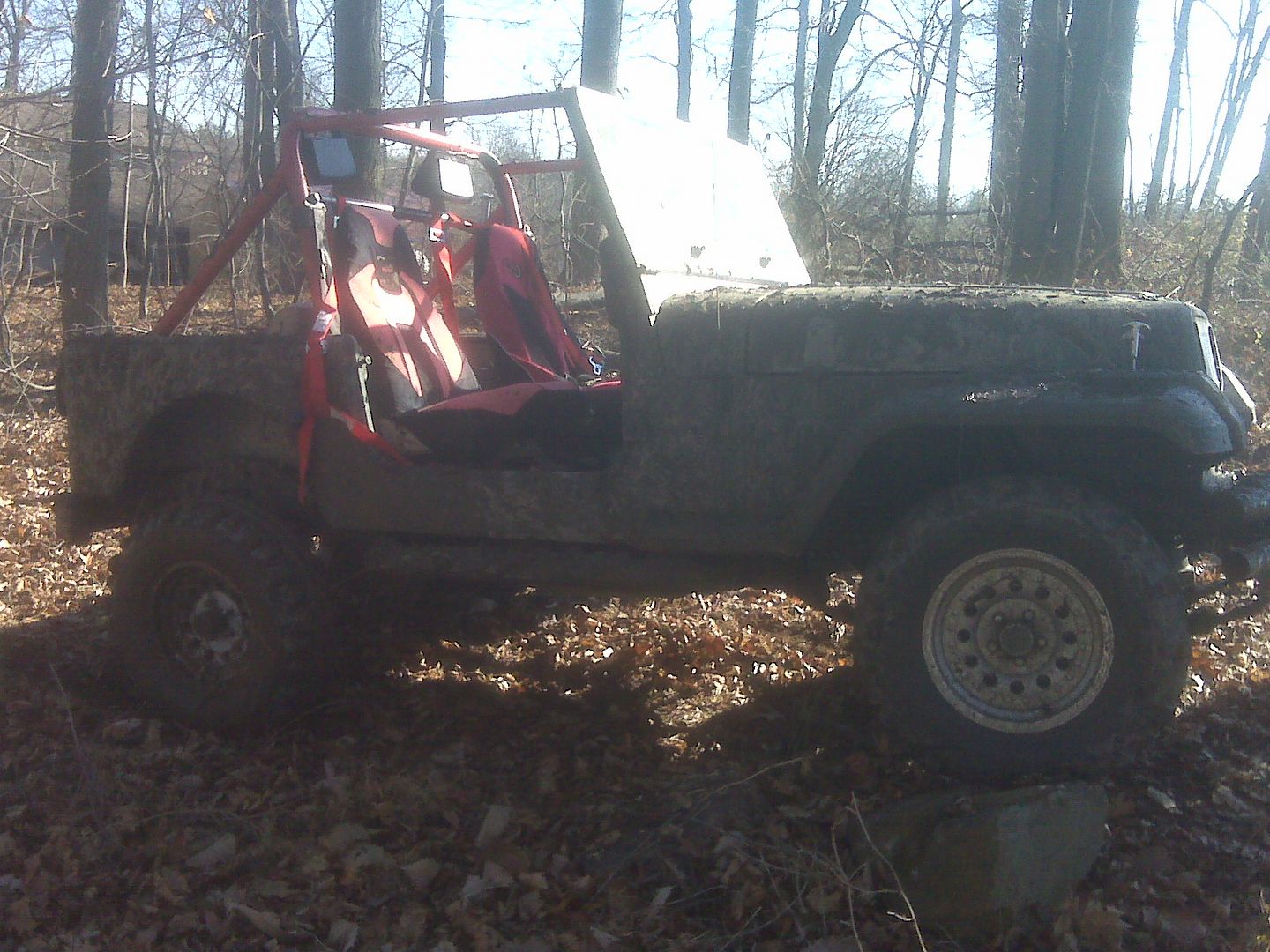 Fall 2012: It starts to get colder and paying for a parking spot for the Jeep is really hurting. I keep the Jeep with me as long as I can but then start running into some issues. Lots of oil leaking and spots on the ground after being parked. I take the Jeep out one afternoon for some quick errands and it becomes very apparent something is very wrong and it needs some work. The Jeep just wants to stall out every time I stop at a light and will not hold an idle. Well considering I really have no good place to work on the Jeep and it's getting very cold, the Jeep goes on a trailer gets towed back home to the farm in PA.
Early 2013: When I can get home dad and I continue to work on the Jeep sporadically. We determine maybe the stalling issue is a fuel pump (thanks to the help of JF!!) so we drop the tank and install a new fuel pump. Wasn't too hard and pretty self explanatory. The gas tank goes back in and Jeep starts right up. No more stalling problem. Upon further inspection, and probably should have done this earlier, turns out the old fuel pump had a wire that been cut open for some reason and was clearly making a bad connection. Likely could have soldered up the wire, but o well, the new fuel pump is in and I'm not touching it. I continue to drive the Jeep around the farm when I can. Eventually get to a new problem which I still haven't quite figured out. Jeep starts and runs great. But after a while of bouncing around and pushing the throttle fairly hard trying to get through the fields and woods it all the sudden loses power. I press on the gas and I get no extra power at first and let off the gas then it begins to stall out. Turn the key off, then turn it right back on and the Jeep starts right back up no problem. Runs just like it should and has all the power it had before. Drive a little while and then same thing, no power when pressing gas and eventual stall out. Turn key off, and right back on and it starts right up. Any ideas JF???
March 2013: Time to get out of the apartment. I purchase a house in Annapolis Maryland and this thing has the mother of all garages. Built in shelves. Heater. Double wide door to open. Living with my long time girlfriend, now fiancé, and we can get the jeep in sideways and fit both of our cars in as well. Typically, the Jeep lives in the garage and I park my daily driver in there every night as well. Her car parks outside, except when it snows.
Good deal for me!! So I finally have a space to work on the Jeep and considering I am in no rush to get this Jeep back on the road, let's really dive into this thing and do a frame off restoration. The previous owner did a terrible homebrew brake line job which makes me nervous. Time to put my life into my hands, not someone elses, break the Jeep down and rebuild as I can.
Some goals for the resto:
1- Clean up the years of mud, straw, leaves, etc… that have been packed into every nook and cranny driving it around the farm.
2- Remove the current rust and Por15 or something similar as many components as possible to prevent any additional rust coming.
3- New brake lines!! The proper way.
4- Clean up the mess of oil all over the place from a presumable head gasket leak.
5- Fix the vacuum lines
6 – 1" body lift to replace the old worn down stock mounts.
7- Clean and paint everything. Pieces may be old, but they will be painted before going back in.
8 – In general, end up with a badass Jeep I can finally get out reliably on the road and trail.
Summer and Fall 2013: Work keeps me incredibly busy and I really don't have much time to do anything on the Jeep. It sits for a week or so at a time, and when I get a free evening I work to start on breakdown.
October 2013: Breakdown is difficult with all hand tools. If I am going to do this I need some power. Air power. I know some will huff and puff on Harbor Freight but I purchased the 10gal 2.5hp air compressor and this baby has served me well. Along with a 10piece combo Craftsman air tool kit I can tackle anything. Previously I spend weeks still trying to get those old roll bar mounts off by hand. Purchased a propane torch to help, but many scraped knuckles and burned fingers later I needed those air tools. One go with the impact wrench and every stupid torx head bolt that wouldn't move before has magically come out. I am on cloud nine that I won the 6 year battle with those torx bolts. Needless to say, when the Jeep goes back together there will be ZERO torx bolts put back in. Not happening. Some photos of the breakdown progress…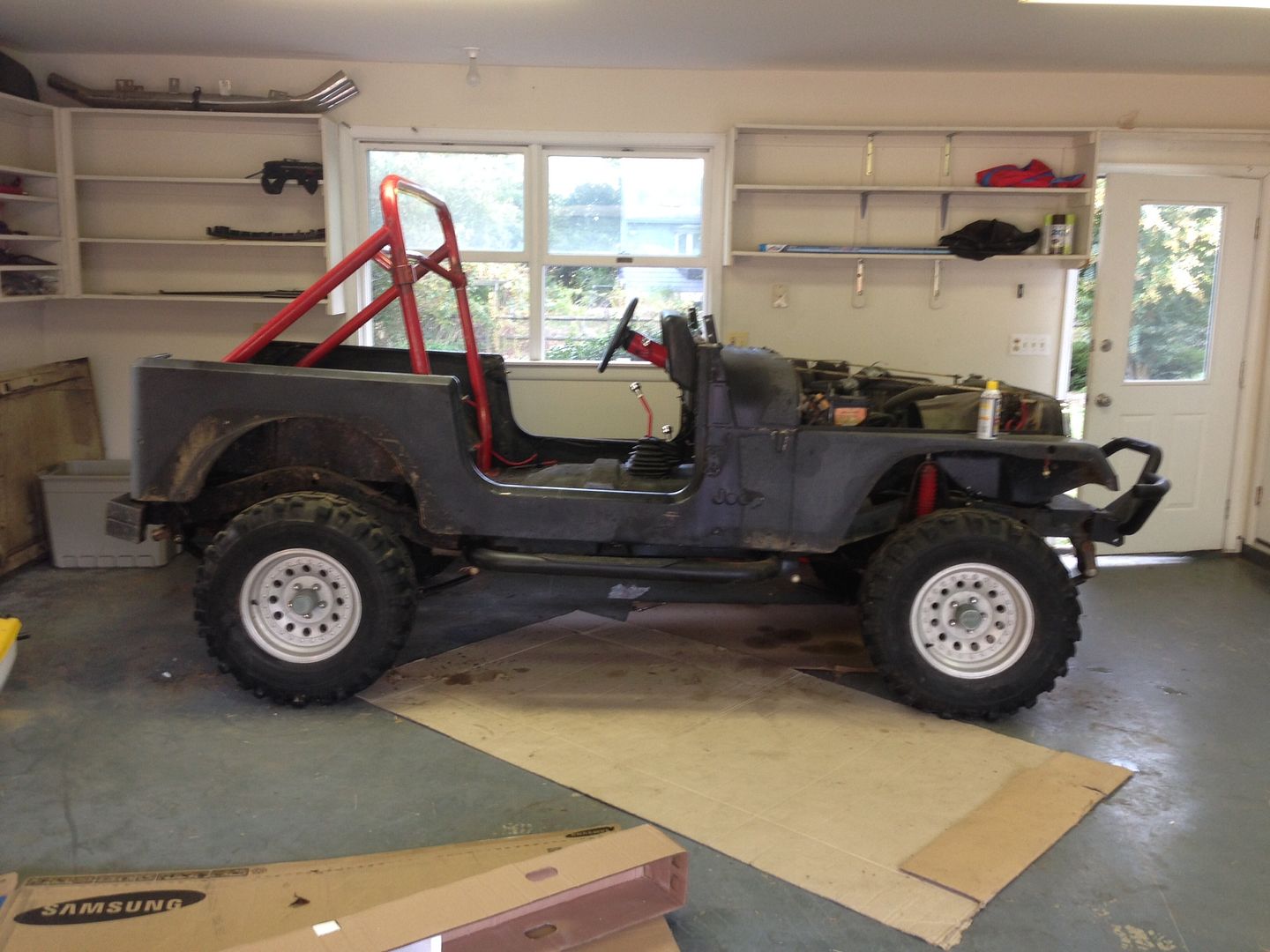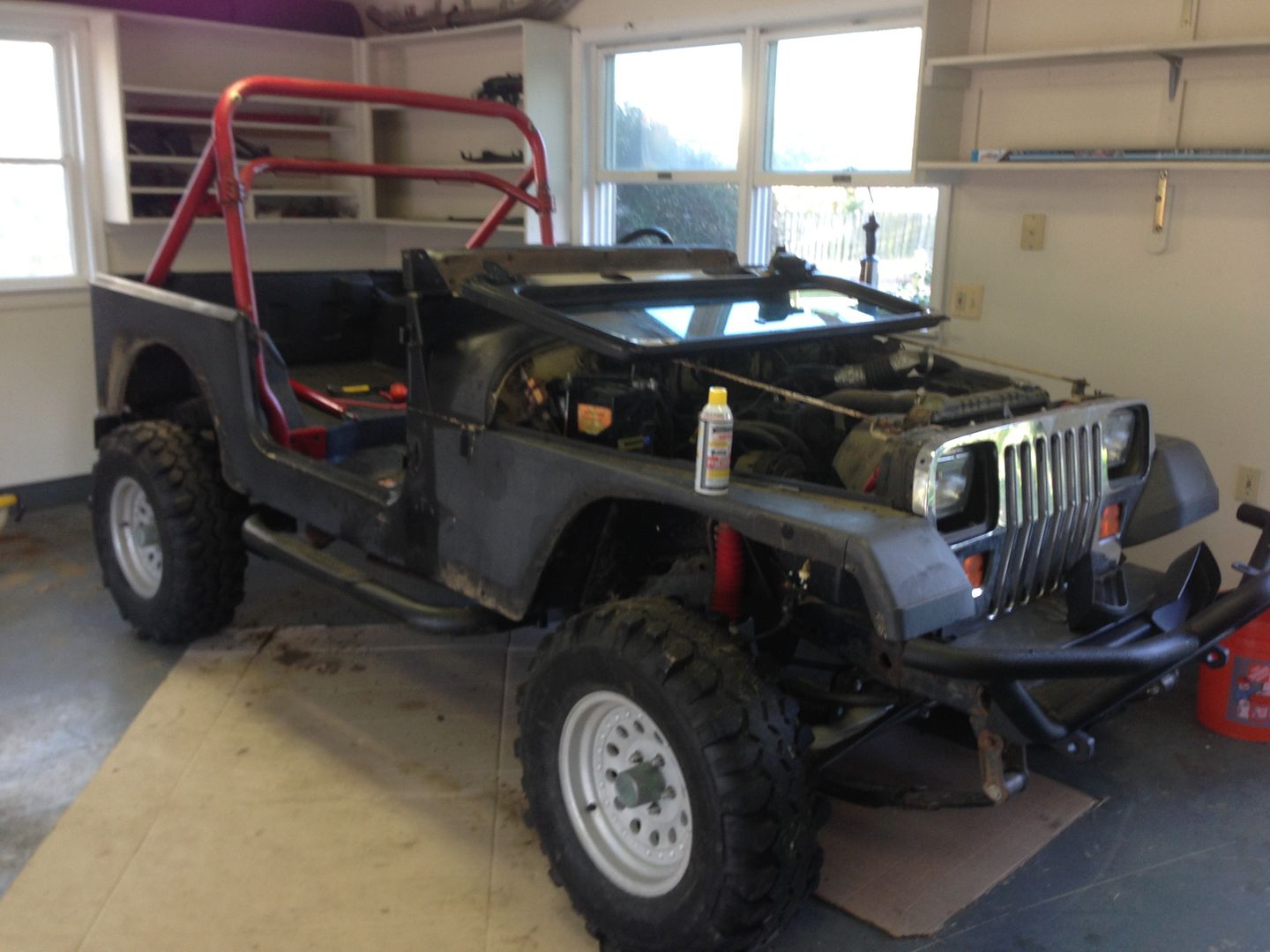 She keeps me company when I'm working…
Halloween - My pumpkin vs My fiancés
January 2014 – Last weekend: Slowly and methodically I have removed everything needed in order to get the body off. The only problems I had was removing the e-brake assembly. Mine was broken anyways so with a not so graceful touch I destroyed the old one getting it out but it is out now. Biggest PITA was getting the front driverside body mount bolt off. Every other one came off just fine with the impact. I soaked all with PB blaster as much as I could before doing this. This front driverside bolt just had completely rusted off the cap around the square nut above the body mount. Tried a sawzall to get the head of the bolt off but the sleeve inside the bushing made this impossible. Ended up using a metal cutoff wheel to slice up the head of the bolt into itty-bitty pieces and used an air hammer to break it apart. Finally it came apart. I used an engine hoist placed over the middle of the body, attached ratchet straps to the four corners and lifted. Woops there is a clamp holding the brake line above the rear axel and the exhaust hangers attached to the body still. Body goes back down. I break off the rusyed e-brake clamp. Ended up having to cut off the rubber exhaust hangers. They were dry rotted anyways so they will need to be replaced. Next time on the lift, everything is free and the body comes off. Now I am getting somewhere.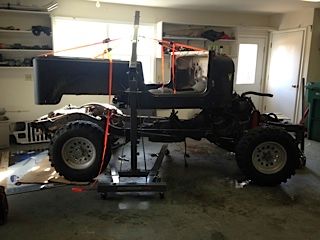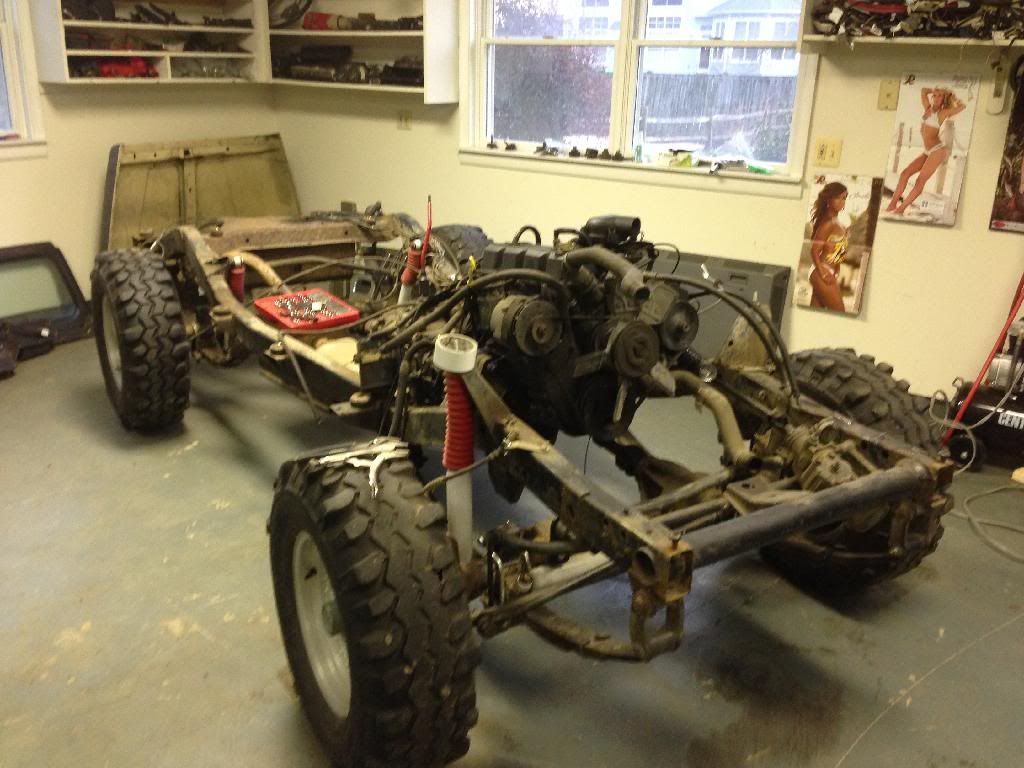 Now: Well, that takes you up to where I currently am with the project. I am stocked up on some parts that will go back in. Pre-bent brake line kit, extended brake lines to the fronts and rear to accomondate the lift, new body lift, new radiator hoses, new e-brake assembly, and I am sure this list will grow. Going to keep tearing down until I can tear down no further. If you have read this far, well THANKS! and I will try to keep this as updated as I can throughout the process. Working to a YJOTM hopefully!
---
1989 Jeep YJ
2.5 - AX5 - 4" RC lift

MY BUILD THREAD:
To view links or images in signatures your post count must be 10 or greater. You currently have 0 posts.

Registered User
Join Date: May 2013
Location: Crystal River
Posts: 335
Wow man... that is a monster of a post! I actually did read it, all, and good job on the photos. My YJ is basically in the same condition as yours at the moment, but the rebuild is going in a different direction. Give a shout if you need any stock parts, a lot of mine are coming off and going away.

Having said all that, keep up the good work. I'll be keeping an eye out on ya!
---
If yer gonna fight, fight like the third monkey on the ramp to Noah's Ark.

My Build Thread:

To view links or images in signatures your post count must be 10 or greater. You currently have 0 posts.

Registered User
Join Date: Aug 2013
Posts: 215
Wow! Looks like it'll be a great build!
---
2000 Cherokee Classic

3" Zone lift, THULE roof rack, Hella 500 Black Magics
Registered User
Join Date: Sep 2013
Location: Rochester Hills
Posts: 116
I'm where you're at when you first got it! Except I have an XJ.. But hey were box headlight bros right? I'm learning a ton with my rustbucket, I hope to get a YJ in a few years. You're build looks awesome! I wish I had the money, time, space, patience, knowledge haha all that to do a restore like this
Thanks guys. I am coming up with a list of replacement parts I am going to need so I very well may PM some of you.
Update: As of last night I have stripped quite a bit more off. Complete exhaust system is off (header to tail). Intake is off, tried to keep this together as much as I could to document where everything goes before I really tear into it so thats sitting off to the side for now. Dropped the gas tank. Removed all fuel and brake lines down the frame rail. Removed speedo cable.
Next:
1- Strip a few more components off the engine block and figure out how to clean it. See my post about this here:
http://www.jeepforum.com/forum/f12/c...block-2038577/
2- Figure out what to do with the little bit of rust i have on my frame rail. More about this here:
http://www.jeepforum.com/forum/f12/h.../#post19792929
3- Remove suspension and axels.
4- Build a universal dolly that i can put the frame or the body on so that when I do start to clean and sand I wont break my back.
Funny: When I bought the Jeep I was told that there may be a small exhaust leak. Never really found it. The vehicle passed inspection somehow so I was never really worried. Well after picking the body off, it looks like the muffler was replaced at one point. But when it was replaced it was welded inplace from the bottom, so the welds never made it all the way around the top of the pipe. See photos below... This will be another project for me.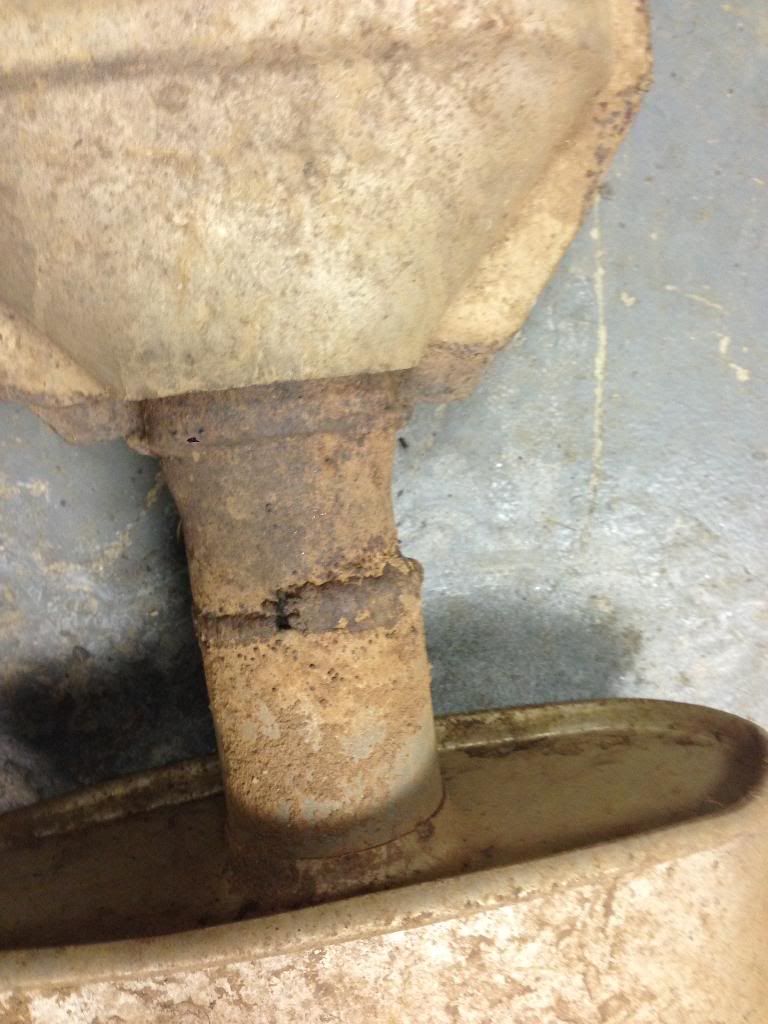 ---
1989 Jeep YJ
2.5 - AX5 - 4" RC lift

MY BUILD THREAD:
To view links or images in signatures your post count must be 10 or greater. You currently have 0 posts.

Registered User
Join Date: Feb 2013
Location: Smethport
Posts: 463
This build is great. It starts with a guy that does not know much about working on vehicle to a full frame off build. Gotta love the initiative. Keep up the good work.
---
87YJ 5.2/46RH/NP231 D44/9in 4.56 4 link rear, radius arm front
My Build
To view links or images in signatures your post count must be 10 or greater. You currently have 0 posts.
Start planning for 2014, updated site http://www.bantamjeepfestival.com/
Quote:
This build is great. It starts with a guy that does not know much about working on vehicle to a full frame off build. Gotta love the initiative. Keep up the good work.
Thanks man! Appreciate it. Really still working on it and learning every day.
---
1989 Jeep YJ
2.5 - AX5 - 4" RC lift

MY BUILD THREAD:
To view links or images in signatures your post count must be 10 or greater. You currently have 0 posts.

Just placed my order for:
1- 2 Qt POR-15 kit
2- Eastwood Internal Frame Coating
3- POR-15 Marine Clean
4- POR-15 Solvent
5- Flameproof Hi-Temp Red for motor, tranny and TC
6- Flameproof Hi-Temp Gray for exhaust

Can't wait!
---
1989 Jeep YJ
2.5 - AX5 - 4" RC lift

MY BUILD THREAD:
To view links or images in signatures your post count must be 10 or greater. You currently have 0 posts.

Web Wheeler
Join Date: Mar 2012
Location: Buffalo
Posts: 1,046
Looks nice. I'll come back and read it at night some time. Looks like a good read. Well, back to work!
Currently Active Users Viewing This Thread: 1

(0 members and 1 guests)