Registered User
Join Date: Mar 2011
Location: Spring Valley
Posts: 1,376
My '03 TJ Build/fix-up.
---
Bought this a few months ago from my Uncle. Came with Minnesota plates, now it has California plates. It's an '03 TJ Sport. 4.0L engine.. 31" tires, don't know what brand/model wheels. Bought it for $10K with a tad over 65k miles.
So far since I bought it, I've repainted the front fenders, running boards, and
part of the back bumper. Need to cover up the back end of the Jeep and paint the rear fenders. Then I need to pull off both bumpers and repaint [IMG]
[/IMG]those.
Pics are old, from when I first got it and was happy about it. Will get some new pics this thursday.
I also have a Rough Country 3.25" lift kit on the way now. Can't wait.
Registered User
Join Date: Dec 2010
Location: greenbrier
Posts: 1,473
Did you ever get the lift kit installed?
Registered User
Join Date: Mar 2011
Location: Spring Valley
Posts: 1,376
Old thread, with no updates but yes I did.
Since July of last year, I've installed the RC lift and steering dampener. Ran that with some Nankang 31x10.5 tires, with American Racing 15x7 Outlaw 2 rims. I lost a tire in the winter, a couple weeks into November, (just a little after my Uncle had passed away). The tire shop where my uncle got the tires torqued the lugs on too much and snapped all 5 lugs, and they just happened to come off when I was driving home from work. Luckily the lane to my right was clear, and my tire stayed on the Jeep (barely) rolling along the rotor. I really do think my Uncle was looking out for me.
The tire/rim were trashed. The shop didn't want to do anything really to help me out. I fixed everything myself. Put new Duralast hub on the passengers front side (where the tire came off) and 5 brand new wheel studs on the drivers side front (hub was still good, and very little rust on it). Ended up going to Discount Tire, got some cheap steel 15x7 chrome (eek, I know) Unique wheels (didn't need anything expensive nor want anything expensive). Tires were some 235/75 Cooper Trendsetter streets (again, inexpensive).
I drove on those till the end of July, this year and decided I wanted some ATs again, albeit a good set of ATs. I went back to Discount Tire. Ordered some 31x10.5 General Grabber AT2s, and I LOVE them. Great traction both on and off-road for a good price, and 60k mile warranty. Also got the road hazard warranty because the potholes around here are getting worse it seems.
Lift installed: 2011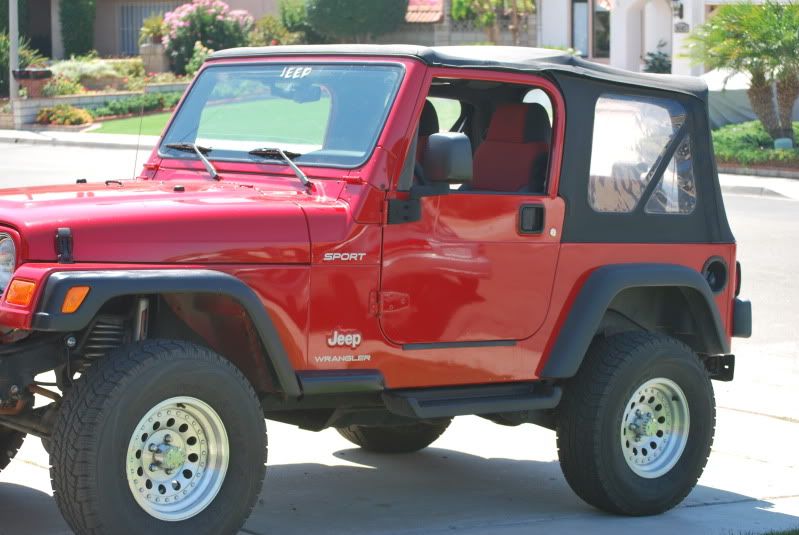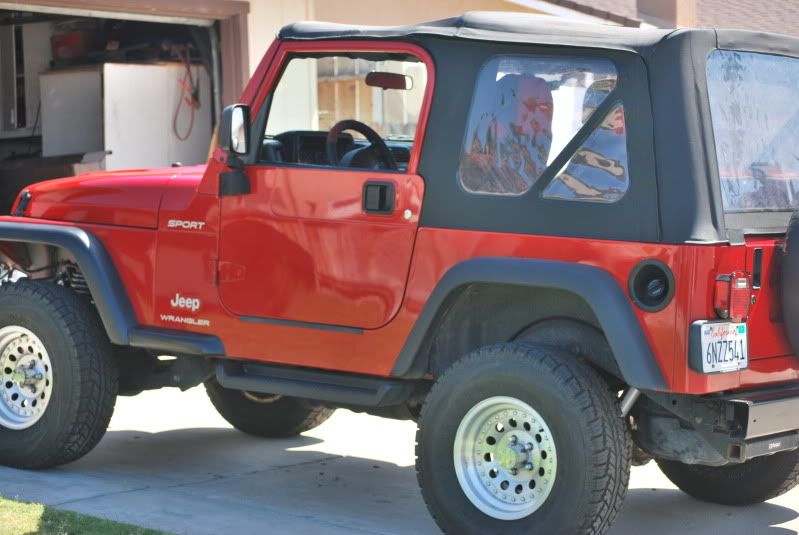 Went doorless and loved it:
Some cheap HF lights: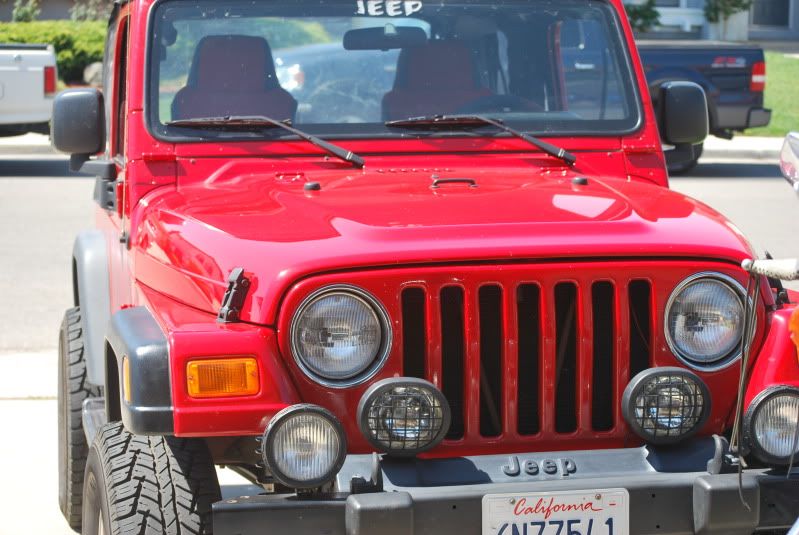 Light brackets: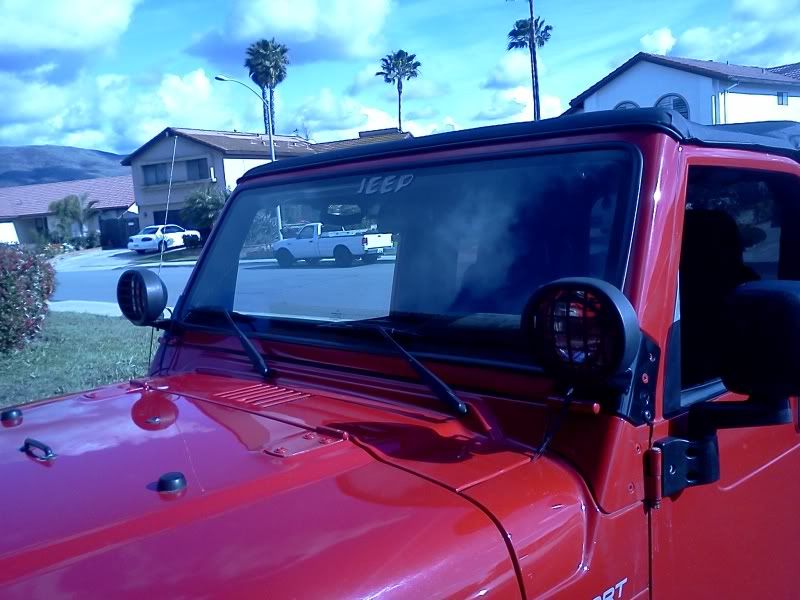 Bedlined tub: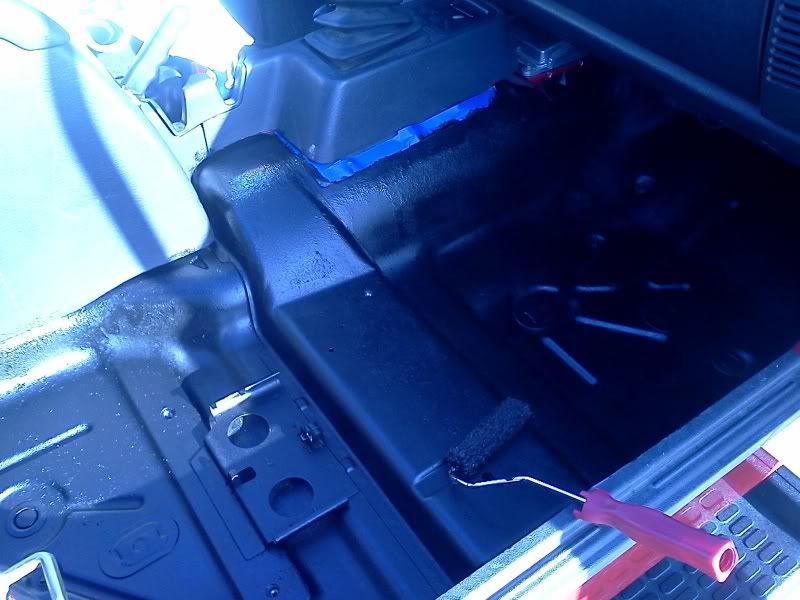 My wheeling/Jeep buddies:
New lights: ProComp 130watt spot lights, and 55 watt driving lights. KC light brackets. Ruffstuff (ebay brand) front bumper.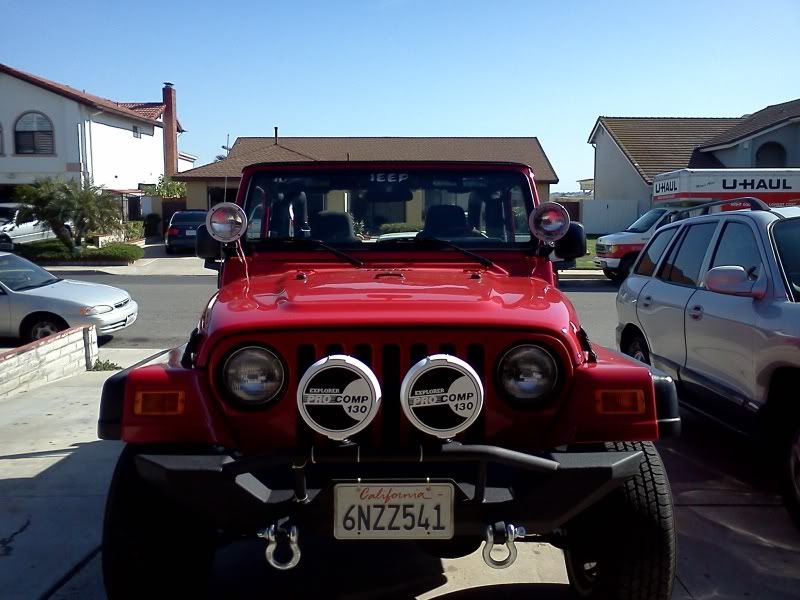 Changed the lights around from where they were. No pics ATM.
I sold off the hard-top I had and used the cash to put stuff on the Jeep.
Old factory stereo was giving me issues here and there, and I wanted something with an aux support. Got this deck on ebay. Sony. Aux. Full Ipod connectivity (although I dislike Ipods I have a classic so it was a plus). Nice unit for sure:
Painted some interior parts: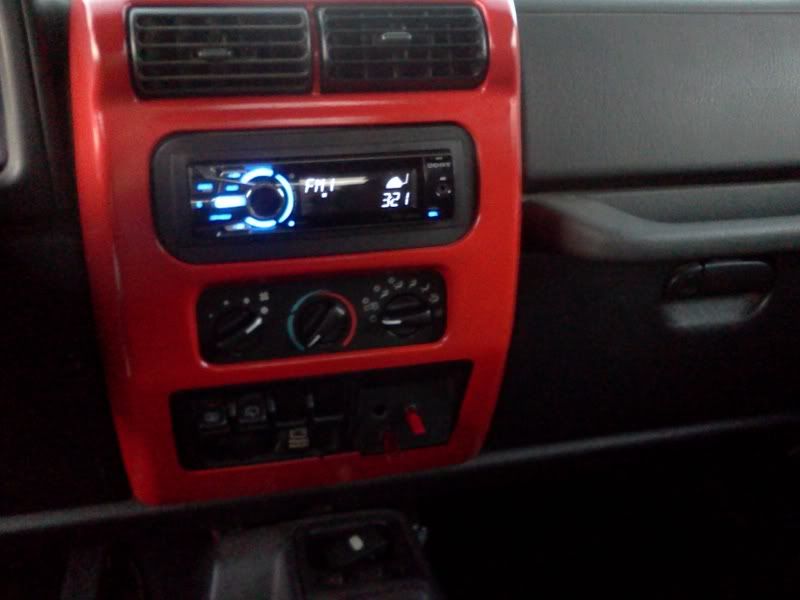 Doorless again, at work. Doors "tossed" in the back. Haha
Some Bestop half-doors (thanks to my Grandma)
Smittybilt duster cover, Bikini top. Rampage windjammer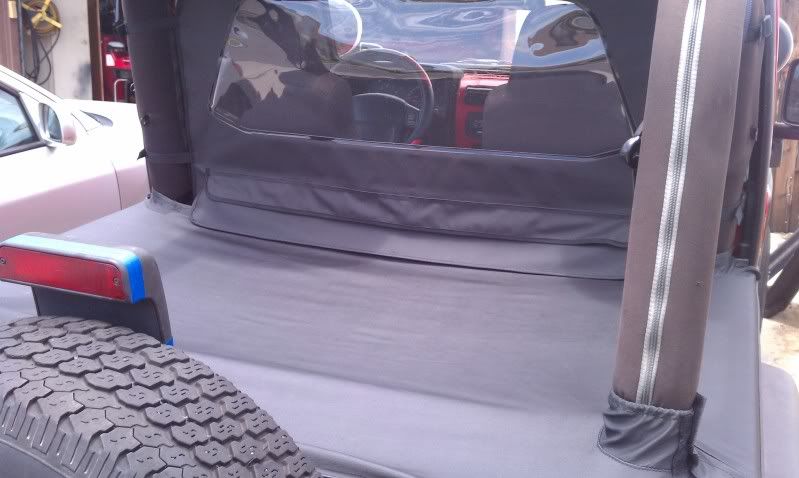 Sold my PS3, used money towards new tires: Wheeling pics: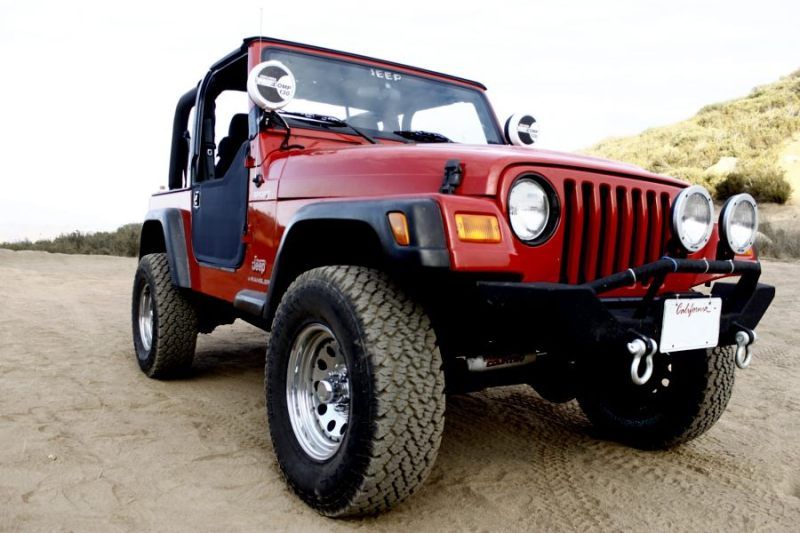 Finally bit the bullet, and traded my full-doors for some half-doors. Bestop slider uppers. Driver's side is in rough condition. Looking to get some new soft uppers soon.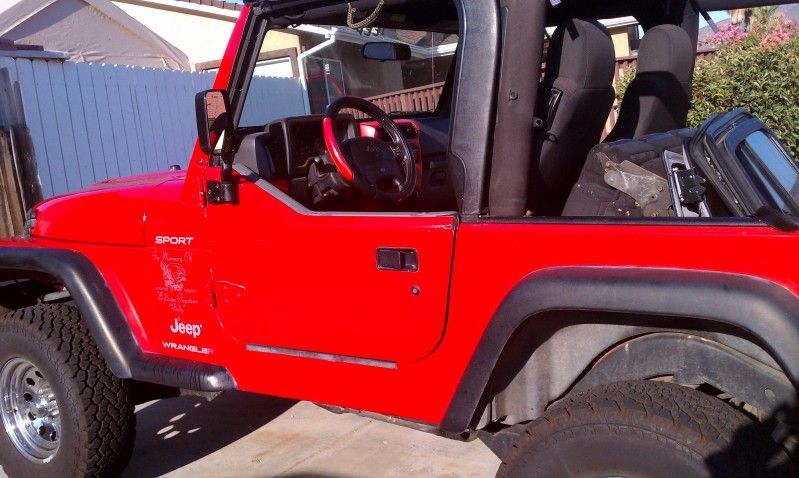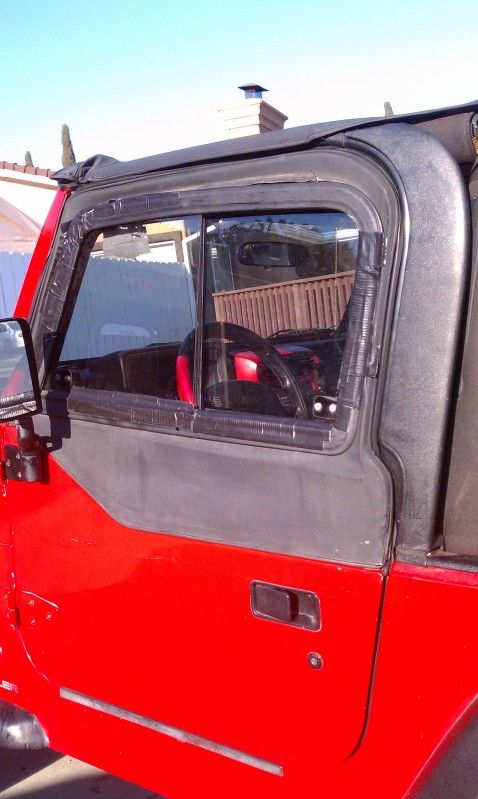 Old soft-top called it quits. Needed a new one. Bought a Rampage bowless soft-top. Installed it last week. Like it so far. Great product for the price. Easy to convert to a safari top. Happy Customer here.
You can also see the "chrome" rims I had.
Last week I took my brother to pick up this: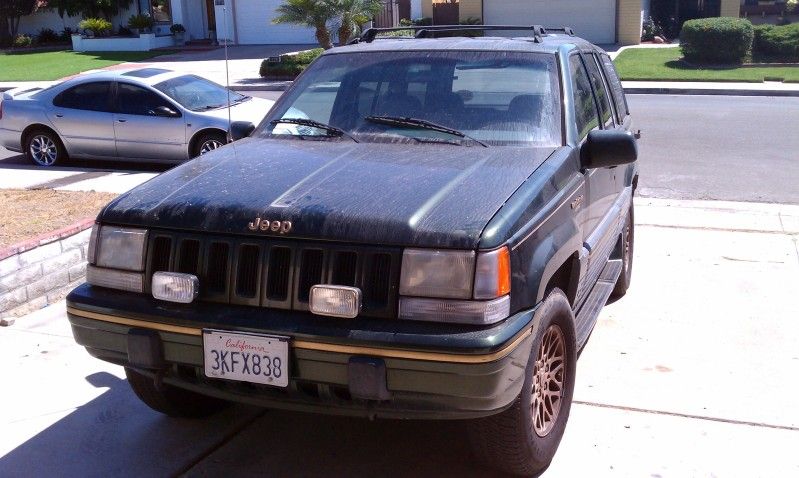 He paid $400 for it. Runs great. Some issues here and there. Overall, he'll have put about $1500 into it (with help from family) and will have a solid, reliable DD Jeep. I'm glad to have another Jeeper in the family (mom wants a 4 door Wrangler. Still working on talking her into it, then my dad!) So that's another project/Jeep to work on.
Registered User
Join Date: Mar 2011
Location: Spring Valley
Posts: 1,376
Cont'd
Finally got tired of the chrome rims, and got the urge to do this: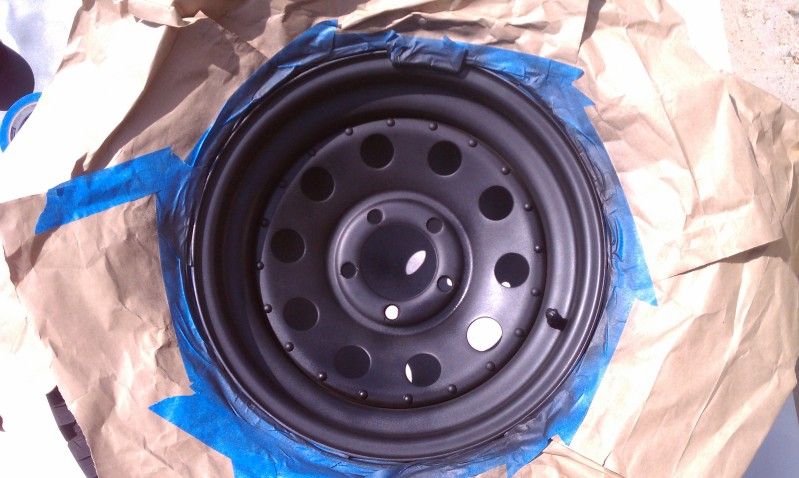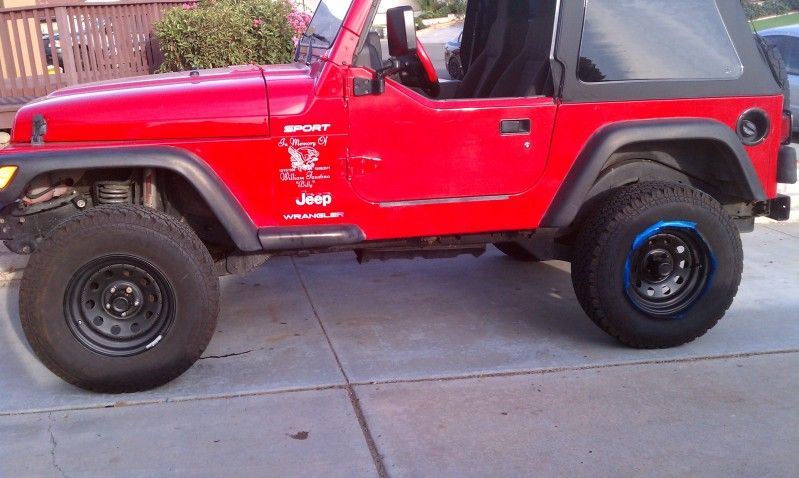 Plasti-dipped rims. Made the Jeep look so much nicer, imo. Totally different look. Also sold the ProComp 130 watt lights and KC light brackets:
Then did this:
Again, totally different look for less than $20 over all. Really digging the contrast in color. Also plasti-dipped under the tailgate, and the fenders (they were faded out).
So that's what has happened over the course of a year or so. Plans for more things in mind. Just low on money ATM. Working on paying the Jeep off, along with bills.
Currently Active Users Viewing This Thread: 1

(0 members and 1 guests)