hey everyone. been around the forum for a while now and decided to make a build thread more so I can keep track of any "progress" and to get some ideas here and there from other jeepers. To start off I'll tell you what I'm working with.
1997 Jeep ZJ DAILY DRIVER (This will be a few month process)
168000 miles
4.0
42re
np242
dana30
dana35
3.73 gears
factory tow package
functional trailer lights (7 pin RV style)
Cobra 29 radio @ 17w output
~4" lift
32x11.5x15 Mud King XT tires
A custom bumper that is constantly seeing drastic changes
A pic of when I first got it: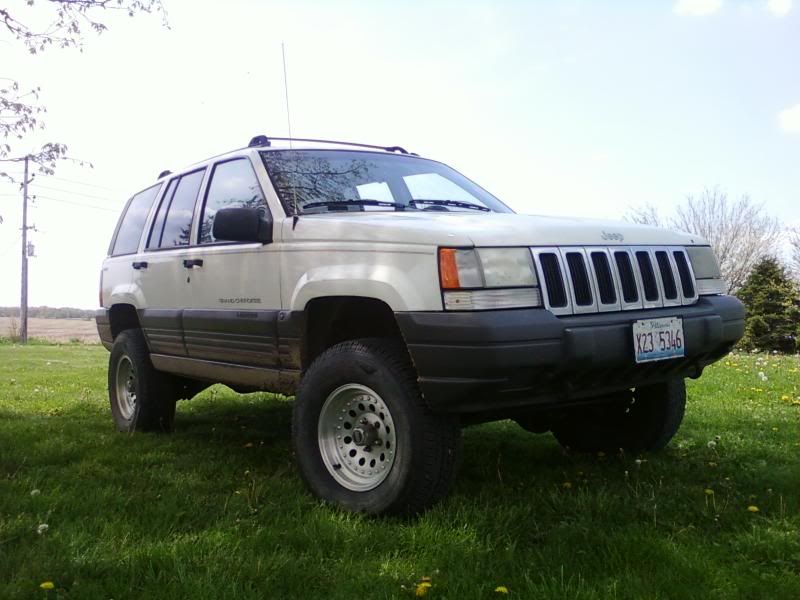 a couple pics from the last offroad outing (and how it looks now)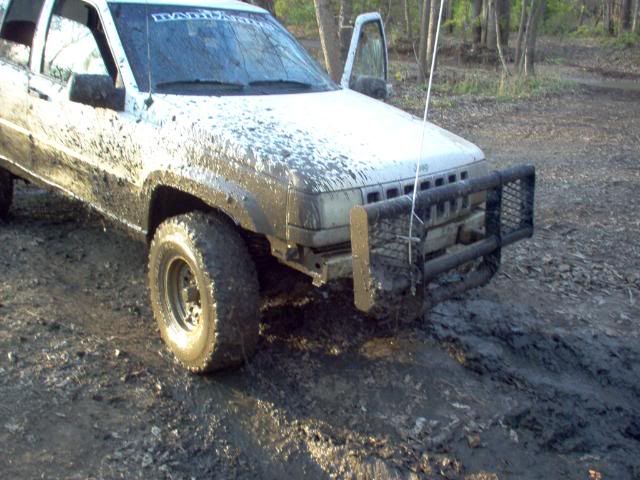 (Featuring the awesomeness of my dads project, 1987 Samuri with a 1.6 VW Diesel with an Audi turbo, pushes upwards of 20lbs of boost, did I mention tractor tires?)
My entire plan of this jeep is to maintain DECENT street qualities, and make a very capable trail rig. the only safe way of doing this, in my eyes, is to make a wide stanced low center of gravity rig. I WILL be moving up to dana 44 / dana 60 or 9" combo and I will not be going any higher than 5" of lift total. I intend on remaking the front bumper to a much better design, the bumper that is on there is basically to keep deer from ruining my investment for now, and I mounted it with clearance to have a winch on there if I ever get one.
Things that will need to be addressed:
What size tire with <5" of lift and 3/4 ton axles?
Which long arm kit?
Approx how much flex am I going for and where to relocate shock mounts to put LONG travel shocks in?
Upgrades to the NP242?
How hard would it be to make a ford transfercase work with the 42re to make the driveshafts a bit less of a hassle?
Making new rocker panels that are high clearance, yet strong and large enough to tie in an exo-cage?
Will my stock ZJ steering box hold up to the 35" tires I want to put on?
Thats all I can think of for now that will need to be addressed.
My reasoning for going to the 3/4 ton axles is pretty simple. I want the strength, the lockouts, and they weigh more to keep the COG lower. Plus I think it looks rugged.
I have been thinking of finding a way to adapt a ford transfercase to the 42re so that I can just get the driveshafts out of the donor vehicle and have them shortened or lengthened accordingly, that speaks for itself, Im lazy and want to be able to run the same size u-joints all around.
Depending on if I am able to make a ford transfercase work, I do not know what to use for long arms, I may have to make something custom at least for the crossmember.
Also, going at a lower lift height, I will be able to maintain reasonable steering geometry to keep the road manners bearable.
If im missing anything significant or if there are things I have overlooked I would appreciate any input. This is the first custom build I'm going to be doing and I would love some ideas. This jeep is also going to be function over form, it will not be a show jeep my any means at all, but it will be MORE than functional, this jeep will be a daily driver, an emergency tow rig, and will be abused on the trail. Thanks! I also have about 300+ pictures of offroading if anyone wants to see them, ask me for a pm and ill give you my photobucket link (i dont want to post the link on here for I dont want to get in any trouble!)