I am going to do my best to do a build thread. I got my yj is good shape, so all of the stuff I have done to it aren't really major things since it is not a "restore" thread. I tried taking pics of the things I did, but what usually ended up happening was me taking pics in the beginning of the work, and then not taking pics while doing the work because I just wanted to get it done. I am going to try to take more pics as I do more mods to the jeep now....I am improving I think
. Plus its been hard for me to get stuff done on the jeep because I work full time, am taking grad classes, and recently got engaged. So now I have to spend time and money on wedding planning which end with me not giving the jeep the attention it deserves
I bought my 1990 Yj over a year ago and it is my first jeep I have owned. It is originally from Arizona, so it is super clean compared to any other YJs in Michigan that I have seen. It is completely rust free! It has a straight 6 all stock and the ax-15. I bought it with rancho lift (I think it was just the added leaf kit but I'm not sure. It does have the rancho shocks and a transfer case lowering kit). It also came with almost brand new 31" BFG All-terrains. It also came with a nice big oil leak that poured oil all over my driveway after the 2 hour ride home. I guess that was my welcoming to the jeep family
.
Here are some pics from right when I bought it. The PO put a spiced tan top on it and put matching spiced bestop seats in it as well. I personally don't like tan with white, but I had to deal with it because I was still finishing up college and was completely broke.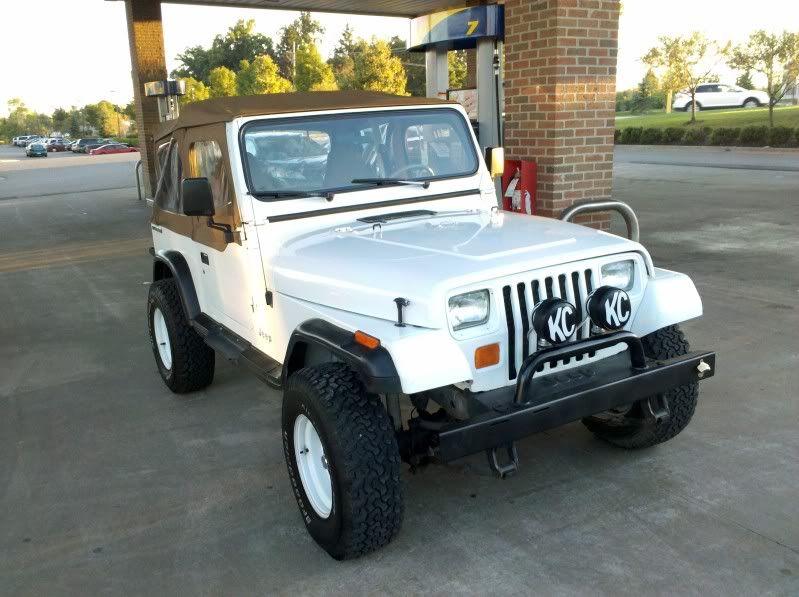 First thing I did was look into the oil leak. The fuel pump gasket and the valve cover gaskets ended up being the culprits. I replaced the fuel pump gasket and was going to replace the valve cover gasket when I realized all of the bolts for the valve cover were lose! I tightened them down and no more oil leak.
By then it was the end of the summer and I wanted to find a hardtop. I hated the tan so I went searching for a black one. I ended up getting a 2 piece hardtop w/ hard upper doors made by steelhorse. I got the top for $250 and got home to do research on it only to find out that Steelhose was known for terrible quality. By then it was too late so I had to test it out. I got it on the jeep and have actually been happy with it. It seals up great and I think it looks great. I did notice the hinges on it and other hardware are lower quality, but it is still in great shape so it works for me. I also sprayed the cheap bed liner stuff on the entire underbody to help protect it from the michigan weather. Plus, the white fenders on the underbody were not cutting it for me and I wanted it to look tougher.
Next I wanted to get the jeep running better. That meant removing all of those extra vacuum lines and emissions junk that probably didn't work. I got a weber 32/36 carb and also gave the jeep a team rush tune up. I also ended up adding a new fuel pump in the process because the other one was giving me issues. It all made a huge difference! The funny thing is that I have been driving the jeep for over a year with the weber on it and just discovered a week ago that the throttle linkage was binding up and the 2nd barrel wasn't even opening. I thought the jeep ran good then.... it is a whole new motor now that fixed the linkage and both barrels open. I love the sound of it when I open it up.
The first pic is showing Some of the crap I removed...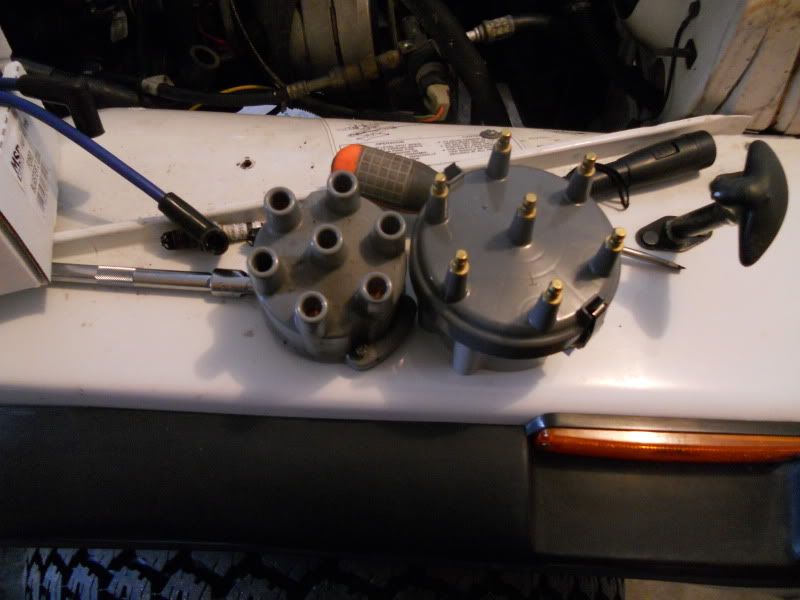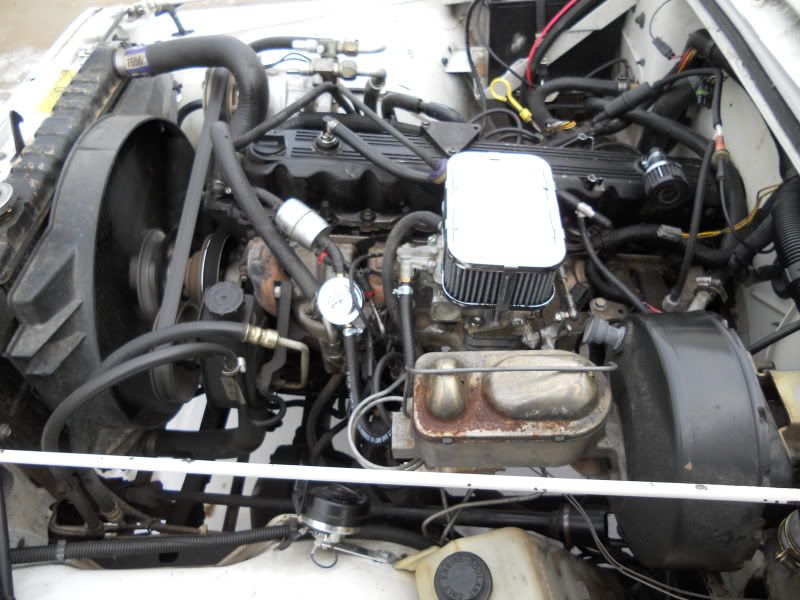 The next things I did included adding front tow hooks, painting my rims gloss black, and adding in flush mount leds. I loved doing all three of these mods since they helped make my jeep start to look tough finally (in my opinion at least). The only thing I wish I could change are the letters on the tires. I wish the PO would have put the white letters on the inside.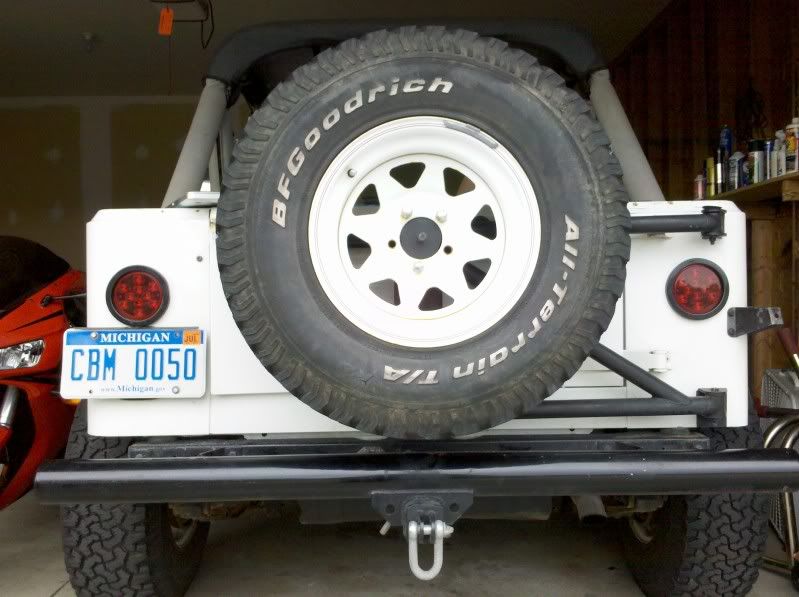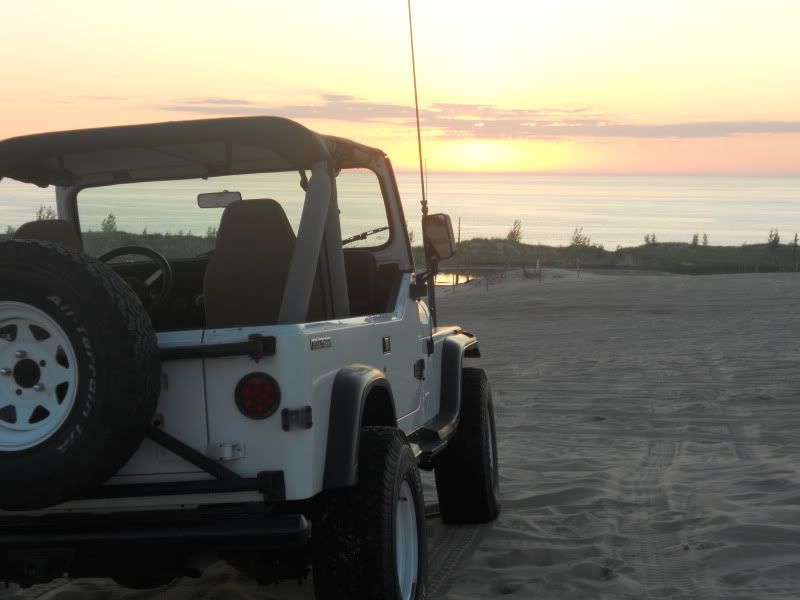 I feel like I am rambling on now... I know I'm missing some stuff but other mods I did were upgrade the blower motor to a blazer blower motor, painted my dash and door panels black, replaced the door hinges because the old ones were shot, painted my tuffy locking metal box black, added a bestop center console (which I would not recommend. Its made of cheap plastic and isn't very good quality. I expected more out of bestop actually). I will add more as I can think of it and find the pics for it.