Okay, HI!
I got bored. when i get bored, i find stuff to do. I just built a project gun, so now it's back to the jeep.
I'm poor. well, not poor but on a crazy budget ...so i like to do these projects for cheap cheap cheap!
1973 was not a good year for car stereos in jeeps apparently....as it wasnt even a stereo. Good ole AM radio with 1 speaker.
I've got a who-knows how old jensen tape deck with a digital display in the jeep, it was there 3 years ago when i bought it.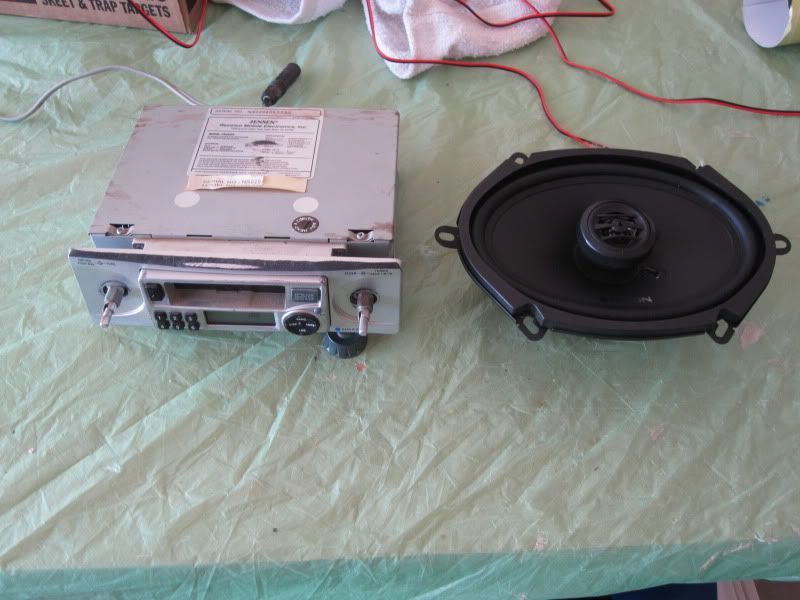 I had to replace the in dash speaker because the original one was long gone, and the 5x7 i put in there was too deep, so my radio hit it when installed in the dash slot.
I ended up putting my radio inside the glove box (missing the lining) and mounted my CB in the radio slot, under the speaker.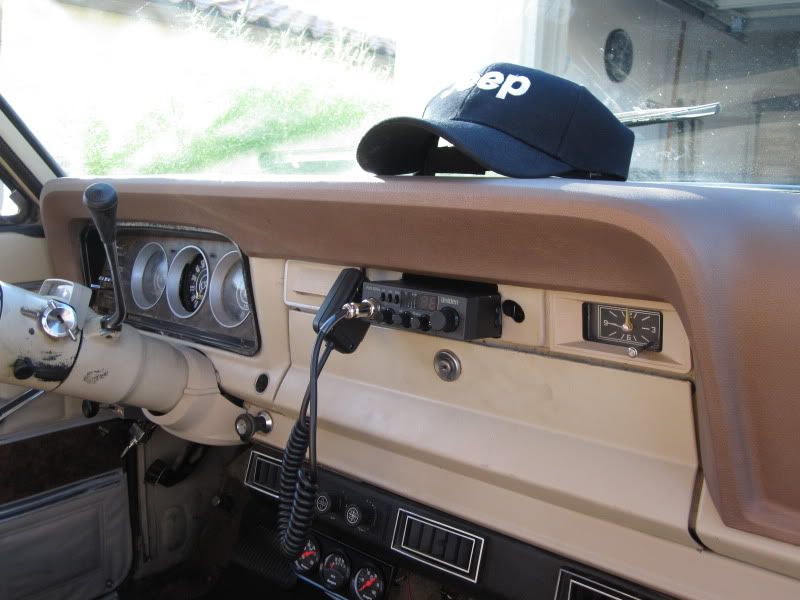 It worked. But for 3 years i have listened to only the left half of songs, and i have had to fish my radio out of the area behind the dash board too many times. ITS TIME TO TAKE ACTION.
My rear cargo panels are under my cargo cover that i built, so that being the 'obvious' location for speakers (the stock location for rear speakers in later years) was out. They'd be hidden and muffled.
So, when i replaced the speaker up front, it came with 2...but i only needed one. so it went back into the box for 3 years. all kinds of pretty wires too!
Okay, so i have 1 new speaker and one old speaker in my dash, thats fine, i'm sure i can blow the dust off of it.
But what to do?
Oh, hmm...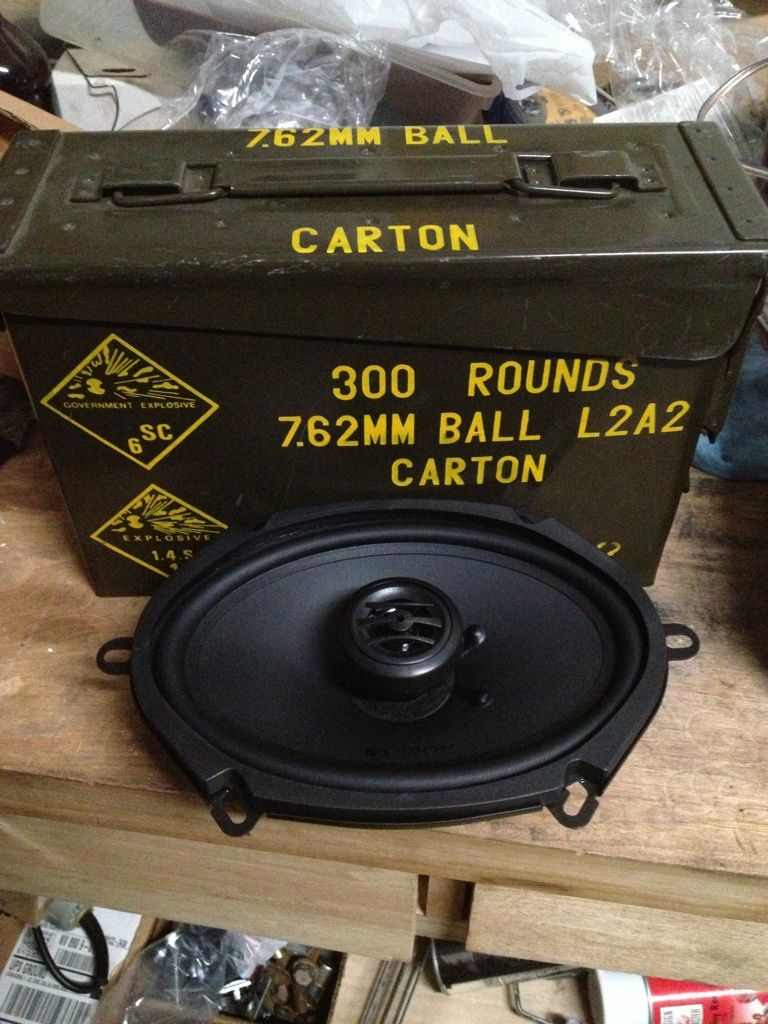 interesting prospect, but where will it go?
oh beautiful location!
So, i grabed some heavy magnets from harbor freight. These magnets (65lbs pull) will be mounted to the outside of the can eventually, allowing them to be connected to the metal body strip above the rear cargo area panels. This will allow me to remove them to pull out the cargo cover, with ease.
I harvested a few of these dealies off of an old set of pioneer speakers that do nothing more than serve as stands for my bose 901's.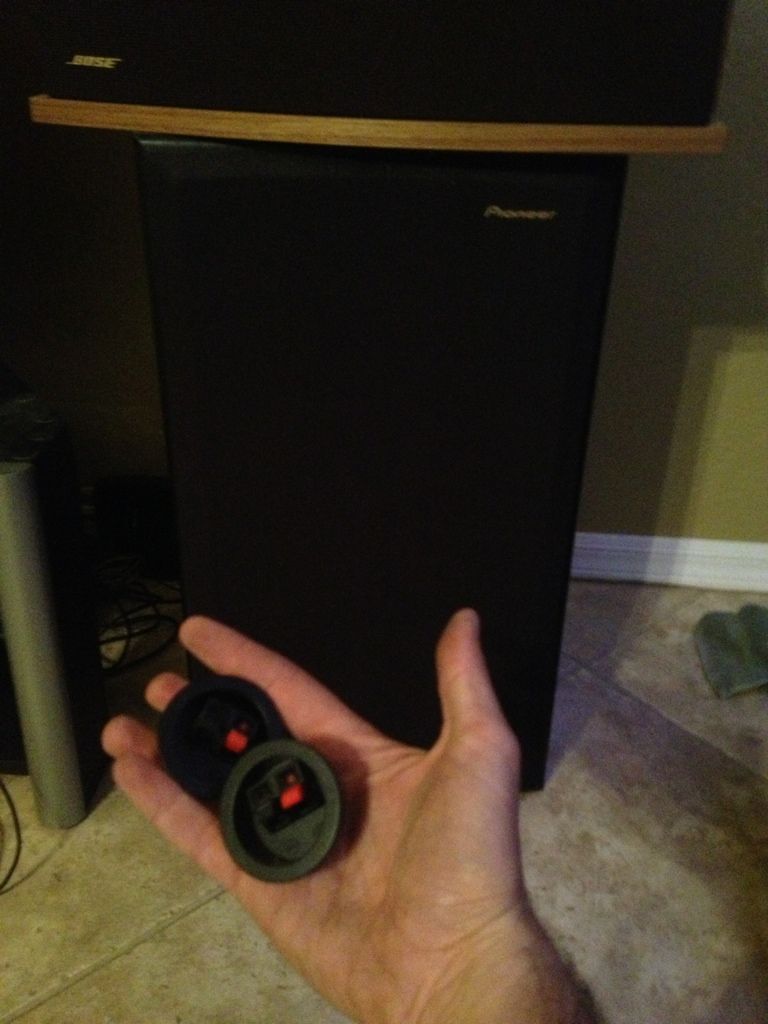 These will get mounted to the wooden panel and serve as a quick disconnect for the ammo can. The ammo can will have a short length of speaker wire protruding, with SEVERAL FEET coiled inside. This will make it so i can remove and use the speakers outside the jeep, or on the tailgate, or heck, i can cling the magnets to the bumper, while camping or at the beach. When they go back in, you just coil up the wire inside the can and restick em to the side panel. BRILLIANT.
So, enough talk, lets DO SUMTHIN.
lay out a grid and start yer butt centerpunchin'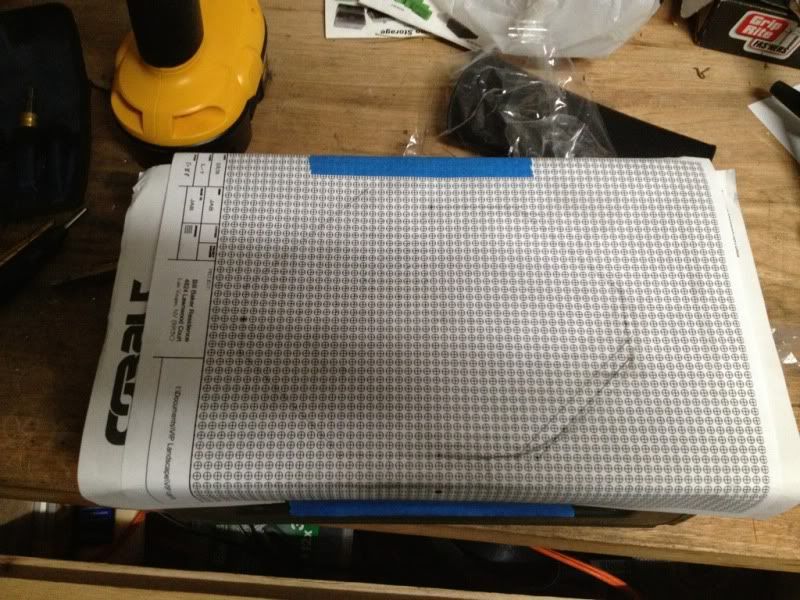 then, start drilling for what will seem like an eternity.
SHAMELESS PLUG: HARBOR FREIGHT STEP DRILLS ARE AMAZING. They are cheap, and make stuff like this SOOOOO easy.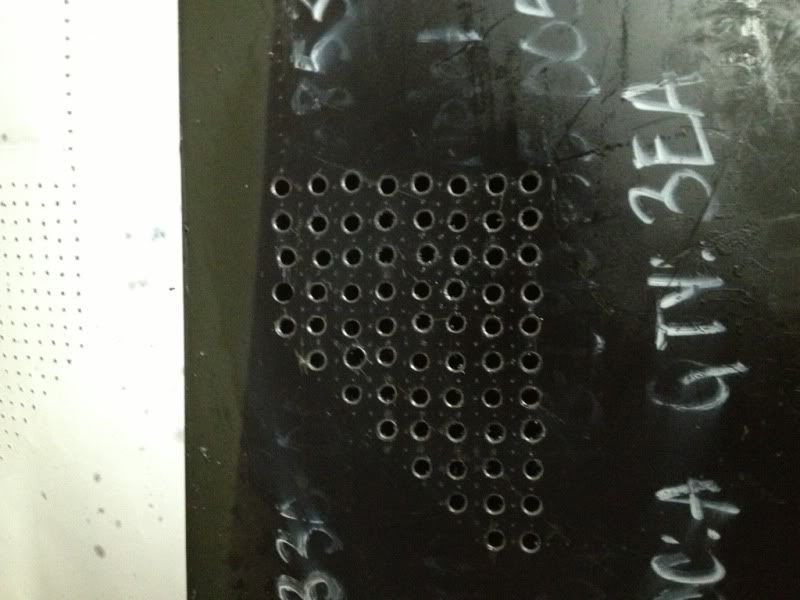 then drill MORE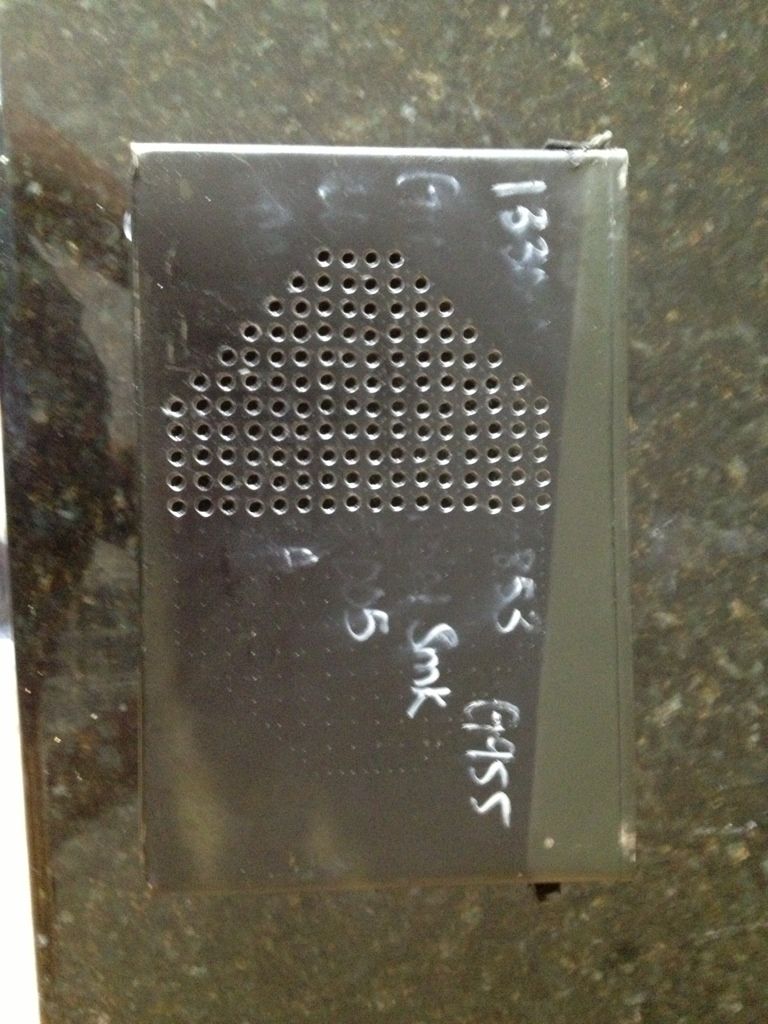 then drill MOOOORRREEEEE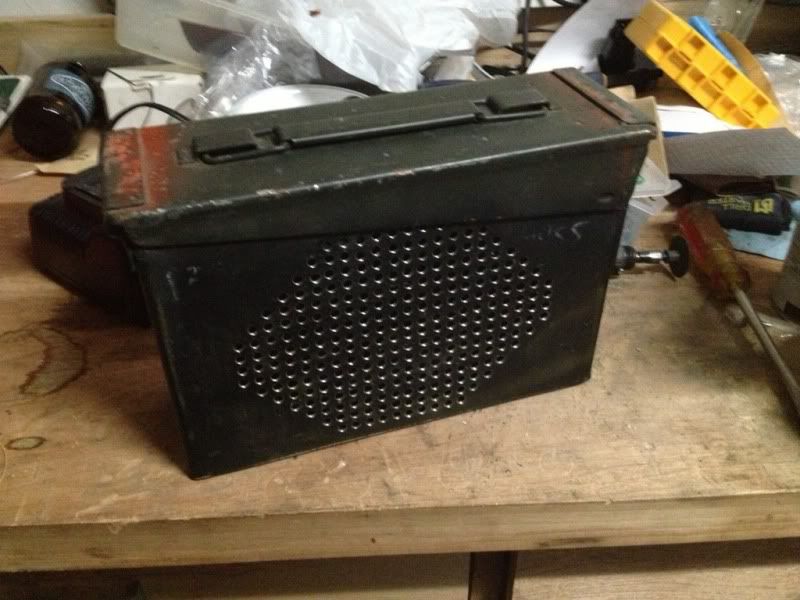 then hope you drilled straight. clean up the holes, clean up the inside, rub it all down with some sand paper.
Then i used a piece of 1/2" MDF to space the speaker off of the can, and used 2 mdf chunks to hold the main frontal piece (to which the speaker is mounted with wood screws) in place.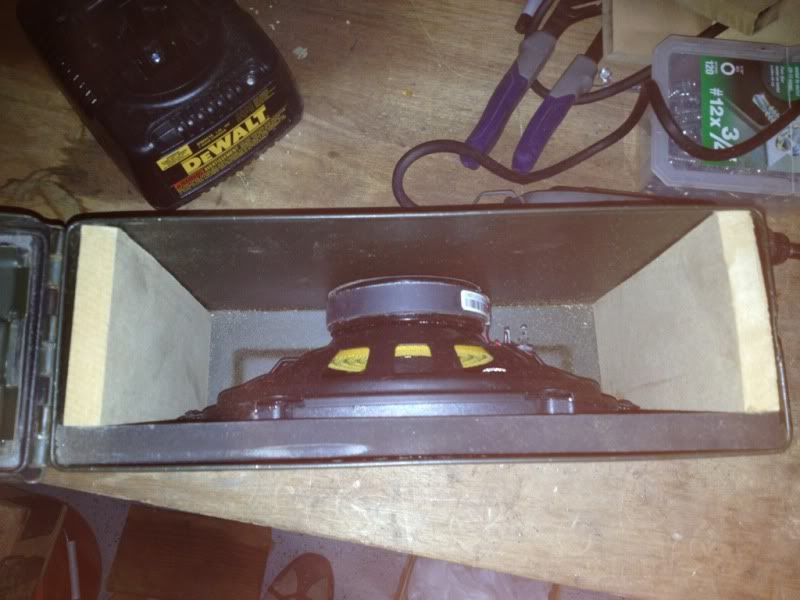 Viola. You have a speaker box that should, if done right, sound horrible. However, it'll sound better than a crappy single speaker thats running off of a STEREO radio.
But were not done. Far from it.
Lets actually clean this sucker up.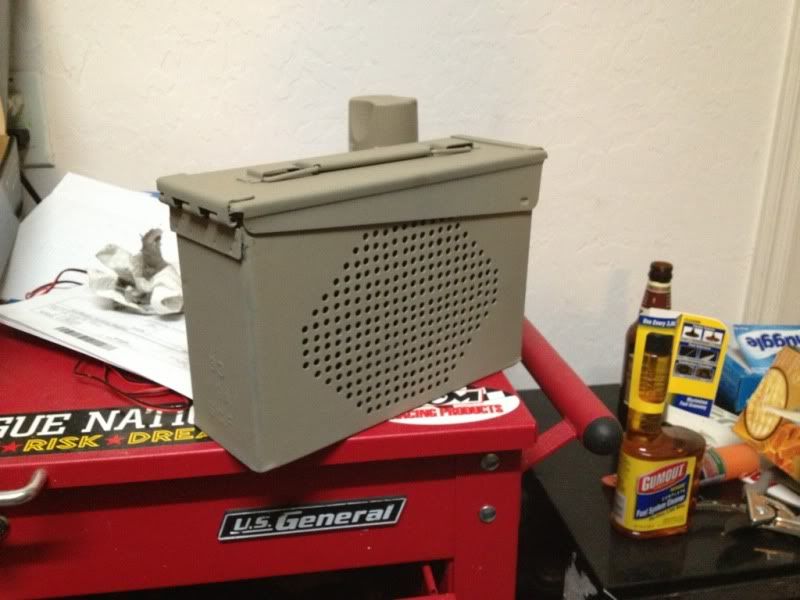 soooo...i drilled a little crooked, i know. It looks 'okay' though, in my opinion. definitely good enough for what i wanted!
Thats as far as i got today, 1 speaker completely done, and no wiring done. eek.
Tomorrow i need to:
1. make the next speaker (including removing the one in the dash that i need)
2. install terminal cups in side panels.
3. install magnets on speaker cans
4. Run speaker wire to back of the truck.
5. reinstall radio in factory location (no more speaker in the way)
6. Relocate CB radio.
7. Rock out!
I'll update along the way...I always do!