Got a TON of work done today. Had a buddy come over, i supplied the beer, and the girls made lunch.
Started off by scuffing the interior with 100 grit sand paper, then mixed up the Als Liner.
One thing to note about Als Liner is that it sets up too thick to use in about 20-30 minutes. I knew this because i read it somewhere, but it said nothing about it in the manual.
I had no way to divide the material into 2 parts to mix separately, so we just mixed it all and went to town. We figured with 2 of us rolling it wouldnt takk to long and we'd be fine.
Well, we got 2 coats in on the tailgate and cargo area, and when we went to do the 2nd coat on the side panels, it had become too thick and was sticking like clay or something, and we couldnt go any further.
The actual dry time they say is 24 hours for light duty, 72 hours for full duty. We were able to "work" on and around the bed liner about an hour after it was installed. I could go out there right now and step on it and it wouldnt hurt it, but you can still "scratch" it it seems.
The 2nd coat, i literally poured a bunch into the floor area and just spread it around, so we got the heavy use area nice and thick.
Probably only used about HALF of the one gallon kit. Would have gone thicker and more coats, but oh well.
Here's the end result: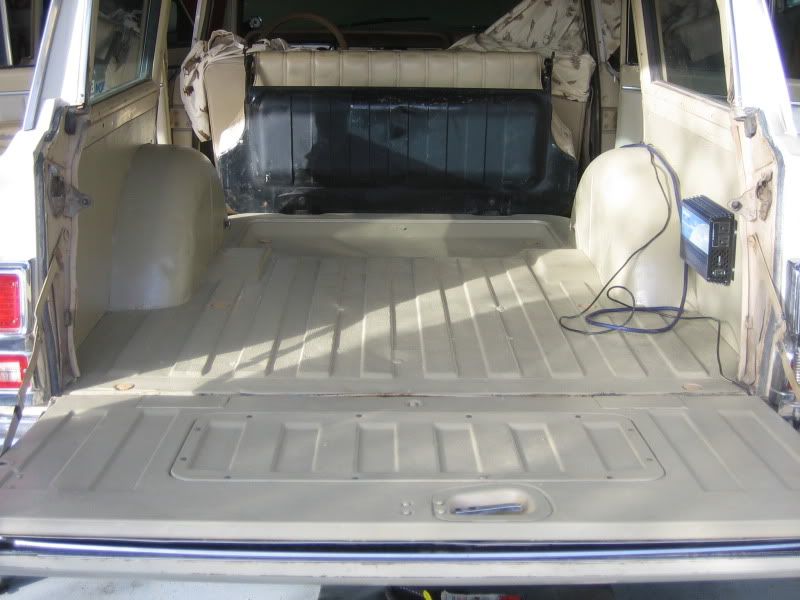 If you let it tack up for a few minutes, then roll over it it'll dry with some texture. I didnt want it rough like the herculiner i did in my TJ, so i didnt add anything like sand or crumb rubber, just gave it a little texture with the roller.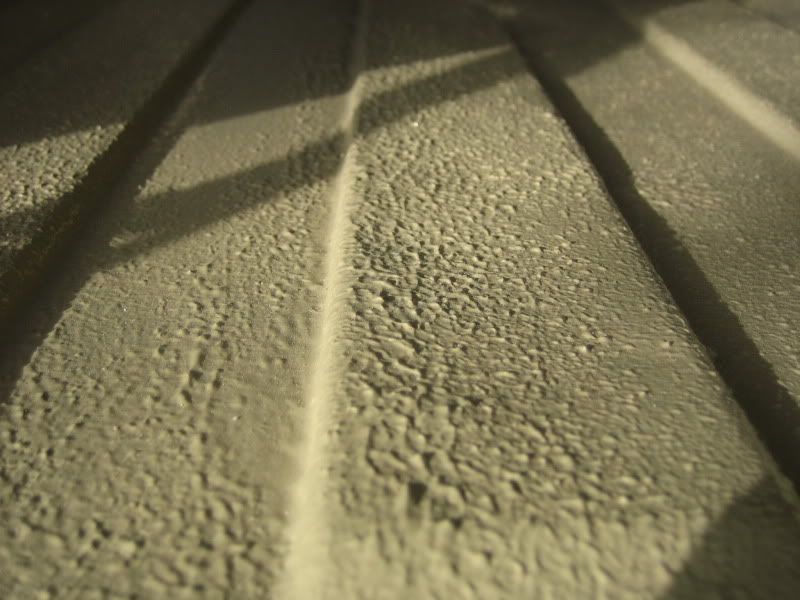 In all honesty, it doesnt really even look like anything was done if you compare it to an original pic, just looks more clean...but thats exactly what i wanted. Looks like it probably looked when it left the factory, save the texture. I was VERY pleased with how the color of the liner was soooo close to the color of the interior. P.S. those funny tan body bolt caps have since been painted a better color.
Before:
After:
After that, we wired in the inverter and got that side panel fully buttoned up for good. Tested the inverter with my dremel and it worked just fine!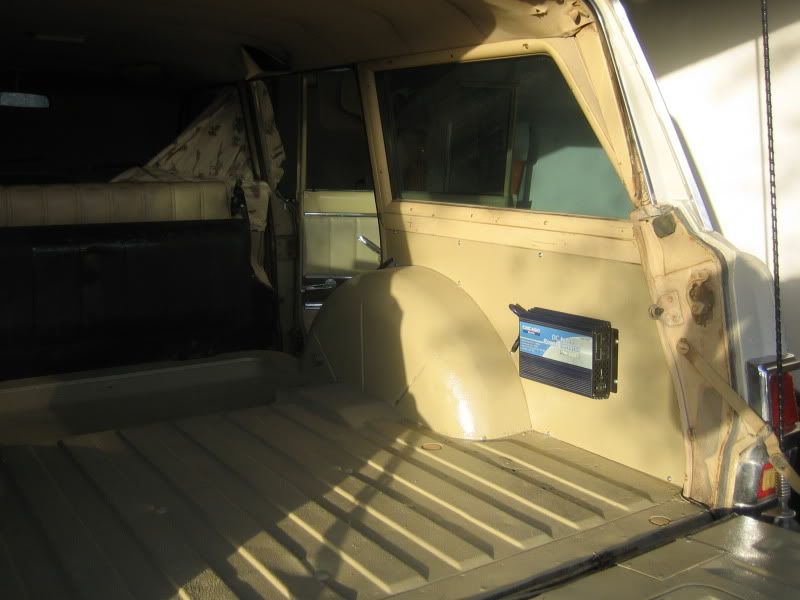 Installed the big ole 100 Amp fuse right next to the battery.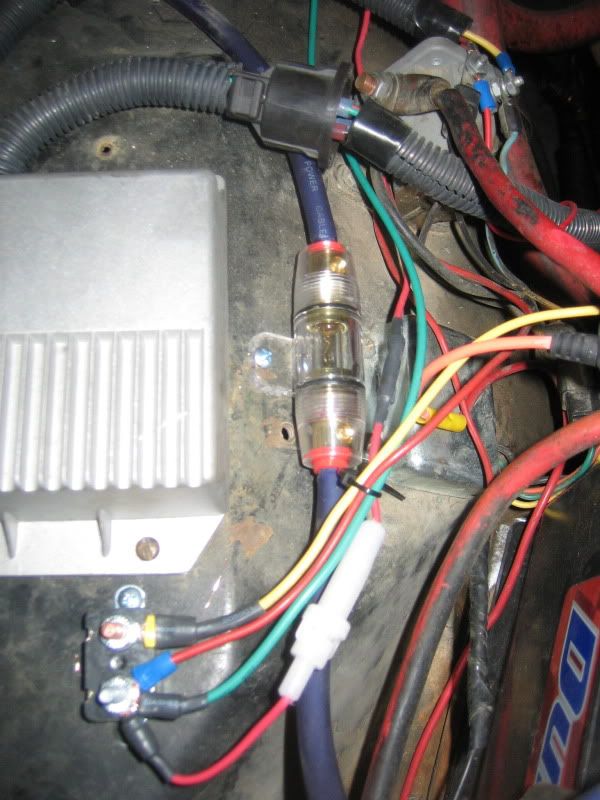 somewhere along the way i whacked my hand on something and stabbed it pretty good, just did a trail repair and kept on cooking. It aint a day workin' on the jeep unless you bleed a lil!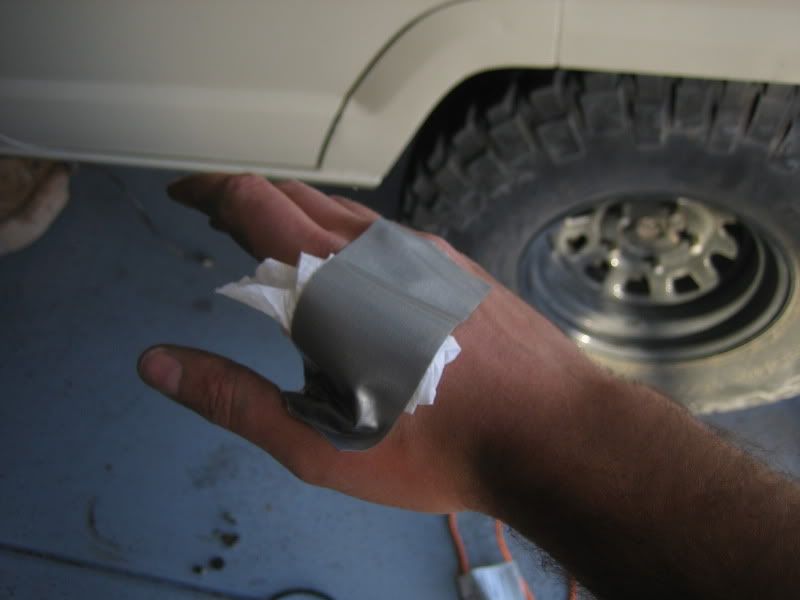 Should be handy when camping!
Final project for the day arrived while we were in the garage.
H4's son!
Install was literally plug and play. Here's the H4 casing and bulb on the right, and the original 7" sealed beam on the left.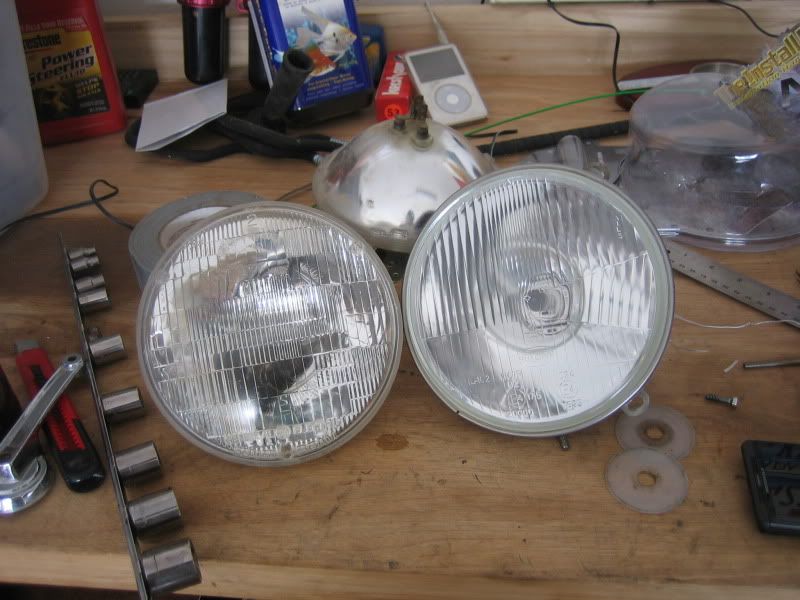 back of the housing with the H4 in the socket.
Very inexpensive, but they seemed like good quality. I'll report on how they perform on the road once the truck is driving again.
Also, I got my spare tire together. It's a brand new 32x11.50 but should be fine. I carry a plug kit and will pick up a lil compressor too, so the spare is literally a last resort. Brand new 32 is probably pretty close to a used 33 in size...and besides, i doubt 1" in diameter makes much of a difference to the differential.
Pulled it off the steel jeep rim it came with and put on my spare chrome wagon wheel.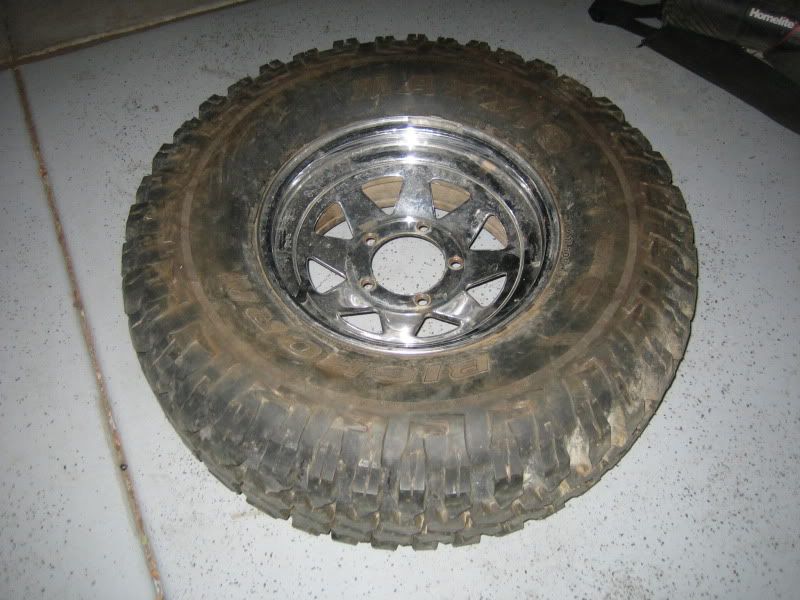 When i bought the spare the guy had a hi-lift too, it was kinda beat up, but how can you beat up a hi-lift? I was bored while doing clean up after a day of working, so i stripped it down, cleaned it, painted it, and lubed the pins and whatnot. I know it'll flake off if its used, but whatever, looks good now.
So, we are almost done, just need to get my gas tank in (still waiting on o rings and lock rings....grrrrr) and tomorrow I'm going to make a cargo deck to go over the top of the spare tire.
Other than that, i think i'm about done for this round. I want those gas tank parts so i can driiiive.