Well, I've realized that as of late I've been spendiong WAY too much money on guns, ammo, and that kind of stuff, and also on the holidays and some travel.
Well, now that im sitting at home, and have had the waggy running well enough to be driving it a lot lately, as well as missing out on the nice J10 I tried to buy the other day, I've decided that its not right to neglect it any longer!
I've had a few projects I've wanted to take care of, so i'm diving in head first and gettin shiz done!
As with most projects, I was just going to do one thing, replace my gas tank with an original stock tank, and since the truck was going to be immobile in my garage for a week or three....the project list has just kinda grown from there. The projects on the docket are:
1. Install original coffin style gas tank, and get it plumbed/vented correctly.
2. Replace faded/dangerous tail lights/reverse lights
3. Cargo area cleanup
4. new rear interior panels
5. fix floppy rear view mirror
6. mount my old 700w/1400w power inverter
7. maybe build cargo area deck.
So, I went off to autozone, bought a new battery for my girlfriends 69 nova, installed it, drove it over to storage, picked up the waggy, did the "4 car shuffle" in the driveway/garage, and got the beast back in its old spot in the garage.....then dove in.
Lets get started shall we? Dunno if some folks may find some of this helpful or not, but I figure I'm bored so I'll keep a log!
Some of this was done out of order due to needing to clear certain areas first and whatnot, but I'll focus on specific projects. Lets look at the gas tank sitch, as thats most important.
My truck had an aux tank and the original tank, original tank was removed by PO, for a dumb reason but we wont go there, and the enter system was screwed up. no breather tube, it was impossible to get a full tank, guage read wrong all the time, tank was rusty inside, etc etc, so out it comes!
I discovered that 2 of the 3 mounts were still in tact, and the 3rd mount was attached to the tank, not the truck (somebody got chop happy).
Front mount: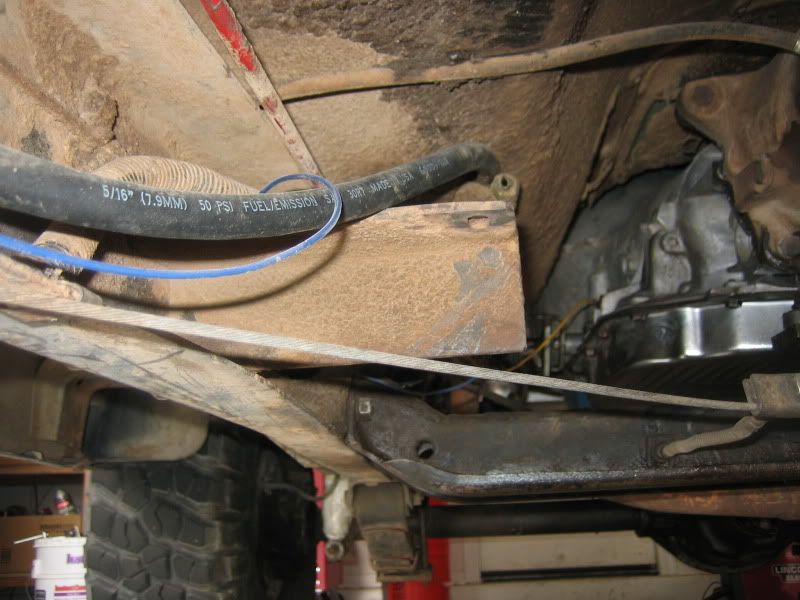 Rear Mount: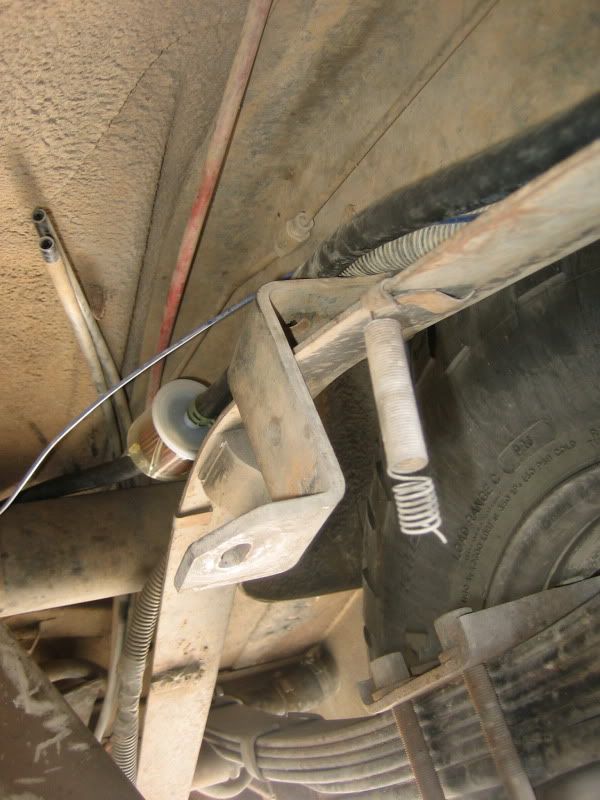 Missing middle mount and a random eye-bolt that was drilled through the floor?:
breather tube is still there...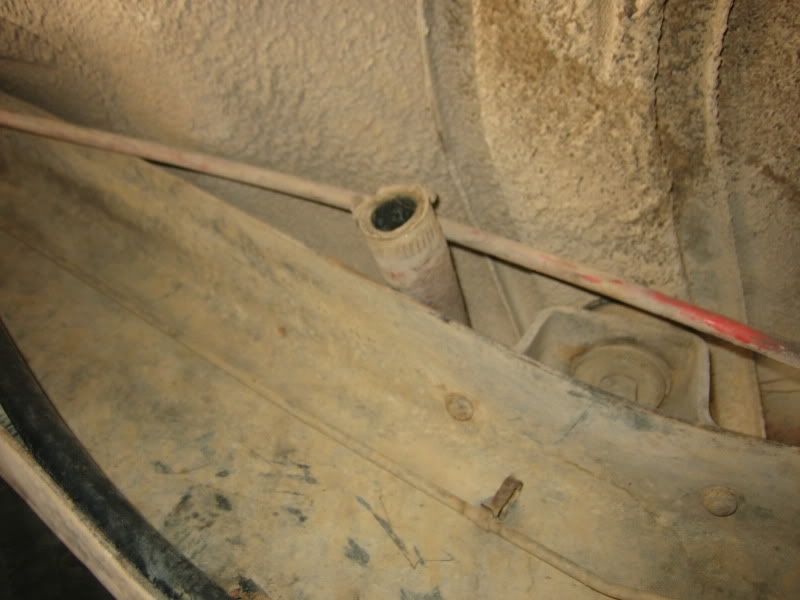 selector valve for the dual tank assembly, long since removed from the equation by me.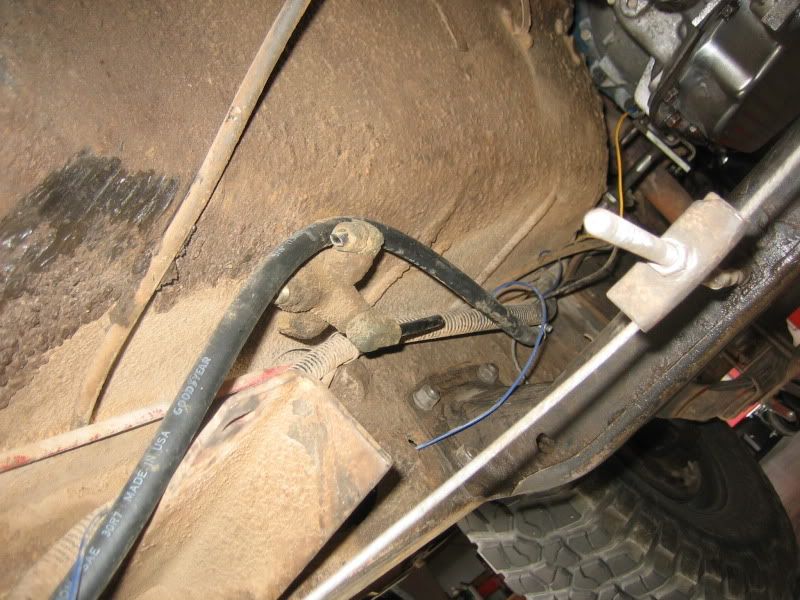 I started by test fitting the tank to figure out how it attaches everywhere.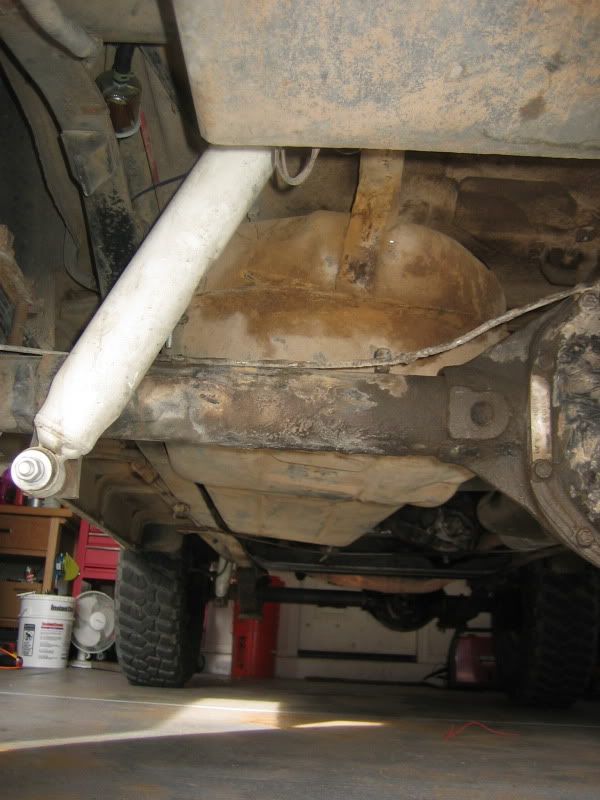 Seemed like i had it figred out, clearance was fine on all parts of the tank. Time to address that chopped out bracket.
I brought home a lil lincoln welder from work this weekend to use. Now, i'm no welder, and this is literally my 3rd weld ever, so please dont laugh at it!
I prepped the bracket by cleaning it up with a grinder.
Then zapped it together real fast.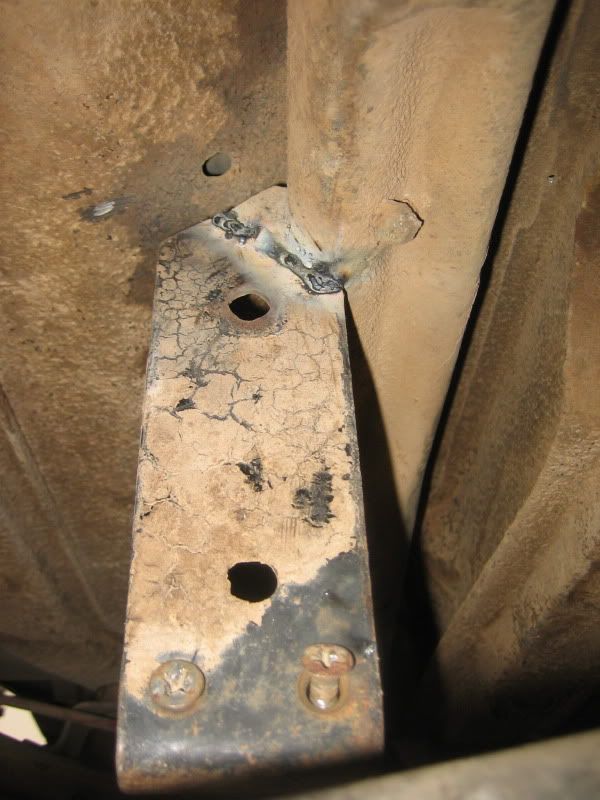 Its good and sturdy, just not pretty. If i grab it and try to jerk it around the bracket itself flexes below the weld. good enough for me.
Then I had to drop the old tank, which was bolted to the BODY of the cargo area with 3 REALLY long carriage bolts. the issue here was that i couldnt turn the nuts/washers on the bottom of the tank because the carriage bolts would just spin inside the truck, and i couldn't grip them.
Well, im smarter than a 40 year old truck, so out comes the welder!
Zap zap zap!
Unbolted everything, disconnected the lines, and started lowering the tank which had about 7 gallons in it. Looked like the truck was giving birth!
got the tank part way down and saw yet another example of how brilliant one of the many PO's was. (also, as a side note ALL the "added" wiring on this truck is the same color blue. You know how much fun it is sorting that out? Musta been a sale on blue wire at the hardware store in idiotsville where the truck used to reside)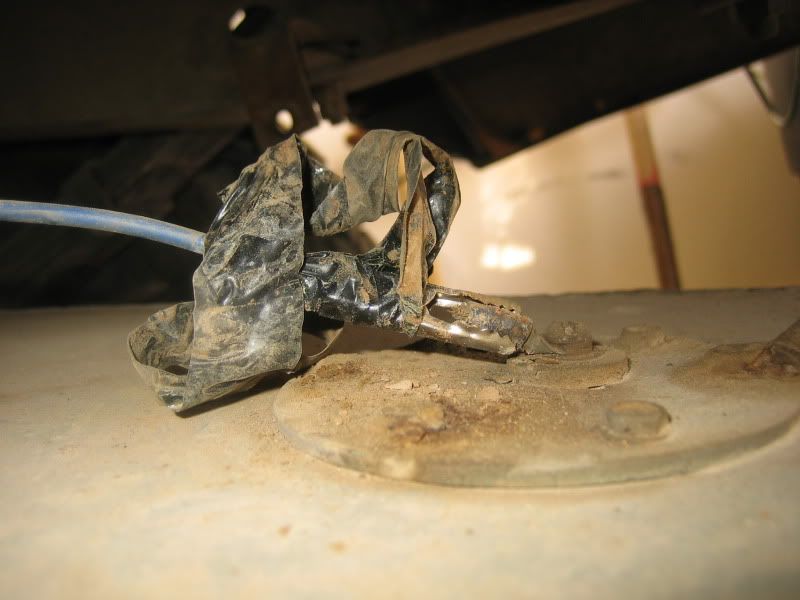 Yes, thats an electrical-tapped ALIGATOR CLIP on the sending unit...and notice how theres no ground either. I wonder if that had anything to do with why my tank never read full, only 5/8ths and used to fluctuate all the time? Sigh.
Anyway, got the tank dropped with no issue.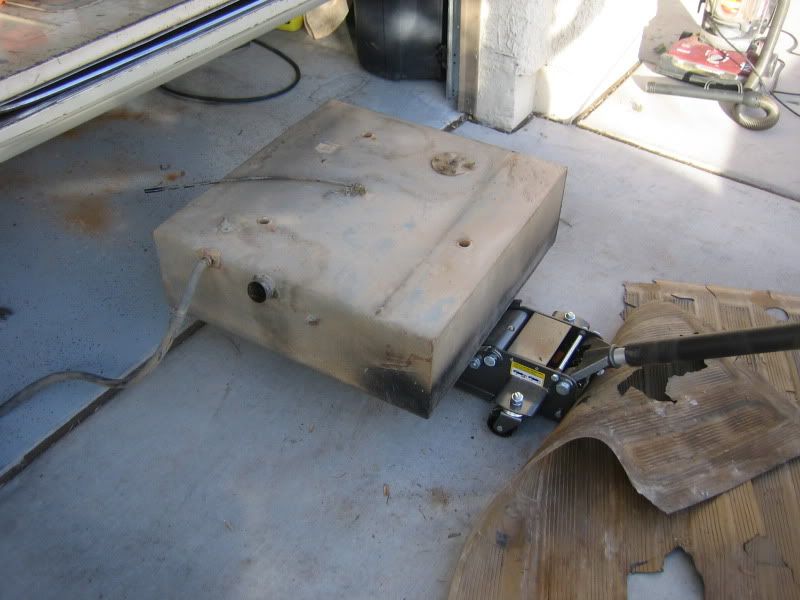 and set up a high tech draining system.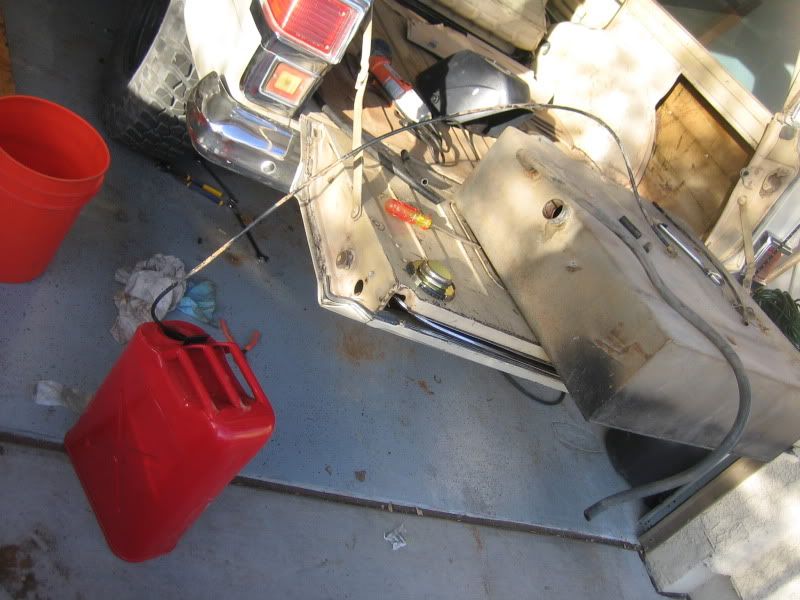 I then removed the "fill" tubes from my PO....again, brilliant.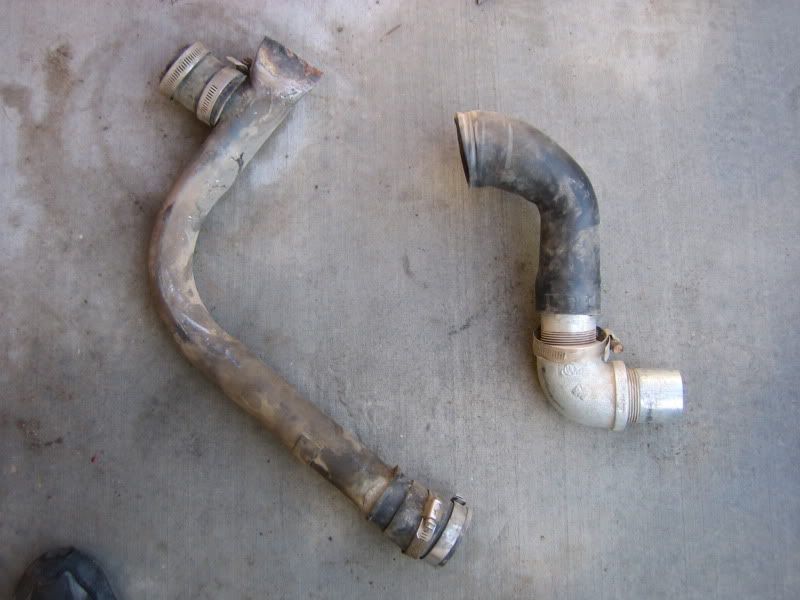 I've got an old filler neck but I dont think it'll work for a few reasons, and may have to use the plumbers special.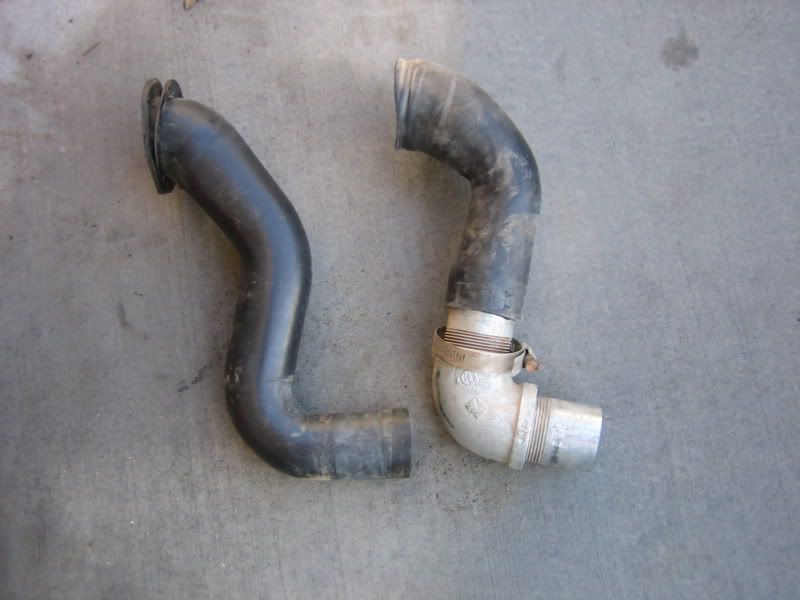 I'm going to have an exhaust shop bend a new filler extension for me, most likely. or maybe i'll just get some 2" hose and use that, who knows.
Then i cut the welds and knocked out the old carriage bolts. Now i have like 60 holes in my cargo area. Oh well, we can just call them "drains" for when i hose it out, right?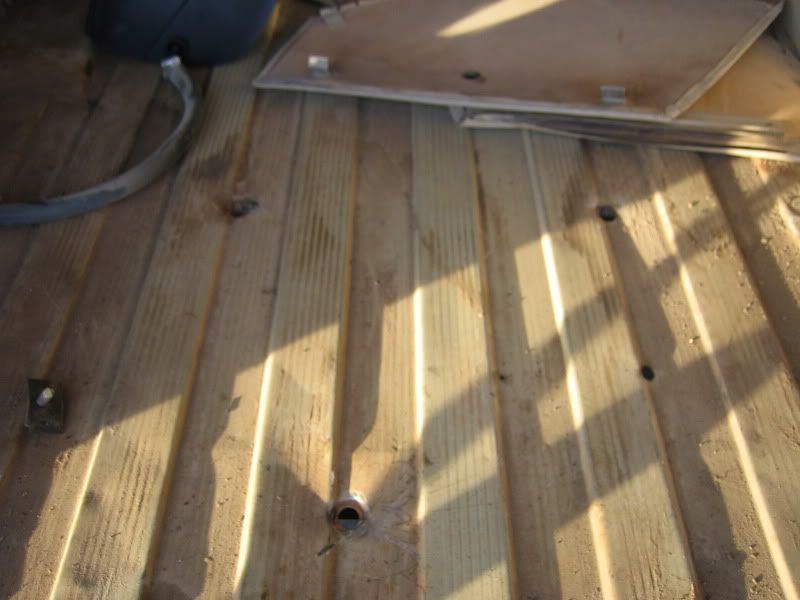 funny, this used to be a bottomless black hole that consumed any and all liquid that was put in it....now I can see light on the other side! Progress is being made. (oh metaphors and puns).
Thats as far as I am with the fuel tank. I'm waiting on a new lock ring, and some o rings from BJ's (still hasnt shipped ) to get this thing mounted up. I'll get the new filler extension bent and pick up some 2" and like 1/4" and 1/2" line for the connections and vent lines. That'll come later.