So...update....sorry its woreded funny, I just copy pasted from IFSJA. I'm still having problems...
After my big trip up north, I kinda took a hiatus from the heep because of the problems I was having with it. Now that the weather is cooling down, I've been tinkering a bit.
I had discovered that my truck was driving mostly fine, but eventually it would start running rough, then die, and act like it was flooded or vapor locked. I could get it started by waiting a few minutes with my foot on the gas pedal, then crank it with wide open throttle, then it would fire up and puke out some smoke, run like crap for about 3 seconds, then appear normal.
I found out my fuel filter failed, and there was a ton of sediment in the carb, stuck in the needles and whatnot. I repaced the filter, added 1 back by the tank, and then broke down the whole carb and cleaned it out (basically a rebuild, but no new parts).
It starts and idles just fine, warms up just fine, and I thought my issue was fixed. I took it around the block a few times which was more than it would do before, and today drove it to walmart. Well, about half way home on this super long 5 mile round trip, it started acting up. It would hesistate, and run like crap, sounded real bad, but would mostly behave if i played with the throttle. Then as i was pulling into my driveway, it shut down.
Same process to start it up and i got it into the garage. I popped the hood, pulled the air cleaner, and i could hear something bubbling. Also, a few drops of liquid dripped from some of the linkage on the carb. Cant tell if its water or gas, smells like gas but instantly evaporates when it hits the plate for the old choke tubes.
Then i open the throttle by hand and hear something sizzling kind of, or steaming, and a bunch of white vapor comes out the top of the carb.
This video shows the complete process, it dies and the vapor comes out. For some reason the sound goes out so you cant hear it die, but it still shows the vapor when i open the throttle.
http://www.youtube.com/watch?v=nclEX7qw6XQ
this is where the liquid drips from, and lands on the little cast iron plate where the choke heat tubes came out of the intake, you can see the wet spot on the left. it drips from the linkage on the left (for the secondaries, i believe).
I can let it idle for days and it's fine, doesnt have a hiccup. Runs nice and super smooth, no noise, pulls super smooth/consistent 18" Vacuum when idling after being warmed up and taken around the block a few times. The engine isnt getting anywhere near running hot, it stays at about 185 under highway driving conditions, and it takes a while to even get past 165 if just putting around the streets. It hasnt even touched 200 this summer I don't think, so this doesnt seem like a normal case of vapor lock.
Question 1. What is that? Is it flooding, or vapor locking?
When up in Ely, I got crappy mountain gas. 85 octane, and PROBABLY cut with ethanol, but i have no way to confirm this. Could this be causing an issue? I hear our engines hate that gas, and i hear ethanol gas can vapor lock at lower temperatures.
Is it possible that there was water in the gas? I'm told this is always a real possibility. I put some of the suspect gas (from jerry cans i filled in ely) into glasses to see if any water settles out of it.
I have 1 jerry can of good las vegas gas, and 1 can of bad ely gas, but I'm not sure which is which. One is 87 one is 85 possibly with some ethanol.
Here is the gas: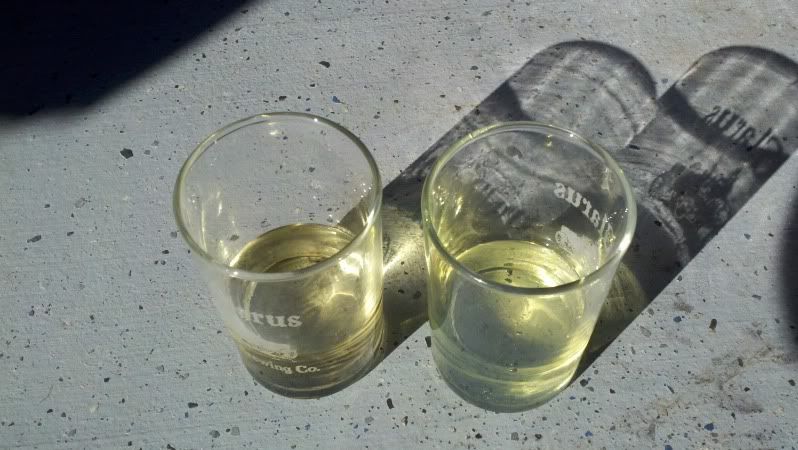 The gas on the right is clearly "hazy" almost a ghostly blue hue to it, the gas on the left is perfectly clear.
This is the same as above. The yellower gas is the "hazy" gas.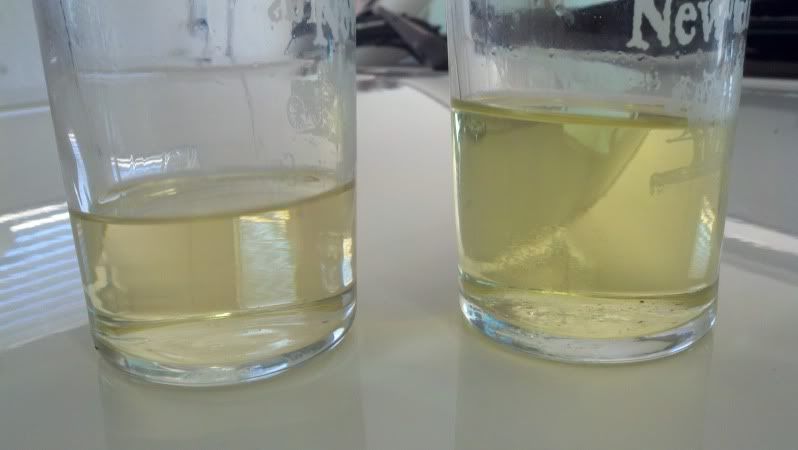 Even in the jerry cans you can tell....hazy blueish hue to the gas on the left, clear gas on the right.
Question 2: Is this abnormal? Which of these gasolines appears "normal"
I have maybe 7 or 6 gallons of bad gas in my tank i believe. I added 3 gallons of 91 octane but didnt get any more today because the pump was being a PITA.
Any help would be appreciated. My 2 biggest questions are above.