k, i checked a few things, then did some quick work.
My fuel system is currently closed, non vented, because of the PO removing the stock gas tank which had all the venting stuff. It used to just vent inside the truck by having the fill tube and breather disconnected, so it all just let vapor into the rear fender well. I sealed it up and put on a vented gas cap, but in the vegas heat it would always bloat the tank and whatnot.
I just hooked up all the venting system to the closed tank in a kinda ghetto way. I took the two vent tubes from the original gas tank, and stuck them into two holes i drilled in the breather tube. I dont see how this would be any different than venting from the top of the stock tank. The gas expands, vapor rises up the filler neck/breather tube, and it SHOULD be able to vent though the check valve in the fender, then be sucked from there up into the vapor canister under my hood, and then through the vacuum port at the brake booster.
After driving it yesterday, it was spilling vented gas vapor down the side of the truck, out from the gas cap. That didnt happen today, but then again it didnt sit in the sun all day.
this issue could also be exacerbated by the fact that my exhaust dumps under the truck now, and could be heating up the tank as I drive maybe?
Anyway, i hooked it up as so, for the time being, to see if it helps. I figure excess pressure in the tank cant be a good thing, and this system should also allow it to breath while sucking in gas, correct?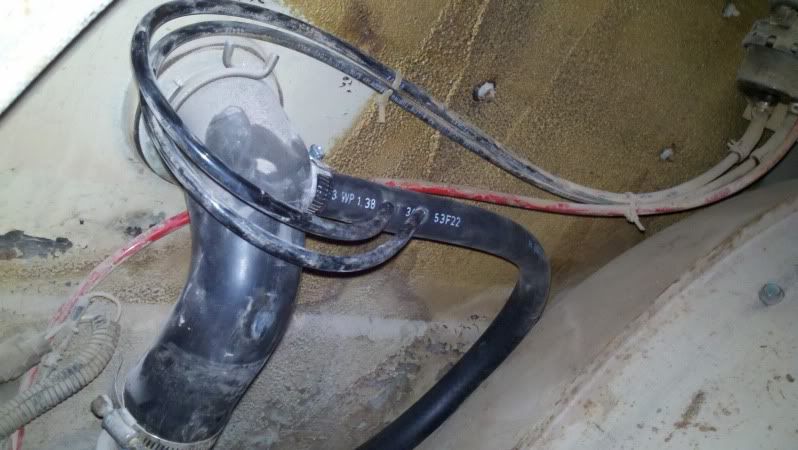 Dunno if that'll help the situation at all, but it should help the truck overall.
I took it for a drive today with an added ground, the moved fuel lines (one was real close to the valve cover, as mentioned, and the one under the fuel pump was touching up against the lower rad hose, so that wasnt good im sure).
I drove it for a good hour I'd say, in the setting sun, at about 95-98 degrees outside, truck was running at the same temp, and it ran great? Only thing i can think is that it wasnt sitting in the sun all day, and wasnt in the direct sun while driving for most of the time. I'll take it out in the heat tomorrow and we'll see whats up.