Okay. Update time.
The last post I made in here was that we were headed out for a camping trip.
Trip was very frustrating. I discovered that when on the highway, on any sort of grade, if i was on he gas my truck would start vibrating pretty bad, and my driveshaft would shift about 1" over into the muffler and cause more noise and more vibrations. There was about 1" between the muffler and DS as mentioned, so something was up, this thing was shifting like crazy under load.
On the way home it was bad, I was literally doing 50 not giving it any gas because of how bad it was getting on hills. Without a hill i could cruise at 65 no problem.
Got back home and first thing I did was order a new poly transmission mount because i figured mine may have been allowing movement. it looked sort of "squished"
Well, think I needed a new one?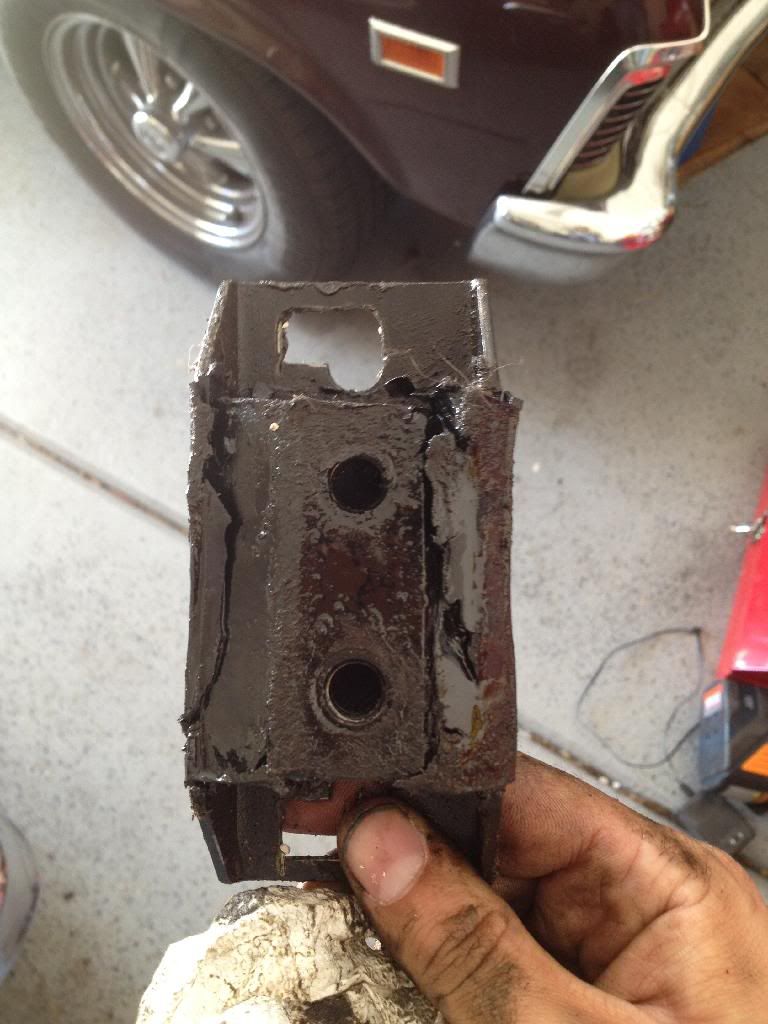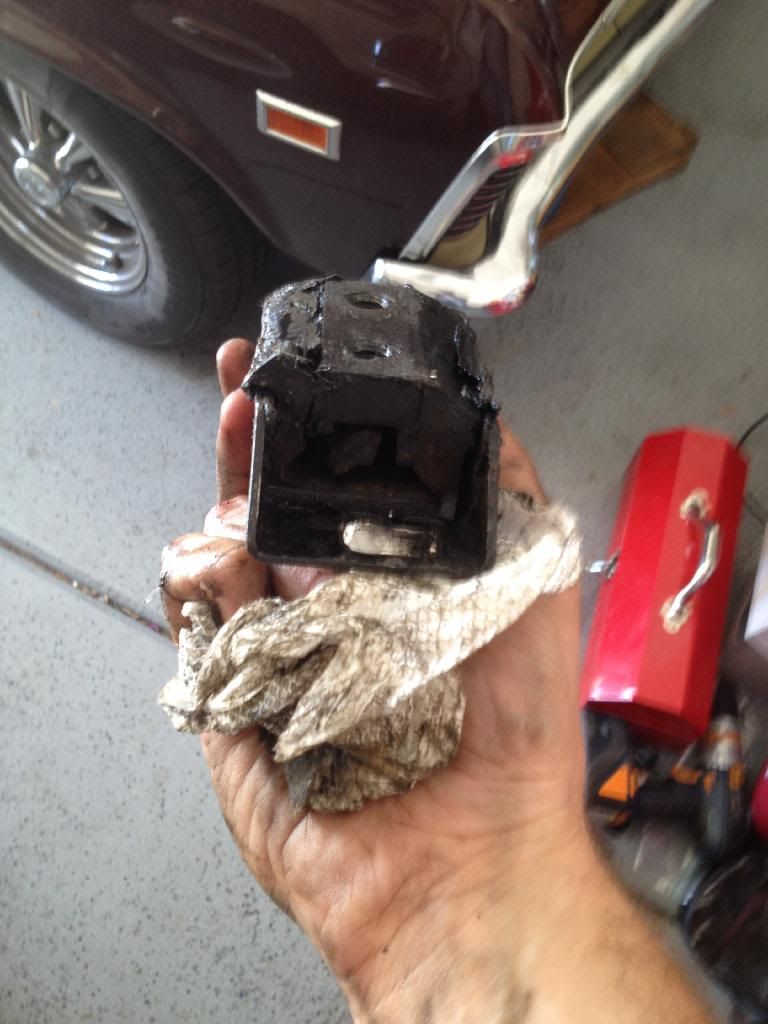 Installing the poly bushing actually lifted the t-case about an inch.
Okay, got that out of the way. No more rubbing on the muffler, but the vibes were more noticeable because of the poly bushing, and they come into play sooner now, or at least I can feel them sooner. Time to fix this crap.
chopped out that emissions related thing in front of my muffler since there wasnt one from the factory....and moved my muffler about 12" forward. This thing is LOUD now without that restrictive item in there.
Took it to a drive line shop hoping it would be able to be minimized with some angle adjustments or something. They described my drive line angles as "atrocious" and stated the first thing they would do is try a CV shaft. This was after taking them on a test drive.
I do not have confidence that that was the answer due to a CV shaft not really being ideal for a compound angle. I was going to spend $450 and not be happy. Some agreed with me some agreed with the shop.
I went back to the drawing board and started to consider my options.
1: Convert my old 5 lug axle to 6 lug, to get the diff back closer to the center, and then re-gear it to 3.54 to match my front. Well, this would cost around $1000 (500 for shafts, $400-500 re-gear, and then some custom work to make the 6 lug brakes and whatnot mount to the flange on the housing).
2. Find a late model wagoneer rear end that is centered, regear it to 3.54 (only options were 2.97 and 3.31 those years), then clean, line, and reinstall my rear gas tank so i could remove my stock tank that is in the way of the centered diff. I figure $100-$150 in the gas tank, $200 for an axle, $400-$500 regear. Still pretty spendy.
3. Find the "unicorn" which would be a direct replacement axle. 1974-1979 wagoneer or narrow track cherokee, with a stick shift and dana20 (had to be non quadra-trac) , which means basically means it was a stripped down model. These are out there, but they are very rare, I have had my eyes peeled for one for a long time and not found one. All i would have to do is find one, and bolt it up.
So, i was looking deeply into option number 2, when I found my unicorn. Contacted JW Jeeps out by Sacramento, and they could get me exactly what I needed. 1976 Narrow Track Dana 20 equipped cherokee with a 258 under the hood, which meant standard was 3.54's
Only issue is they wanted about 2.5x what I paid for a PAIR of axles, for just the 1 axle. I figured add to that the fact that I need to drive 8 hours one way to get it in a rental car this was gonna be an expensive endeavor.
Well, turns out that they didnt have it THERE. It is in Montana. They gave me a break on the price but it was gonna be $125 in freight to get it to their yard in Sac Town. That put it right back at the original price they quoted me. I asked about Vegas, and for another $25 freight, it can be shipped to a loading dock here for will call.
I contacted Montana Overland to check in with them on getting an axle, they said they had nothing for me and suggested JW Jeeps. Upon getting that news, I called JW back and said to send it my way.
So, I just paid over $600 to get a 40 year old axle shipped to me, sight unseen.
I'm an idiot.....the things we do. Thats about 3x what it SHOULD cost at a junk yard, but whatever it includes freight and I wont have to monkey around with anything.
So hopefully it'll be here in the next week or so, and we can get back to life as we know it.
I will do new wheel bearings, swap over all my fresh brake components to this one, and bolt it up under the truck. Maybe even throw in my locker while I'm at it. Don't have to move the tank, dont have to regear, nothing like that. So i guess rarity and convenience come at a cost. This will put it back to how it came from the factory, except it's 6 lug. Hopefully that'll get rid of enough offset (it's still offset about 3") to cure my vibes.
So, there should be some updated in the near future and maybe this thing will be back to normal.