Maine-iac XJ part deux
---
CURRENT PHOTO: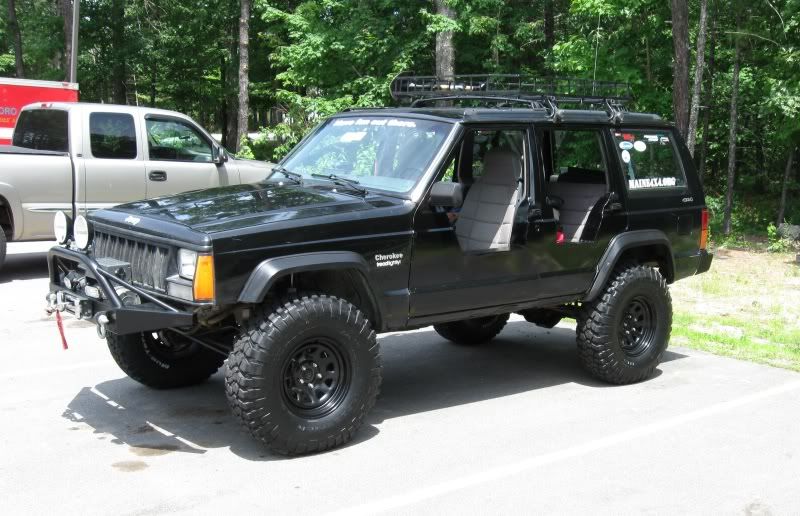 So my first build thread has long since died off.....
My Maine-iac XJ - JeepForum.com
I made a lame attempt to update it but gave up all hope.
Because my current plan to mod my Jeep involves a bump in tire size I figured I should start a new thread so those who like my Jeep wouldn't have to sift through pages of banter from the peanut gallery.
Well, where to start the new thread...maybe I'll do a quick history because we all love pics and specs.
Currently,
1996 XJ SE Black in color
Suspension and tires:
4.5" lift (RC trackbar w/drop bracket, RC x-flex lower arms, RC nitro shocks, IRO HD tie rod, RC 3" coils + 2" spacer, OME 2" HD packs (actual 3") + RE 2.5" AAL with 4* shim)
33x10.5 BFG KM2 on Cragar D-Windows
JKS Quicker Disconnects
YJ brakelines
Armor/recovery:
Appalachian Armor t-case skid
Rear, JCR Offroad stage 2 bumper
Front, Nates Slimline with a Champion 8k pound winch
Custom 2x4x1/8" HD rocker panels
Electrical Schtuff:
Pioneer Premier speakers/Kenwood head unit/MTX Thunderlink 10" sub with built in amp
Optima Red Top
Uniden CB with a generic whip antenna
Autopal H4 headlights with a wiring upgrade
Hella 500 driving lights and some $20 fog lights.
Engine/Drivetrain:
Flowmaster Super 44
IRO Hack 'n Tap SYE w/front shaft
Custom Touches:
Custom roof rack mounted on Thule gutter mount rails (ski box in the winter)
Custom half doors made from OEM doors.
Custom receiver mounted tire carrier.
I think that covers pretty much everything big...here's the current project list:
*Brown Dog motor mounts (Got them, just got to install them.)
TIME FOR PICTURES
(hooray)
They progress over time, the stock photo is from about 1.5 years ago.
STOCK: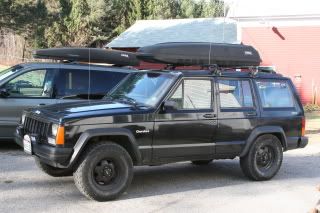 2" front, 3" rear and Coopers: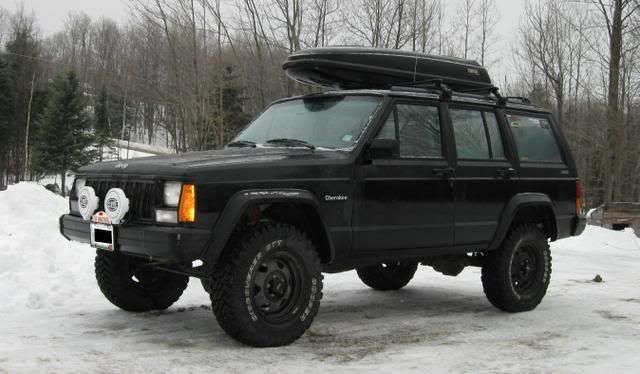 JCR Bumpah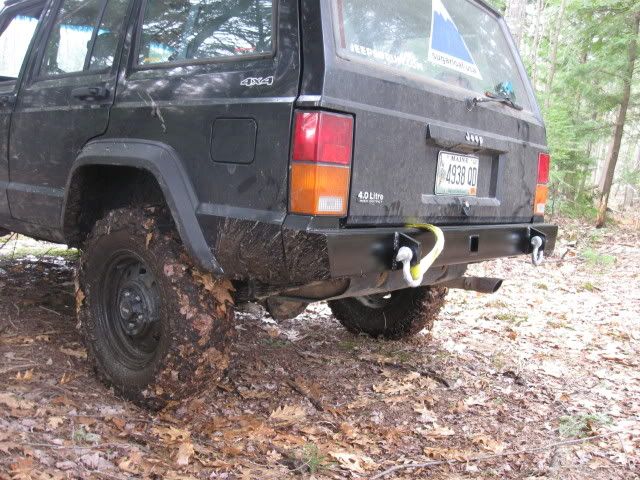 3" coils out front to level her out: (first time I broke that mirror, have since re-epoxied it 3 times.
)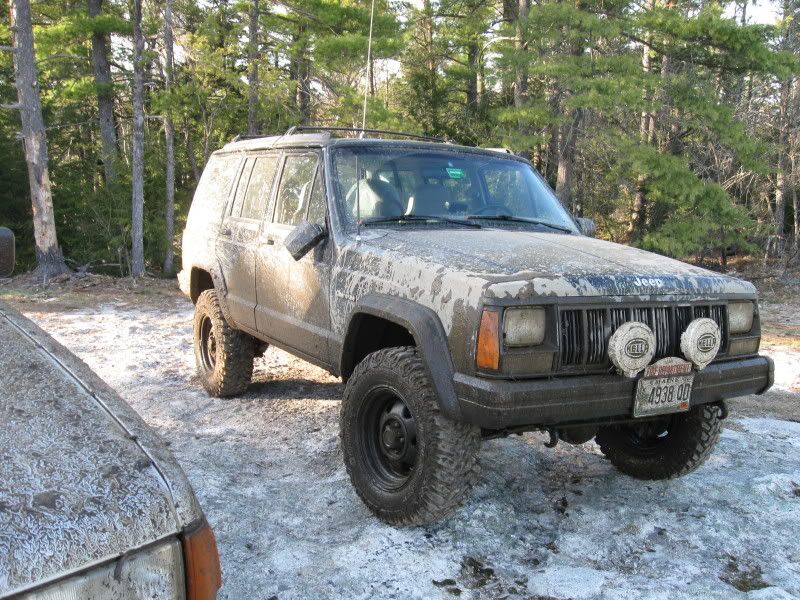 Waxed her up real good like: (this one deserves 2 pics because I've only done that twice...too many scratches and dents now to bother
)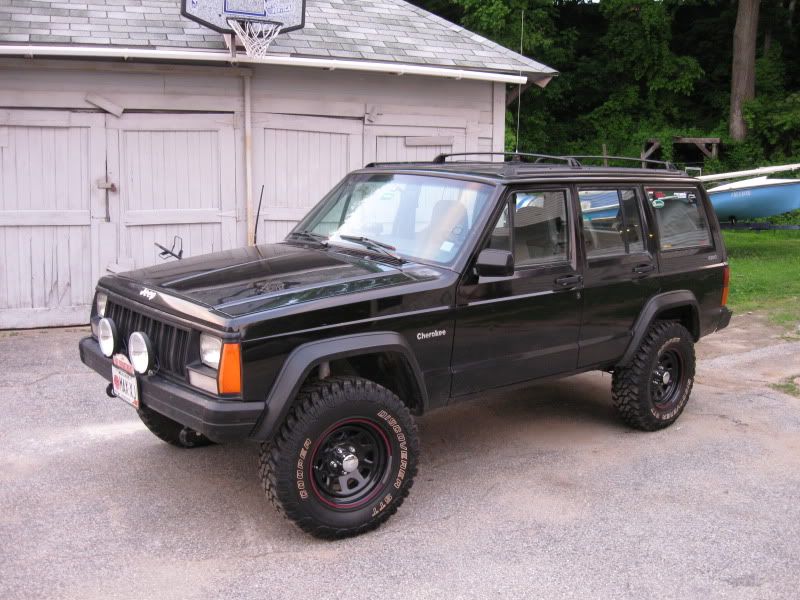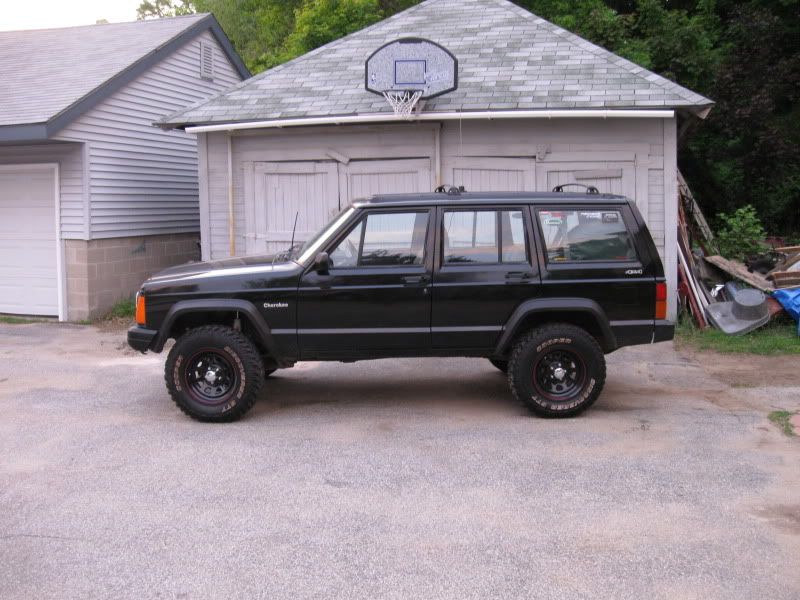 Floors
Photo of my rig last fall before college started and mods halted for a few months. (Hella 700FFs on the front bumper)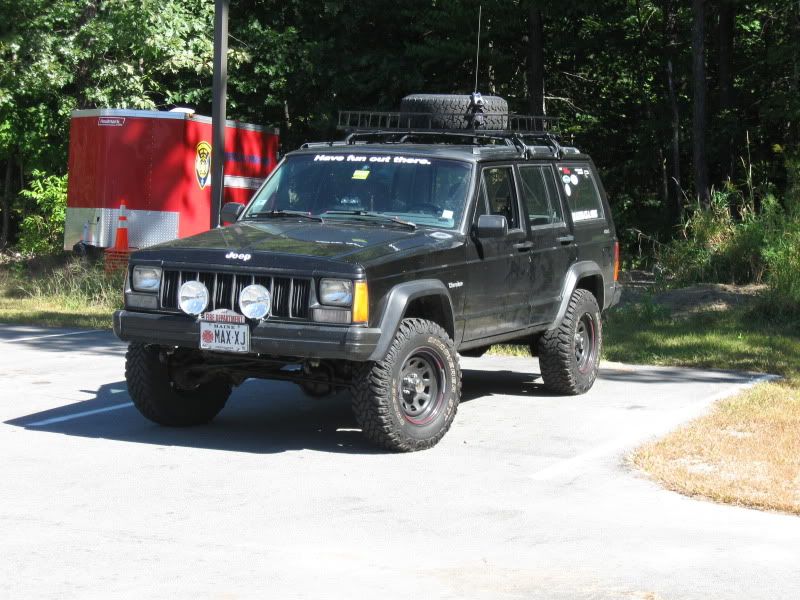 I'll add some more sweet photos in the next post.
---
-Max
Black 1996 XJ
Build Thread: My Maine-iac XJ part deux
4.5" lift of assorted brands, 33x10.5 KM2s on D-Windows, JCR rear bumper, Nates Slimline w/Champion 8k winch, custom half doors, roof rack, and tire carrier, Maine Woods dents and pin striping, and various other cool things.
www.maine4x4.org
Maine Jeep Club Member #1 Firefighter Jeep Club Member Black Jeep Society Member #163Survivalist Jeep Club Member #14
---
Last edited by 1996BlackXJ; 07-04-2010 at

10:16 PM

.