Registered User
Join Date: Jan 2011
Location: Chapel Hill
Posts: 98
Seems that my driver side front sway bar link has a bad bushing. Maybe I tightened it to much putting it back on after the lift, maybe it's because it's 13 years old, or maybe I just suck
Either way, it's time to order some sway bar disconnects. I just hope it's the only thing wrong with it right now. Lots of popping and wiggling when I turn.
Took a closer look... sway bar link broke. Order some quick discos and will get them installed this weekend.
Got them put in yesterday. Had a little trouble getting one factory bar out. Pitman arm remover was just wide enough to not fit right on the sway bar, but I got it to work finally.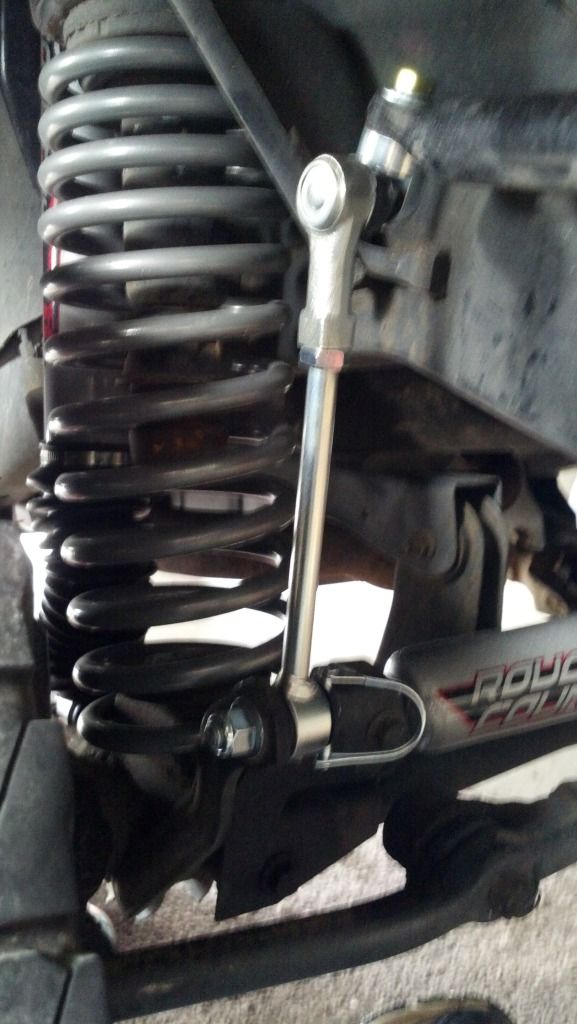 Here is a pic of it disconnected and mounted on the bracket.
Broke both bolts on driver side bracket. Got to get the broken pieces out, but its functional for the road.
Well I might have a craigslist deal in the next day or 2. Found a guy looking to down size tires on a jeep he just bought. He has 33X12.50 Firestone Destination A/T's that he wants to trade for some good 31's. I think my 31X10.5 Falkens are perfect for him. I'm hopefully going to meet him tomorrow and if all goes well I will be getting me a 1.25" body lift and 1" MML and be sitting very pretty.

Anyone have any thoughts on this trade? Will I have problems running 33's for a short time on only 2.5" of lift? I was running 31's on no lift so It shouldn't be any worse then before right? Will I have rubbing problems on full turn with a 12.50 Width tire on crager soft 8s with 4" of backspacing?

This is fun either way.
Well I did the tire swap. The spare ended up being a Mud Terran tire and it won't fit the factory tire holder. I'll have to fix something up for that. I'm pretty happy at this point. I think it looks much meaner now. It did make me notice going from a 10.50 inch wide tire to a 12.50 wide tire that I need to relocate my rear track bar. Passenger side sticks out between 1/2" to 1" farther then driver side.
Here is a pic of it. Don't make fun of my parking job... it's a big space and the lady in the suburban next to me has plenty of room.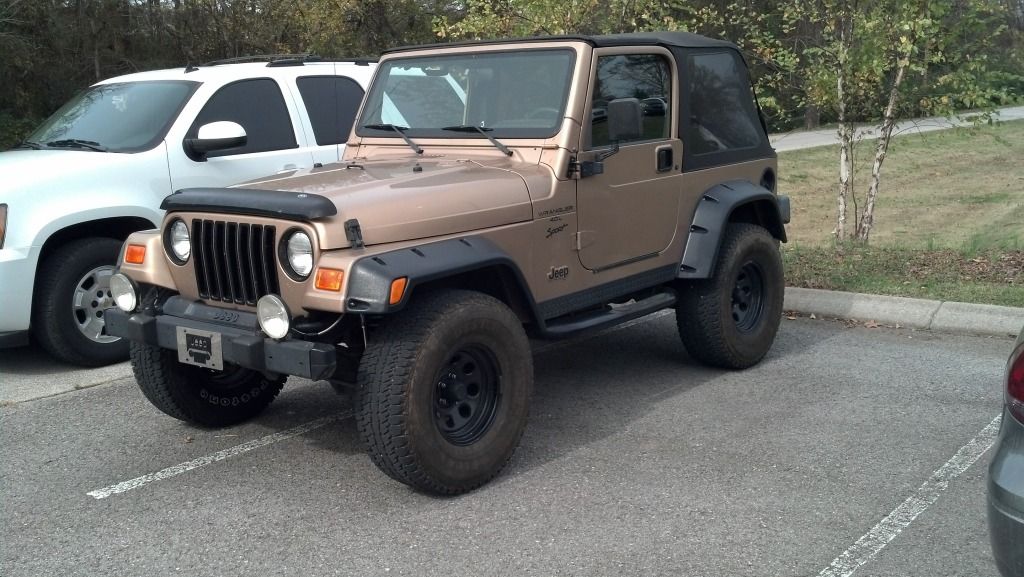 Registered User
Join Date: Sep 2010
Location: Mt Holly
Posts: 590
I wouldn't waste money on shock boots... from my experience they hold more moisture and crap than they deter.
---
'81 CJ8 Scrambler
'07 JKUR
'12 GC HEMI Overland
Well I got some Xmas presents in the mail last week. Still need to find to install. 1.25" Body Lift, 1" MML, rear track bar relocation bracket, rear hitch receiver clevis, and a nice tow strap. I guess I've been good this year so Mrs. Clause didn't mind me picking up a few things for myself. Plus I had to spend 2 hours in a shoe store shopping for her some boots... she owed me.
Got the rear track bar bracket put on yesterday. What a PIA. Rough Country continues to let me down in the instruction category. First bolt to remove had the gas tank in the way and after 13 years of being there it didn't want to budge. PB Blaster is my friend.
After getting the bracket on and the one side bolted back in place, I had a hell of a time getting the other end to line up. After about 5 different attempts with the jack, I found the sweet spot and got it in there. ( that sounds really dirty ) Seems to ride a little better now, but that might just be my imagination.
I've found that I am not a mechanic by any stretch of the imagination. I'm still a newb. I'll keep trying, and keep screwing up, but eventually I will get better at this stuff. It's just like anything else... you get better with practice. I hope to start getting better at this stuff real soon.
Registered User
Join Date: Jul 2012
Location: Winsted
Posts: 1,554
I definitely like the choice in tires. Seems like it was a wicked good deal, and they definitely make it look more aggressive.
Quote:
I definitely like the choice in tires. Seems like it was a wicked good deal, and they definitely make it look more aggressive.
Thanks. I still like the Falkens I had, but couldn't pass up the 'wicked good deal' on going bigger. I haven't had a problem with the news either, so I think I went from one good tire to another.
Currently Active Users Viewing This Thread: 1

(0 members and 1 guests)