Registered User
Join Date: Jul 2011
Location: Fullerton
Posts: 22
Low Budget TJ
---
I got such a deal on this 01 TJ from a girl I know. It has been garage kept from day one and even had covered parking at her work. Car Max was going to give her $3500 so it took it from her for that. Its an SE which isn't ideal but ran good.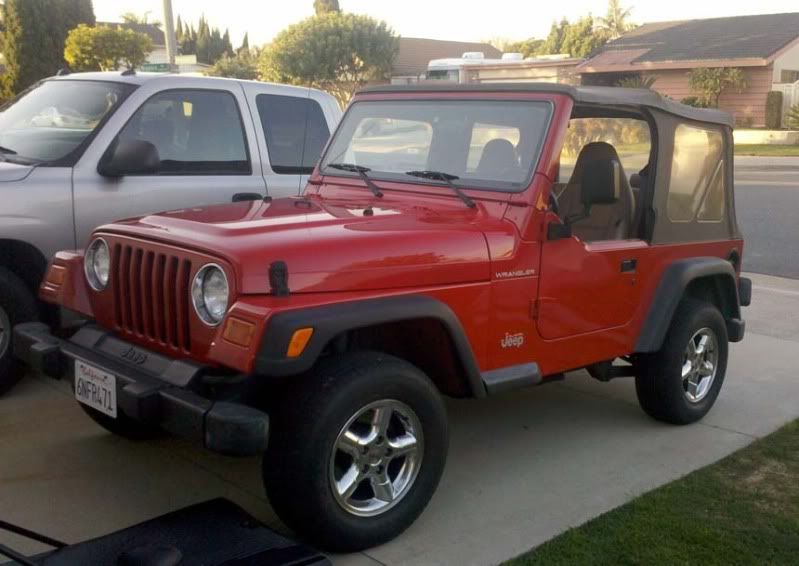 First thing I did was get the tub Linex-ed looks awesome and the price was right (free). Painted the headlight bezels.
Then it was time for new rubber. I painted the stock rims a metalic semi gloss black just to she if I liked it. If not was going to buy new soft 8s. I liked how they came out so kept them.
Next came the BB and 31" KM2's. I'm starting to feel good about her now.
Took her wheeling in Big Bear and really liked how she did. Thinking of a front Aussie locker next.
Then a big setback hit. Number 3 piston dropped part of her skirt on my way home from work. Wanted to upgrade to a 6cyl but the wife wasn't going for that since its my toy and not really a daily driver. Big choices to make -- New Wife or New bigger motor
. Kept the wife and keep the 4 banger.
Pulled the engine and took it to Orange Engine for a complete rebuild.
Replaced the original clutch which still had some life in it.
Wife was real funny now. "Don't spend any more money" "I though you said is was only going to be $??? ect. ect." Then she says "Just do it right" Duhh what do you think I'm doing
That new motor is sooo nice. Newer Hi performance cam and she started first try. No smoke and no blow by. SAWEET.
She's running sweet now. It's a brand new 4banger Jeep!
Want bumpers and a front locker next. Have to wait for the mad money to build up again.
Currently Active Users Viewing This Thread: 1

(0 members and 1 guests)