Alrighty, the weather was awesome in Knoxville today so I had to take advantage. I got my OR Fab cage in, my smal LED markers wired in, and I started on my steering.
Here's some pics of the cage. I had to modify the frame and brackets for the Softopper. Nothing too serious just took some extra time.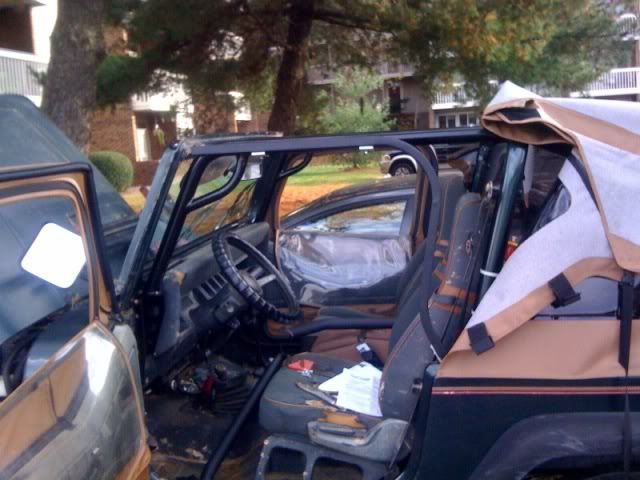 The LED markers only come on when the turn signals are on which I was told earlier in the thread. Though I tested them out and they came on with the lights and blinked before I actually wired them in. Not sure what happened but I may just add another 12V feed to the LED's when the head lights are on.
Well I started on the bracket to move the steering box forward but I ran into a problem. I cannot get the bottom 1/2" bolt out that bolts the bracket to the underside of the frame. It's loose and it spins freely but it will just not come out. I think there is some slag or something on the end of the bolt keeping it from coming out.
I'm not sure what I'm going to do at this point. I don't want to cut into the frame as I do not have a welder to repair it (but if necessary I will). I considered drilling through the 1/2" bolt and see if it will knock off anything that is on the bolt. I thought about drilling a 1/2" hole on the side of the frame so I could see what the deal was and if I could fix it from the hole.
Anyone have any good ideas? I'll try to take a pic tomorrow. It got dark on me.