Quote:
Originally Posted by
Louie4
Thanks man!
I found a deal from another forum member on new 3.5" Black Diamond springs. Rusty's Off-Road was selling them for $35 a spring. I have been running them for over 6 years and they have been abused heavily. I couldn't pass this deal up because they springs were cheap and they were all the rear springs with 5 leafs. The shipping was $83 but the total for all the springs was $224. I ordered them yesterday and guess what arrived today.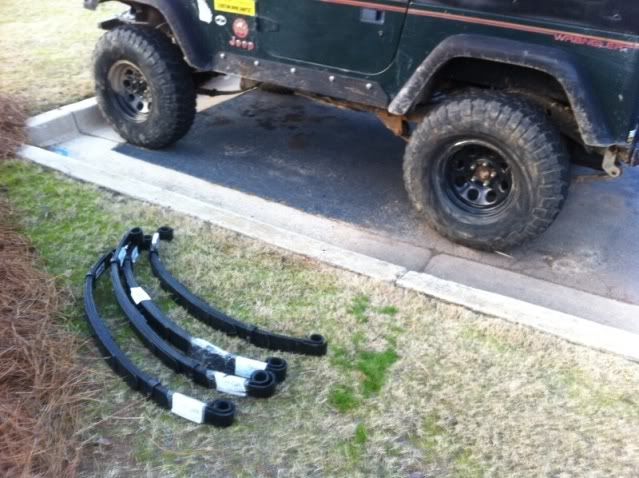 Good deal on the springs man! I am expecting that at some point I will be replacing mine.
You're doing a great job on the ole YJ. It's amazing how much time, work, and money you can put into one of these things, just to keep it running and maintained. If we only had to buy mods we would have monster rigs by now
__________________
'95 YJ 2.5L "Mabel", Muncie SM465, np231J, HP30 TJ shafts, JK D44 Detroit, 4.88's, 255/85r16 KM2's, SUA lift, body lift, JK steelies, winch, flat tow bar, CJ/M38A1 front clip, CB, Bestop seats
'98 Lexus LX470 UZJ100 black trim and rims, 4.7L V8 4spd auto, full time with center diff lock, open 4.30 gears, 31" Yokohama HTS, AHC delete, TJM torsion bars, 80 series coil springs with 60mm spacers, custom shock setup

going to EJS 2014