Research, research, research some more. There are so many adjustable track bars. Most of them have those "certain" other joints, even JKS.
There really is only one, in my opinion, that has the "grit" to be installed on Littlebee. That track bar is my by Teraflex and here's why...
Aside from having factory bushings at both ends it also has a cool feature that most others don't. It adjusts just like the drag link does with a sleeve and two clamp bolts in the middle. This meant that I could really fine tune where the axle sits under the frame, and I like that.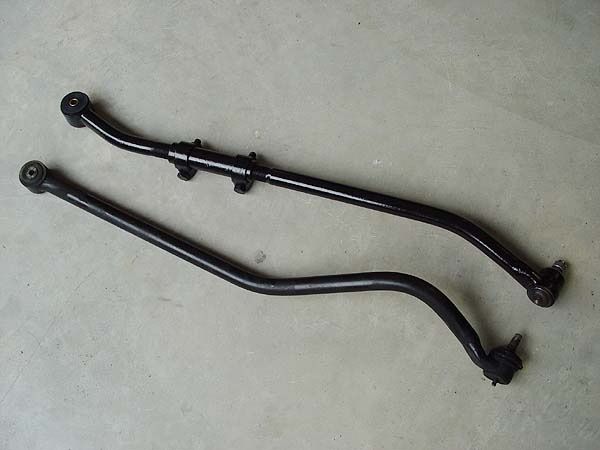 Installation was simple, AND I did not have to install in funky brackets or drill out the tapered end of the frame mount. It was just pop out the old one and pop in the new. Rubicon Express recommends drilling out the axle bracket end by re-locating the mount 3/4" towards the driver's side. Funny thing is when I did that, the axle shifted 1 and a half inches towards the passenger side, which put me 3/4" too far! With the Teraflex bar you just loosen the clamp bolts and turn the sleeve, measure, turn again, measure and lock it down. Done!
*Update* The Jeep no longer pulls one way or the other. It also has regained all power lost when it was trying to track straight with the thrust angle off. I like to imagine my tires are wearing more slowly now and my rear wheel bearings are wearing slowly again too!