update time!
i have decided to keep it for the time being. if you havent heard yet. it broke down in the middle of the street last week. here is the story:
well today i was driving down the road when all of a sudden, my front drivers tire flies off and goes about a block ahead of me. i skid about 25 feet on my rotor. after almost pooping my pants, i get out and look to see what happened. the rotor took the damage well, just rolled with the road so it is just scuffed up on the sides. the tire is fine however the rim go pretty chewed up (i was planning on different rims anyways). three of the lug nut studs (that come out of the axle) are broken off and popped back inside the axle. i put the tire back on and called my dad to get our trailer.
by the time he got to the scene, 2 cop cars were directing traffic. he pulls the trailer up in front of my jeep. i start the engine and put it in drive. i let off the brake and i didn't roll forward like normal. i tap on the gas slightly. the whole front end skids forward (the tires didn't move at all). thinking that it might be my transfer case, i put it into nuetral. the jeep starts to roll slightly. i try putting it back into 2wd but the gears grind and it wont let me. i try 4lo and it allows my to put it in. i start moving up slowly. once i go a couple feet, i hear a grinding noise. it sounded like those lost studs were interfering with the rotation of the front axle. i take it slowly up the ramp. we get it on the trailer and take it back home. after i get home, i try putting it in 2wd again. it slips in like normal (i did the same exact thing as last time). i put it my barn and take a look underneath the jeep. nothing looked busted or any major external damage beside the studs.
anyways, i have taken off the wheel hub assembly and it is trashed. i am waiting to get paid before i order a new set. after that, i will change the fluid, and then have a friend that works in a shop look at it and see if anything else is wrong. it feels weird not driving it for so long. its not a story without pictures!
Hello broken wheel hub assembly: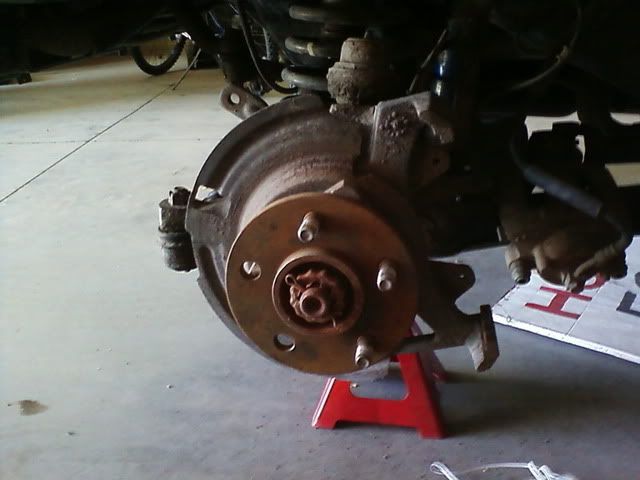 Here are the two broken lug studs: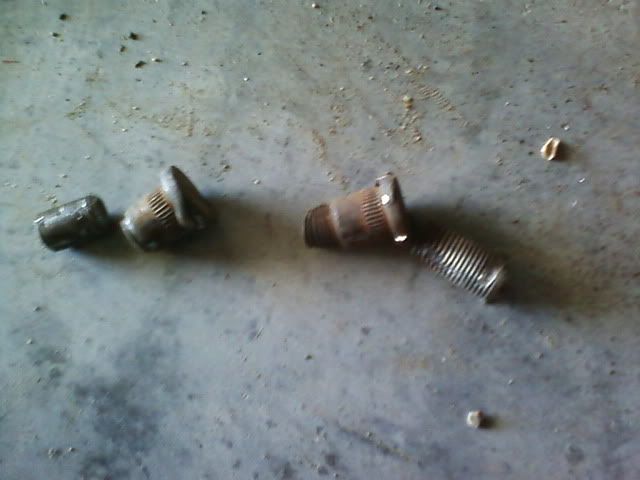 the trashed rotor from eating the cement:
luckly, i didnt have my nice rims and tires on at the time(they were getting balanced)