Registered User
Join Date: Sep 2010
Location: Chino Hills
Posts: 37
Kevins ZJ Build (first car)
---
Hello all, I been reading on here for a while after getting my first car. I never really planned on making a build thread but after putting all this money/time into it, I figured I might as well. This is a relatively mild build.
My dad gave me this when I was 17 as my first car. It had been sitting for about 4 years! He was going to just take it to a local junk yard, because it was all beat up. But I figured free car, all I have to do is give it some TLC
so I did.
Also, I barely knew anything about cars before this so I figured this would all be a great learning experience as well. Plus I love new hobbies/money pits lol.
*Note: Before this thread, I never took alot of pics of the projects I have been doing to it! Dang it! Ill do my best to show what pics I did take, or take some right now.
Specs of when I got it:
1993 Jeep Grand Cherokee Laredo
168,xxx miles
4.0 I6, Auto
2WD!!!
White
Nice leather interior
Dana 35 open/3.55
Dad put some Rancho 3.5inch lift on it a few years ago, so now I do not have to pay for a lift!
Things that need to be done to get it in decent DD condition:
New rear axle
New paint (surface rust on the roof, chipping everywhere, ect)
Tune up
New suspension bushings
tighten up the steering
A bunch of small things
Here is a crappy pic of it in its most stock form, this is basically what it looked like when I first got it: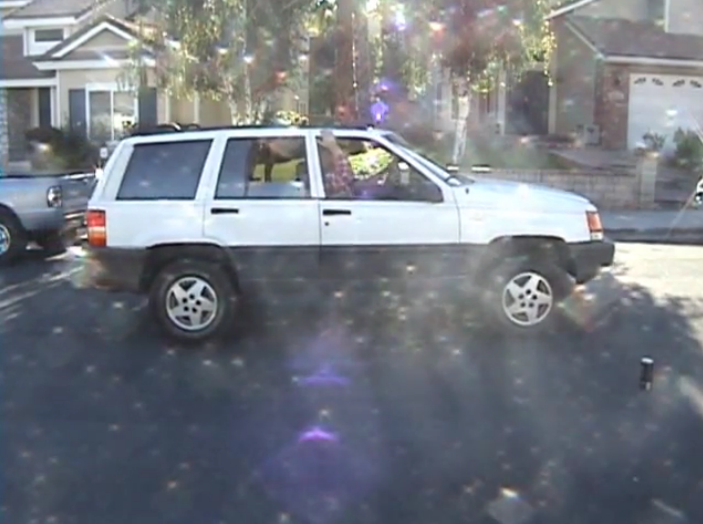 The first thing it needed was a new rear axle, to get it running at least.
In went a used Dana 35. Originally we were just going to get it rebuilt, but the guy at the shop said it was so messed up that we should just put another used one in. We were at Tri County Gear, in Pomona CA.
At this point, I hadn't really done any reading online so I didn't know that this would have been the perfect time to just put a 8.8...
After asking around at some local shops on how much they would charge for a used d35 plus install, I thought I was getting a decent deal
only 600$!!!
Now I know though, lesson learned I guess.
At least the new axle is a Limited Slip, and has 3.73 gears
No pics on that one.
Oh also, about a month and a half later I heard a bunch of grinding from the differential. The posi needed to be rebuilt according to Tri-County. Of course the warranty was only a month long. So I had to pay for it. New clutch pack.
300$.
Now that we have a running rear axle, its time for a tune up of the engine. It ran, just really rough. Plus after sitting for that many years I figured I might as well. It all included:
New spark plugs
New cables
New distributer cap
New air filter
Oil change (Mobile 1 full synthetic high mileage plus M1 filter, learned from reading on here about filters, thanks guys.)
A good cleaning, it was DIRTY lol
And a few other small things I cant remember right now.
After all that, it ran much better.
All though this seems super basic, I have been learning. Gotta start somewhere you know?
Registered User
Join Date: Aug 2010
Posts: 282
nice always good to start with a car you kno was maintained properly! it doesnt take much to really beatufiy a ZJ cosmetically, but thats 3.5" you sure looks awfully small from the pics
---
1994 Grand Cherokee V8.... R.I.P Black ZJ
IRO/RC 4.5"
33" Dunlop A/T's
Built Not Bought #520
Thanks for the input man! Yeah, there was like 5 people in it in that picture it sits a little higher then that usually. That picture doesnt do it justice though, this thing was a piece of crap when it was handed to me lol. You will see all the prep work I did and stuff later when I post all of that. Thanks again though.
Registered User
Join Date: Jan 2009
Location: Florida
Posts: 1,628
Sweet ZJ. Looking forward to see some progress pics.
Currently Active Users Viewing This Thread: 1

(0 members and 1 guests)