Registered User
Join Date: Jul 2011
Location: Metuchen
Posts: 745
Just a Simple One Ton build with a Stroker
---
Alright folks, here's a quick backround of myself and my jeep history, I have always loved jeeps and dreamed of owning as many as I can get my hands on and also making them as gnarly as possible.
In high school I got my jeep (the subject of this build thread). It was a dual top equipped 1997 Sahara powered by a 4.0 mated to a 5 speed stick. Jeep had about 85k on it when purchased and didn't have a speck of rust anywhere on it...sounds great right? Well it also only had 3 shocks, 4 inch springs wedged in with stock control arms running 33's with stock 3.07's. it was an awesome and reliable platform tho and seemed perfect to me because I didn't know anything about jeeps other than what the almighty quadratec catalogue had taught me.
I got right onto jeep forum tho and started reading making smart decisions and fast forward 3 yrs or so and I had a decently reliable rig but it was still average. So I started collecting parts and planning for my dive into one tons, 40 inch tires, a stretched wheelbase and just by my luck.....(drumroll here because this is my favorite part).....a golen stroker motor. So here we go....feel free to follow along and add any insightful wisdom, constructive critisism, ideas on how to make things work better but please....I'm gonna stick to the frame work I've laid out because like the title states, I am looking to keep it SIMPLE and AFFORDABLE. I don't wanna hear how I should slam the front axle up another 4 inches and run hydro steering or how a magnum 5.2 would have been cheaper or that anything more than 2.5 inches of lift with 35's is overkill. Again constructive critisism is much appreciated, I've got thick skin, but at the end of the day, it's my jeep, lets all have some fun and enjoy jeepin
The first part I collected (which I got about 10 months ago now) were two front Dana 60's I pulled from a u-pull-it. I picked them both up along with a hp dana 30 for my red jeep that you'll see in the back round of some pictures I take. The 3 axles put me back a whopping 675 bucks....yes I was being sarcastic with the whopping part, they were a steal. All in line with the SIMPLE AND AFFORDABLE part. I sold the one ball joint 60 for 550 so overall investment for my kingpin 1988 ford dana 60 front was about 50 bucks when you take the cost of the dana 30 out of the mix. Found a complete NIB OX locker on pirate for 750 shipped and then also found a built dana 70 with a Detroit and 5.13's already set up for around 950 shipped. So overall investment after gears and disc brake for the rear should come in around 2500...sounds pretty damn good to me.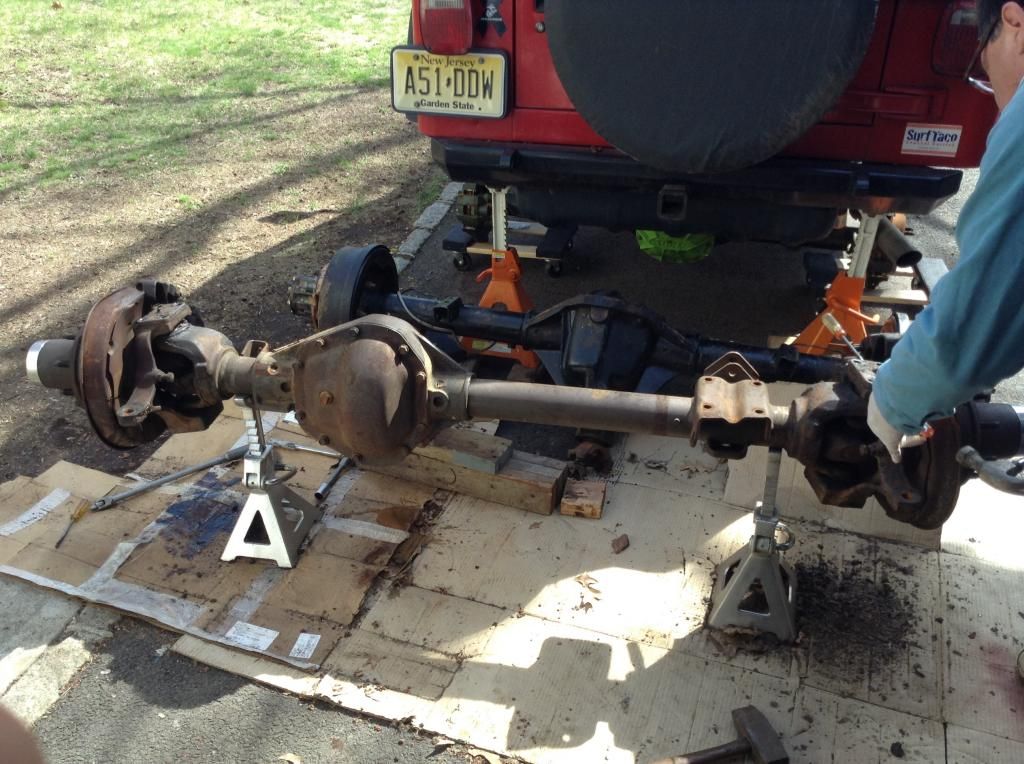 Here's a pic of the two axles....gasp (that was me holding my breath because I've never been able to get a picture to post right)
Little teaser of what it should look like with the 40's, that's a 100" wheelbase with the front approx one nice up and the rear pushed back to 100" from the front. The raceline bead locks I picked up with a buy 2 get 2 free certificate and the Toyo mts, I got in a trade with 600 bucks for the 5 41" iroks I bought for 1300 bucks. So over all tire and rim investment for 4 40's on race lines was around 1700....keeping it SIMPLE AND AFFORDABLE.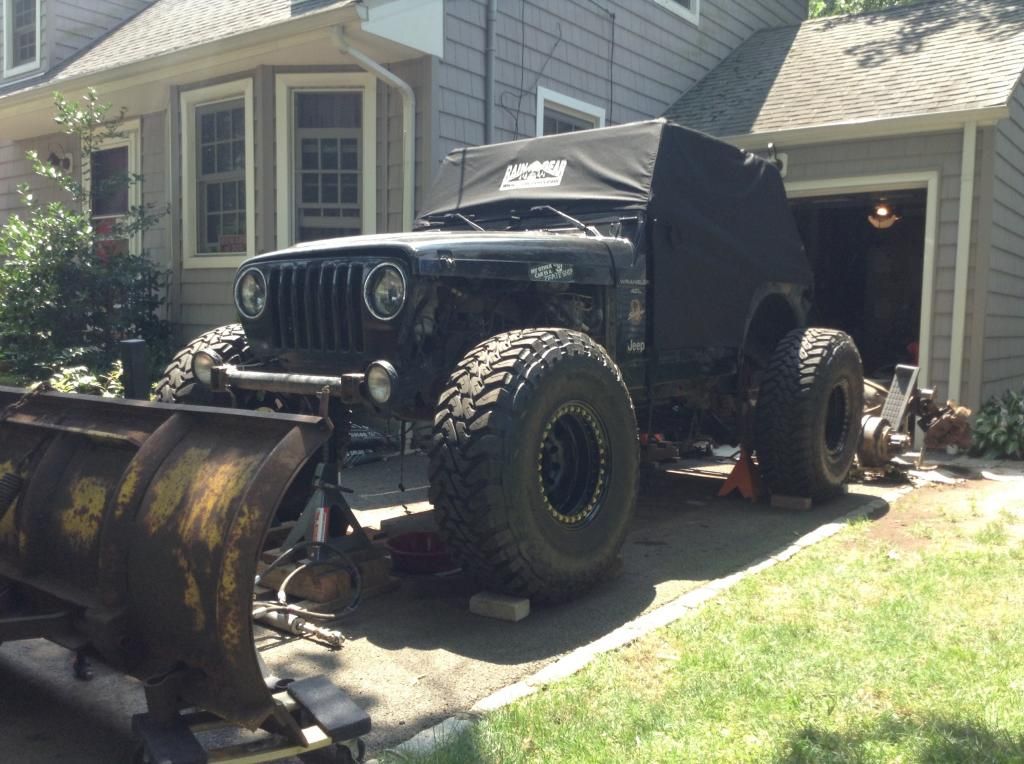 The remaining parts that you don't see are a Golen stroker motor never used, fired that baby up the other day and it sounds like your in a NASCAR pit area. A dana300 tcase which I already got the flip kit for and I plan to run with twin cable shifters and hd outputs all protected by a completely flat aluminum skid plate....which should work considering the ax-15's size with a JKS body lift. I'm open to some input on the suspension. I'm set on running ORI struts (they are the only thing I'm splurging on) since I want to be able to regularly adjust ride quality and height since I might run this jeep in rcrocs if the rules allow....I haven't much read into it yet and it's not really the focus of the build. I also got some suspension seats and harnesses used for cheap in a package deal with the stroker And the new trans I need. So lets use our usual JeepForum creativity and hear some suspension options. I'm thinking maybe a DIY kit from Artec or Synergy....anyone have any experience with those?
Registered User
Join Date: Jul 2009
Location: concord
Posts: 263
Nice. Hardest part is keeping it simple.
---
MY BUILD,,,
To view links or images in signatures your post count must be 10 or greater. You currently have 0 posts.

Quote:
Nice. Hardest part is keeping it simple.
Affordable was a big goal too. It's way easy to get caught up and inpatient and start blowing money and them next thing you know, you're 10k deep in a project and its still on jackstands. Even the golen stroker I got was second hand, only ran it occasionally while the project it was in was progressing, never driven.
Currently Active Users Viewing This Thread: 1

(0 members and 1 guests)